By Seth Eggert, Staff Writer
David Schildhouse earned his second win of the Monday Night Racing Rowdy Energy Pro Series season at Phoenix Raceway while both Ryan Vargas and Rajah Caruth debuted new sponsors.
Schildhouse took the lead in his virtual No. 20 TobyChristie.com Next Gen Chevrolet Camaro ZL1 1LE with 15 laps to go in the Sim Seats 125. A daring three-wide move on Anders Krohn and Collin Fern marked a turning point in the race. The Phoenix, AZ native cruised as Krohn and Robby Lyons collided. The contact swept up Justin Melillo and others, forcing a caution.
Another quick caution pitted Schildhouse up against Vargas' No. 6 Get Wet Sports Chevrolet. The NASCAR Xfinity Series driver escaped a battle with Fern, but only had three laps to catch the Kligerman Sport driver. Vargas chipped away at Schildhouse's lead. However, he ran out of laps. Schildhouse took the win with just 0.391 seconds to spare. Vargas finished second with Max Kennon, Fern, and Gabe Wood completing the top-five.
"This is the hardest combination that we've done all season long and I put in about two hours of practice after I got done working today," explained Schildhouse. "I knew it was going to take a pretty monumental effort to come out here and beat these guys on iRacing. Damn it, we did it, for the second time this season!
"It's very special (to win at my home track). I've been coming to this track since 1998. Seen it in all of its' configurations, even this current one. It's a track that will always be special to me because of how long I lived in Arizona and how many races I've seen at this track. To win a race at this track, in a league like Monday Night Racing, in a league with so many professional names, it meant a lot to win at Daytona, but this is special for a different reason. You never know when the next one is coming, but to win here at Phoenix Raceway is really, really sweet."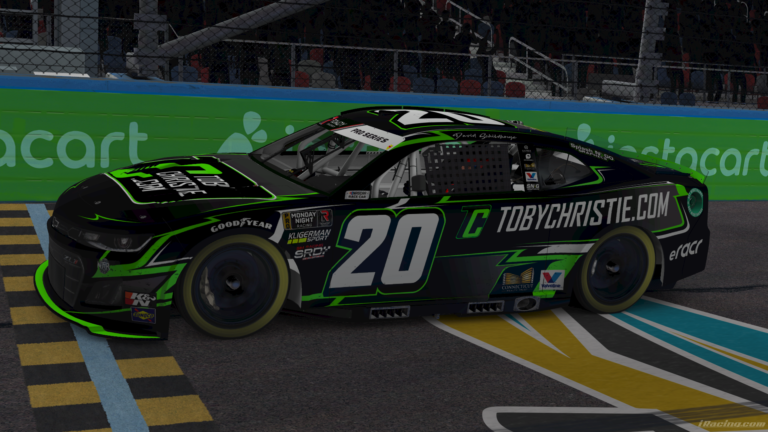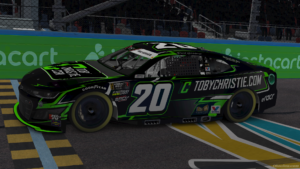 One we after failing to transfer to the feature, Ford Martin rebounded to finish sixth. Matt Stallknecht, James Bickford, Parker Kligerman, and Gary Sexton rounded out the top-10.
The runner-up finish for Vargas netted the JD Motorsports driver a sponsor. Get Wet Sports signed on to sponsor the La Mirada, Calif. native in the NASCAR Next Gen car in Monday Night Racing at Phoenix. Now, the company will sponsor Vargas in the 1987 NASCAR Cup cars at the virtual Michigan International Speedway.
"I'm so stoked to do this," admitted Vargas. "This is the first time that I've brought on a sponsor for eSports. Get Wet Sports, they have an immense directory of eSports and gaming content. I highly recommend checking them out.
"It feels really good. I've always enjoyed racing Phoenix on iRacing. Knew we were fast; I was fastest in practice. I was tracking to be on the pole in qualifying, but I clipped the wall on the exit of Turn 4 on my lap and spun on the next one. So, I started next to last. At the end of the day, I had one of the fastest cars. Think we could have won if I didn't get caught battling with Collin there. Nonetheless, certainly feels good being up front."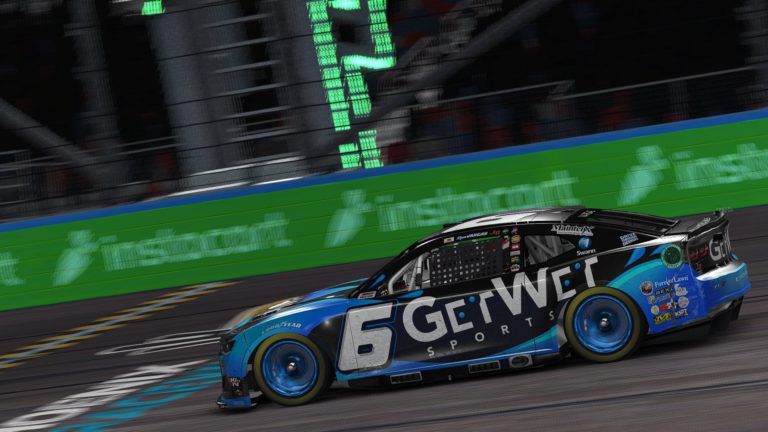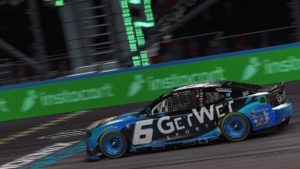 Caruth also signed a new sponsor for the iRacing league in the lead up to the race at Phoenix. Market Rebellion Crypto signed on to sponsor the Alpha Prime Racing driver for the remainder of the Monday Night Racing season.
"I am honored and excited to represent Market Rebellion in the Rowdy Energy Monday Night Racing Pro Series," said Caruth. "It means a lot to receive support from the Market Rebellion team, as we share the vision for the future of iRacing, which allows me to compete with NASCAR icons Dale Earnhardt Jr., Kyle Busch and Parker Kligerman. Hopefully I can seal the deal and bring home the season 4 championship and give us some momentum heading into the NACAR 2022 real life season!"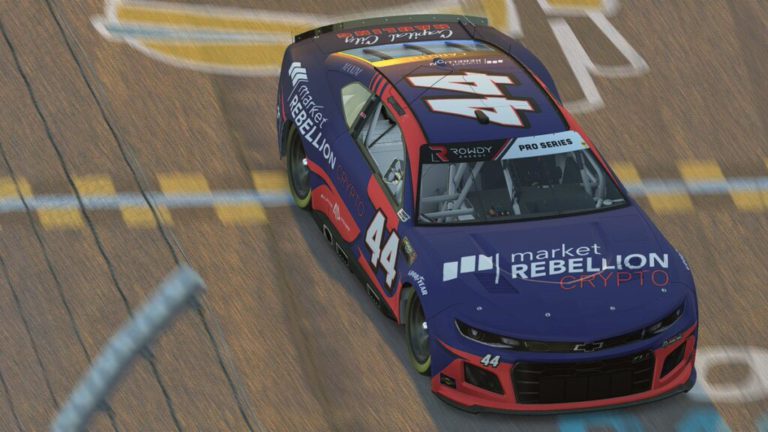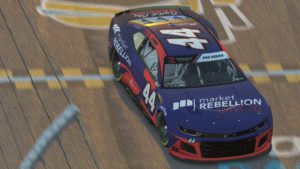 NASCAR Cup Series driver Garrett Smithley had an adventurous, dedicated, and determined evening. Although he was swept up in two accidents, the Rick Ware Racing (RWR) driver still found some good while competing at the virtual Phoenix. Smithley, while in Hawaii with RWR for the Best Defense Foundation, bought a steering wheel from Game Stop.
Smithley raced on a rig at Hawai'i Pacific University (HPU)'s eSports Arena. After the race, he planned on donating the wheel to the eSports Arena. Smithley's participation in the Monday Night Racing event appears to be the first time iRacing was featured at HPU's eSports Arena.
The results:
1. 20-David Schildhouse [1], 2. 6-Ryan Vargas [31], 3. 21-Max Kennon [10], 4. 68-Collin Fern [13], 5. 50-Gabe Wood [8], 6. 07-Ford Martin [16], 7. 41-Matt Stallknecht [19], 8. 29-James Bickford [6], 9. 75-Parker Kligerman [22], 10. 13-Gary Sexton [4], 11. 93-Garrett Miller [27], 12. 53-Justin Melillo [18], 13. 47-Anders Krohn [33], 14. 26-Chris Wilner [24], 15. 57-Seth Eggert [21], 16. 63-Bryan Boris Cook [14], 17. 91-Cole Irvin [20], 18. 51-Kyle Busch [30], 19. 27-Michael Massie [28], 20. 60-Brad Perez [11], 21. 24-Will Rodgers [2], 22. 52-Garrett Smithley [9], 23. 25-Stefan Wilson [12], 24. 11-Steve Auffant [29], 25. 12-Brandon Brown [23], 26. 84-Kase Kallenbach [22], 27. 46-Steven Ellis [26], 28. 99-Mark Rebilas [17], 29. 19-Robby Lyons [3], 30. 4-Brett Baldeck [25], 31. 10-DJ Cummings [7], 32. 44-Rajah Caruth [5], 33.* 5-Anthony Alfredo [15], 34. 64-Drew Welker [34].
Lead Changes: 12 among six drivers.
Lap Leader(s): David Schildhouse 1-7, Rajah Caruth 8-25, David Schildhouse 26-35, Rajah Caruth 36-57, David Schildhouse 58-80, Rajah Caruth 81-89, Collin Fern 90, David Schildhouse 91, Ford Martin 92-95, Anders Krohn 96-102, Ryan Vargas 103, Anders Krohn 104-111, David Schildhouse 112-125.
Laps Led: David Schildhouse 55, Rajah Caruth 49, Anders Krohn 15, Ford Martin 4, Collin Fern 1, Ryan Vargas 1.
Hard Charger(s): 6-Ryan Vargas, JD Motorsports, (+29).
Rookie of the Race: 68-Collin Fern, Brandonbilt Motorsports, Fourth.
Caution Flags: 11 for 42 Laps.
Margin of Victory: 0.391 seconds.
Time of Race: One hour, 23 minutes, 25 seconds.
Average Speed: 89.910 MPH.
Pole Winner: 20-David Schildhouse, Kligerman Sport, 26.907 seconds (133.794 MPH).
Fastest Lap: 68-Collin Fern, Brandonbilt Motorsports, 27.035 seconds (133.161 MPH).
*An in-race error led to Anthony Alfredo being ejected from the server, he's officially scored with a 17th-place finish for statistical purposes.
Featured Photo Credit: Photo by Justin Melillo