By Seth Eggert, Staff Writer
A well-timed early caution and race strategy earned Dylan Ault his first win in the eNASCAR Contender iRacing Series at the virtual Dover International Speedway.
The only caution of the race waved at the outside edge of a fuel run at the one-mile concrete track. Ault and Kollin Keister were among those that opted to stretch the fuel as long as they could. Prior to the strategy call, the duo ran just outside the top-10 on the running order.
Race leader Santiago Tirres relinquished the lead with 41 laps to go and ducked onto pit road. He was followed by Femi Olat and Liam Brotherton before Ault took the top spot. Eventually, Ault and Keister found themselves over two seconds clear of Brotherton in third with 15 laps to go.
Slowly, Ault stretched his lead over Keister out. The virtual No. 40 CertainTeed Chevrolet Camaro SS took the checkered flag as Keister ran out of fuel exiting Turn 4. Ault was 0.756 seconds ahead of Keister with Brotherton, Donovan Strauss, and Kyle Peddle rounding out the top-five.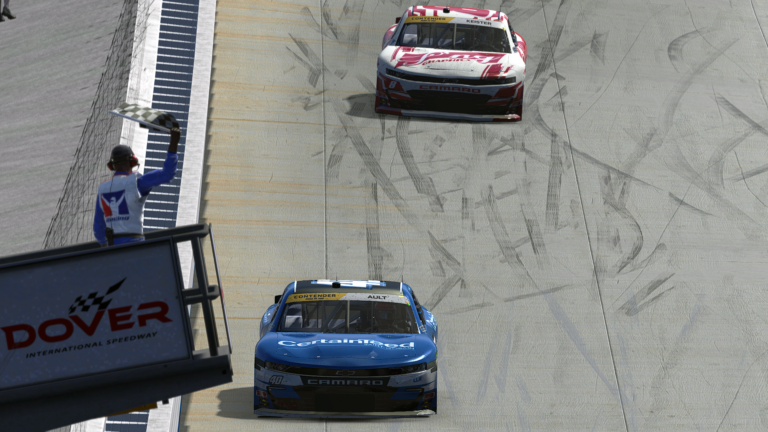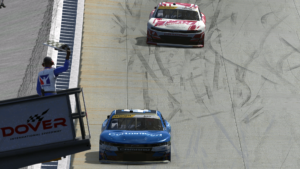 "Ever since the restart, I was just trying to get my track position, had to push so hard on the top trying to get to the bottom as soon as possible, and just calm down," explained Ault. "After five laps I started asking Garrett (Mashburn) if I could make it to the end, if with a pit stop, I'd be faster at all.
"Just sat behind people, let off the corner early to save tires mostly. We started to get to the end of the race, started saving more. Then we started slowing down, so I lifted earlier and save through the corner. A third of that run I was using the clutch entering the corner and just coasted the entry. It worked out.
"I never thought that this season I would have gotten a win. Even in the Road to Pro Qualifying Series I never thought I was going to get a win. I'm glad I got a win at Watkins Glen and then in this Contender Series, these are the best guys. Never thought I would get a win at any of these tracks. So glad this race was fuel strategy. Crazy."
Blake Reynolds, Parker Retzlaff, Michael Cosey Jr., Darik Bourdeau, and Justin Bolton completed the top-10. Polesitter Cody Byus finished 12th.
The only caution of the race waved when Kaden Honeycutt spun after contact with Malik Ray. The CARS Tour Late Model driver hit the outside wall in Turn 3 before collecting Ryan Doucette, Blade Whitt, and others. However, all drivers continued in the race. Whitt had the best recovery finishing 15th.
The only retirement of the race was Christian Pedersen. The Logitech G Altus driver broke loose and slapped the outside wall. Pedersen attempted to repair all of the damage but was forced to park early in the race.
Currently, no drivers have been mathematically eliminated from qualifying for the eNASCAR Coca-Cola iRacing Series. None of the 40 competitors have clinched a spot on the 2022 grid either.
However, Ault, Honeycutt, Keister, Peddle, Reynolds, and Strauss are in position to clinch a spot at the virtual Darlington Raceway. Conversely, Ashton Crowder, Brad Davies, Seth DeMerchant, Daniel Eberhardt, Jake Matheson, Pedersen, and Brian Schoenburg could mathematically be eliminated with a bad finish at 'The Track Too Tough to Tame.'
As they sit, eight drivers from the 2021 eNASCAR Coca-Cola iRacing Series grid are in danger of failing to qualify for the 2022 grid.
The results:
1. 40-Dylan Ault [7], 2. 8-Kollin Keister [36], 3. 19-Liam Brotherton [6], 4. 51-Donovan Strauss [5], 5. 54-Kyle Peddle [8], 6. 66-Blake Reynolds [26], 7. 42-Parker Retzlaff [2], 8. 99-Michael Cosey Jr [22], 9. 04-Darik Bourdeau [9], 10. 14-Justin Bolton [12], 11. 31-Derek Justis [30], 12. 27-Cody Byus [1], 13. 41-Brian Mercurio [13], 14. 46-Collin Bowden [29], 15. 7-Blade Whitt [24], 16. 74-Taylor Hurst [10], 17. 35-Briar LaPradd [16], 18. 24-Jake Nichols [21], 19. 36-Chris Shearburn [3], 20. 15-Blake McCandless [34], 21. 4-Jordy Lopez Jr [15], 22. 1-Malik Ray [18], 23. 77-Ryan Doucette [20], 24. 21-Allen Boes [38], 25. 28-Casey Tucker [23], 26. 17-Santiago Tirres [11], 27. 57-Seth DeMerchant [27], 28. 62-Anthony Burroughs [19], 29. 18-Femi Olat [4], 30. 5-Nickolas Shelton [25], 31. 52-Jake Matheson [33], 32. 44-Zack Nichols [37], 33. 90-Daniel Eberhardt [14], 34. 10-Kaden Honeycutt [17], 35. 53-Brandon McKissic [28], 36. 98-Ashton Crowder [31], 37. 6-Garrett Lowe [32], 38. 23-Christian Pedersen [35].
Lead Changes: Eight among six drivers.
Lap Leader(s): Cody Byus 1-14, Liam Brotherton 15-39, Cody Byus 40-52, Parker Retzlaff 53-55, Liam Brotherton 56-58, Santiago Tirres 59-99, Femi Olat 100-102, Liam Brotherton 103-105, Dylan Ault 106-140.
Laps Led: Santiago Tirres 41, Dylan Ault 35, Liam Brotherton 31, Cody Byus 27, Femi Olat 3, Parker Retzlaff 3.
Hard Charger(s): 8-Kollin Keister (+34).
Caution Flags: One for Four Laps.
Margin of Victory: 0.756 seconds.
Time of Race: One hour, 16.9 seconds.
Average Speed: 139.346 MPH
Pole Winner: 27-Cody Byus, 22.526 seconds (159.815 MPH).
Fastest Lap: 27-Cody Byus, Lap 2, 23.163 seconds (155.420 MPH).
Strength of Field: 6,979 average iRating.
Featured Photo Credit: Photo by Justin Melillo.