By Seth Eggert, Staff Writer
Stewart-Haas eSports' Steven Wilson went back-to-back on different Atlanta Motor Speedway configurations in the eNASCAR Coca-Cola iRacing Series.
One year ago, Wilson picked up the win in the final race on the traditional intermediate track layout at Atlanta. In Tuesday night's race the driver of the virtual No. 10 Smithfield Ford Mustang took the first checkered flag for the series on the superspeedway layout.
Wilson took the lead from Malik Ray with 20 laps to go. The chaotic hybrid between a superspeedway and intermediate track saw Ray get collected in the first 'big one' of the night. The wreck ended the race for the superspeedway ace, along with defending champion Casey Kirwan, and others.
Two attempts at overtime were ultimately needed to bring the race to its conclusion. One of the drivers that pushed Wilson to the front, fellow Ford driver Garrett Lowe, was swept up in the final big one. Contact with Vicente Salas turned Lowe in front of the field, wiping out several drivers.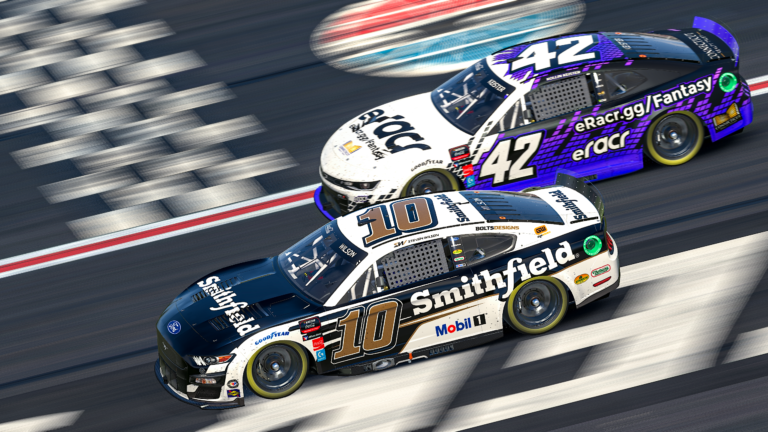 Pushes from rookie Jordy Lopez Jr. and 2021 eNASCAR champion Keegan Leahy kept Wilson up front. The mad scramble of the final restart saw eRacr's Kollin Keister take over the role of pusher. However, with two laps and no rules about the apron on the frontstretch, Keister was at a disadvantage.
Despite the very wide racing surface on the frontstretch, Wilson managed the momentum of those behind him perfectly. When Keister popped out of line to challenge for the win, there wasn't enough track left. As the checkered flag waved, Wilson was 0.035 seconds ahead of the virtual No. 42 eRacr Chevrolet Camaro ZL1.
"It's cool (to be the last to win on the old configuration and the first to win on the new Atlanta configuration)," Wilson said. "I really wasn't looking forward to this race. It was pretty much a crapshoot in all of the practice races we did. I had pretty good position all night and just held on to it there at the end.
"I got lucky with Jordy and Keegan helping me out there at the end. Without them I probably wouldn't have been able to hold on. I appreciate them a lot."
Michael Guest, rookie Michael Cosey Jr., and Graham Bowlin completed the top-five. Tyler Garey, Wyatt Tinsley, Dylan Duval, Parker White, and Allen Boes rounded out the top-10.
Polesitter, and past champion, Ryan Luza finished 24th after he was swept up in one of the first cautions of the race. 2019 champion Zack Novak ran the fastest lap of the race on Lap 70, 193.285 MPH. Novak was collected in a wreck just laps later.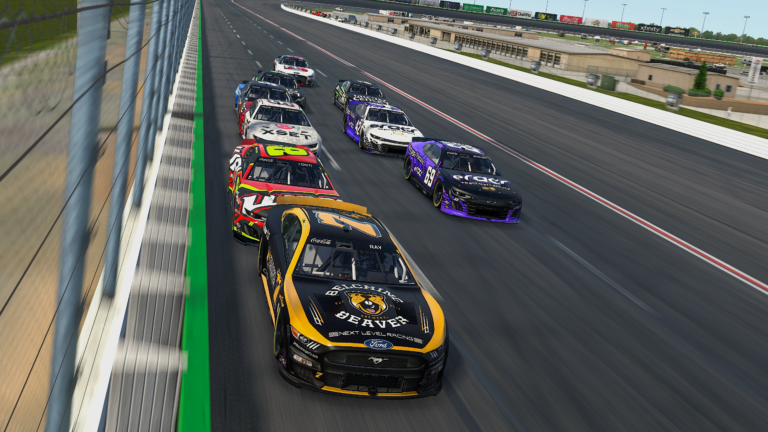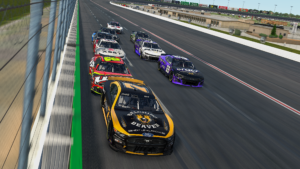 In total the 'Atlanta 100' was slowed five times for 15 laps by cautions. However, the first caution didn't wave until 30 laps to go. The narrow confines the superspeedway version of Atlanta led to tense moments, but the eNASCAR field made it through an entire round of green flag pit stops before the specter of chaos emerged when Collin Bowden spun.
Next for the eNASCAR Coca-Cola iRacing Series is the first official short track of the season, 'The Action Track' at Richmond Raceway on Tuesday, March 28 at 9:00 p.m. ET with Countdown to Green at 8:30 p.m. ET. All eNASCAR races are streamed live at eNASCAR.com/live.
The results:
1. 10-Steven Wilson [14], 2. 42-Kollin Keister [35], 3. 45-Michael Guest [31], 4. 38-Michael Cosey Jr. [15], 5. 48-Graham Bowlin [9], 6. 66-Tyler Garey [33], 7. 20-Wyatt Tinsley [20], 8. 41-Dylan Duval [23], 9. 11-Parker White [25], 10. 34-Allen Boes [3], 11. 77-Ryan Doucette [16], 12. 23-Keegan Leahy [4], 13. 6-Timmy Holmes [11], 14. 25-Nick Ottinger [34], 15. 3-Jordy Lopez Jr. [29], 16. 51-Donovan Strauss [21], 17. 18-Bobby Zalenski [13], 18. 8-Michael Conti [7], 19. 33-Tucker Minter [10], 20. 97-Matt Bussa [36], 21. 27-Cody Byus [5], 22. 88-Kevin King [12], 23. 54-Daniel Faulkingham [30], 24. 4-Ryan Luza [1], 25. 31-Derek Justis [22], 26. 17-Kaden Honeycutt [32], 27. 55-Vicente Salas [27], 28. 15-Garrett Lowe [8], 29. 36-Brandon McKissic [18], 30. 40-Dylan Ault [24], 31. 69-Collin Bowden [19], 32. 2-Corey Vincent [39], 33. 43-Femi Olatunbosun [28], 34. 12-Garrett Manes [26], 35. 7-Malik Ray [2], 36. 95-Casey Kirwan [17], 37. 75-Zack Novak [37], 38. 46-Jimmy Mullis [38], 39. 14-Joey Brown [6].
Lead Changes: 20 among 14 drivers.
Lap Leader(s): Ryan Luza 1-11, Allen Boes 12-14, Garrett Manes 15-19, Steven Wilson 20-22, Malik Ray 23-28, Garrett Lowe 29, Collin Bowden 30, Dylan Duval 31-35, Collin Bowden 36, Dylan Duval 37-60, Vicente Salas 61, Dylan Duval 62-63, Casey Kirwan 64, Wyatt Tinsley 65, Bobby Zalenski 66, Nick Ottinger 67-69, Dylan Duval 70-73, Malik Ray 74-80, Steven Wilson 81-85, Parker White 86, Steven Wilson 87-105.
Laps Led: Dylan Duval 35, Steven Wilson 27, Malik Ray 13, Ryan Luza 11, Garrett Manes 5, Allen Boes 3, Nick Ottinger 3, Collin Bowden 2, Casey Kirwan 1, Garrett Lowe 1, Vicente Salas 1, Wyatt Tinsley 1, Parker White 1, Bobby Zalenski 1.
Hard Charger(s): 42-Kollin Keister, eRacr, (+33).
Rookie of the Race: 38-Michael Cosey Jr., Front Row Motorsports, Fourth.
Caution Flags: Five for 15 Laps.
Margin of Victory: 0.035 seconds.
Time of Race: One hour, seven minutes, 6.854 seconds.
Average Speed: 144.560 MPH.
Pole Winner: 4-Ryan Luza, XSET, 31.030 seconds, 178.666 MPH.
Fastest Lap: 75-Zack Novak, Rise eSports, Lap 70, 28.683 seconds, 193.285 MPH.
Race scheduled for 100 Laps, extended due to overtime.