By Christian Koelle, Staff Writer
LEBANON, Tenn. — Nashville Superspeedway was an unexpected addition to the 2021 NASCAR schedule, but with Nashville being one of the number one markets for the sport, it is what's best for business.
Despite selling a solid number of seats, there have been several comments on multiple different social media platforms with different words of negative criticism. These race fans feel NASCAR picked the wrong track to bring the NASCAR Cup Series to when it comes to Nashville; many feel Nashville Fairgrounds Speedway should have snagged the date.
Track president Erik Moses is not worried about the negative mojo and wants the opportunity to earn their support and respect.
"Like anything in sports… controversy sells," said Moses. "So you're going to have differing opinions on all of those kinds of things. We're focused on getting the racetrack-ready to beat and exceed the expectations of our fans who deserve to have the Cup Series race here after 37 years. We want to earn their support and their respect and we'll have the opportunity to do so during Father's Day weekend when they come on out here.
"Other than that, I can't be concerned with what people say on social media. Many of whom have never even been out here and probably never seen any racing here. The racing has changed significantly and almost fundamentally since we last ran out here. If any fans in the country deserve as much Cup Series and NASCAR racing as they can get, it's the fans in Tennessee and Middle Tennessee in particular. Anything that's good for the sport, we're on."
In a way to bring about support, Moses and his team have partnered with NASCAR Hall of Famer Darrell Waltrip. Waltrip has become an ambassador for the Nashville Superspeedway and he was not afraid to promote that on Tuesday during a Goodyear tire test session. Waltrip resides in nearby Franklin, Tennessee, just under 45-minutes away from the Superspeedway. Waltrip added onto the defense of Nashville talking about how oversaturation was a big key to many of the sports' top tracks demise including North Wilkesboro and Rockingham Speedway.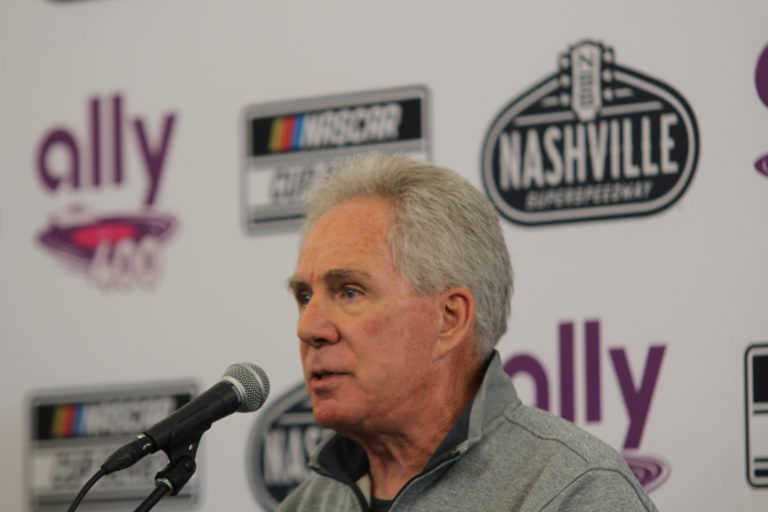 "People always talk about 'oh we need to go back to North Wilkesboro', no they don't, 'they need to go back to Rockingham, no they don't'," said Waltrip. "That area of the sport is absolutely saturated. There was Darlington, Rockingham, Martinsville, Charlotte, and all these tracks were right there together. I know that Bristol is five hours from (Nashville), Talladega is three-four hours from (Nashville) but I think Nashville sits in a perfect location. The interstates, all the interstates, this is a hub where a lot of interstates come together. Just look at the growth of our city. Look at downtown Nashville, I drive in from Franklin and I hardly recognize it. The crane has become the state bird. It's amazing and I think this racetrack right here, the timing is perfect for Dover to put it back up."
For fans of NASCAR in Middle Tennessee, a far drive is what was required in order to attend a NASCAR race. Talladega Superspeedway sits the closest of any of the tracks on the circuit to Metro Nashville and that is still a three-and-a-half-hour drive. The reopening of Nashville Superspeedway opens a whole new door to current and future NASCAR fans.
Cover photo by Christian Koelle / Kickin' The Tires