By Jerry Jordan, Editor
ALVIN, Tx – Gulf Coast Speedway has been good and somewhat bad for 13-year-old Ryder Wells, as he's won two heat races at the 1/8-mile dirt track but can't seem to close out a victory in a feature event. But, don't think that gets him down or frustrated, it just makes him even more determined.
Wells explained after the race that he could tell the car was fast when he took a few hot laps around the track. When the green flag fell for the heat race in the POWRI 600 Series winged restrictor class, Wells was on the pole and got a decent jump off the line but another young racer overtook him going into Turn 1. Wells was unphased and quickly pulled back into the lead and never looked back.
"We were rolling the bottom and the car was really good," Wells said. "The car was just a little bit loose at the beginning and towards the end it was getting looser and we but we ended up winning by half-a-lap on the field."
Happy to have the win, Wells made a victory lap but there was no time to celebrate. He had to debrief with his crew chief – Zach (Dad) Wells. The other racers would be working on their cars to get them faster for the feature. He knew the loose condition – making the car faster but harder to control – could have sent him out of control if he wasn't careful. Crashing is not an option for the upstart team – mom (Sheli Wells) gets nervous and race car parts are expensive. The weekly tire bill is multiples of what the young racer pulls in from his prize money at the track and that money is put back into the racing budget. So, it was really big news when his dad received a sponsorship inquiry from Preferred Contractors in Beaumont. The company will soon be on the side of Well's racecar and that support will be a big help.
"All night long we were watching the track to see what we could do to and just to see how the track was changing," Wells said. "Right before my feature we made an adjustment to tighten up my car a little bit compared to the track."
Wells took the green flag from the outside pole and he was running good for the first seven laps, or so, but he was pushing to try and gain on the leader as he was mired in second. That's when he went around – a rare occurrence for the young wheelman who had the car 90-degrees sideways through the turns the last time he raced at Gulf Coast Speedway.
"I was doing really good and we were all running single file and I was in second," Wells said. "But I started overdriving it (the car) just a little bit to try and catch the leader and I ended up spinning out in (Turn) 1 and (Turn) 2. My motor died and by the time I got it restarted the caution was out and they moved me to the rear (of the field). But with two laps to go I ended up coming all the way back to third place and finishing with a third place."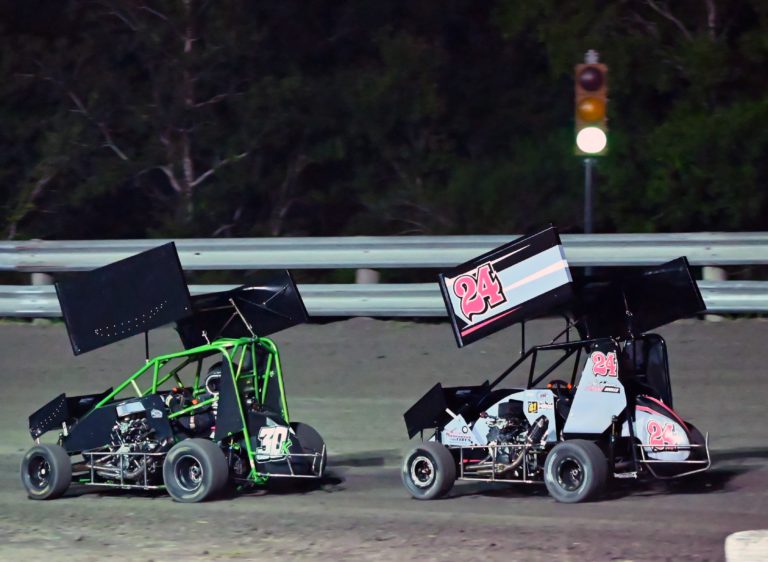 The finish is important because Wells is racing for a championship. Currently, he is in second place, but he is leading the rookie of the year standings. And with several races left in the season and he could get both.
"Going into that race, I knew that I was second in points and I had to beat one of the cars out there that was coming," Wells said. "When I spun out, I knew that would put me back a little bit in points and I would have to pass more cars to get them back. I am still in second place for the season and I am leading the rookie points.
"It's not just about showing up every weekend and winning races, it's showing up and beating specific drivers to move up in the points."
Wells said it won't be the end of the world if he doesn't win the championship, but he isn't going to pull over and let another driver drive away with it. He said he is going to give it his all and race hard for to get a feature win in his first season of racing in the micro-sprint division and he really wants to take home rookie of the year honors, as well.
This weekend Wells and his dad are making the 320-mile driver to I-37 Speedway in Pleasanton, which is south of San Antonio. It's the next stop on the racing circuit and at a 1/4-mile long I-37 Speedway is double the size of Gulf Coast Speedway. It's a racer's track and it's going to be fast, so Wells will have to stay focused in order to stay out of trouble but that won't be an issue. If Wells isn't talking to his dad trying to decide on which last-minute tweaks need to be made to find speed, he is at the fence line of the track looking to see what racing line the other drivers are using to be fast and stay out of trouble.
"We will go and do our best," Wells said. "But it wouldn't be possible without all of the support from mom and dad, Kickin' the Tires and our new sponsor, Preferred Contractors. It means a lot to have their support and I will do my best to make everyone proud to be a part of Ryder Wells Racing."