By Vincent Delforge, Special to Kickin' the Tires.
The third race of the ARCA Menards West Series season, the NAPA Auto Parts BlueDEF 150, ended with the second win in a row for rookie Sean Hingorani. A first for his crew chief Monon Rahman, of Bangladeshi descent. It is also the first time in history that a driver/crew chief duo with South Asian origins has won a West Series race.
However, the game was not easy for Hingorani who had to work hard to get back into the fight for victory after losing a lap following a penalty for crossing the line before the poleman at the start of the race.
The poleman, Landen Lewis, who despite leading the most laps of the race, finished for the third time in a row in second position. This consistency allowed him to take the lead in the championship.
For a complete recap of the race, I invite you to read the article « Race review » available here:
www.kickinthetires.net/nascar/arca-menards-west-23-bakersfield-review/
Complete race results: www.racing-reference.info/race-results/2023-03/AW/
Driver & owner point standings: www.racing-reference.info/standings/2023/AW/
As after each race we are going to detail the statistics for each driver, embellished with the reactions collected from many of them, drivers, owners and crew chiefs.
ARCA West Quick stats
-70th season in history.
-Race number 1007 since the inception of the West Series in 1954.
-2023 race number 3 of 12.
-Race number 13 at Kern County Raceway Park (KCRP) since 2013.
–Win No. 7 for Toyotaat KCRP. Toyota leads the dance with 7 wins ahead of Chevrolet and Ford with four victories each.
-77th win for Toyota in West Series
-Second win for owner Bill Venturini.
-Win No. 2 for Venturini Motorsports team. The all-time most successful owners in history are Bill McAnally (99), Fred Elder (45), Bob Bruncati (42) and Ernie Conn (41).
–Win No. 1 for Venturni Motorsports at KCRP. The most successful team is Bill McAnally Racing with 6 wins.
-Second career win for Sean Hingorani (eighth career start) and the first at KCRP. Derek Kraus is the most successful pilot at KCRP with four wins. In all, 8 different drivers have won at least one race.
-Sean Hingorani is the 8th different winner at KCRP.
-First pole position for Chevrolet at KCRP. Among the manufacturers, Toyota leads with 8 poles ahead of Ford (4) and Chevrolet (1).
-4th time in 13 races the driver who started second wins at KCRP.
-First career pole position for Landen Lewis in his 11th career start.
-Landen Lewis is the 205th pole winner in history.
-First pole for McGowan Motorsports with Cook Racing Technologies at KCRP. Bill McAnally Racing is the most successful teams with six.
-First pole for McGowan Motorsports with Cook Racing Technologies in West Series and the first for Steve McGowan since Sonoma 2015 (14th in career).
-Best career result in West Series for Jake Bollman (7th) and Ethan Nascimento (8th).
-First top-10 in career in West Series for Jake Bollman and Ethan Nascimento.
-Fifth win for the No. 15 in history.
-17th pole for the No. 17 in history.
-First career win for crew Monon Rahman.
-First career pole for crew chief Richard Mason
-256th pole for Chevrolet in West Series.
-674th paved oval race in history.
The Drivers
No. 04 Ethan Nascimento (Nascimento-Joiner Motorsports) Start: 7th – Fin: 8th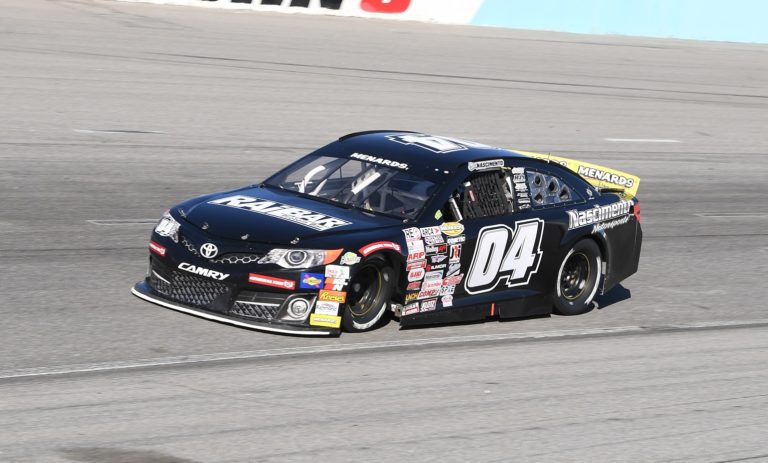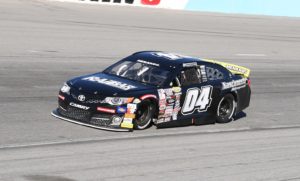 Excellent race from the young rookie who was fast from practice. Finally a race without mechanical problems and he obtains his first career top10. He also finished the race on the leader's lap for the first time after having benefited from the free pass at the end of the race.
"Had a good weekend out at Kern. We were 4th in practice and went out into qualifying feeling comfortable about the car and I think we went a little bit too much on the adjustment, but still handled to put it 7th in qualifying. Unfortunately my brother lost a motor but I still managed to finish 8th. Heading to Portland in a month so hopefully to continue this momentum there and give them a run for there money." Ethan said.
| | | | | | | |
| --- | --- | --- | --- | --- | --- | --- |
| Starts | Wins | Top5 | Top10 | Pole | Best result | At Bakersfield |
| 3 | – | – | 1 | – | 8th | 1 start, best result : 8th |
No. 05 Dave Smith (Shockwave Racing) Start: 14th – Fin: 13th (crash)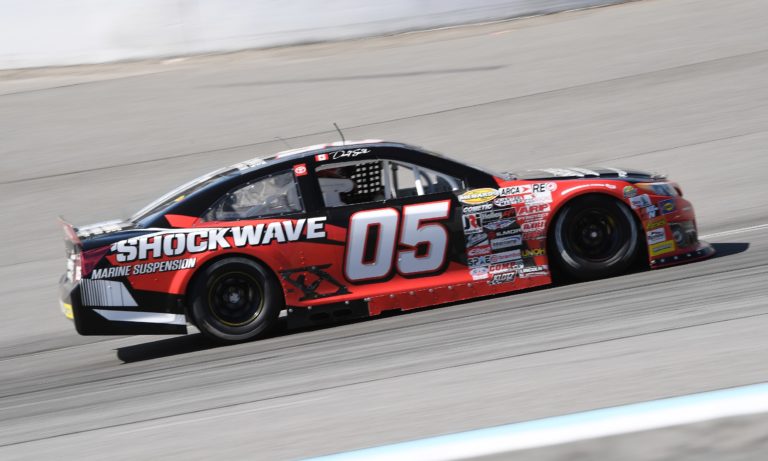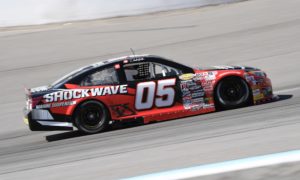 Interesting race for the Canadian who had a good pace just outside the top 10. But he made a rookie mistake by starting alone in a spun for the first time on lap 119 when he was overtaken by the leaders. If this first spin in Turn 2 ended without damage, it will not be the same for the second about fifteen laps later.
Indeed it ends in the wall with the start of a fire in the engine compartment. The shock was violent but fortunately he escaped unscathed. But the car is repaireable for the next oval race at Irwindale on July 1.
"The crew gave me a good long run Shockwave Toyota. We had good car on the second part of the race. I got too greedy and ended up into the backstretch wall on fire which ended our day. With big East Coast ARCA teams here on the West Coast it's a lot harder than I thought!" Smith Said.
To the question if his spun is due to the wear of his tires, he answers: "I would say everyone was getting worn out it was fast based and I was pushing those ahead to screw up and I was the one who made the mistake."
| | | | | | | |
| --- | --- | --- | --- | --- | --- | --- |
| Starts | Wins | Top5 | Top10 | Pole | Best result | At Bakersifled |
| 7 | 0 | 0 | 1 | 0 | 10th | 1 start, best result : 15th |
No. 4 Eric Nascimento (Nascimento-Joiner Motorsports) Start: 9th – Fin: 15th (electrical)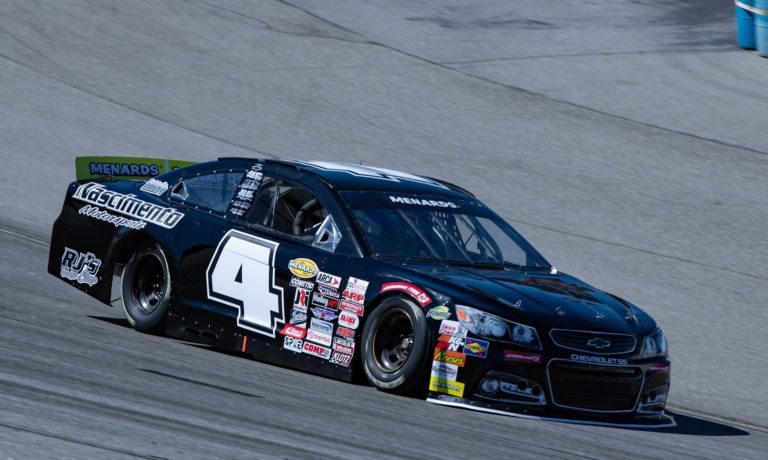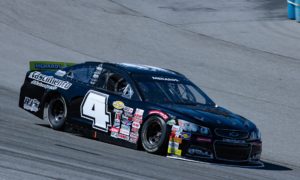 Really unfortunate this bad luck at the start of the season. Because Bubba had the speed to finish in the top five. But an electrical problem will cause engine failure.
But the speed displayed bodes well for the rest of the season. In addition Eric is an excellent road track driver and he intends to make an impression in June in Portland and Sonoma.
"Had good speed was just riding around saving our stuff until the break. Running 6th at the break, we came in for tires and fuel then we went back out and lost a motor." Eric said.
| | | | | | | |
| --- | --- | --- | --- | --- | --- | --- |
| Starts | Wins | Top5 | Top10 | Pole | Best result | At Bakersfield |
| 11 | 0 | 1 | 3 | 0 | 5th (1x) | 3 starts, best result: 9th |
No. 7 Takuma Koga (Jerry Pitts Racing) Start: 12th – Fin: 11th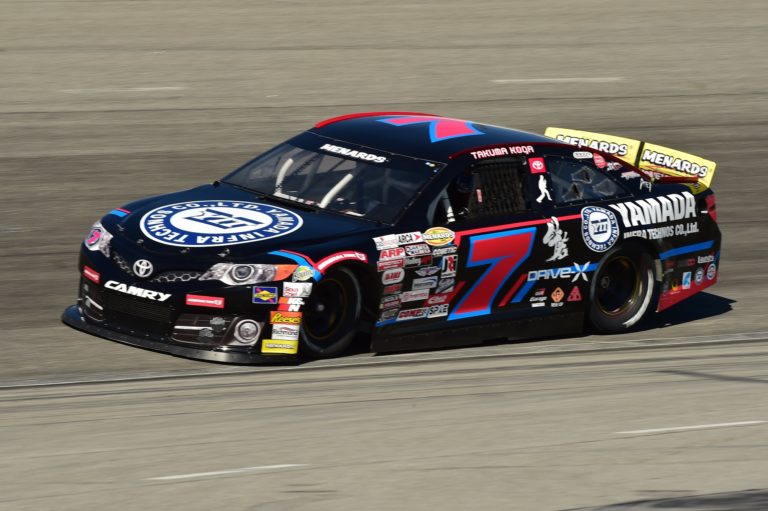 Rarely have we seen the Japanese driver so disappointed at the end of a race. A mistake even before the pace laps will cost him dearly. Improper handling when starting the engine. The time for his team to successfully start it and the race had already started without Koga on track. And the lost time could not be made up. This 11th position having a bitter taste.
"I made a miss judgment last night race start. I will never make the same mistake again. Onto Portland." Koga said.
| | | | | | | |
| --- | --- | --- | --- | --- | --- | --- |
| Starts | Wins | Top5 | Top10 | Pole | Best result | At Bakersfield |
| 104 | 0 | 4 | 21 | 0 | 5th (4x) | 9 starts, best result : 9th |
No. 13 Todd Souza (Central Coast Racing) Start: 4th – Fin: 9th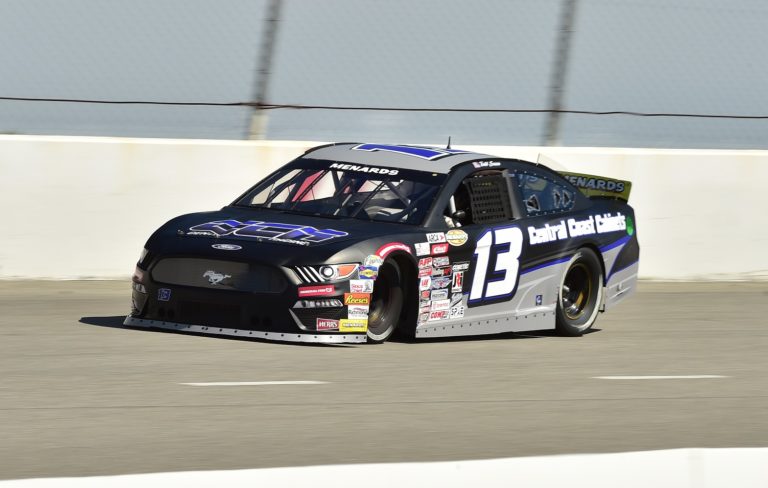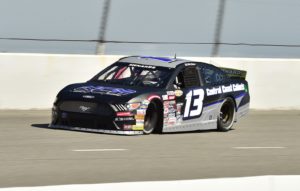 Nice speed displayed by Souza from the practice. Fourth in the qualifying session, he even rode many laps in the top-three at the start of the race.
But the more the tires wore out, the more the car lost efficiency. The setup was too focused on short runs. The end of the race was a nightmare to keep the car on the track and Souza fell little by little in the standing. However, he still gets his first top-10 of the season, his 62nd in his career.
"The car just wouldn't turn without brand new rubber. Thinking maybe the spindle got bent when he got hit in Irwindale even though they checked measurements and it didn't appear bent." Souza said.
Michael Munoz, the crew chief, sees the positive and looks forward to the next races on the road track. "Yes, we still have speed. We just haven't had the luck this year to close out a good finish. We go road racing for the next couple races and really looking forward to these next two races."
| | | | | | | |
| --- | --- | --- | --- | --- | --- | --- |
| Starts | Wins | Top5 | Top10 | Pole | Best result | At Bakersfield |
| 111 | 1 | 19 | 62 | 0 | 1st (1x) | 8 starts, best result: 5th |
No. 15 Sean Hingorani (Venturini Motorsports) Start: 2nd – Fin: 1st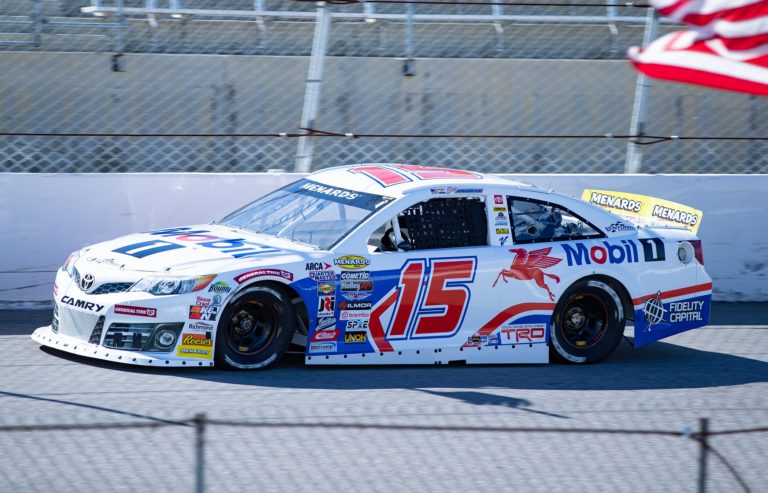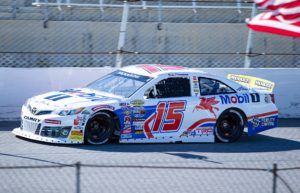 Very fast, Hingorani will however have to roll up his sleeves at the start of the race. The reason? An error in the starting procedure since he crossed the starting line before the polesitter.
Result? A pass through penalty which will make him lose a lap on the leaders. But he will manage to get back in the lap by himself. The first yellow flag giving him the opportunity to catch up with the leading group.
He made the most of this second chance by taking the lead of the race with 39 laps to go. He then managed the last two restarts perfectly against Landen Lewis, whose car was slipping more and more. Hingorani won his second consecutive victory and thus climbed to third place in the championship.
Hingorani declaring: "Yeah, we went a lap down early on. I knew it was gonna be tough to get back through the field, but we did it. They gave me a rocket ship today."
Monon Rahman, his crew chief explaining:
"Just really relieved we were able to close the deal and get the win with the early penalty and the late cautions there at the end. I've been very lucky to have a few starts as a crew chief now in the small amount of time I've been working in ARCA. Billy (Venturini) brought me on at the end of 2020 to develop our engineering program from the ground up, and being with this group has made me learn and grow way more than I imagined in this time span.
"The whole team has invested so much trust and confidence in me, and our result at Kern was the best way to prove that and deliver for them. Still a long way to go for myself, but it feels so good to know I'm headed in the right direction. Sean's got so much potential too. We've barely scratched the surface with him. Excited to see how the rest of this season pans out for all of us."
| | | | | | | |
| --- | --- | --- | --- | --- | --- | --- |
| Starts | Wins | Top5 | Top10 | Pole | Best result | At Bakersfield |
| 8 | 2 | 2 | 2 | 0 | 1st (2x) | 1 start, best result : 1st |
No. 16 Tanner Reif (Bill McAnally Racing) Start: 3rd – Fin: 4th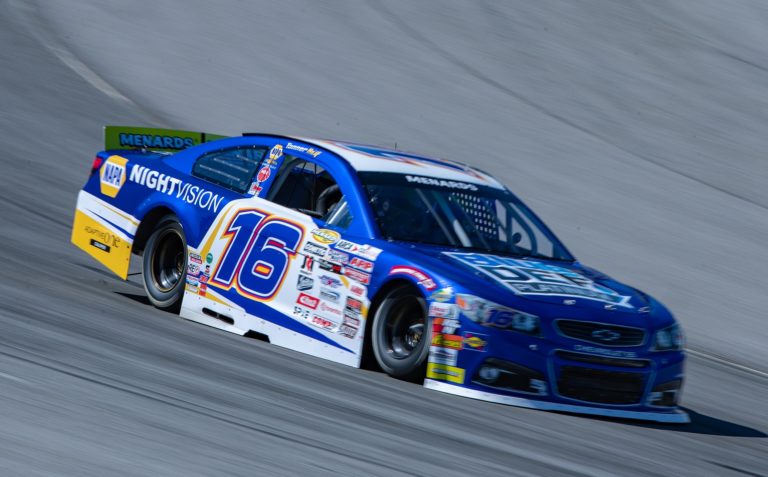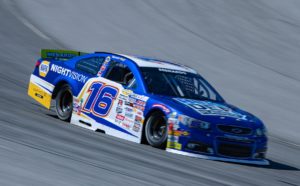 Everything is going in the right direction for BMR and Tanner Reif. Indeed, race after race, the driver of the No. 16 is more and more efficient. As proof, he was a threat to victory until the end of the race. For a long time he was second or third in the race. Only the last restart was more complicated, putting him back one position against Huddleston.
"We had a real strong BlueDEF / NAPA Nightvision Chevrolet tonight. We were definitely a top-three car all night, but just got too tight at the end. I'm proud of all the guys on our BMR team for making gains on our Chevrolet since Irwindale. We made a lot of progress and it showed with the speed we had tonight. We'll take a few weeks off and hopefully have as much speed when we go road course racing at Portland." Tanner Reif said.
Bill McAnally, owner, being satisfied with his troops, he who was present at Kern: "Good night we had speed, qualifying 3rd , running second much of the race we will get a win, great car and effort by all it was good to be at our west race with a truck weekend off."
| | | | | | | |
| --- | --- | --- | --- | --- | --- | --- |
| Starts | Wins | Top5 | Top10 | Pole | Best result | At Bakersfield |
| 14 | 2 | 6 | 11 | 2 | 1st (2x) | 2 starts, best result: 4th (2x) |
No. 17 Landen Lewis (McGowan Motorsports with Cook Racing Technologies) Start: 1st – Fin: 2nd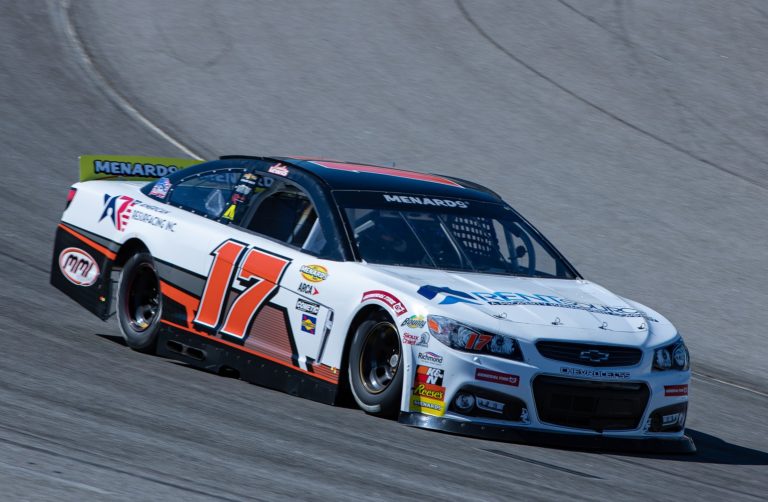 The KCRP does well in Lewis. Last year he won his very first career start and this year he obtained his first pole position. He thought he would get another victory here. But despite having led the most laps (111), he saw his car lose efficiency in the last third of the race. She slipped too much with worn tires.
Once overtaken by Hingorani, he did not give up and clung to him almost until the end. Indeed the last restart was more difficult since he had to repel Huddleston's attacks. Making him lose any possibility of regaining the first position. But by finishing second three times in three races, this allows him to take the first position in the championship.
Lewis declaring after the race: "We had a really good racecar. Bruce Cook, Richie (Mason, the crew chief), all the guys prepared me a really good racecar. We just come up a little bit short. Not many words to say. It just sucks to lead that many laps and can't seal the deal. Our third second in a row but we're going to stay positive on the team.
"We're going to keep banging them out. If we can keep getting seconds for the rest of the year, obviously the car's in one piece so I think we keep trying to bang them out and get a little bit better as we can. It just makes us want to go win harder. Just want to push as a team to make one spot better. Fastest in practice, fastest in qualifying, led the most laps so I mean all positives out of today. Come up a little short on the win but nothing to hang our head about."
| | | | | | | |
| --- | --- | --- | --- | --- | --- | --- |
| Starts | Wins | Top5 | Top10 | Pole | Best result | At Bakersfield |
| 11 | 1 | 6 | 9 | 1 | 1st (1x) | 2 starts, best result: 1st |
No. 27 Bobby Hillis, Jr. (Fierce Creature Racing) Start: 16th – Fin: 12th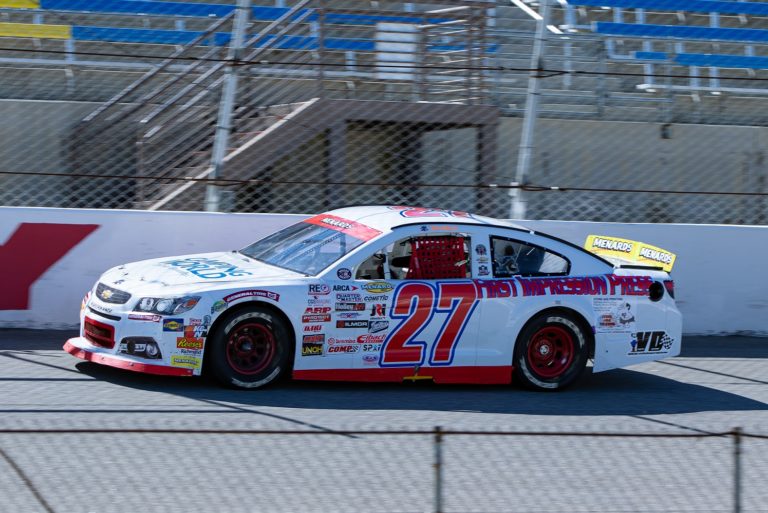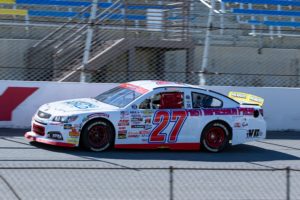 Hillis will never really have had the rhythm at KCRP. The fault of the front suspension springs being too rigid.
"Not a great race. Fairly frustrating actually. Loosened up the car with the trackbar so I could drive it in further and be more aggressive on entry which actually worked but the car was too loose as I was getting back to the throttle. Couldn't get back to the gas as quickly as I wanted and almost had to wait until I was up off the corner in a straight line so I wouldn't spin out.
"Thought we had a better car but turned out not to be that way. Could actually tell that we were loosing most of our ground up off the corner because everyone else could get back to the throttle way sooner. Could hang with them down the straight and into the corner and was actually driving in deeper than several people and as far as most." Hillis says.
But mutual aid being important in the West Series, Hillis went to Mike Naake, of NKM, to have his opinion on the problem and to try to find a solution.
"He said that he noticed that the nose was way too high up in the air and not diving on entry so he came and looked at the car and basically said that the springs up front were way too heavy by 150 pound spring rate at least. We took the shocks off the car and gave them to him to build and he said that he'd look for some better springs at his shop as well.
"Hopefully his knowledge will help us out quite a bit when we get back to the ovals on July weekend and looking forward to how much better the shocks he builds in combination with the springs work out. Back to back road courses next which are definitely my favorite and the car is awesome and ready to go. Looking forward to to some good finishes."
| | | | | | | |
| --- | --- | --- | --- | --- | --- | --- |
| Starts | Wins | Top5 | Top10 | Pole | Best result | At Bakersfield |
| 94 | 0 | 0 | 8 | 0 | 8th (1x) | 3 starts, best result : 11th |
No. 41 Tyler Reif (Lowden Jackson Motorsports) Start: 6th – Fin: 6th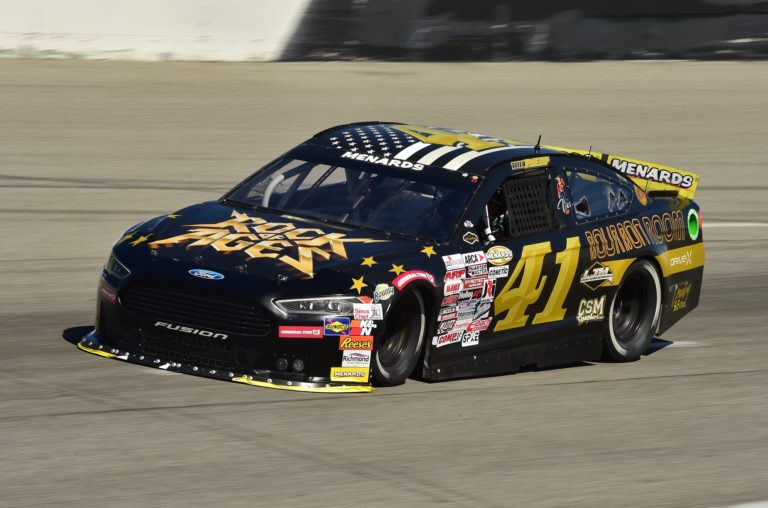 Sixth is still a good result but for Tyler. He had good pace but not enough to aim for victory. Even if he has long occupied the third position. The second half of the race was more complicated and he had to give up positions against Hingorani, Huddleston and Erickson. He suddenly lost the first in the championship but remained very close since he was only five points behind.
| | | | | | | |
| --- | --- | --- | --- | --- | --- | --- |
| Starts | Wins | Top5 | Top10 | Pole | Best result | At Bakersfield |
| 5 | 1 | 2 | 3 | 0 | 1st | 1 start, best result : 6th |
No. 46 RJ Smotherman (Lowden Jackson Motorsports) Start: 10th – Fin: 16th (rear gear)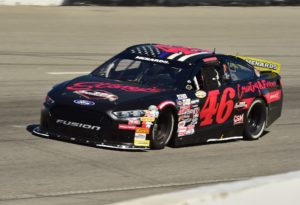 Incredible bad luck for Smotherman this season. For the third time in three races, he suffered a mechanical problem. And each time it's a different problem. However, he had good pace and was eighth after gaining a few positions when…
"Yeah man this sucks. Bad luck struck us again this weekend in Kern. We made great gains and picked up lots of speed qualifying 10th. Only about 2 tenths in qualifying would have put us up about 5 spots. We were running great just cruising with the pack in 8th place when on lap 10 coming out of Turn 4 we broke a rear gear ending our night early.
"Hoping that our luck turns around soon but regardless gotta thank my whole team for bringing an amazing car and getting us ready for the weekend. Thank you to my amazing crew for all their hard work over the weekend."Smotherman said.
| | | | | | | |
| --- | --- | --- | --- | --- | --- | --- |
| Starts | Wins | Top5 | Top10 | Pole | Best result | At Bakersfield |
| 7 | 0 | 0 | 1 | 0 | 7th | 1 start, best result : 16th |
No. 50 Trevor Huddleston (High Point Racing) Start: 5th – Fin: 3rd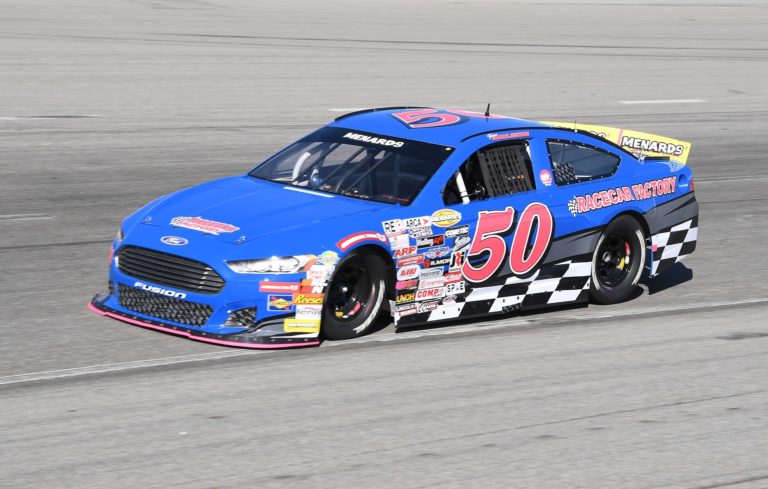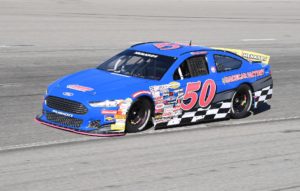 Huddleston continues his fine top-10 streak at KCRP with a sixth in as many races here. And he equalized his best result in Bakersfield by taking third position. And his race was convincing. Indeed, like Hingorani, the closer the race got to its end, the more effective he was. In the top-five from the start, he even showed himself during the last restart ready to sell his skin dearly for victory.
Even going into contact with the race leader. This third position is a warning signal for his opponents. Huddleston is more and more efficient with each race and we will have to count with him for the victory.
| | | | | | | |
| --- | --- | --- | --- | --- | --- | --- |
| Starts | Wins | Top5 | Top10 | Pole | Best result | At Bakersfield |
| 56 | 2 | 21 | 48 | 1 | 1st (2x) | 6 starts, best result: 3rd (2x) |
No. 55 Jake Bollman (High Point Racing) Start: 11th – Fin: 7th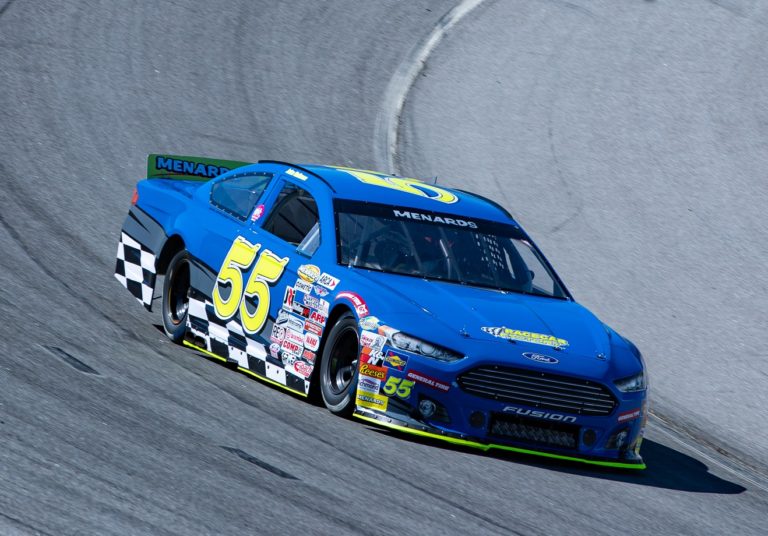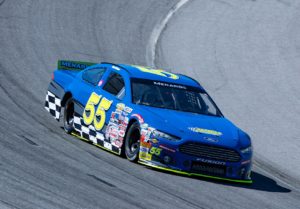 Very good race from the rookie Bollman who had the pace to consider a top-five in the first half of the race. Losing a lap on the leaders during the long green flag run of 45 laps, he benefited from the free pass on the 120th lap. He was going to seize this opportunity and gain two positions in the end to take the checkered flag in seventh position. His first career top-10. We will see him again in Irwindale in July.
| | | | | | | |
| --- | --- | --- | --- | --- | --- | --- |
| Starts | Wins | Top5 | Top10 | Pole | Best result | At Bakersfield |
| 2 | 0 | 0 | 1 | 0 | 7th | 1 start, best result : 7th |
No. 70 Kyle Keller (Jerry Pitts Racing) Start: 13th – Fin: 14th (engine)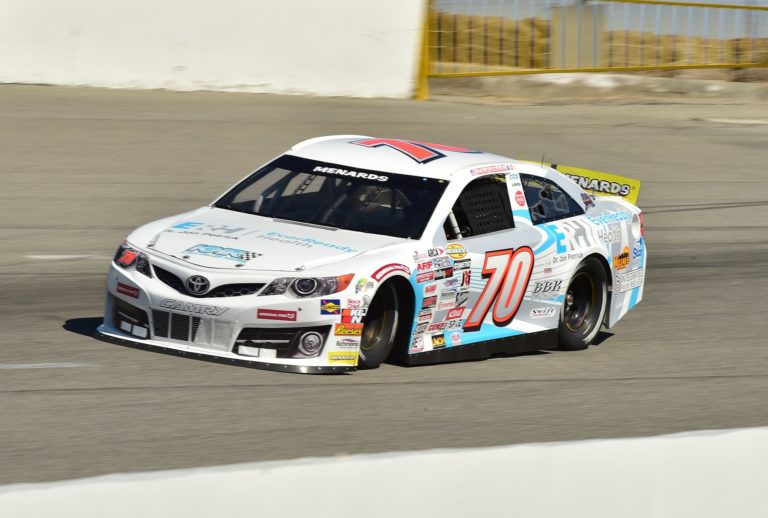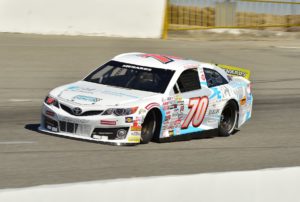 Big disappointment for Keller at Kern. Strangely, he did not find the speed in the qualifying session on a track where he has already shown to be very fast.
But everything was going better in the race as he quickly came back to fight for the top-five when without a warning his front right tire exploded on the 68th lap. Keller managed to keep control of his car but lost three laps while repairing the damage. Once back on the track, he was close to the top-10 when his engine broke down… Definitely a race to forget.
"Tough Weekend! Had a good practice then qualifying got super loose so we started 13th was making passes and was up to sixth and was catching fifth tell my right front blew causing us to fall back three laps! Then after a few laps later my motor blew up! Really stinks on the outcome but hopefully we can come back to finish the year. Thank you to my amazing sponsors and crew for never giving up!" Keller said.
| | | | | | | |
| --- | --- | --- | --- | --- | --- | --- |
| Starts | Wins | Top5 | Top10 | Pole | Best result | At Bakersfield |
| 13 | 0 | 6 | 9 | 0 | 4th (3x) | 3 starts, best result : 6th |
No. 77 Nick Joanides (Performance P-1 Motorsports) Start: 15th – Fin: 10th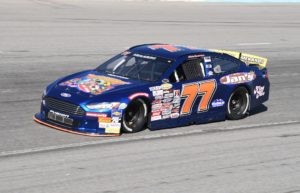 New car and problem of youth to be corrected! Lacking practice time, the PP1M team started the race from the rear. Joanides, an experienced driver, knew how to manage his race and was rewarded with a top10. And the best is yet to come.
"Had some new car blues to start off and lost all of the only practice session to sorting out a carburetor issue. Thanks to Bill Loe for showing up to get them sorted out. Qualifying was our first genuine lap and the car was extremely loose. Made what adjustments we were allowed to make, but unfortunately still very loose in the race. With the leader on rails setting a torrid pace, we unfortunately lost a lap in the caution-free first half of the race as the leader lapped all but the top 6 cars by half time.
"But, the car shows it has potential if we can just get a little testing time in with it. Felt like we needed just 2/10ths to be a top 5 car, so a huge improvement over the prior car where we needed closer to 1.2 seconds. Will be looking forward to the extra Friday practice day at Irwindale to tune it up.
"I feel like we should be in contention at Irwindale! A special thank you to my entire team and especially Jan's Towing for making it possible. And thank you to Dean Kuhn for stepping in to assist during practice and Tony Jackson for his assistance all day!" Joanides said.
Joanides thanking everyone who made this possible:
"Have to give a very special thank you to Jan Qualkenbush (Jan's Towing) for making this all possible. If not for him, we wouldn't have been out there with this car. Also, thank you to the entire Performance P1 Motorsports team for busting their butts to get this thing ready on VERY short notice. Tony Jackson and Jackson / Lowden Racing for all of their help. And to Dean Kuhn for stepping in to assist during practice. If we can just get a little time to tune the car, I know we've now got a piece that will let us compete solidly in the top 5. And of course thank you to all of our partners: Jan's Towing, King Taco, Wallace Signs and Stoughton Printing."
Joe Nava, the team owner, stating:
"We struggled with carburetor issues. Bill Loe came out and helped us out. The car was good engine wise but we never were able to get a handle on the chassis. We feel there is so much more to get out of this car. Jan Qualkenbush came out and gave our guys a needed boost during practice.
"Can't do what we do without this guy. Nick drove a hard steady race. Nick is a driver that understands equipment. If he has a car in the hunt he is willing to gamble. In this case he took car of equipment and brought it home without a scratch. Finally looking forward to the next race."
| | | | | | | |
| --- | --- | --- | --- | --- | --- | --- |
| Starts | Wins | Top5 | Top10 | Pole | Best result | At Bakersfield |
| 21 | 0 | 1 | 6 | 0 | 4th | 3 starts, best result: 10th |
No. 88 Bradley Erickson (Naake-Klauer Motorsports) Start: 8th – Fin: 5th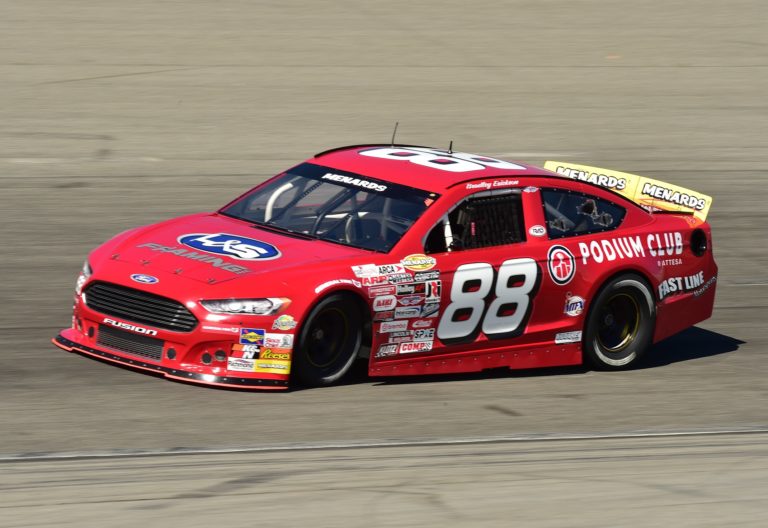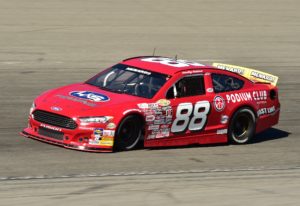 Qualified in the middle of the pack, Erickson quickly found the speed to enter the top-five. It will remain there throughout the race, pointing to fourth position for a long time.
In the end, he finished fifth despite a car whose behavior was unpredictable at times. Very consistent, with three top-10s including two top fives since the start of the season, he is fifth in the championship, 15-points behind the leader.
"At Kern we were battling tightness in the center throughout practice and made some adjustments to help it but it carried over into the race, didn't qualify as well as I hoped but luckily I was able to finish 5th. A good points day." Erickson said.
Mike Naake, owner, being however satisfied saying:
"We were decent never had the speed we needed worked on it quite a bit in practice. Bradley Erickson did an excellent job the whole weekend. We had a proble with a truck arm mount in the race, created a little bit of inconsistent handling of the car, but we survived. Come out of there without a scratch and onto the next.'
| | | | | | | |
| --- | --- | --- | --- | --- | --- | --- |
| Starts | Wins | Top5 | Top10 | Pole | Best result | At Bakersfield |
| 7 | 0 | 2 | 5 | 0 | 3rd | 1 start, best result : 5th |
The West Series will take a month-long hiatus before returning in early June for the two road races on the 2023 schedule in Portland, OR on June 2 and Sonoma, CA on June 9.