By Jerry Jordan, Editor
CHICAGO – Fresh off a strong run leading the field for 11 laps before getting turned at Talladega Superspeedway, Wood Brothers Racing driver, Harrison Burton, spent Tuesday in the Windy City participating in several NASCAR-related charitable endeavors throughout the community.
The events were a continuation of NASCAR's efforts to embrace Chicago and the surrounding area as the sanctioning body prepares for its upcoming July 4th weekend street course race in downtown.
Burton began his day at Brian Piccolo Elementary School and helped build bikes for the kindergarten classes there. It was part of the All Kids Bike program and a major commitment from the NASCAR Foundation to help eight schools across the city teach their young students how to ride a bicycle.
"Whether it's two-wheels or four-wheels, we're all about positive motion at NASCAR, so this is a great opportunity to help get these students moving," Burton said, during the event. "Riding a bike is a terrific way for kids to be active and engage with one another, and I'm thrilled to be here on behalf of NASCAR's Chicago Street Race to further their ongoing commitment to Chicago area students."
The goal of the All Kids Bike program is to provide a curriculum for students, as well as, the proper riding techniques and safety gear needed to safely ride. Burton even helped build a bike during a reveal at the school and met with students.
From there, Burton, along with NASCAR executive Brent Gambill and Chicago Street Course Race President, Julie Giese, went to After School Matters at Gately Park in Chicago's Pullman neighborhood, where he met with teens constructing a 200-foot-long mural that will be on display during the Chicago Street Race. The mural, which is designed, drawn and painted by the teens, will represent different areas and important aspects of the Chicago community.
Giese, Gambill and Burton even got in on the action by painting a portion of the mural. Burton said he appreciated being able to participate in the events because he can, somewhat relate to the students. Surprisingly, it was Burton, the youngest in the NASCAR contingent, to bring up the late Daytona Beach, Fla. native, Bob Ross, who taught millions to paint through his The Joy of Painting program.
"It's, kind of, cool for me, I am not far from being a high schooler, right, or even middle school," Burton told Kickin' the Tires, in an exclusive interview at After School Matters. "I am only 22, so for me to come to things like this, as after school program, and understand the kids, talk to the kids, not kids but teens here, and to be able to relate to them is cool.
"I did some priming and did some of the painting in the lines but I was scared to death to mess it up because they have worked so hard on these and they look awesome. I am not the most artistic guy. I got some pointers and I was dialed in, so it was cool to see what these are going to be."
Burton actually painted on a panel emblazoned with the words "Team Work" across the top that also depicted a crew member and a racecar. It was one of 50 four-foot by eight-foot panels that will be used in the final design that will be featured at Butler Field during the street race. Burton said he was proud to know he was able to be a part of the Chicago community through his painting efforts on a small portion of the mural.
"NASCAR, from what I have heard and seen today, wants to be a part of this community for a long time," Burton said "It matters to them, you know, so that's been good to see. They are putting the groundwork in where they want to be good neighbors, more or less, and the race will speak for itself.
"It's going to be wild. I mean, it's going to be a NASCAR Cup Series race in the middle of the city. It doesn't get any crazier. And there are 50 of these massive panels behind me that are going to be out in the city and I am going to have a section 'that big' that I painted and I can point at and say, 'oh, I did that' so that's, kind of, cool."
After School Matters is a non-profit organization that provides life-changing afterschool and summer program opportunities to nearly 19,000 Chicago high school teens each year, according to the organization's website. They also provide afterschool treats or meals, as well as, job training, art education, sports, communication and leadership, plus assistance with STEM opportunities.
"We want to ensure that our presence in Chicago will deliver benefits to residents, youth, and the local community," said Giese. "With an office of more than a dozen full-time employees here in Chicago, we are a true part of the Chicago community year-round, and we are honored to partner with organizations like After School Matters and these amazing young artists who are welcoming us to this city through their art."
The joint event with NASCAR was held at the After School Matters facility in Gately Park, which opened in 2021 on the city's far south side. The teen-centric facility is a wing of the Gately Park field house operated by the Chicago Park District and serves up to 1,500 young people each year from the Pullman and Roseland communities.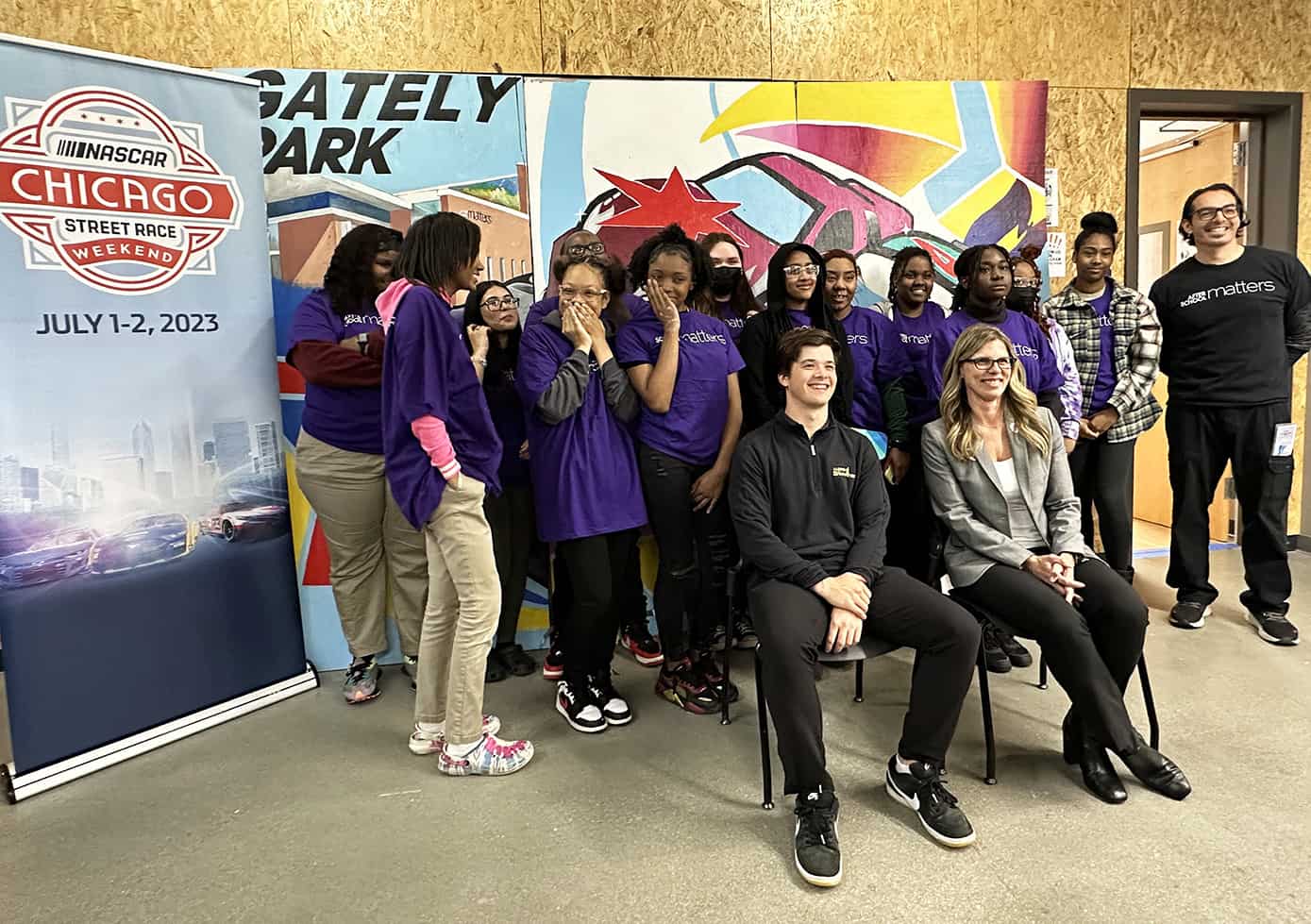 One of the program leaders, Erick Roho Garcia, said it was a treat for the teens to get a visit from a NASCAR driver and see someone in real life that is related to the mural they are creating. He said the murals are the students' personal thoughts on imagery and how they believed Chicago should be represented at the NASCAR Street Race.
"The ideas were originally from the students in what they wanted to see and represent on the mural," Garcia explained. "So, a lot of them, kind of, picked bits and pieces of different neighborhoods and wanted to see if we were able to put it on a mural. That was a challenge."
Garcia said the program comes to an end in about two weeks and the students are very close to meeting all of the deadlines for completion.
"Somebody can just walk right up to it and take it all in," Garcia said. "Meeting an actual driver and seeing an actual pace car out front was really good, really exciting. And I think, for the most part, it's inspiring to the team with NASCAR, what NASCAR is, what they are doing here in Chicago and brightened their day."
For additional content from this writer, Click Here.