By Vincent Delforge, special to KickinTheTires.net
October 9, 2021, NAPA AutoCare Center 150 presented by Berco Redwood Inc. at All American Speedway, Roseville, CA (150 laps/49.95 miles)
This Saturday will be the eighth race of the season in the ARCA Menards West Series. It is the penultimate race of a season, which ends in Phoenix, AZ on November 6.
The NAPA AutoCare Center 150 presented by Berco Redwood Inc. is a night race. The green flag is scheduled to wave around 6:45 p.m. (PT) / 9:45 p.m. (ET). It will count 150 laps for 49.95 miles. The All American Speedway is a .333-mile asphalt short track. The show will be provided by a strong entry list made up of 23 drivers on this third and last bullring track of the season.
But before that, as always, a little history.
Track History
23 drivers are entered for the 23rd race in history on this track located in Roseville. The track created in 1954. It was Summer McKnight who won the first West Series race in 1977 on what was then a quarter mile. That configuration was used until 1982. It took another 26 years to see the return of the West Series to Roseville in 2008.
In the meantime the track had become the 1/3-mile we know today with eight degrees banking in Turns 1 and 2 and a progressive banking, beginning at 10 degrees and graduating to 14 degrees in Turns 3 and 4. And since then, the All American Speedway has always had at least one race per season on the current ARCA Menards West Series schedule.
Rookie Gio Scelzi won the race last year, his only career victory. But it was the ninth win for Bill McAnally Racing on his hometrack. Indeed, the BMR race shop being located not far from there.
And as is often the case, the team led by Bill McAnally has the most wins here with nine. Remarkably, these nine victories have come from the last 17 races. The team has only been active since 1992, and was not present in the first five races here. As is also very often the case, the second most successful team in Roseville after BMR is none other than Bruncati Racing with four wins.
No other teams active today have had the slightest success there. Eric Holmes is the most prolific driver in Roseville with four wins. Among manufacturers, Toyota leads the dance with nine ahead of Ford with seven and Chevrolet with two. The other manufacturers no longer compete in the series today.
Get to know Chris Lowden
A native of Las Vegas, NV, Chris Lowden is better known in the entertainment and music world respectively with Stoney's Rockin 'Country Nightclub and on Country AF Radio than as a driver.
If his name is not the best known to the uninitiated in NASCAR, he has nevertheless been present for several seasons as a sponsor. Indeed we have already seen Stoney's Rockin Country in West Series cars since 2017 with Stafford Smith as driver but also in NASCAR Camping World Truck Series at Las Vegas in 2019 with Justin Johnson.
Born March 22, 1965, Lowden was a late model driver many years ago. He made his ARCA Menards West Series debut last year at his hometrack at the Las Vegas Motor Speedway Bullring. For the occasion he was driving a Chevrolet wearing his own colors and that of LeDoux whiskey. He qualified 15th out of 17 drivers, he finished in the same position following a retirement due to brake problems.
It was with pleasure that we learned of the bearded man's return to the Roseville race at the All American Speedway on October 9th.
Vincent Delforge: First of all, at what age did your passion for motorsport take hold of you?
Chris Lowden: "It was 1981, the first Las Vegas Grand Prix behind Caesars Palace. It was a Formula One race and I believe Alan Jones won. I hooked from there but I didn't start racing until my mid-twenties, started in a street stock at Mojave Raceway, then on to IMCA Modifieds and on to Super Late Models."
VD: You did your first West Series race last year at LVMS Bullring, can you tell us a bit about how that first experience went?
CL: "It was 20 years since I been in a race car but longtime friend John Wood convinced me to start driving again, and oddly enough, it's kind of like riding a bike, I quickly took my bearings. John sent a hauler and racecar, I had a shop in my backyard and off we went. I met a distiller who wanted to expand the LeDoux Whiskey brand, we made a deal and plastered it on both car and hauler.
"Was a good deal until Covid-19 hit, killed his business, my business, and therefore, the LVMS Bullring, where I won my Super Late Championship, was my first and last race of 2020. In August of that year, had a small stroke, spent this time getting back to normal!"
VD: You are both driver and sponsor of your car. It must have been difficult for your business. Especially when you're in the entertainment business?
CL: "Oh yes, to say the least. However, we did not give up and so we were able to open a new Stoney's Roadhouse in Emmett, ID, on the John Wood property, a 120 year old mill site. The inauguration took place on July 16 of this year."
VD: Can you tell us more about your next participation in the Roseville race?
CL: "The opportunity to get back behind the wheel. And then I recovered all my abilities. I really wanted to so I didn't hesitate for more than a second. The LeDoux Whiskey No. 11 car I used last year, got re-wrapped in a Stoney's Roadhouse/Country AF Radio/Blue Valor Whiskey car, still Lowden Motorsports with the logistic from Kart Idaho Racing."
VD: What's next in the West Series for you? Will you do Phoenix at the end of the season and for 2022?
CL: "I'm planning to run Phoenix, albeit in a 105 inches wheelbase chassis, the same as for Roseville. John says he has a 110 ready for me next year. A more recent chassis. In addition it is more suitable for tracks like Phoenix which are longer and faster. But I don't know yet how many races I will be able to do."
VD: I know they say what happens in Vegas stays in Vegas but I heard you were friends with Martin Truex, Jr., is he a regular at the Stoney's?
CL: "(he's laughing) it was his first time at Stoney's Rockin' Country, he says he wants to come back more often, he had a blast!"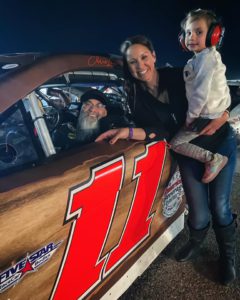 A Detailed look at the entry list:
No. 08 John Wood (Kart Idaho Racing)
Complicated race in Las Vegas for the oldest driver of the field. Radiator problem after driving over debris. He will be behind the wheel of his own car for the fourth time this year. Regarding Roseville, there are seven starts with the best result being a 12th position in 2014. Jeremiah Clever who will be for the first time in the role of crew chief.
No. 1 Jolynn 'JoJo' Wilkinson (Bill McAnally Racing)
If John Wood's race was complicated, that of the young driver from Hueytown, AL was particularly trying for herself but also for her car. Involved in several incidents on the track, it ended up with an engine cover completely folded up. Finally 17th, she intends to show that her eighth position obtained in Colorado was no accident. John Camilleri will be her crew chief like in Colorado. And that's good news for JoJo because John helped Gio Scelzi find his way to Victory Lane right here last year.
No. 6 Trevor Huddleston (Bruncati Racing)
Third in Las Vegas, Trevor finally gets his first top-five of the season! It was time. But to really save his season, he needs a victory. He remains on two third position in 2019 and 2020 at Roseville. This will be his fourth race on this short track which suits him perfectly. Its crew chief Bill Sedgwick has already taken two pilots on the 1/3-mile Victory Lane with Jason Bowles in 2008 and Jagger Jones in 2019.
No. 7 Takuma Koga (Pitts Racing)
With two top-10s in four races at Roseville, including a ninth position as the best result last year, Takuma is feeling good there. And as he seems to have finally found the right rhythm this year after a nightmarish start to the season, it wouldn't be surprising to see the Japanese rider secure his fourth consecutive top-10s. Curiously Jerry Pitts, its owner / crew chief, has never won a race there, narrowly failing in 2011 with Greg Pursley, second behind Eric Holmes.
No. 9 Jake Drew (Bruncati Racing)
The Bruncati Racing rookie is getting closer and closer to securing his first oval victory. In Las Vegas, he didn't miss much. This will be his first race with a heavy and powerful West Series car at All American Speedway.
He is second in the championship just seven points behind Jesse Love and leads the rookie standings with seven points ahead of Cole Moore (third in the overall championship). He's sandwiched by BMR drivers. His crew chief Jeff Schrader will be a great help as he knows the recipe for winning at Roseville, he who already enjoyed this honor in 2017 with Michael Self.
No. 11 Chris Lowden (Kart Idaho Racing)
For his return to racing after more than a year, Chris wants above all to have fun and bring the car back in one piece. It will be Tony Jackson's first race as crew chief if Chris takes the start. Tony had already held this position once in 2017 but due to a mechanical problem Kevin O'Connell was unable to start in Sonoma, CA.
No. 13 Todd Souza (Central Coast Racing)
Todd's season can be summed up like this. The first five races, everything is fine and then the total nightmare since Portland. In Las Vegas, it was another disaster and the loss of the last hopes for the championship. But Todd, Michael Munoz, his crew chief, and the entire CCR team are warriors and will do anything to end the season on a high note. And what better than Roseville where Todd finished second last year. A short track where he has three top-fives and four top-10s in six races.
No. 16 Jesse Love (Bill McAnally Racing)
Wrong note in Jesse's 2021 score, the Las Vegas race will not leave him with good memories. With Sonoma's 19th position, Jesse has already burned two jokers this year. He remains in first position in the championship thanks to his two victories, 4 top-5s and 5 top-10s. Fourth last year at Roseville, it was his second worst result of the year with his eighth place finish at Bakersfield. He just earned his first victory in the ARCA National Series in Salem, IN.
No. 17E Taylor Gray (David Gilliland Racing)
To say that 2021 is a fantastic year for Taylor is both true and false. This is not true because he suffered a serious traffic accident in April which took him away from the circuits for many weeks. But this is also true because since his return to competition he is simply dazzling. He puts on the top-fives and top-10s like pearls in both the ARCA Menards Series and the East Series and has just won the last two West Series races in Portland and Las Vegas.
The understanding with Chad Johnston, his crew chief, is perfect and he will still be a very serious contender for victory this Saturday. Last year he took the pole and finished seventh at Roseville after leading 116 of 125 laps. If he wins, it will be his third in a row. And three consecutive West Series wins haven't happened since 2017 with Todd Gilliland. The son of the owner of Taylor's car. It can't be made up. At the time Todd Gilliland had even won four races in a row for BMR.
No. 17W Amber Slagle (Cook-McGowan Racing)
It will be his third career race. Hopefully for Amber luck is on her side. Mechanical problem in Irwindale and victim of an accident at the start of the race in Las Vegas. Still fast in qualifying, she has 150 laps left this season to get a good result and hope to come back next year. Indeed, she is not scheduled to race Phoenix. But who knows, with a good result in Roseville,.. Sean Samuels will be her crew chief again.
No. 21 Josh Fanopoulos (Kart Idaho Racing)
A complicated start to the race in Las Vegas for Josh, spun by Hillis, Jr. But he was able to take advantage of a free pass to clinch his second career top-10. Dennis Wurtz will be his crew chief as in Las Vegas. He has already done two races at Roseville with a 15th position as the best result in 2019. I got to ask him a few questions this week.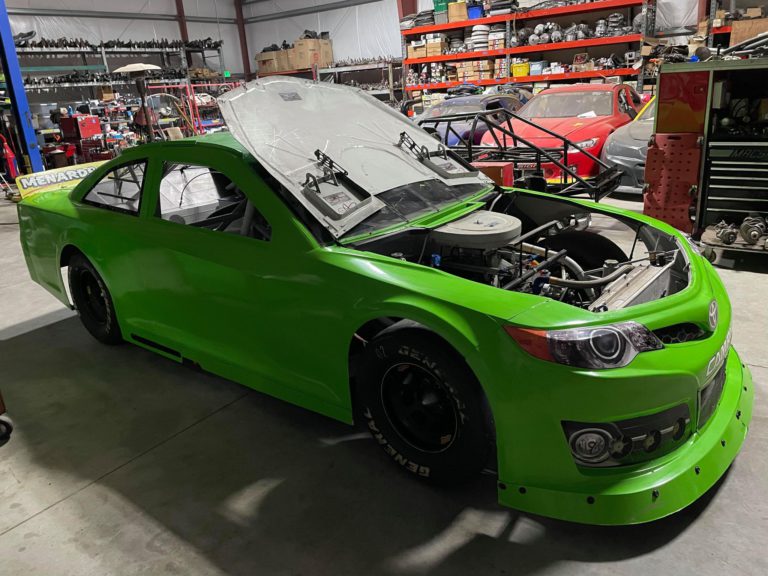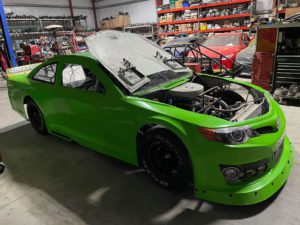 VD: Top-10 in your pocket, your race in the LVMs Bullring was nevertheless a practice session in preparation for the final in Phoenix. Can you tell us more?
JF: "Both Vegas and the car we drove were new to us. I wanted to test the package that we will be using in Phoenix with the Ilmor engine. Until now I had always used the spec engine. Our hope is to have a good performing car in Phoenix and to do so we needed to shake that car down and get comfortable driving it".
VD: Regarding the Roseville race, what are your plans? Which chassis / engine package will you use?
JF: "We plan to run the same car in Roseville the 110 inches wheelbase chassis with the Ilmor engine. There are still details to be worked out to be really comfortable behind the wheel. We're just going to try to keep the car in one piece!"
VD: And for the Phoenix race, what are your goals?
JF: "Our goal is always to have fun and be able to load the car in one piece. My hope would be to finish on the lead lap and be competitive. Another top-10 would be great!"
VD: Partial season this year in the West Series. Your main goal was your local championship at Meridian Speedway, ID. You've been crowned in Bud Light Modifieds, congratulations. And one race to the end of the season, you lead the Paulys Barroom Street Stocks category. But for 2022, what are your plans? And for the ARCA Menards West Series? Full season?
JF: "I would love to run a full season of ARCA West and if that's in the cards I will put my full focus on doing so. I hope to have that conversation with my sponsor Stoney's Roadhouse this week. I'll tell you what quickly.
"Winning the division 1 class this year was a huge goal of mine followed by the state championship which we came up a little short and finished 2nd in the state and region. A good year for sure!"
No. 27 Bobby Hillis, Jr. (Fierce Creature Racing)
The Las Vegas race was particularly difficult for Bobby Hillis, Jr. Three spins and a distant 15th position. Despite his long career and 87 starts, he has only raced once in the AAS. It was last year with a 13th position. And the preparation for Roseville was delicate as he explained to us.
BH: "We had a technical issue with the SFI* Tags on the seats and had to take them out to get recertification. I brought the seat out of the orange car to Vegas and then had to take the seat out of the yellow car after the race. It was quite the thrash! Chris Wright the series director set it up for another team from back East to take them to Butlerbuilt for the recertification and then bring them back to Roseville when they come. I was going to put the seat back in at the track but with no help I decided that it was too much and just plain dangerous.
"I seriously thought about not going to Roseville. But we have a place in the top-10 of the championship to defend.
"My only other option to make the race was to try and correct the overheating problems with the Kamree car and bring it. If I couldn't get the problem fixed I probably wasn't going to go to Roseville. As usual it was a two dollar part causing the problems! A fitting on top of the radiator to vent it was completely plugged up making it vacuum locked and not circulating water or being able to add any. Replaced the fitting and immediately was able to add almost two gallons of water and could see the water moving in the radiator. I think we're good now and we just need to stay out of trouble and have a good points day!"
So this will be the very last race for the old Kamree, the fan favorite car! Note the return after two races of absence due to the Covid of crew chief Ed Ash.
* Since 1978 the SFI Foundation, Inc. (SFI) is a non-profit organization established to issue and administer standards for the quality assurance of specialty performance and racing equipment. NASCAR and ARCA follow SFI protocols.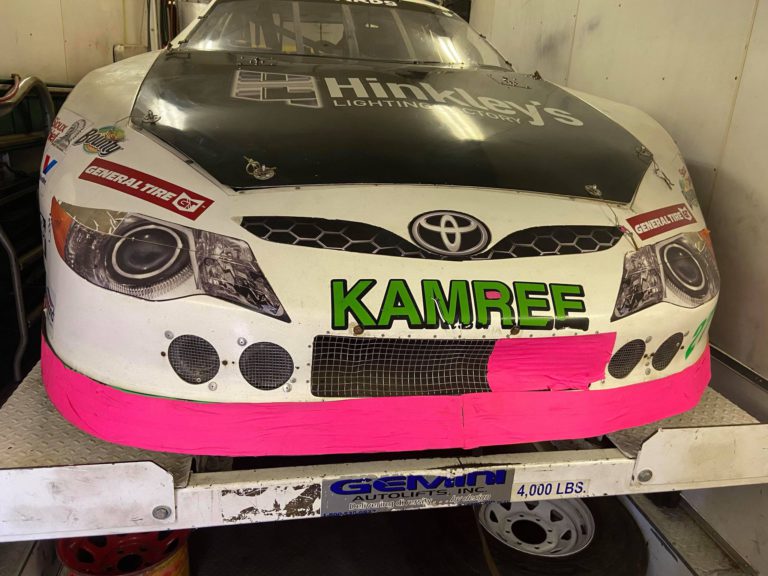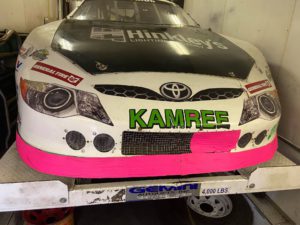 No. 31 Paul Pedroncelli (P.J. Pedroncelli Racing)
A few laps and then off to the pit lane in Las Vegas for the patriarch. That was the plan and it should be the same at AAS. This will be his first race in Roseville. Rodd Kneeland will be the crew chief.
No. 33 Paul "P.J." Pedroncelli (P.J. Pedroncelli Racing)
He fought for the top-five on the LVMS Bullring for a long time before being pushed into spun. But he will manage to get back into the pack and take seventh position. Combined with Jesse Love's problems, this is enough to give him a chance in the championship, now 15 points behind the leader.
With Ty Joiner, who is the most victorious crew chief in Roseville with three successes, he will aim for his first career victory. He has already done two races at Roseville but it goes back to 2009 (21st) and 2010 (15th). In 2011 he failed to qualify.
No. 38 Stafford Smith (Kart Idaho Racing)
Stafford has had mixed fortunes this year. Eighth in Portland, he lacked pace in Las Vegas with the car previously used by Hiroyuki Ueno, finishing 12th, four laps behind the winner. 20th in 2016 at Roseville, he did better with 13th position in 2017. Mike Holleran will be his crew chief.
No. 42 Christian Rose (Cook Racing Technologies with McGowan Racing)
The nice surprise of Las Vegas. For his first race in his career, he managed to avoid problems and pass under the checkered flag in 10th position. The initial objective being exceeded! Now that he knows the car, he is raising his ambitions and aiming for a new top-10. As at LVMS Evan Bertone will be his crew chief.
No. 42 Christian Rose (Cook Racing Technologies with McGowan Racing)
The nice surprise of Las Vegas. For his first race in his career, he managed to avoid problems and pass under the checkered flag in 10th position. The initial objective being exceeded! Now that he knows the car, he is raising his ambitions and aiming for a new top-10. As at LVMS Evan Bertone will be his crew chief.
No. 51 Dean Thompson (High Point Racing with Bruncati Racing)
After two races away, Dean Thompson was having a great race in Las Vegas fighting for the podium. Unfortunately a contact would puncture his left rear tire and send him into the wall. He finished in a disappointing 14th position. But AAS is the type of short track he loves and will be one to watch closely! As usual Travis Thirkettle will be his crew chief.
No. 54 Joey Iest (Naake-Klauer Motorsports)
Joey's good form continues race after race. Five consecutive top-5s. Never beyond the fourth position. Without the two poor results at the start of the season due to mechanical problems, he would surely be the leader of the championship. Fourth at 15 points from Jesse Love. Joey and Mike Naake, its owner and crew chief still want to believe it and they are right!
No. 77 Caleb Costner (Performance P-1 Motorsports)
Due to a mechanical problem, Caleb was unable to start his first career race in Portland. Provided that this second attempt is the right one. With his crew chief Dave McKenzie, he would like to obtain the second top-10 of the season for Joe Nava and his team PP1M after the ninth position of Nick Joanides at Irwindale on July 3rd.
No. 78 Travis Milburn (Velocity Racing)
This is the year of comebacks! After a good 2019 season which saw him obtain seven top-10s in 14 races, Travis put his career on hold in 2020 to devote himself to the management of Kart Idaho Racing. And then with the Covid, he had to make financial choices. It's with pleasure that we find him behind the wheel.
Roger Bracken will be his crew chief. He will use the latest car acquired by Kart Idaho Racing, the Toyota Camry used last year by Jack Wood in his family team Velocity Racing. And the last time this chassis was driven was precisely in Roseville last year where Jack Wood was eighth.
This will be his 10th race at Roseville, so he is the most experienced driver here of the 23 entered. In his previous nine races on the AAS, he has already obtained four top-10s and his best result is a fifth position obtained in 2018.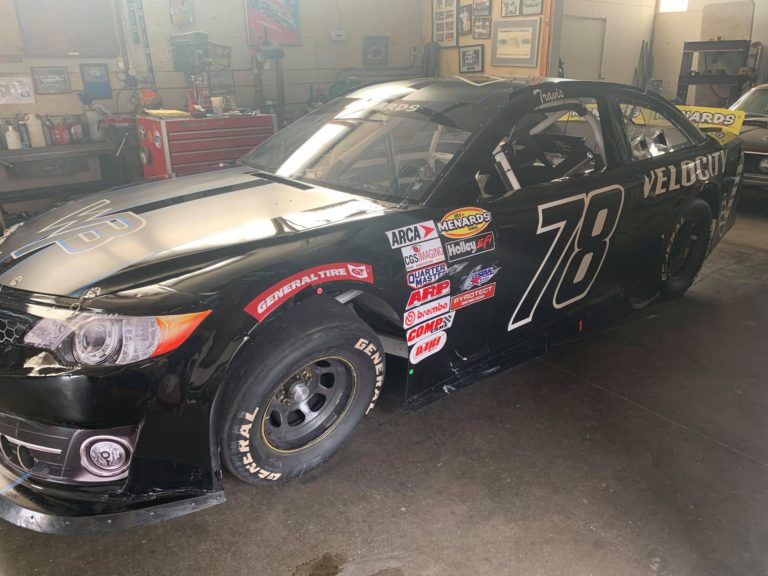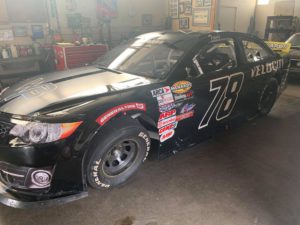 No. 80 Brian Kamisky (Kamisky Racing)
Does Brian have a taste for oval racing, he the specialist in road circuits? After purchasing the car used by Austin Reed in 2019, he entered Irwindale in August to make his West Series oval debut. Victim of an accident, he was unable to show us what he can do. With the help of his crew chief Derreck Copeland, his goal will be to perfect his learning and be as close as possible to the top-10. He has just taken part in a BMR Drivers Academy race in Roseville to prepare himself as well as possible.
No. 88 Bridget Burgess (BMI Racing)
Bridget and her mother and crew chief Sarah don't have the season they dreamed of. Only two top-10s in seven races. This is way below their targets. Especially since Bridget has shown to have good speed, especially on the two road tracks. But too often it suffers from mechanical problems and accidents. Whether in 2019 or 2020, she has each time finished 11th at Roseville. She needs a top 10 to restore his confidence.
No. 99 Cole Moore (Bill McAnally Racing)
He could have been the big beneficiary of his teammate Jesse Love's troubles in Las Vegas but Cole Moore lost some speed in the final third of the race, finishing sixth. He took a few points from Jesse but lost to the other rookie, Jake Drew. Drew who even took him the second position in the championship.
But Roseville comes at just the right time for Moore because it is the track where he has the most experience in the West Series with three starts. His best result being two times seventh. Winning is imperative if he is to maintain his championship chances. Mario Isola, his crew chief, has never won at Roseville but has already achieved three top-5s there.
Final notes:
The big absentee in Roseville is Eric 'Bubba' Nascimento. Its crew chief Mike Nascimento telling us: "Unfortunately, too much going on the past few weeks to prepare the car and be able to test. So we made the decision not to go to Roseville. We hope to be in Phoenix but nothing is certain yet. "
The NAPA AutoCare Center 150 presented by Berco Redwood Inc is scheduled for Saturday, Oct. 9, with a start time of 6:45 p.m. PT / 9:45 p.m. ET. The race will be shown live on NBC Sports Gold's TrackPass with a live audio feed available on ARCARacing.com. A delayed broadcast of the event will air on NBCSN on Thursday, Oct. 14, starting at 5 p.m. ET.
Five hours before the race, there will be a unique one hour and 15-minute combined practice and qualifying session to determine the starting grid.
Now it's time for the show.
All results here: www.racing-reference.info/entrylist/2021-08/AW/
Featured Photo Credit: Photo by NKP / NKP Photo