By Vincent Delforge, special to KickinTheTires.net
The eighth race of the season, the 1001th in the history of the ARCA Menards West Series was held at Portland International Raceway, in Portland, OR. It was the third and final road race of the season, the second in Portland. The other having taken place in Sonoma, CA. Winner in the deluge last June, championship leader Jake Drew dominated the Portland 112s, this time raced in glorious sunshine.
The Bruncati Racing driver taking his fourth victory in the last five races. He even achieved the feat of having won all the road races of the year. Now with a lead of 52 points over the second in the championship, his teammate Tanner Reif, he can envisage an end to the season without too much pressure. There are indeed three races left, all on ovals.
The Portland II race review is available here: www.kickinthetires.net/nascar/arca-series/arca-menards-west-series-portland-ii-race-review/
Complete race results: www.racing-reference.info/race-results/2022-08/AW/
Driver & owner standings: www.racing-reference.info/standings/2022/AW/
As after each race we are going to detail the statistics for each driver, embellished with the reactions collected from many of them, drivers, owners and crew chiefs.
ARCA West Quick stats
-Race number 1001 since the inception of the West Series in 1954.
-2022 race number 8 of 11.
-Race number 8 at Portland International Raceway since 1986. The third on the 1.967 mile 12-turn configuration since 2021.
-Win number 5 for Ford at Portland. Ford leads with 5 wins ahead of Dodge, Chevrolet and Pontiac with 1 each.
-285th win for Ford in West Series (record)
-Win number 42 for owner Bob Bruncati and his team Bruncati Sunrise Ford Racing. Bruncati Racing is now the third most successful team in history. The all-time most successful owners in history are Bill McAnally (98), Fred Elder (45), Bob Bruncati (42) and Ernie Conn (41).
-Win number three for Bruncati Racing at Portland (Luis Martinez, Jr. 2011 and the two races in 2022 with Jake Drew). The most successful team in history at Portland is Bruncati Racing with 3 wins.
-Second consecutive win for a team at Portland, a first in history.
-Most successful season for Bruncati Racing with six wins (previous most in 2008, 2009 and 2013 with four wins)
-First time Bruncati Racing won five races in a row in a single season.
-Fourth career win for Jake Drew (17th career start)
-Jake Drew is the first driver with two wins at Portland. (remaining the 7th different race winner at Portland)
-3rd time in 8 races that the poleman wins at Portland.
-sixth career pole position for Jake Drew, the second at Portland.
-Third pole for Bruncati Racing at Portland. The most for a team here. The second best team is McGowan Motorsports with two poles.
-44th pole for Bruncati Racing in West Series
-First career start for Davey Magras
-Best career result result for Ryan Philpott (6th), Davey Magras (7th), Vince Little (11th) and Sean Hingorani (12th).
-Best season result for Todd Souza (2nd).
-26th win for the number 6 in history.
-20th pole for the number 6 in history.
-34th career win (two at Portland) for crew chief Bill Sedgwick.
-45th career pole (two at Portland) for crew chief Bill Sedgwick. The record is 47 for Richard Elder.
-247th pole for Ford in West Series.
-143th road track race in history (including the 4 street races).
– In the 26 seasons that have included at least three road races, this is the first time that a driver (Jake Drew) has won all the races of the year. The previous record was three wins in 1986 by Hershel McGriff. But that year there were six road races!
The Drivers
No. 4 Sean Hingorani (Nascimento Racing) Start: 5th – Fin: 12th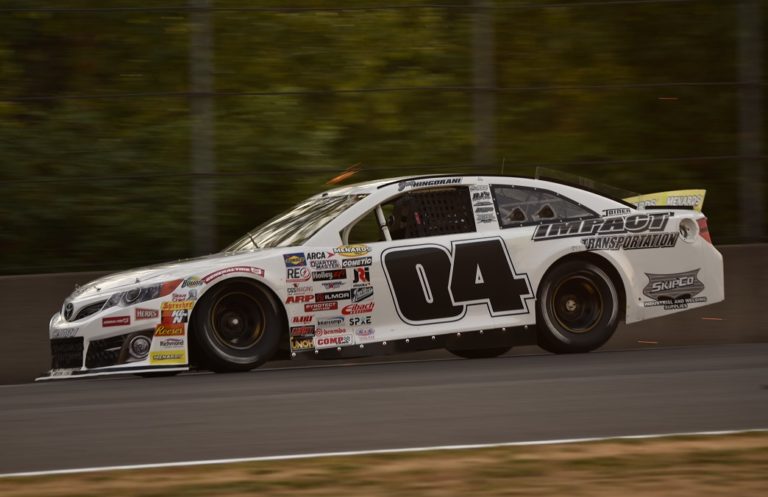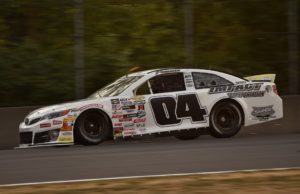 Ups and downs for the rookie. For his first race on the road circuit, he impressed with a superb fifth time in qualifying. Author of a correct start, he went off the track at the end of the sixth lap at turn 12 and hit the tire barrier. Losing a lap to repair the car, he nevertheless kept a good pace. Unfortunately he was going to experience transmission problems. His team was repairing to allow him to get back on the track and gain valuable seat time. But all hope of a good result was gone.
"What a weekend in Portland. Our first ARCA road course race is now in the books and it was awesome! Although the results won't show it, we were fast…really fast.
In practice we were able to cut seconds off every time out. Getting used to and going fast in the ARCA car is quite a bit different then the Legends car on the road course. Luckily the guys at Nascimento Motorsports and Derek Thorn always speed up the learning curve and we qualified in the top 5.
We were pumped to go racing and got off to good start. After settling in at a good pace, we had a transmission issue and ended up blowing a corner and into the tires. The team thrashed away and we were able to get back out, finish the race and get some really valuable seat time in but…we really want to be up front racing!" Hingorani says.
| | | | | | | |
| --- | --- | --- | --- | --- | --- | --- |
| Starts | Wins | Top5 | Top10 | Pole | Best result | At Portland |
| 2 | 0 | 0 | 0 | 0 | 12th | 1 start, best result 12th |
No. 6 Jake Drew (Bruncati Racing) Start: 1st – Fin: 1st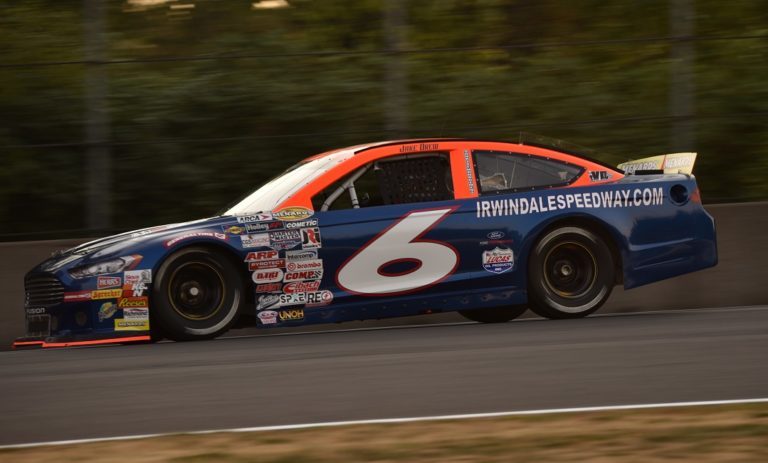 Simply dominating. An uncontested pole position, race control at each restart. No panic when he was surprised at the start by Todd Souza, taking over the first position after two laps. Sometimes mistreated during restarts by BMR drivers, he mastered side-by-side close racing in the winding part to position himself well for the backstretch. Once in the lead, he widened the gap lap after lap.
Signing a best lap in the race in 72.493 seconds, a second faster than Souza and much more on the others. Note that it was even much faster than his pole position! Performing the sweep in Portland, he even achieved the perfect road course score since he won all the road tracks of the year (Portland 2x and Sonoma). Fourth victory in the last five races. He is the only driver to have finished all races in the top 10. Even better, they finished them all in the top-five!
Drew analyzing his race in the following way: "Our goal every time is to make sure we run all the laps and not put ourselves in any bad spots. My team brings me such a good car that when we do that we are usually in contention for a win! I felt the track conditions were a bit "greasier" than last year and I think it has to do with the different compounds of tire used throughout the Road To Indy. My car is exactly the same as it was last year and the car was incredible during the race again. We made no changes during the break as we kept logging consistent laps.
"I'm thankful to ARCA for making the adjustments for a safer start and restart. I understand contact was still made in the braking zone but I feel it was much more manageable than as if we used the chicane We were still on the verge of that but that's just the competition having a lack of knowledge and respect for their equipment and competitors. Looking to carry our momentum all the way to the end this year."
| | | | | | | |
| --- | --- | --- | --- | --- | --- | --- |
| Starts | Wins | Top5 | Top10 | Pole | Best result | At Portland |
| 17 | 4 | 12 | 15 | 6 | 1st (4x) | 3 starts, best result 1st (2x) |
No. 7 Takuma Koga (Jerry Pitts Racing) Start: 9th – Fin: 5th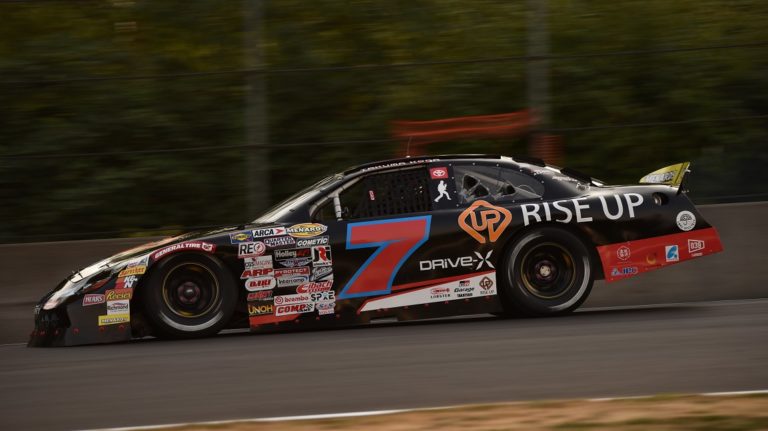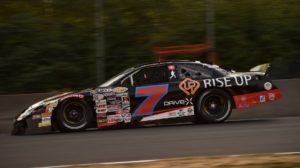 To say Koga loves Portland International Raceway is an understatement. He is always very fast and efficient here. He has just obtained fifth position there for the third time in a row in three races here! No matter the conditions. However, the end of the race was not easy following vibrations causing problems with the gearbox after the penultimate restart, he would regain two positions in the last four laps to re-enter the top-five. 2022 is unquestionably his best career season, the first where he made two top-fives.
"I'm glad I was able to finish because We had some trouble with the drivetrain and huge vibration during the last 20 laps. I am happy to racing with Jerry Pitts Racing. On to next race!" Koga says.
| | | | | | | |
| --- | --- | --- | --- | --- | --- | --- |
| Starts | Wins | Top5 | Top10 | Pole | Best result | At Portland |
| 98 | 0 | 4 | 20 | 0 | 5th (4x) | 3 starts, best result 5th (3x) |
No. 9 Tanner Reif (Bruncati Racing) Start: 7th – Fin: 3rd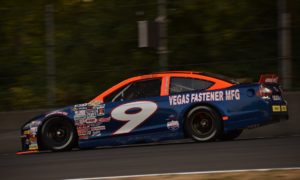 Sixth in June, the rookie had a discreet but very efficient race. Obtaining his first podium on a road track. However, he could have done better without some electrical problems throughout the race.
"Yeah, finally had a good race on a road course race. Could of been better without some mechanical problems" Reif says.
Now 52 points behind Drew in the championship, his main objective will be to secure a few more wins by the end of the season. All the races being on ovals, his favorite ground.
| | | | | | | |
| --- | --- | --- | --- | --- | --- | --- |
| Starts | Wins | Top5 | Top10 | Pole | Best result | At Portland |
| 8 | 2 | 4 | 6 | 2 | 1st (2x) | 2 starts, best result 3rd |
No. 13 Todd Souza (Central Coast Racing) Start: 2nd – Fin: 2nd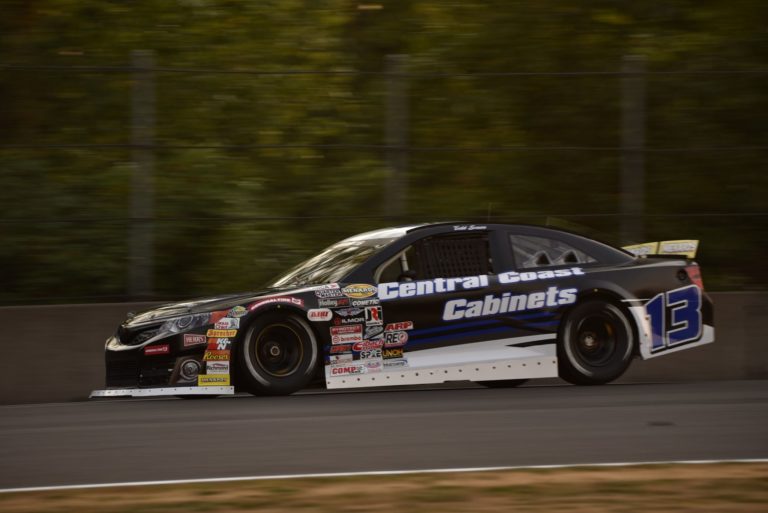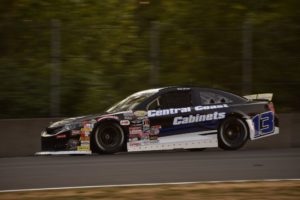 Third in the rain in June, which was already his best result here, Souza did even better with second place. Easily in front of all the drivers… except Drew…
"We gave everything we had. We gets faster and everyone else does too. We had a chance on the last restart to possibly take the lead and we didn't think it was worth the risk of taking both of them out. Good points day but man we'd like a win! »Souza says. CCR will have made solid races this season on the road circuits.
Michael Munoz said: "Portland has been good to us this year with a third and second place and lead at least once in all three road races this year. I'm happy the direction our road cars are going right now. The best part we still have. Lots of work to do to be better. This weekend was good! Driver and crew were on point! They are the reason for all this and I can't do it without all of their hard work."
| | | | | | | |
| --- | --- | --- | --- | --- | --- | --- |
| Starts | Wins | Top5 | Top10 | Pole | Best result | At Portland |
| 105 | 1 | 17 | 58 | 0 | 1st (1x) | 6 starts, best result : 2nd |
No. 14 Davey Magras (Davey Magras Racing) Start: 11th – Fin: 7th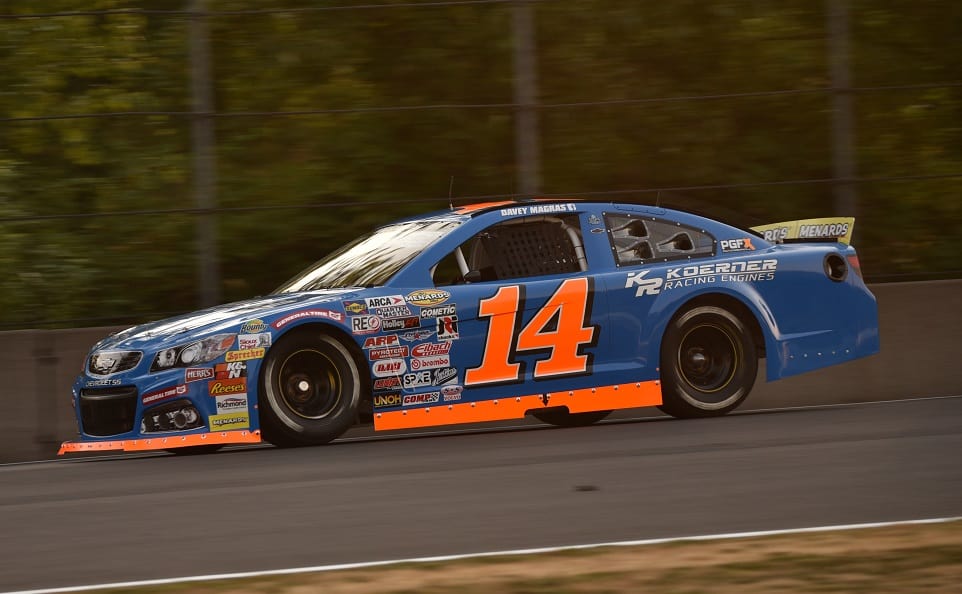 For a first experience as a driver in the West Series, Magras will long remember his trip to Portland. He who was on the other side of the pitlane wall for a long time with Jerry Pitts Racing in the previous years. Moreover, even if the car was prepared by the Magras family, whose son Zach, also crew chief of the team, help was also provided by Jerry Pitts Racing. He will benefit from the free pass halfway through the race and will manage to finish in the leader's lap despite some braking problems.
Magras said: "I am very happy with the overall outcome . Dealing with brake performance issues all weekend made it a bit tougher to be as competitive as I would have liked but, a P7 and lead lap finish is a win for our new No. 14 DMR team."
Davey will not be doing any other races this year but should do a partial program next year including road races but also ovals as the team has acquired a second car.
| | | | | | | |
| --- | --- | --- | --- | --- | --- | --- |
| Starts | Wins | Top5 | Top10 | Pole | Best result | At Portland |
| 1 | 0 | 0 | 1 | 0 | 7th | 1 start, best result 7th |
No. 16 Landen Lewis (Bill McAnally Racing) Start: 4th – Fin: 9th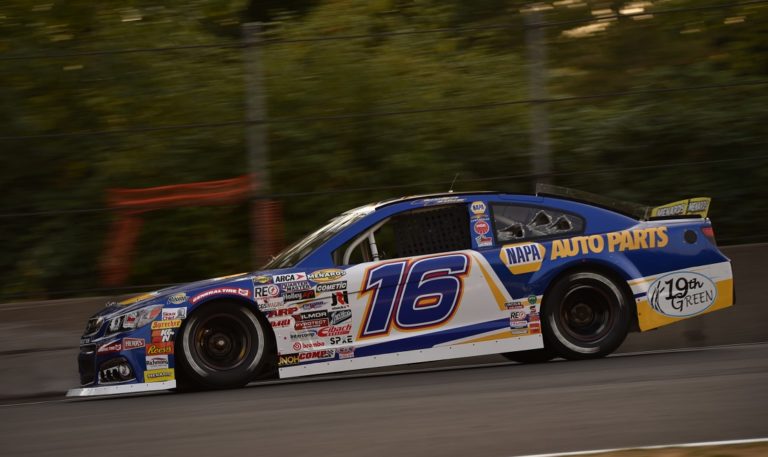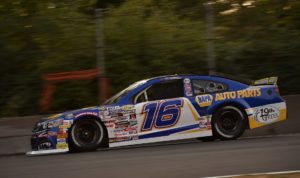 Discovering the Portland road track, Lewis seemed able to counter the domination of the Bruncati drivers during Friday practice by obtaining the best time and with a good second in advance. But if the qualifications were correct for him, the race was going to be more complicated. Being fast and threatening for the leader Drew on the restarts.
He was going to encounter a problem of handling and overheating following contact with the rear of Drew during the restart of the 27th lap. The front of his Chevrolet being damaged. He will have to go through his pit box to solve the problem. And will lose more than two laps on the leaders. Too bad because he could envisage at least a podium.
| | | | | | | |
| --- | --- | --- | --- | --- | --- | --- |
| Starts | Wins | Top5 | Top10 | Pole | Best result | At Portland |
| 5 | 1 | 2 | 4 | 0 | 1st (1x) | 1 start, best result 9th |
No. 39 Andrew Tuttle (Last Chance Racing) Start: 13th – Fin: 13th DNS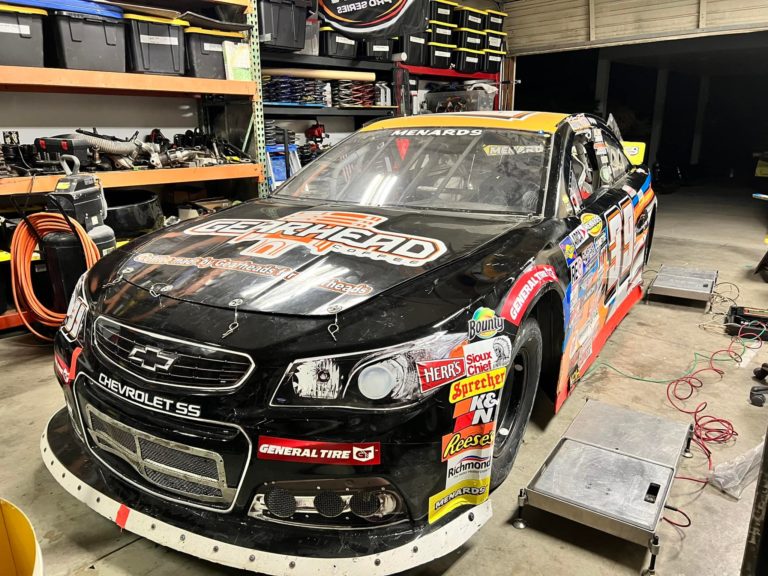 The car seemed fine when Tuttle took to the track for qualifying but unfortunately the lower engine broke… Impossible to repair before the start, forcing the LCR team to watch the race from the pitlane. But they will help the second car of the team, that of Vince Little and also help BMI Racing to allow Bridget Burgess to finish the race. Beautiful spirit of solidarity within the underdogs.
"The 39 car felt great on the track it was a good set up and felt like we had lots of power I really thought we would have a good race. Like they say it runs best before it blows. We had a few internal parts that decided to make a quick exit out the bottom of the oil pan." Tuttle says.
| | | | | | | |
| --- | --- | --- | --- | --- | --- | --- |
| Starts | Wins | Top5 | Top10 | Pole | Best result | At Portland |
| 14 | 0 | 0 | 0 | 0 | 11th (1x) | 1 start, best result 12th |
No. 52 Ryan Philpott (Philpott Racing) Start: 8th – Fin: 6th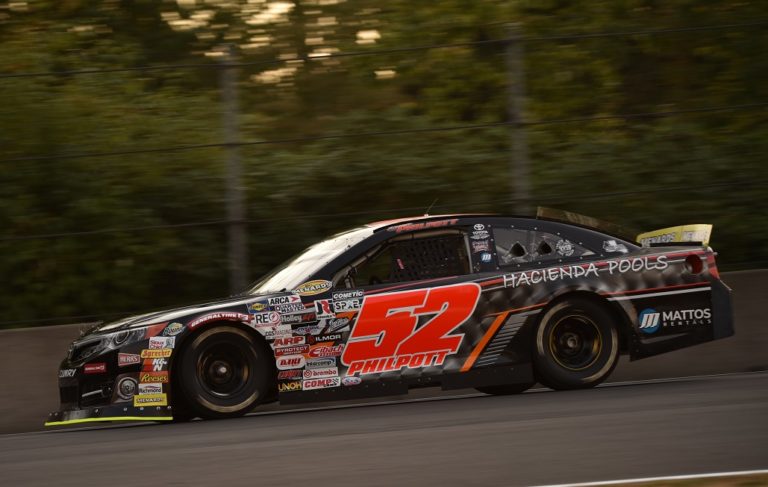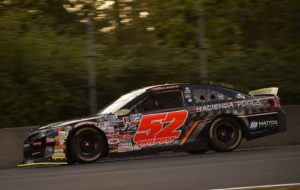 Philpott had already obtained a top10 in Portland… in 2011. This year he finished sixth, his best result in his career. But with a bitter taste. Indeed he occupied fourth position for a few laps before being overtaken by Cole Moore five laps from the finish. He was still fifth with less than two laps remaining but this will be overtaken by Takuma Koga, depriving him of his first career top-five. That said, Philpott will have had two very good races this season. At sonoma he was already in the top 10 before suffering an accident for which he was in no way responsible just before the finish. He has a good car, let's hope he comes back in 2023.
| | | | | | | |
| --- | --- | --- | --- | --- | --- | --- |
| Starts | Wins | Top5 | Top10 | Pole | Best result | At Portland |
| 37 | 0 | 0 | 9 | 0 | 6th (2x) | 3 starts, best result: 6th |
No. 54 Joey Iest (Naake-Klauer Motorsports) Start: 6th – Fin: 8th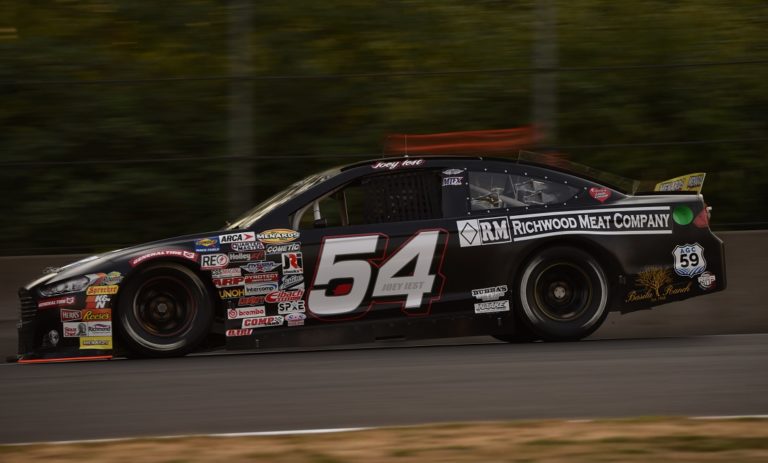 After a nice clearing in the sky from Iest to Evergreen, bad luck returned to Portland. Fast as usual, he was easily in contention for at least a top-four or top-three when suddenly on lap 29 his #54 Ford came to a halt on turn 5.
"Coil wire came off. Unbelievable the luck that we have.. We would've been top three no problem" Mike Naake says.
After repairs, he will gain a few positions to finally save an eighth place. A result far from what he can do. Joey saying : "I had a fast Naake-Klauer Motorsports car in Portland. Starting in sixth and working our way up to fourth when we lost all power to the car due to a coil wire popping off to the distributor. Pitted and got the wire back on causing us two laps down finishing in eighth."
| | | | | | | |
| --- | --- | --- | --- | --- | --- | --- |
| Starts | Wins | Top5 | Top10 | Pole | Best result | At Portland |
| 21 | 1 | 8 | 11 | 0 | 1st (1x) | 3 starts, best result 4th |
No. 85 Vince Little (Last Chance Racing) Start: 12th – Fin: 11th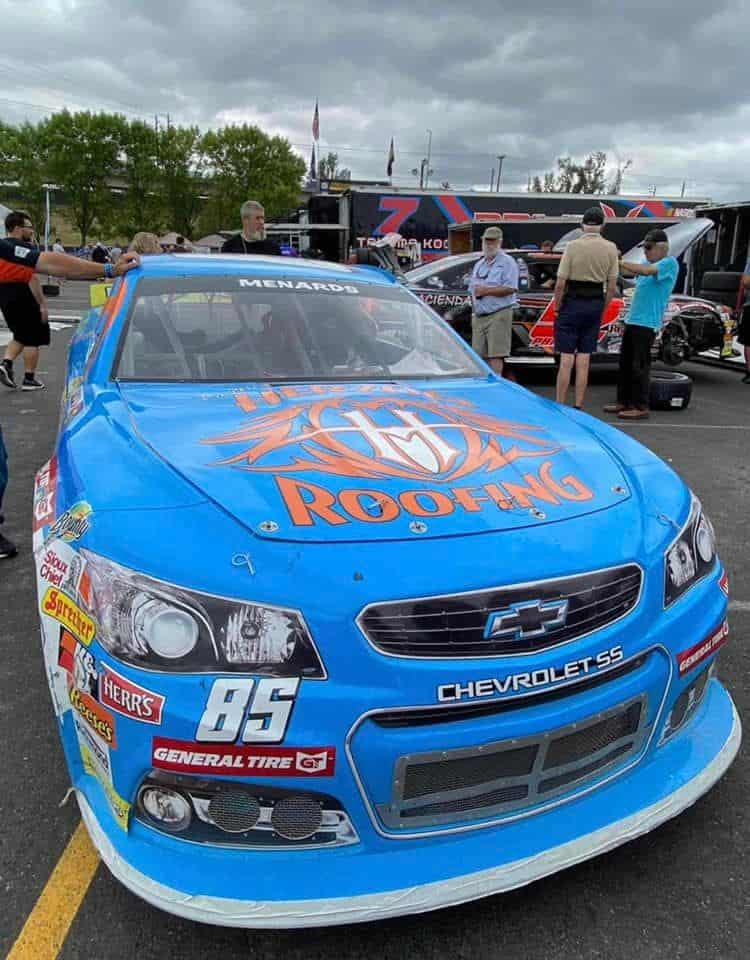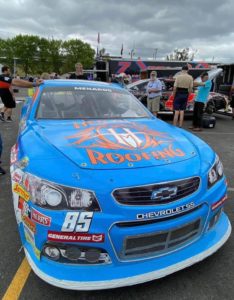 In June he finished 14th with his own car. This time it was with the same car but for Andrew Tuttle's LCR team that Vince Little returned to Portland. He will give us two 360° spins. The first causing the fourth and last yellow flag because it will remain blocked in the grass of turn 12. The second without disturbing the race since it will leave as quickly after its pirouette in turn 5! But his race was thwarted by his gearbox.
Little saying: "With my crew chief Darrell Herzog, we ran a Charlie Wilson setup in the car and it was fantastic. Was running seventh on the lead lap and the shifting linkage got stuck in thirrd gear. Came in the pits went five laps down getting it fixed. Got back on track and two laps later got stuck in fourth gear. Came in again and went two more laps down. Then it was all about getting as much as we could and over drove turn 5 a bit and spun but kept it going… finished 11th do oh well. Car is in one piece and good to go for Roseville"
"The 85 car had a few struggles this race but will be back for the next. We had to get the car ready Friday morning at the race track. And still struggled with a linkage issue durning the race. we had to bring her into the pits and lost about seven laps trying to get it fixed but we were able to get the 85 back on the track to finish. But Vince had a good run. We want to thank our friends Cheap Fast Racing for all the help in the pits this weekend and the amazing fans in Portland for making a great weekend" Tuttle says.
We will see him again in Roseville and in principle also in Colorado and Phoenix.
| | | | | | | |
| --- | --- | --- | --- | --- | --- | --- |
| Starts | Wins | Top5 | Top10 | Pole | Best result | At Portland |
| 2 | 0 | 0 | 0 | 0 | 11th | 2 starts, best result : 11th |
No. 88 Bridget Burgess (BMI Racing) Start: 10th – Fin: 10th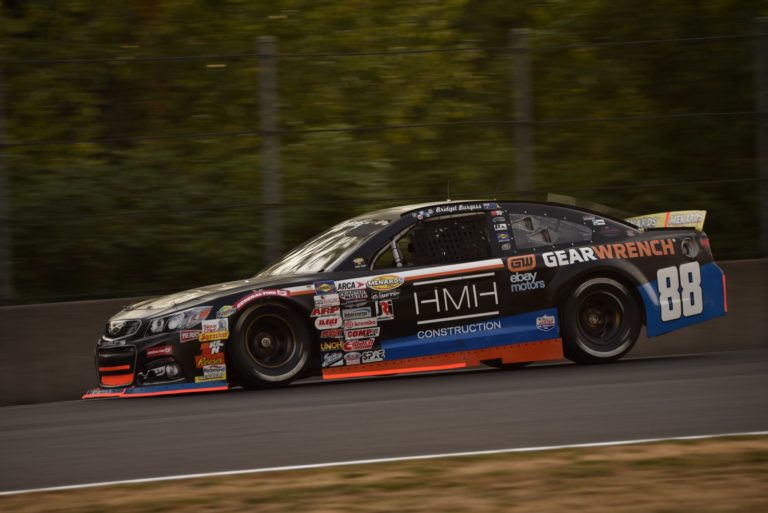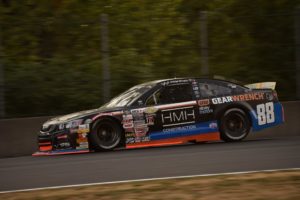 What a disappointment for Bridget Burgess. When her car had no problems she had the speed to consider her first career top-five… But recurring fuel pump problems ruined everything. The death knell will sound less than 20 laps from the end when the #88 Chevrolet stops at turn 5. The BMI team will do everything possible to allow Bridget to finish the race and obtain a top 10 as a small consolation.
Sara Burgess (crew chief and owner) saying: "The race was amazing! We had fueling issues during practice on Friday and adjusted the float bowls. Daring qualifying that didn't solve the issue and had low fuel pressure. Switch the fuel pump and started to the rear of the field. Before the half way break we started having fuel pressure issues again, and Bridget wasn't driving full throttle.
"Filled with fuel and sent her back out. She was in fourth, and everything was going well with 20 laps to go and another caution came out, so we fueled her again just to be safe. Sent her back out, and that's when the cloud of smoke happened. The filler bung had fallen out of the transmission. We fixed the issue with the help of the 39 team and got Bridget back out for a top 10 finish."
| | | | | | | |
| --- | --- | --- | --- | --- | --- | --- |
| Starts | Wins | Top5 | Top10 | Pole | Best result | At Portland |
| 28 | 0 | 0 | 9 | 0 | 7th (2x) | 3 starts, best result : 7th |
No. 99 Cole Moore (Bill McAnally Racing) Star: 3rd – Fin: 4th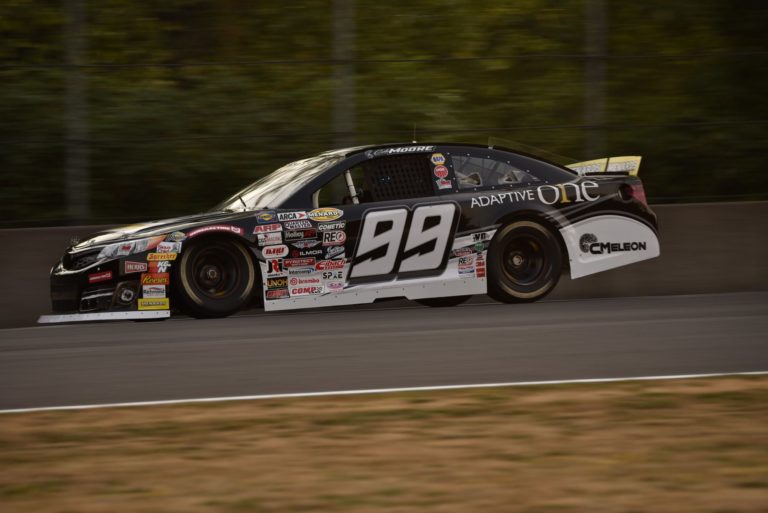 Fast and unlucky… It's true but Cole also made a mistake that probably deprives him of a second position or maybe even victory. Because he was as fast as Drew in the final laps. This error is this stolen restart and this drive through that put an end to his hopes. Because Moore will have known everything. A solid start to the race in the top-three then second for a long time. He was going to lose two laps following two successive incidents.
First a contact with Drew during the restart of the 27th lap. The worst is that if Drew pushed Moore in the grass of turn 4 it was because he himself had just been pushed by Landen Lewis, Moore's teammate. And second incident in the following lap Moore saw his left front suspension break in turn 12.
After a repair that caused him to lose a lap, he benefited from the free pass and returned to the lap… before this famous stolen restart. Indeed he went from seventh to third position… Under the eyes of the officials and the flagman… Finally fourth, it is for him and the whole BMR team a disappointment as they could hope for much better. For the championship it's "dead" but the season can be saved by finally getting that victory that Cole has been chasing for too long.
| | | | | | | |
| --- | --- | --- | --- | --- | --- | --- |
| Starts | Wins | Top5 | Top10 | Pole | Best result | At Portland |
| 25 | 0 | 9 | 15 | 0 | 2nd | 3 starts, best result: 4th |
Next race on October 1st at the All American Speedway in Roseville, CA, for the NAPA AutoCare 150.
Featured Photo Credit: Photo Courtesy of Ethan Smith via Vincent Delforge.