By Seth Eggert, Staff Writer
The story of most small teams is one that has potential to run strong, 'the little team that could.' In the ARCA Menards Series, Mullins Racing has found a niche as 'the little team that does.'
Wearing Many Hats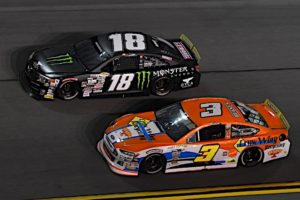 The team owned by Dinah and Willie Mullins has competed in ARCA races dating back to 2008. While also owning Bugsy's Autobody and Repair, the Mullins strike a balance between professionalism and fun. That means the duo work hard to keep the everyday customer and the racing customers happy.
"It's very difficult, I'll be honest, trying to keep everybody happy," Willie Mullins said. "We're trying to make sure our customers take care of first and then also we take care of our racing customers, it's a balancing act.It's a little stressful for me right now. We'll get it taken care of but we'll it's just a lot of work."
Family Team Style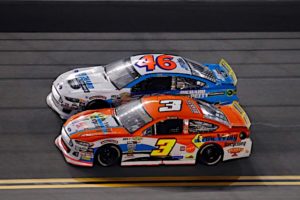 The family-run style of Mullins Racing is one that's at the heart of NASCAR Roots. Drivers that make the leap to compete for the Mullins, or test with them at Daytona International Speedway often find themselves in a similar family-run environment from weekly races on Friday and Saturday nights.
While the Mullins make sure that they have some fun, they still work hard to put fast cars on track. Willie Mullins' runner-up finish in the 2018 ARCA season opener at Daytona is evident of the speed that the small team has.
"We are big supporters of the NASCAR Roots series," Dinah Mullins said. "It is awesome for us to be able to see these guys on a Saturday night level to be able to come and be at the bigger show. The drivers that want to be with us like family run team aspects, that it's a little less corporatized.
"We still work really hard to put good cars on the track and I think that's shown over the years. We seem to be a good fit for those kind of guys like the more blue-collar teams."
Giving Back With Opportunities
That speed was also evident in ARCA's 2023 pre-season practice at Daytona. Brayton Laster was the fastest in a Mullins Racing Ford Mustang, seventh fastest on the speed charts. While Laster has competed at Talladega Superspeedway before, others that tested for the team got to experience superspeedway racing for the first time.
Landon Huffman, Landon Pembelton, and Brad Perez who have previous ARCA experience were 34th, 31st, and 28th fastest respectively.
Peruvian pop star and racer Mario Hart, who made his ARCA debut in the test session, was 26th fastest of the 61 that made a lap. Kayla Surles was 33rd fastest. She also made her ARCA debut in the test.
"Landon Huffman's going to be with us," Dinah Mullins said. "We're very, very excited with that. We also have Brayton Laster with Landon Pembelton, Brad Perez, and Kayla Surles. We (also) have Mario Hart, who is a Peruvian pop star. That is, through the Lira camp."
"We wouldn't be where we are without the local level guys like right now. Kayla Surles is currently working in the car. We got Cole and Robert Bruce. We've got Darrell Ferrier, his son races like our race team is made-up of local racers. It is so important to us to be able to get them to the next level with us."
Health of the Series
From Willie Mullins' standpoint, ARCA appears to be on pace to have one of its' biggest car counts in recent years at Daytona. His expectations on is to win on the superspeedway. Meanwhile, on short tracks, he has more modest expectations.
"We're at the point where we're there to win, especially Daytona," Willie Mullins explained. "At this point we can definitely compete with the bigger teams. We're there to win at superspeedways. Short tracks a top three finish. We're always shooting for a top three. Then if we ever dabble in speedway races again, an intermediate, a top-10 would be great."
"We're excited because Daytona is going to be probably one of our largest car counts in many, many years. We're hoping you know you get 40 to 50 cars show up this year. There's a lot of guys like us working hard.
"You got Greg van Alst is doing great with the media and working hard. Andy Jankowiak is doing the same thing. Another driver that's down there working is Sean Corr, Will Kimmel, our core group of guys that will always be in the ARCA series are there to support it for long term and can't wait to see what happens and hopefully continue to grow fields."
While Willie Mullins is optimistic, his wife, Dinah, has some concerns. In recent years ARCA has been more of a training ground for drivers working their way up to the NASCAR Cup Series. That, combined with the recent news for the CARS Tour could take away attention from those grinding for success in ARCA.
"I do have some real concerns of the viability of our series," Dinah Mullins admitted. "Obviously, the announcement made with the Cars Tour is awesome for short track racing, but it's going elevate that series. It's going elevate it to (ARCA's) level and that concerns me a little bit. Our series back in the day was a mixture of young guys and the older guys right and it had its own identity."
Social Media Prowess
One part of that showing that identity is social media. Both Dinah and Willie Mullins are avid users of TikTok in addition to being active through their team account on other social media platforms.
Whether it's a video about their auto repair shop, ducks, the race team, or something else, it usually does well. A "Ford Tough Powered by Chevrolet Stuff" sticker under the hood of their Ford Mustang, which also featured a "Mach-E" sticker went viral on both Perez's social media account as well as their own account.
oh my god @mullins_racing pic.twitter.com/MK8olTzU5h

— bread perez (@bradxperez) January 13, 2023
But the Mullins are not keeping that personality to themselves. They've been encouraging other stalwarts in ARCA, like Greg van Alst, Andy Jankowiak, and others to be more active on social media. By showing their personalities the Mullins, and others, are able to build a fan base and increase their marketability, much like Ryan Vargas in the NASCAR Xfinity Series has.
"I've been on Greg Van Alst forever to do more (to show his personality)," Dinah Mullins explained. "When he finally did it and that video did well, I've been on the phone with him all week helping him pick out new cameras and things. We're still a series that works together. We want to work together to make the series better, and I'm hoping that, talking about this core group, we can be part of the solution for this series."
"We've gotten the reputation of the team that shows up we're very professional, serious, but we have a really good time. We still try to have as much fun as possible and still be competitive. We've actually gained some crew members that had left professional racing because the grind was too much, and it was just it wasn't fun for them anymore.
"They come and crew with us for a weekend and they're like 'I'd like to keep going back with you guys, you guys have a good time at the track.' In this day and age, that's going to be more important because we see the Cup teams are struggling to find help."
🤔🤔🤔 pic.twitter.com/wJLmyDVEAU

— Mullins Racing (@mullins_racing) January 11, 2023
Don't Call Them 'An Underdog'
Though they're a small team that runs run part-time, Willie Mullins does not want to be known solely as the underdog. With the time and effort that his team puts in, Mullins Racing often runs better than the average 'underdog' team.
"My biggest pet peeve (about those that shrug us off as an underdog) is it's all about how much work you put in and effort," Willie Mullins said. "It does take a lot of money to do what we're doing at the level we're doing it at, but if I don't work every day and every night to make sure these cars are perfect when they hit the track then we would fail, we would struggle. It's all about work ethic and what you want to achieve at the end.
"Being mediocre and being average is not what I want to be in life. I want to be a winner and I want to move up the chain, so we'll see where it goes. ARCA is going to be our home and I just want to have continued success with top-fives and top-10s."
The season opener for the ARCA Menards Series is at Daytona. It is scheduled for 1:30 p.m. ET on Saturday, February 18 on Fox Sports 1.
The race will also be broadcast on the Motor Racing Network and SiriusXM's XM channel 391 and online channel 981.