AVONDALE, Ariz. – After 22 years of family-oriented racing, Bob Bruncati is closing his ARCA Menards Series West chapter of his ownership career to pursue more of his love for local racing.
"This is my last year," said an emotional Bruncati. "Finishing first, second and rookie of the year doesn't get any better than that."
The conclusion of Friday's Desert Diamond Casino West Valley 100 at Phoenix Raceway marked an end of an era spanning more than two decades. Jake Drew gave the Sunrise Ford Racing team their fourth championship as they shut down their ARCA West operations by clinching back at the Las Vegas Bullring. On the verge of tears, Bruncati looked back on all the relationships, friends and his "track family" as some of his greatest memories he'll take with him.
"It's been a great run with great people I've surrounded myself with," he explained. "The team members, the crew chief, and the people at the shop have been a phenomenal run for 22 years. The people that come out that work at the races with us for very little money. They're all volunteers for all intents and purposes, and they're just great people.
"The comradery within the team is what I'm going to miss the most."
Sunrise Ford Racing and Bruncati have earned four championships in their history with the ARCA West series, including Jason Bowles and twice with Derek Thorn. Finding the young guys who have talent and are dedicated to the world of motorsports has been a keen expertise of Bruncati. Many of today's biggest stars on both the national level and at all-star short track events have either raced for or worked with Bruncati's race shop at one point in their earliest moments of their careers.
"It's working with all the young kids and giving breaks to people like Cole Custer and Derek Thorne, just unbelievable amount of kids that have moved up into the upper ranks. That's all I've ever wanted to do was to help people get to that next level that couldn't ordinarily do that."
It was a much different story than last year. Heartbreak from a last lap pass had a tie-breaker situation in the points standings be not in their favor, falling short of the 2021 championship. But the steadfastness of Drew stood out most to Bruncati, and his resilience and focus allowed the No. 6 crew to lock up the championship by simply starting the season finale race at Phoenix. For Bruncati, his recognition of talent has gone well perceived, and he wasn't hesitant to showcase that talent with both Drew's championship drive and Tanner Reif's Rookie of the Year title.
"It was a heartbreaker last year," reflected Bruncati on Drew's title misfortune last year turning into celebration this year. "He's a great kid, he's a great driver. I just hope he finds a ride. He really deserves it. He's talented, he's got the looks, he's got the ability. He's just a phenomenal young man."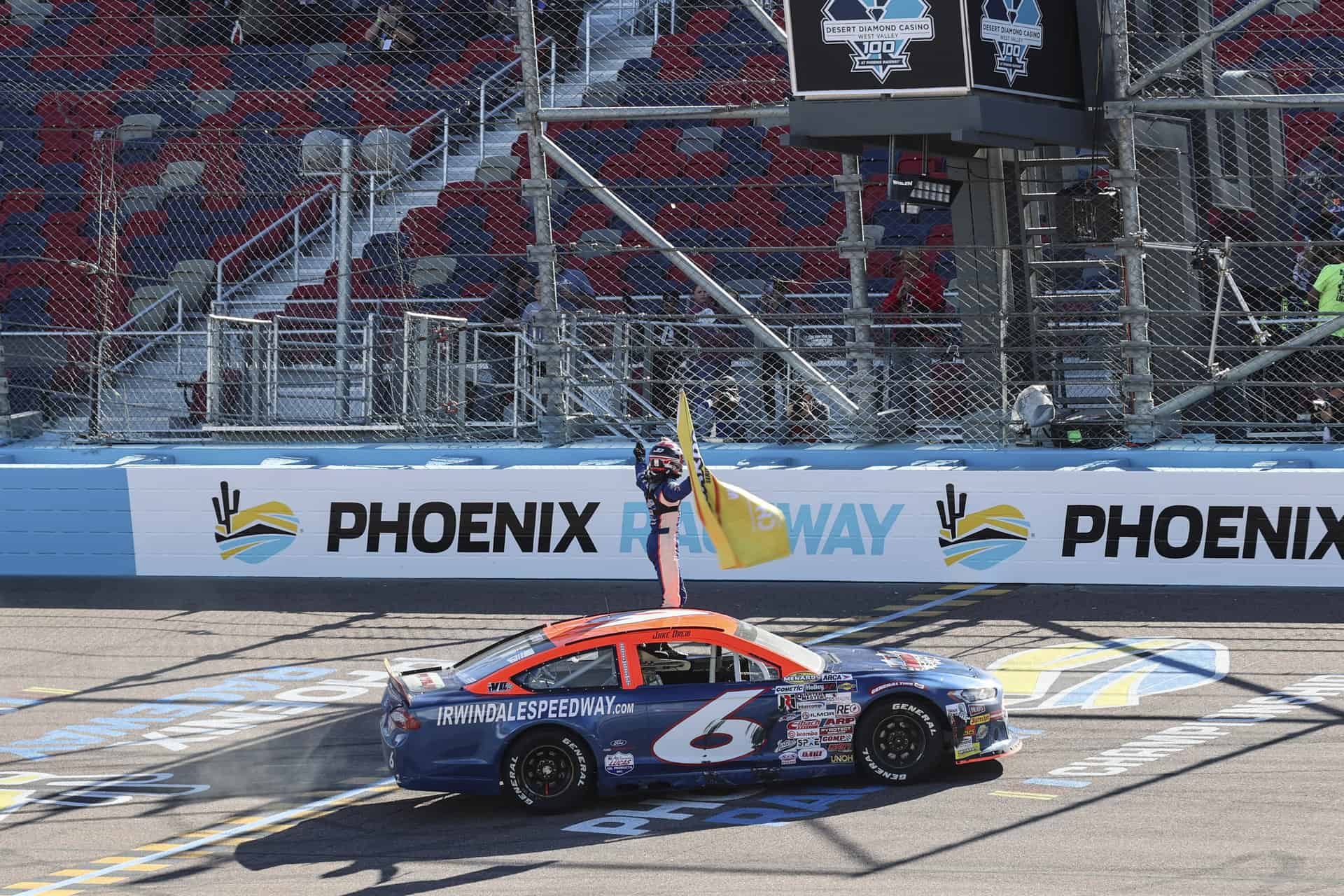 "It's truly special to be a part of [this championship]," Drew said. "I'm so thankful for the opportunity [Bob and Maureen] have given me to [drive for their team], and it's incredibly special to be the one delivering for them."
While Bruncati is hanging his regional hat, he plans to stay local at Irwindale Speedway in southern California, the multi-purpose race track with a half-mile outer oval, a 3/8ths inner oval, figure-8 track as well as their iconic "Night of Destruction" with demolition derbies, trailer racing and more. Racing-fun all around, Bruncati looks to continue giving back to the racing community and drivers by giving the younger crowd a chance that some may have not been able to get any other way without high amounts of sponsorship backing their early careers. It's something he's been doing in the ARCA West series for over 20 years and isn't planning to slow down.
"We are just starting another adventure," shared Bruncati. "We are going to start a Spec Jr. Late Model Series at Irwindale. I'm building 10 cars for 12-year olds to 16-year olds. We're going to run that series at Irwindale."
But right now, it's safe to say that Bruncati is living in the moment. Many other ARCA veterans came up to congratulate him on his success for the year. Despite all his experience, he was found speechless when Drew waved the championship flag in front of the Arizona crowd.
"Unbelievable, just unbelievable. It's a dream year. It's the way to go out."