AVONDALE, Ariz. – "I'm gonna win this."
That was going through the mind of Zane Smith during the overtime restart as he dove three-wide into Turn 1 to get by reigning series champion Ben Rhodes and Chandler Smith to lead the laps that counted. After two back-to-back seasons with runner-up championship results, Zane Smith could finally hoist the big trophy with his overtime win in the Lucas Oil 150 at Phoenix Raceway.
"Last year and the year before we showed so much speed and should have won a lot more races than we did," said Zane Smith in Victory Lane. "But Bob Jenkins is the only reason why I'm here right now. Without him, none of this would be possible. When I came here all I cared about were the guys that were on this team. I had seen their work ethic and I knew the effort they put in and I know they want it as bad as I do.
"I didn't care what the trucks or anything looked like; all I knew is the work ethic was there and we could make a championship out of this team."
It was Zane Smith's first career NASCAR Camping World Truck Series championship, and also the first championship for Bob Jenkins and Front Row Motorsports. But it didn't come easily. A late race caution forced a strategy decision by everyone in the field, either to pit for fresh tires or stay out for track position. Zane Smith and others decided to pit for fresh tires, but some stayed out including Rhodes. At times it looked to favor Rhodes, but as more cautions came out in the late laps, Zane Smith edged his way closer to the front. A final caution by Majeski's spin battling up front sent the race into overtime.
"I wasn't gonna let it go down like that," determined Zane Smith. "I knew when I came out 11th that I've been in way uglier times before, and I was either wrecked or I was coming home with the championship trophy and we got the big one."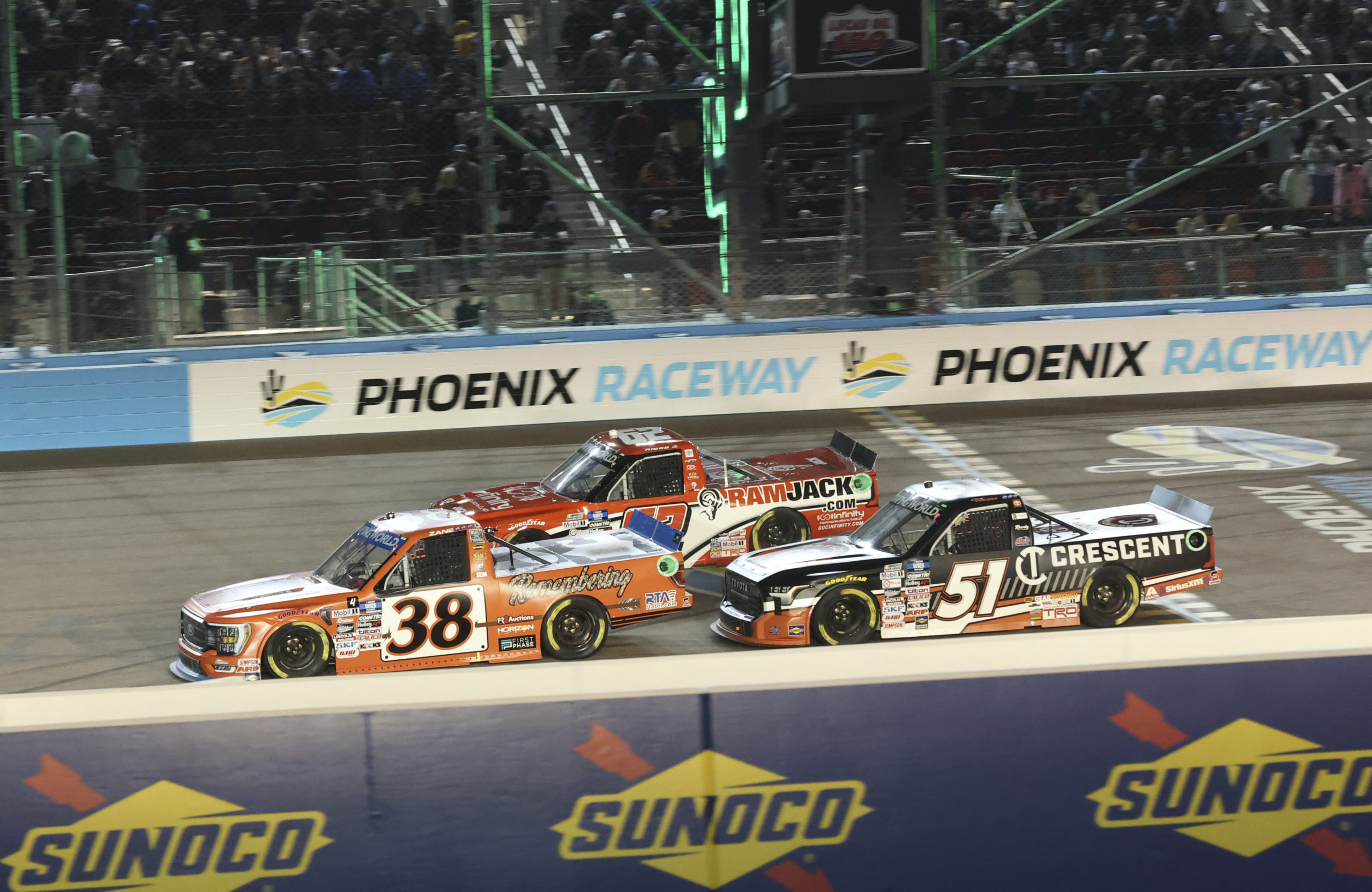 Despite the "Chastain" move from Martinsville and countless retaliations in the NASCAR Xfinity Series, there wasn't an intentional bump or spin by any of the Championship 4 competitors. Zane Smith shared how it crossed his mind and how he prepared for it, but was both surprised and relieved it didn't happen in the closing laps.
"I was either backing it in the fence wrecking, or I was leaving tonight with a championship trophy," Zane Smith continued. "There were no other options and when I saw the 18 get underneath me I was worried that I got him too loose underneath me. Fortunately, he stayed off of me. I have a lot of respect for all three of them. It's pretty impressive for some of the racing we've seen lately for us three to go at it that hard and that clean."
The run gave Ford Performance their third championship in the Truck series, second in the last four seasons. Even though there are only four blue ovals in the field, they still rise to the occasion with the right people at the right time in the right position.
"What an incredible race tonight, an incredible season," said Mark Rushbrook, Global Director of Ford Performance. "I just have to give a big thank you to Front Row Motorsports, Bob Jenkins, Jerry Freeze and what they've done putting together this truck team. It's just a great group of people. They gave Zane a great truck tonight, a fast truck and Zane took advantage of it. He drove that thing so well, especially on the final two restarts and went and got the win. He's such a talent and I'm so happy he's driving a Ford."
Jenkins has competed in NASCAR's top three touring series for nearly 20 years, and his first championship came with one that needed a shot. That chance finally produced the fruits of his labor. In recent years, Front Row Motorsports has seen some of the sport's biggest wins, including last year's Daytona 500 with Michael McDowell.
"I've always believed in our teams," Jenkins said in a social media statement. "From the moment Front Row Motorsports qualified for its first race, first Daytona 500, our first win, our first Daytona 500 win and now our first championship, it's the people who I'm always proud and thankful for. Our employees, their families, and all our partners make it all possible. Congratulations to Zane on his incredible season and tonight's championship. We're all proud of him and the efforts of everyone at Front Row Motorsports."
— Front Row Motorsports (@Team_FRM) November 5, 2022
Rhodes was one spot shy of becoming the first back-to-back champion since Matt Crafton in 2013-14. Chandler Smith finished third in the race and third in the title hunt. Fourth in the driver championship standings went to Majeski who finished 20th in the finale after his late race spin. Non-playoff contenders John Hunter Nemechek and Stewart Friesen completed the top five.
But the night belongs to Zane Smith, and it's everything he's dreamt it to be.
"I didn't think it was gonna be that dramatic, but the third time is the charm."