By Seth Eggert, Staff Writer
The final race in a Kyle Busch Motorsports Toyota Tundra for Chandler Smith saw the Championship Four contender come up just shy of title glory.
The 2022 NASCAR Camping World Truck Series championship came down to a battle between defending champion Ben Rhodes, Zane Smith, and Chandler Smith in overtime. A spin by the fourth of the championship quartet, Ty Majeski, pushed the race into overtime.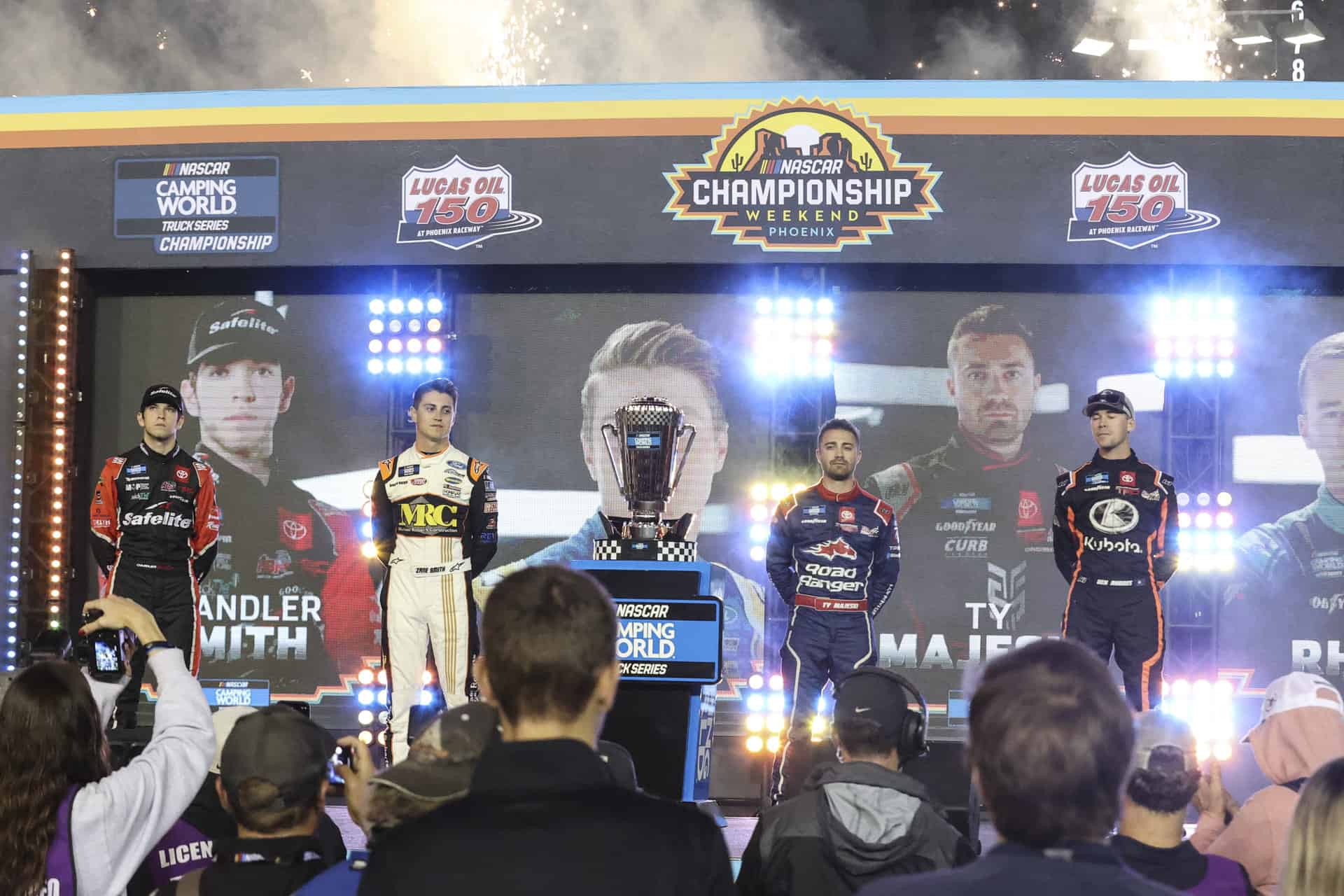 The No. 18 Safelite Autoglass Toyota Tundra lined up on the outside of race leader Rhodes. Smith chose the outside after his two championship rivals took the inside for the restart.
In overtime, Zane Smith got the jump, taking the lead from Rhodes in Turns 1 and 2. That forced the two Toyota Racing drivers to give chase. While Rhodes was able to get to the Ford Performance driver's tailgate, Chandler Smith was not.
"It just wasn't meant to be," Smith said. "We gave it our best shot. I got into (turn) three, and it wasn't met to be. It is as simple as that. I can't thank everybody enough at KBM (Kyle Busch Motorsports), Safelite, all of the partners that helped along the way this year. TRD, Jack Irving (TRD) – everything those guys have done for me for the past six plus years. I really wanted to get that one, but it wasn't met to be. I've said all week if it was met to be, it would be and it wasn't. It's all good."
Smith took the checkered flag in third, in Kyle Busch Motorsports' final race with Toyota. In 2023 the team will switch to Chevrolet. Likewise, Smith will move up to the NASCAR Xfinity Series full-time, competing for Kaulig Racing.
The Talking Rock, GA native caps off his full-time Truck Series career with five victories, 23 top-five and 34 top-10 finishes in 61 starts. He made the NASCAR Playoffs in both of his full-time seasons, with his third place this season being his best result.
The next NASCAR race for Smith, his Kaulig Racing debut, is the 2023 NASCAR Xfinity Series season opener at Daytona International Speedway on Saturday, February 18.