By Vincent Delforge, special to KickinTheTires.net
Bobby Hillis, Jr. is what you can call an outright "underdog!" He has competed in the ARCA Menards West Series since 2001 with an incredible love and passion for racing. Don't look for Bobby in the ranking of the most successful drivers. He never won. No, Bobby has been a guy for 20 years who has fun at his own pace. He's consistent and when things are going well, he manages to grab one or the other top 10.
In 20 years, he has participated in 84 races and obtained seven top10s. His best result being an eighth position gleaned last year at the Las Vegas Bullring. Impossible to compete against the ogres of the series that are Bill McAnally Racing or Bruncati Racing. Bobby is satisfied with the crumbs. With his budget, close to zero, as he likes to say, he nevertheless works miracles. Because Bobby does everything himself. He prepares his car, drives the hauler, puts his hands in the engine.
Yet he is one of the favorite drivers of West Series fans. Without him, without John Woods, Todd Souza, without the underdogs, there would simply be no races. Without them, the Todd Gilliland, Noah Gragson, Derek Kraus or Hailie Deegan just to name a few could not have learned and achieved fame in the NASCAR levels.
Bobby is low-key, he's not even on social media, no time because when you're the only full-time "employee" on your team, the days are short if you want to be ready on race day. But his sympathy attracts volunteers. A small army of enthusiasts who come to give it a helping hand the race day and bring the passion to life. It's time to take a little interest in Bobby Hillis, Jr. and put him in the spotlight for once by asking him a few questions.
Vincent Delforge: You started your West Series career in 2001 in Phoenix. Can you explain what made you want to take the plunge and compete in this series and where your first car came from?
Bobby Hillis Jr.: "(I) first started racing around 1997. Never really knew how to get into it. Could've gone dirt track racing but I wasn't very interested in that. There are no local short track paved ovals in Phoenix still to this day. Was always a super fanatic of racing and wanted to do it. By telling me anybody can drive one of those… wrong! But (I) didn't know where to start.
"Then one day we went to see the Long Beach IndyCar Grand Prix. Was walking around the sprawling grounds, went into the convention center, and there right before me was my opportunity! Brand new racing series called ASA Speedtruck was just starting up. Gave them my credit card for $5,000 and was racing within a month or so. After capturing rookie of the year my first year and consistently bringing home top fives, but never winning, then an opportunity to buy a NASCAR Craftsman Truck appeared.
"Figured it was just a bigger version of the same, right? Wrong! Way over my head. Even with my parents helping financially we missed more races than we made. Actually, I need to (take a step back). The truck came with no drivetrain but at the time truck engines and west engines were the same. Bought a west car so I had what I needed for my truck effort. Talk about backwards!
"Anyway, when we decided that the Craftsman Truck Series was just too much, I still had the West car. So, let's try that! Also decided that since the Speedtruck primarily raced at Irwindale with 25 races a year give or take that I could do the whole west series for about the same money. Not quite! It was more like double!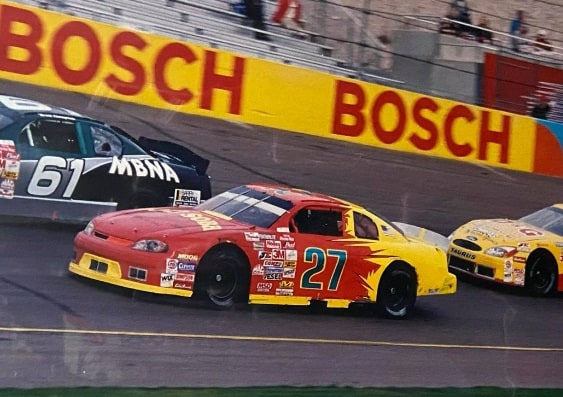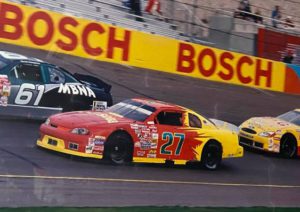 "Not sure who the first car came from, but I understand that he always ran the same paint design and maybe you'll know (Yes and it was Kenny Smith). Second car and most of my pit equipment came from TJ Clark when he got sponsorship and went Craftsman Truck racing."
(Note: only two races for five DNQs in two seasons)
VD: What is the origin of the name Fierce Creature Racing Team and number 27?
BH: "Well this is a funny one and it really almost doesn't make sense. Was watching the movie Fierce Creatures with Kevin Kline and thought it would be a great name for a race team. Ended up having a lot of fun with the creature on various things [like hauler, helmets, etc.].
"Concerning the 27, I always liked Rusty Wallace when I was just a fanatic! Just started watching stock car racing in the late 80's when he won his championship. I even went out and bought a brand-new Pontiac Grand-Prix. It was my first ever brand-new car. I still remember the license plate ETE-866. Go figure!"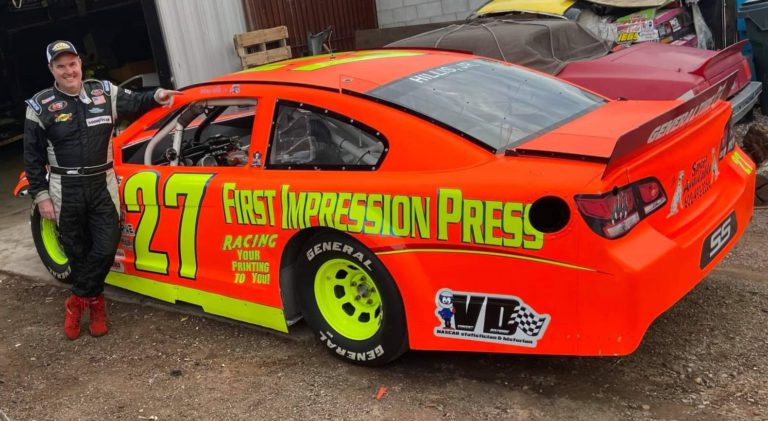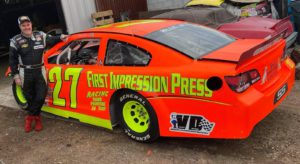 (Note: Wallace won the 1989 championship with the 27 at Blue Max Racing of Raymond Beadle)
VD: Apart from a few races in 2006 with JSR for example, you have always been a driver / owner. Much more since you are also a mechanic, a hauler driver, … When you are an independent, without the slightest technical or financial support from a manufacturer or a major sponsor, how do you last that long? The competition is tough with top teams like Bill McAnally Racing or Bruncati Racing. There are often only the crumbs left to share for 'underdogs' like you.
BH: "My parents were a huge help in the early days until they felt like it was just a big waste of money. My printing company does pretty well with the usual ups and downs and that's where mostly all the funding comes from. First Impression Press has been in business since 1985!"
VD: Despite her immense popularity with fans, the old 'Kamree' is nearing the end of her career this year (before going to a museum). This chassis is a real dinosaur. What is its history?
BH: "I've had that car for probably 6-8 years. It came from DEI and was originally a steel bodied car. John Lashly, the owner of Tucson Speedway, paid to get it rebodied into the current one-piece body. We had it numbered as <0 for a while because that's about our budget! I need the driveline and seat out of the Kamree car but would love to find a good home for her to be donated to if you have any ideas let me know!"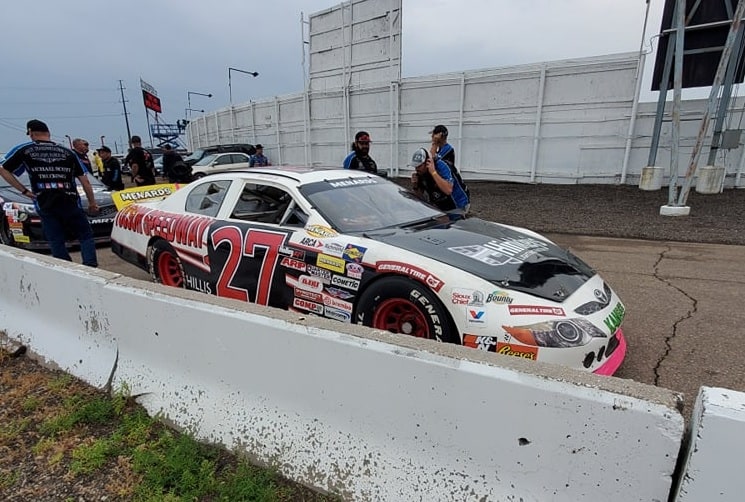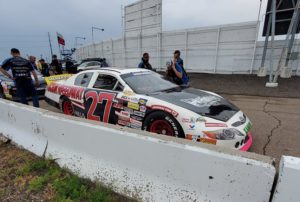 (Note: When Bobby drives a Toyota Camry, the word "Camry" on the front bumper is replaced by "Kamree", which is the name of his daughter)
VD: 2021 looks like a great year for veterans. Todd Souza is making the season of his life. To a lesser extent, with your small means, get very good results. Can you tell us about your new cars and your ambitions by the end of the season?
BH: "Both of my new cars came from Matt Levin, and they are both above and beyond what I've been used to racing. Got the yellow [short track] car last year and the orange [road course] one this year. Saw the two road races on the schedule for this year and I knew I needed a purpose-built road racing car.
"Really looking forward to Portland in a month or so with the orange car. Finished 10th at Sonoma with it and we had several issues. It was more of a shake down race to begin with just to see what we had. Got a penalty for missing pit road at halftime and was not allowed to change tires plus I had to do a pass through after the green flag waved to start the second half.
"Also, the seat and steering wheel position was wrong, and I pulled the muscles all up and down my left ribs. Could hardly drive it by the end of the race and I'm sure that slowed me down some too. Don't know how many more laps I could've done. All shall be corrected by Portland and I'm looking forward to an even better finish!"
"Finished 8th in points last year and I'm hoping for an even better year end result. The 8th place year end finish was my best ever, but my daughter Kamree says we can do better still this year!"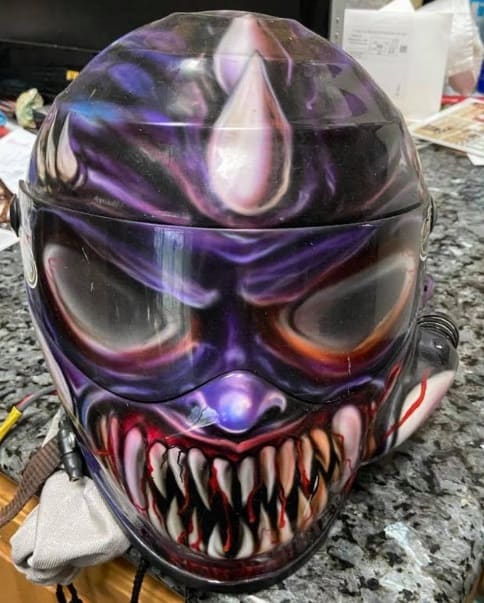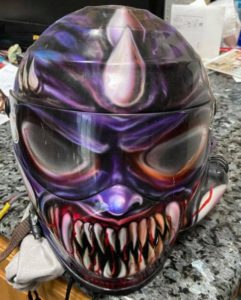 VD: A quick word about your early 2000s experience in the NASCAR Craftsman Truck Series. What memories do you have of your time in a national NASCAR series?
BH: "The Craftsman Truck Series was a bit of a rude awakening for me. Went in with high hopes of just continuing on where I had left off in the ASA Speedtruck Series with top 10's and even top 5's. Was not to be. Even with the additional funding from my family we were so far away from everyone including the back markers that it was quite a shocker!
"Missed more races than I made, and the family decided that it was just a giant waste of money. I was left to continue on my own, so I did what I had to. Punted! Back to the West Series I went with the car that I had acquired for the engine to go truck racing."
VD: By the way, why have you so often had cars with fluorescent colors (orange, yellow, green)? Do you like it or it is to be seen better?
BH: "I have always felt that race cars should resemble clown cars! Also for visibility and better contrast with sponsorship names. It drives me absolutely crazy when you can't read a sponsor on the side of a racecar! Even at the Cup level there seems to be about a quarter to a third of the field with sponsorship that's unreadable. How does that happen!? Don't they have people who get paid for sponsorship recognition? Maybe I should apply for a job to help fund my racing!"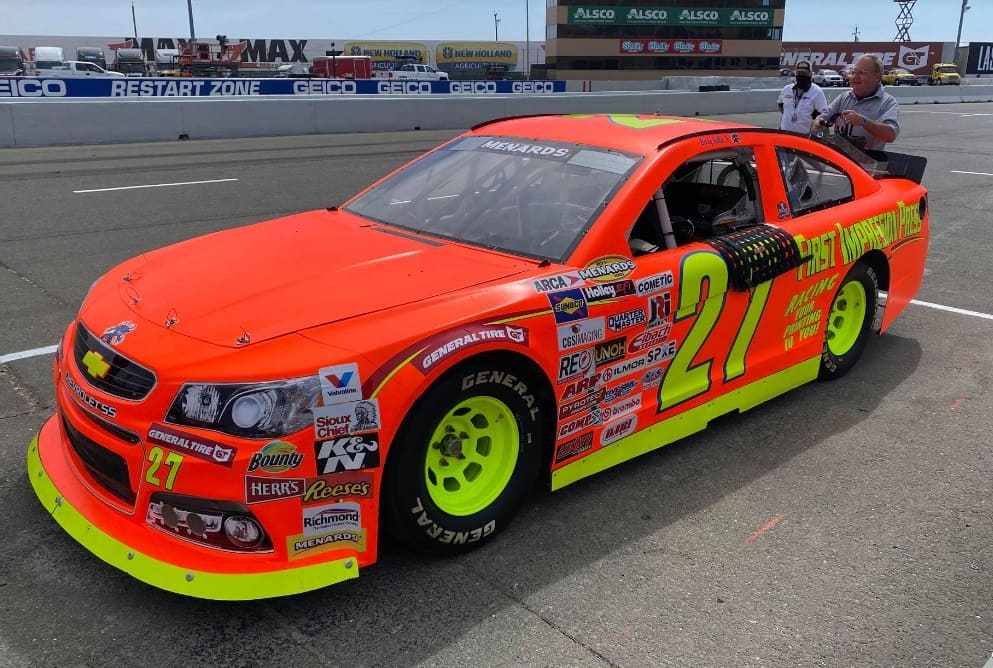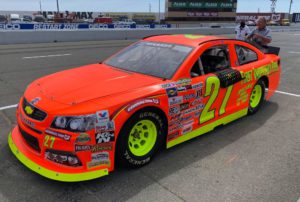 VD: This August 21st will be your 85th West Series race, the 12th time at Irwindale. What is your favorite track on the 2021 calendar and since the start of your career?
BH: "Phoenix is obviously a favorite because it's home. Started oval track racing at Irwindale and always liked the state-of-the-art track and the fans and the atmosphere there. Also love road racing so any road course is a blast!"
VD: What is your take on the evolution of the West Series since you started in 2000? This also concerns technical regulations, races, young drivers, etc.
BH: "The biggest thing about the West Series is that they took away all of the big tracks. We used to race at Fontana, Las Vegas big track, Pikes Peak International. All that's left is Phoenix. Don't understand why and if it's a liability issue with young drivers. Could only imagine all of the negative publicity if a young driver got injured or killed at a big track?"
"I have no issues with any of the rules, but it did take me a long time to come up with spec engines. Never had one until I bought the new cars from Levin Racing. Not crazy about how they were trying to eliminate the Kamree (older-body style) car with less horsepower and more weight, however."
VD: Finally, can you tell us about your best memories as a driver during your career in the West Series? And can you also tell us about your worst mishap?
BH: "I always have a great time at the track and try to incorporate other things into the trips when traveling. Fishing, sightseeing, etc… It's always an adventure!
"I remember one time we had problems going to Utah and were stuck on the side of the road near Lake Powell. It was the middle of the night, and the crew were all sitting on a sand dune waiting for help to arrive when a couple of coyotes came up from behind and started sniffing them! Talk about a bunch of freaked out guys! All the commotion scared off the coyotes and that was that!
"Another time we were looking for a place to fish in a backwoods area in Oregon and I took a wrong turn down a narrow dirt road. Was coming up on a house that looked more like a run-down shack when a group of fully armed men in tattered clothes, hillbillies I believe, told us that we were on private property and that we needed to back it out of there and right now! Thought we were going to have some big issues with them, but I managed after a while to back it out. Took a little while and they weren't happy as they followed us out with their weapons drawn but we made it. Whew!
"The weirdest thing as a driver that ever happened was the night that the lights went out in Stockton right in the middle of the race! Pretty much the WHOLE FIELD CRASHED before we could get stopped! It was pitch black and you couldn't see anything!"
To view Bobby's complete statistics, go to racing-reference by clicking here.
The next ARCA Menards West Series race is August 21 at Irwindale Speedway, in Irwindale, Calif.
To follow the neon yellow car No. 27, Ryan Hale, Bobby's friend and spotter just created the Twitter account and the Instagram page of Fierce Creature Racing.
Featured Photo Credit: Photo Courtesy of Ryan Hale via Vincent Delforge.