Update May 13, 2022: Dye's charges have been reduced to a misdemeanor. In response, the ARCA Menards Series have reinstated the GMS Racing driver. Dye, GMS Racing and the ARCA sanctioning body all released statements on Friday.
Statement from Daniel Dye: "I want to be very clear that nobody was trying to seriously injure anyone in the game and I am relieved to know that the other student has recovered… Racing is a sport dependent on good judgment and character and I want to be seen as a positive role model in every walk of life… I am grateful to be able to pursue my ambition as a professional race car driver and will do everything in my power to rise above this incident and continue to be a positive example to others."
GMS Racing: "Today, ARCA Menards Series officials announced that GMS Racing Daniel Dye was reinstated for competition. Dye and the No. 43 Chevrolet team will compete in Saturday's event at Kansas Speedway."
ARCA Menards Racing Series: "Daniel Dye's indefinite suspension has been lifted. He has been approved to return to all ARCA racing activities effective Friday, May 13, 2022."
---
What started as a teenage prank in a classroom has resulted in felony charges for ARCA Menards Series driver Daniel Dye according to an official police report obtained by Kickin' the Tires.
On Tuesday, Dye was arrested by the Daytona Beach Police Department on one count of Felony Battery. The summary of the report stated that Dye "did intentionally touch or strike (alleged) victim against his will and cause great bodily harm, permanent disability, or permanent disfigurement."
In a sworn written statement, the alleged victim – whose name has not been released due to their Marsy's Law request – reported the following:
"V1 stated that on April 25, 2022, at approximately 1440 hours, he was attending class on Monday at Father Lopez Catholic High School located at 3918 LPGA Blvd. V1 stated that while he was sitting in his class one of his classmates, Daniel Dye (D1) came up to him on his left side and started to grinding and dancing with his (D1) groin (pelvic area) by his (V1) head and face. V1 stated that he pushed his left arm up towards him (D1) in an attempt to push him away. V1 stated that this did not work and he (D1) continued for another minute until he (D1) stopped. V1 further stated that he thought the incident was over and all of a sudden D1 came up from behind him and punched him in the groin area.
"It should be noted that V1 stated that he fell to the ground in pain and that he was able to go to the bathroom area and during that time the school bell rang for class to be over. V1 stated that he had a large bruise and his scrotum was swollen. V1 stated that he was able to drive home and get his father and went to the Hospital. V1 stated that he was diagnosed with a possible ruptured testicle and was referred to an Urologist. V1 completed a sworn statement and provided copies of his medical treatment, which was tagged and placed into property and evidence. V1 does wish to press charges. D1 was taken into custody and transported to the Volusia County Branch Jail."
Dye was taken into custody on Tuesday and was held that afternoon in Volusia County Branch Jail. His bond was set at $2,500, which was posted for his release Tuesday evening.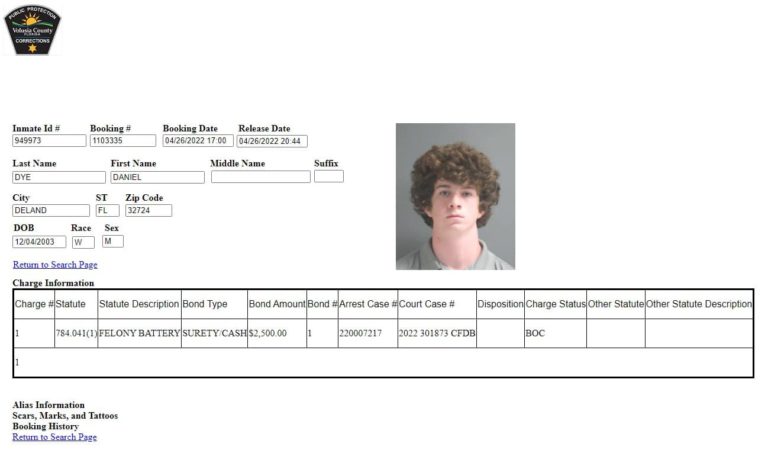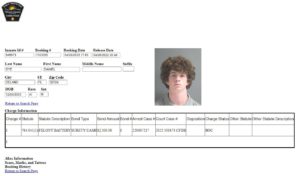 The ARCA Menard's Series released a statement late Wednesday, "On (Wednesday), April 27, ARCA Menards Series officials announced penalties to ARCA driver Daniel Dye following an off-track incident on April 26. Dye has been suspended indefinitely for violation of the 2022 ARCA Rulebook Section 12-8.1.E.2 which references ARCA Member Conduct Guidelines."
GMS Racing, who fields the No. 43 Chevrolet that Dye races, released a statement late Wednesday, "GMS Racing is aware of the current situation surrounding Daniel Dye. Daniel and the Dye family are cooperating with local law enforcement. No further comment will be made on the subject until more information becomes available."
Dye last competed on Saturday at Talladega Superspeedway where he finished 17th in the General Tire 200. He currently sits one point behind championship leader Rajah Caruth in the ARCA Menards Series point standings.
Editor's Note: We will update this story as information becomes available.