By Vincent Delforge, special to KickinTheTires.net
Like a shooting star, Gene Price's NASCAR adventure was quick but bright.
Born August 30, 1947, in Lomita, Calif., Price would have liked to become a racing driver. But if he couldn't make that dream come true, he is and will forever be a huge name in NASCAR history. Why? Because in just seven years, from 2008 to 2014, he led one of the best teams in the history of the current ARCA Menards Series West. Victories, championships. He immediately reached the level of the prestigious teams that were and still are Bruncati Racing or Bill McAnally Racing.
Because Price is GPM or Gene Price Motorsports. A tidal wave, a real tsunami, or even a rogue wave. A wave so powerful it will forever leave an indelible mark in the history of the West Series.
Price is the Julius Caesar from California. It's Veni, Vidi, Vici! A famous Latin expression used by the Roman Emperor in 47 BC. It can be translated into English as 'I came, I saw, I conquered.' A partial season in 2008 to learn, a first victory in the opening race of the 2009 season, a first championship in 2011. Before suddenly stopping at the end of 2014 when he was at the top of the hierarchy.
Nothing is more beautiful than to leave while you are the champion. But we will see, GPM will experience a kind of second life in another form from the following season.
Price has in common with the great West Series owners Bob Bruncati or Bill McAnally, being good at business and at bringing people together around a project, a goal to be achieved. To become a winning machine. A winning machine, of course, but where humanity and the pleasure of working are essential values.
Imagine that in just 130 entries over a period of 87 races, GPM won 26* wins, 88 top fives, 109 top-10s, 33 poles, five one-two double and three championships!
*To which we can add the victory in 2013 at the exhibition race in Daytona, the UNOH Battle at the Beach. A combined race between the East and West series.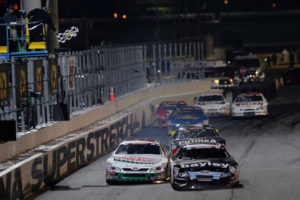 Gene Price Motorsports has only had three different drivers in his seven years. But all of them have made their contribution.
GPM's iconic driver is Greg Pursley. Impossible to dissociate Greg Pursley from Price. Price having built his team for and around Pursley. A common project uniting a strong friendship. Pursley has participated in all the races of the team, 87 races in total and obtained 20 wins, 56 top-fives, 70 top-10s, 20 poles and two championships in 2011 and 2014.
Then comes the colorful Dylan Kwasniewski who in two seasons made 28 races for five wins, 20 top-fives, 24 top-10s, seven poles, ROTY in 2011 and a championship in 2012.
The third driver is the discreet but efficient Canadian Cameron Hayley, one season in 2013, with 15 races, one win, 12 top-fives, 15 top-10s and six poles. Not to mention the non-championship victory at UNOH Battle at the Beach.
As we will see, Price is a 'whim' story, kind of like 'I decide it, I do it.' This was the case with the creation of his team, it was also the case when he decided to end it. Now retired from motorsport, he has agreed to answer a few questions to remember this incredible West Series adventure.
Vincent Delforge: To start, can you tell us how your passion for motorsport came to you? Would you have wanted to become a racing driver?
Gene Price: "I grew up in the South Bay at Harbor City – Lomita not far from Ascot Park. I could hear the roar of the Sprint Cars on Saturday night. I spent many Saturday nights there watching the races. I always wanted to drive. My dad bought a quarter midget for me but when he brought it home my mom said no and that ended that. Later in life raising kids, building a business, no time or extra money. When I finally had the time and money, too old."
VD: For you and your team, it all started in the regional series. The ones called the NASCAR Regional Touring Divisions at the time. Mainly in SLM at Irwindale. When and how did you make the decision to own a racing team?
GP: "I bought my son a street stock car in the early 90's and we raced at Saugus Speedway until it closed. When Irwindale opened in 1999, we ran the super stock division that year and won the championship. We moved on to Late Model, Super Late Model and even ran a few southwest tour races."
VD: After the successes in the regional divisions including those in Super Late Models, including a very nice victory with Greg Pursley at the Toyota All-Star Showdown 2007, you were about to stop everything, to sell everything. But Pursley bought a car and asked for your help to race Phoenix in the West Series. Why did you accept?
GP: "I was building a new home on the river in Parker, AZ and in the process of selling my aerospace business in CA. I sold my business in January 2008, retired, and quickly realized I needed something to do. And then I couldn't resist the urge to help Greg."
VD: And then April 10, 2008, in Phoenix, it was the great debut of GPM in the West Series. What memories do you keep of this first race?
GP: "I wasn't at that race, I watched it on TV. After that race Greg stopped in Parker for the weekend and that's when we decided to go to Iowa."
VD: That race in Phoenix originally was only supposed to be a one shot. Then you went with Pursley to Iowa. The racing bug came back, and you planned to do the full season in 2009. How was the preparation during the 2008-09 offseason? Everything had to be built.
GP: "I sat in the hotel bar in Iowa with Greg and Junior Joiner and discussed getting some cars and equipment. We bought two cars from RCR (Note: Richard Childress Racing). Craig Keough from Star Nursery let use his hauler and pit equipment until we could get ours together. We housed the hauler and cars at Juniors' shop in Bakersfield. I finished the new building in Parker, and we moved in May 2009."
VD: Let's go back for a moment to the duo formed by Greg Pursley and you. In the history of NASCAR, there have often been very strong and successful driver-owner relationships.
I think for example of Dale Earnhardt with Richard Childress, Jeff Gordon with Rick Hendrick. But it is also the case in West Series with Eric Holmes and Bill McAnally. What about the relationship created between Greg and you? The stars aligned perfectly that day. What an incredible success. How did you meet?
GP: "I met Greg at Irwindale Speedway in 2004 the year he won the NASCAR Short Track National Championship. We discussed and it worked directly between us."
VD: One of the strengths of GPM was the cohesion between its members. You have always surrounded yourself with people who are very competent in their field. The working atmosphere was beneficial to everyone.
Besides, when someone joined GPM, it was to stay there for a long time! We talked about Pursley, but it was the same with Jerry Pitts or Jeff Jefferson for example. What was your secret to unite people around the GPM project?
GP: "Hire talented people, pay them well, give them a good work environment, tools, and equipment to do the job and you will succeed. Jerry and Jeff are both very talented honorable men."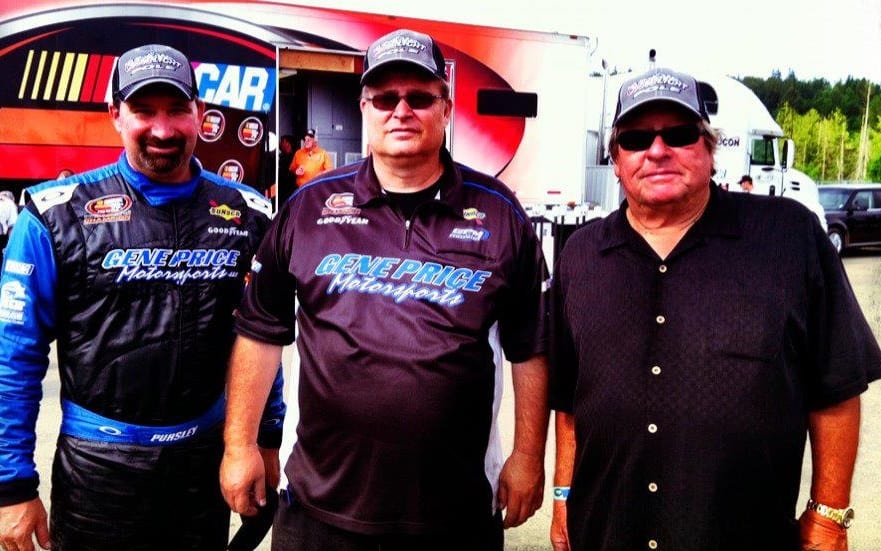 VD: 2008 was a partial season for learning. In 2009, the GPM machine was launched. First race and first victory! And the rest of the season was excellent. What memories do you keep of this first victory?
GP: "It was a cold wet weekend in Kyle, Texas but winning the 1st race of the season warmed us all up. There's nothing better than winning!"
VD: The 2010 season was full of ups and downs. Victories but also several crashes. It must be said that the competition was tough with Bill McAnally Racing, Bruncati Racing or Golden Gates Racing.
But it's going to be a pivotal season. Because the combativeness of GPM will be reinforced and from the following year your team will permanently be one of the most formidable machines to win. Is it in adversity that you learn the most, that you become better?
GP: "The first 10 races of 2010 were like a bad dream, flat tires crashes nothing seem to go our way. If there was something on the track to run over and cut down a tire, we found it. And then we won at Miller in Utah and again at the last race in Phoenix and that made it all better."
Note: Confidence had returned and we knew we would come back even stronger the following year.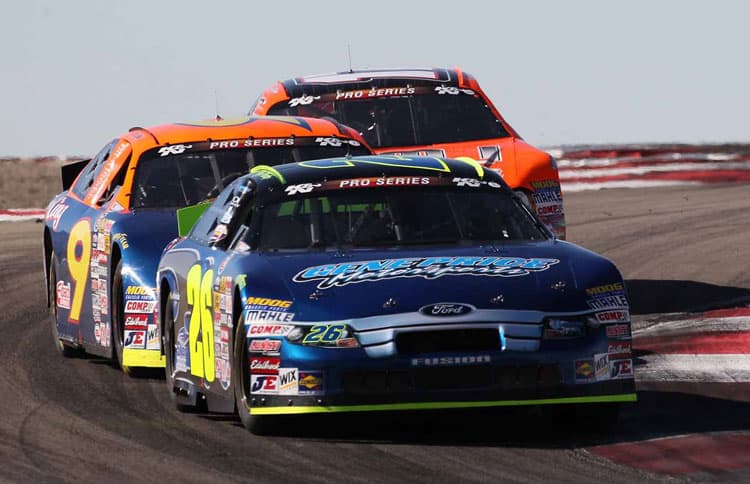 VD: And the consecration arrives in 2011. Pursley is at the top of his art, the victories follow one after the other. Poles, top-fives, top-10s … And first championship! How did you remember this 2011 season? Was such domination unexpected or hoped for?
GP: "We began the 2011 the same way we finished 2010 with a win at Phoenix and we were off and running just like I hoped for and kind of expected."
VD: 2011 was also the first year that GPM entered two cars. Because in addition to Pursley, there was the arrival of young Dylan Kwasniewski. And it was a revelation! For me, Dylan is a key part of GPM and Pursley's success in 2011.
Because he pushed Pursley to deliver his best and even more to beat him. The pride of the veteran in the face of the rookie! What do you think and how was the arrival of Kwasniewski in your team?
GP: "There was a lot of competition between to two, but they raced each other clean all season. Great year overall for GPM. Greg won the Championship and Dylan was Rookie of the Year and I think 8 wins between the two. AWESOME SEASON."
VD: The 2012 season was incredible for GPM. Kwasniewski gets the title, Pursley is second. Seven wins, 22 top-fives, 29 top-10s and nine poles in 30 starts! Be honest, but when you dominate your subject so much, you grab a big head or on the contrary you think you are living a dream and you don't want to wake up?
GP: "Yes, incredible for sure and emotional for me because I wanted them both to win the Championship but of course that wasn't possible. With those two drivers I expected success, both great drivers and both great guys.
"At the last race in Phoenix when they were both running for the title it was very emotional for me. I knew I was going to be the Champion Owner just didn't know which one. Before the race I remember telling them they were both Champions as far as I was concerned no matter which one won."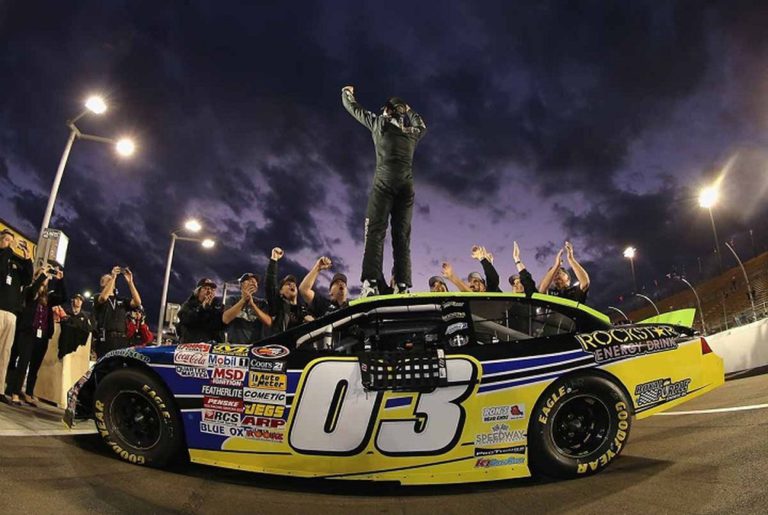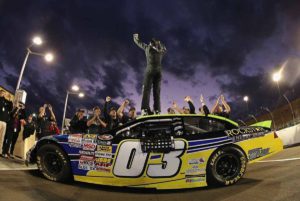 VD: What was your relationship with Kwasniewski? What about between him and Pursley? How do you deal with the arrival of an ambitious young rooster in the henhouse?
GP: "It's hard not to love this kid Dylan, we had a great relationship. Greg and Dylan got along good, it was a big transition to the West Series for Dylan, an immense natural talent, very clever, and I think he learned a lot from Greg and Jeff Jefferson (crew chief)."
VD: Kwasniewski left for the East Series in 2013, you welcomed the young Canadian Cameron Hayley. Another excellent recruit. He finished second in the championship with the best finish average with 3.9! Better than champion Derek Thorn. Pursley will be the most victorious driver (five wins) but a poor result in Sonoma will prevent him from securing the title. Looking back, was this 2013 season a disappointment for you? Your two drivers having come so close to the title.
GP: "Yes and no. I really wouldn't call it disappointing more like frustrating. Cameron won that Battle at the Beach race at Daytona. Even though I think it was a stupid idea that NASCAR had.
"Greg won five races and Cameron won at Roseville in October. Another great season just came up a little short."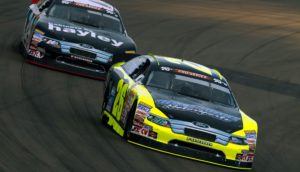 VD: Back to one car in 2014 with Pursley. Apart from an 11th position at Evergreen, this season was crowned with success including a series of six consecutive podiums. An almost perfect copy.
Yet on Thursday November 6, 2014, when GPM is at the top of the West Series hierarchy and you are about to celebrate your third championship, you announce that you are stopping the competition by declaring: "It's been a good run, but I am tired, and I am going to move on. I never retire, but my wife and I are talking about racing horses now. We have a ranch about two and a half hours near Flagstaff. We will be going with one horsepower instead of 600 plus horsepower."
The end of the GPM adventure in NASCAR. How did this decision to quit ripen? A 'whim' or a long reflection beforehand?
GP: "That was a difficult decision, The black flag on the last restart at Bakersfield* that costs us a win. After the race I watched every restart in replay and they were all identical. Yet Greg penalized on the last one. Inconsistent officiating. I think made it easier for me and I also felt like NASCAR didn't give enough respect to the car owners at that level of racing. I was burned out and ready to move on."
*(Note: August 30, 2014, Pursley easily led the race. During the last restart, he 'would have' anticipated the re-acceleration a little too much and was penalized. Despite passing under the checkered flag first, he was demoted last on the lead lap to ninth position).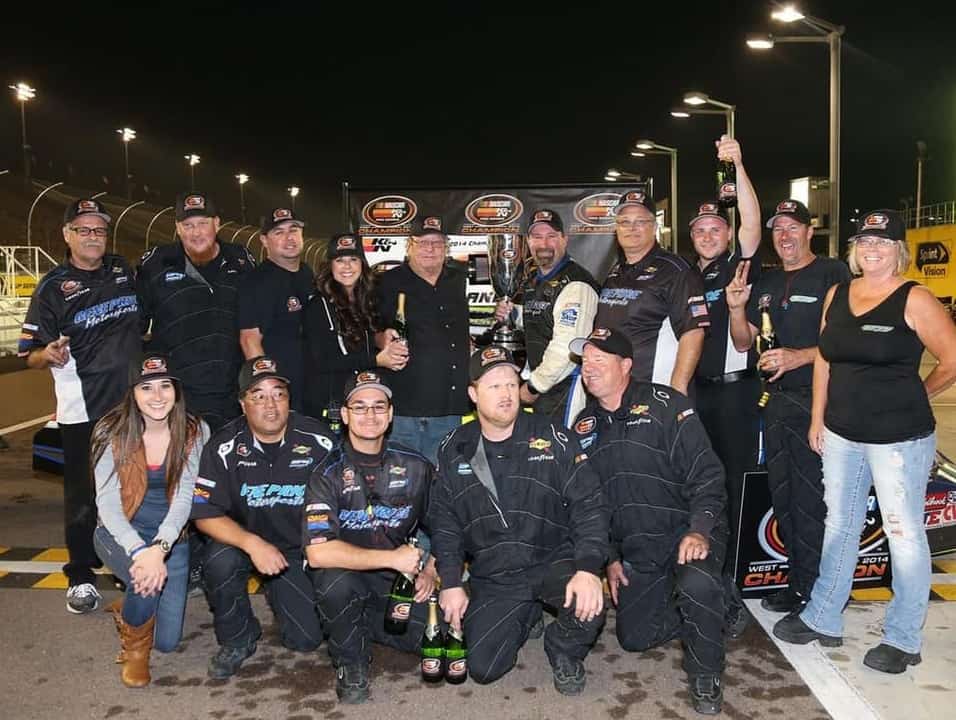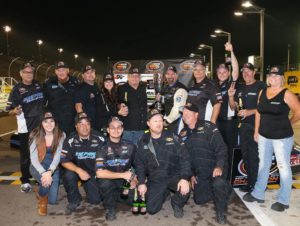 VD: Your crew chiefs at the time, Jerry Pitts and Jeff Jefferson took over your team with great success in the following years, including total domination of road races. Which proves that if you had continued GPM, you would still have been a candidate for victories and titles. What is your feeling, a pride / joy to see their success? No regrets about quitting?
GP: "I'm proud to see Jerry and Jeff succeed, both extremely talented and honorable men I'm proud to call them my friends. My only regrets, I do miss all the friends I made with the officials, other car owners, drivers, and team members. Truly a great group of people."
VD: This was the common thread of this interview, Greg Pursley started with you as a crew chief before becoming your driver. After the final in Phoenix in 2014, Pursley said of you: "He is not only a team owner, but he is like a dad."
Besides, if the NASCAR West adventure ended that day, between you the adventure continued in another form with, among other things, boats. Have the GPM workshops been redesigned to accommodate these boats?
GP: "The GPM Race Shop is not a temperature controlled indoor boat storage (Note: GPM Boat Storage). But there is space to store a lot of small boats. Greg (Pursley) and his wife Heidi run it for me."


VD: You have the same GP initials. In the end, the whole Gene Price Motorsports adventure was first and foremost Gene-Greg Price-Pursley Motorsports? Is GPM the story of a true friendship, the key to your success?
GP: "Yes from the day we first met until today, the story of a true friendship. No other words to describe it."
VD: If we add up all the starts of your three drivers (Pursley, Kwasniewski and Hayley) between 2008 and 2014, we arrive at 130 races. Among them, there are 26 wins, 88 top-5s, 109 top-10s, 33 poles and of course three championships. Difficult question but if you had to establish the top-three of your best victories, which would you choose?
GP: "The first win in the series at Thunder Hill in Texas." (Note: March 14, 2009, the only lap led by Pursley in the race, but the most important!).
"Our first win at Phoenix." (Note: November 13, 2010)
"And Dylan's first win at Colorado National. We did first and second that day." (Note: August 6, 2011, Kwasniewski was first and Pursley second)
VD: Apart from the four races in 2008, Greg Pursley always wore number 26. Who chose this number and why?
GP: "Greg wanted 13, his number when he won the National Championship in 2004 but it wasn't available, so we chose 26 hoping to be twice as good as 13. LOL!! And the rest is history." (Note: the number 13 has been used continuously since 2006 by Todd Souza)
VD: The atmosphere in the garage, the tension, the nervousness behind the pit wall, the joys of winning, … don't you miss it?
GP: "Oh yeah, of course I miss it. And life with the members of the team."
VD: Motorsport is expensive. Was owning a West Series team a money pit or a profitable business?
GP: "For me the way I did it great big money pit."
VD: Are you still paying attention to what's going on in the West Series today? How do you see the evolution of the series since 2015 and especially since last year when it came under the banner of ARCA?
GP: "Yes, I still follow the series. I think it was a great improvement switching to the Five Star flange fit body. Car counts see to be down now even if this year there are more cars on some races. It's Going to be hard for some teams to survive with the limited number of races.
"Owners still must have the facility space to house the equipment and people prepare the cars. The same cost whether you have 10 or 20 races. They need to somehow get more money in the series."
VD: To finish, you can tell us two or three great memories that you lived with GPM. Whether it's a weird situation, a rant, a giggle?
GP: "Oh man, there were so many great memories during all these years I wouldn't know how the pick any two or three. GREAT TIMES WITH GREAT PEOPLE!!!"
Find all the stats of Gene Price and his drivers by visiting www.racing-reference.info and more particularly the part dedicated to the West Series: www.racing-reference.info/arca-menards-west-series-page/
Featured Photo Credit: Photo courtesy of Gene Price via Vincent Delforge