By Vincent Delforge, special to KickinTheTires.net
A native of San Diego, CA, Becky McBride is a character all to herself. An emblematic figure of the West Series, she has been working there in one way or another since 1981. She has done almost everything! Since 1998, she has worked for NASCAR / ARCA. She went from the clan of competitors to the clan of officials. But for Becky, there is no difference.
The West Series is a big family. She is certainly the custodian of authority today, but it is always with a smile and kindness that she exercises her role. Communication, listening, understanding each other is her leitmotif. It's an iron fist in a velvet glove. But no matter who you talk to, if you bring up Becky McBride, everyone is unanimous. Her joy of living, her good humor and her smile are inseparable from the character!
Vincent Delforge: Your passion for motorsport started when you were a little girl at Cajon Speedway, CA where your uncle raced. You then devoted yourself with passion to this Cajon Speedway for decades. Once you catch the racing bug, you never get over it, can you confirm?
Becky McBride: "I actually don't watch the races much. The high and lows of racing are brutal. There is only one winner. So, honestly, I have a bug for the people who come thru the gate. They start the day with the highest of hopes for a great day. Some will have that, some won't. How they handle it is amazing. My passion for the Sport is for the people and then the racing. The people win in my book. They are in my memories far more than any one race."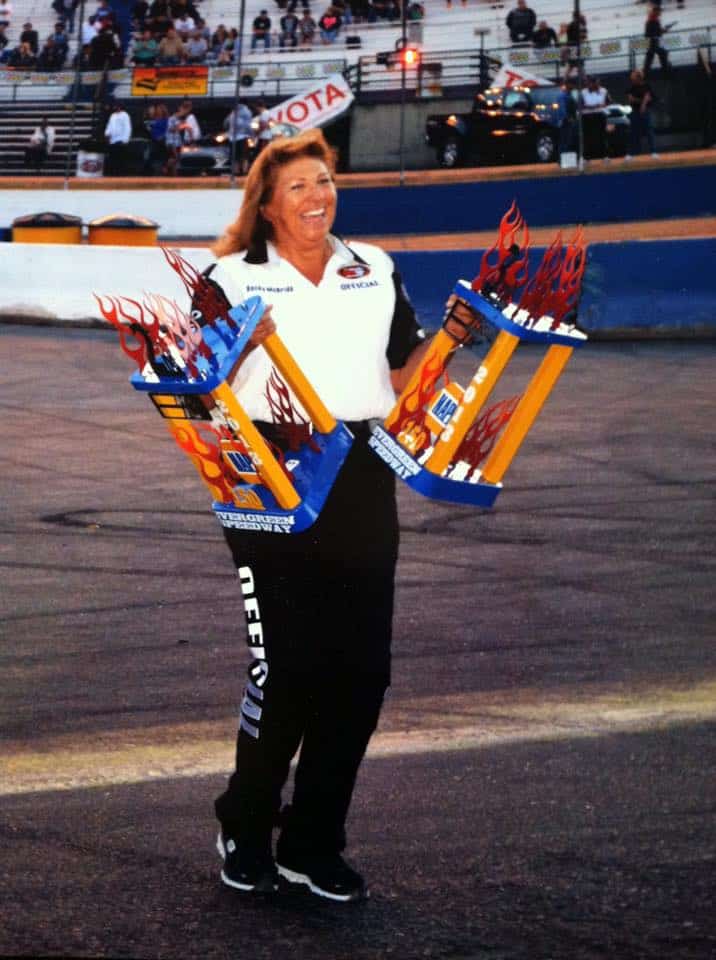 VD: You've been involved in the West Series in one way or another since 1981 and as a NASCAR / ARCA official for 23 years now. Apart from driving a car in a race, you did everything there. Can you tell us about your journey, what you did there?
BM: "I was working at Cajon Speedway helping the Brucker Family. I started volunteering when I was 15 years old. A driver by the name of Joe Bean asked me to come along as he was starting to drive in the Winston West Series. Back then each team had to provide a scorer. We didn't have electronic scoring yet. I jumped at the chance to be back in the West Series.
"We went all the way to Japan with NASCAR! But an injury sidelined Joe and plans changed. Then I got hired by a driver out of North Carolina, Rick Ware. He was a Winston West driver who became a NASCAR Craftsman Truck Series driver. Another change of plans happened, but I got hired by Jack Roush.
"Greg Biffle, Jon Wood, and then a kid named Kyle Busch was coming along. Due to Kyle being a minor, a race sponsor, Marlboro, decided Kyle was too young to race when IndyCar was there because it was a Cigarette Company.
"Change of plans again! The Winston West director asked me to join the NASCAR in the scoring department. I thought 'let's give this a try.' The future of scoring was coming to an end at the time. Electronic scoring was looming. Then I had the opportunity to be an Inspector so that was my next step."
VD: Thank God everything is changing and today seeing a female racer, a female crew chief, a female race director like Cherie Putnam in the NASCAR Pinty's Series has become normal. You have been in sport long enough to have observed the changing place of women in this "men's world." What were the biggest difficulties that you had to overcome to make your place and be respected there when you have positions of responsibility?
BM: "When I was a young girl volunteering at Cajon Speedway there was no girls in the pits. We had to work outside the pits. We did many jobs that were important but didn't allow us access to the pits.
"Scoring was vital to the racetracks and race teams. My Uncle always included the girls in the team from my family to work on the cars. We all could have jobs if we wanted them. He even built my mom her own car to race. She rented it out when she wasn't racing in the Powder Puff Races. Learning how to work on my street car and race cars was a big advantage to understanding my role as an inspector.
"I have done a lot of jobs the crew has to do on any Saturday night. My Uncle raced since he has old enough. My Mom drove for 12 years. I don't think being a woman makes a difference as long as you can understand what it takes to do the jobs we ask of the competitors. If I never worked on a car, drove a trailer all night to get to a race or missed most family invites on a Saturday I wouldn't be as effective as an Inspector."
VD: Even if you prepare days and days in advance, race day is a very long day from opening the gates to inspecting the cars after the race. What are your different functions?
BM: "First off, I must prepare the hotel contracts for the whole year. Each race we have a roster of Inspectors that need rooms. Once they are all set its off to the races. Sometimes we work as a team in credentials. Making sure all the teams get in with their passes for the weekend. Then we start our day.
"My task is ignition seals. Each ignition box must be sealed and recorded. Official is what I do when the cars are on the track. My place is the spotter stand wherever that is and I am with the spotters for practice, qualifying and the race. The spotters work very hard, and I am the messenger between them and the tower (the officials, race director, etc.).
"After the race I am back down to post tech to help with that process. We are done for the night, we load up for the next race."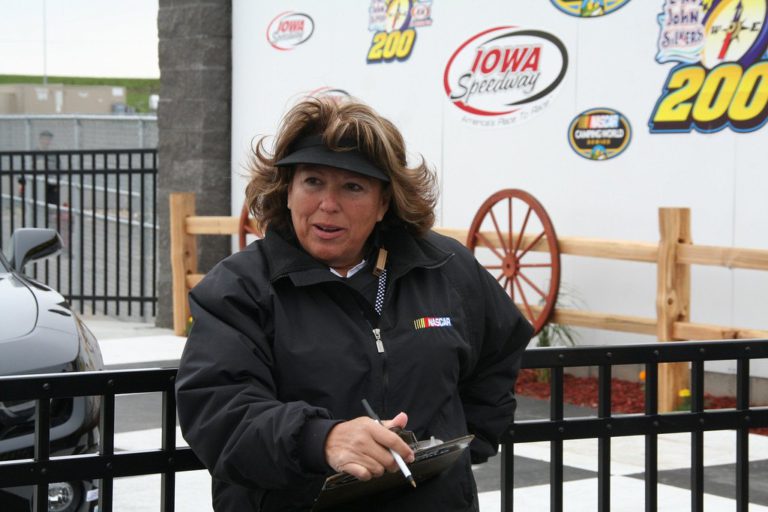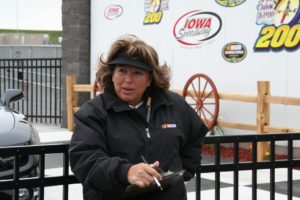 VD: You have seen a lot of drivers in the West Series. Some are making their careers there; others are just passing by. Apart from a few veterans who are resisting, today it is the realm of very young drivers. Are there any among them that marked you? By their driving skills, by their personality?
BM: "The drivers who have impressed me old and new are the ones who understand the sacrifice it takes. They focus on racing as much as possible. Their drive is second to none. The driver that takes time to make a fan's day or have fun with their team. I enjoy seeing the drivers having a good time. Number one is spend time with your family, be kind to your crew and be gracious.
VD: 2020 was a terrible year for the West Series. It transitioned from NASCAR to ARCA sanctioning, but above all were the devastating effects of the Covid-19 pandemic. In Las Vegas, there were 23 cars, can we finally say that the West Series is doing better in 2021? You who live with the teams, what is your assessment?
BM: "I started in the West Series in 1981. I have watched the ebbs and flows. 2020 we had races with no fans. We had 12-14 cars. But let me tell you something, those were some of the best races I have seen. Our drivers showed up and drove hard to win.
"2020 showed who is able to get through the tough times. 2021 is showing double the numbers that we saw last year. The West is healthy, and we have some great races coming up. Roseville produces incredible shootouts. Phoenix is a Showcase. Looking back, I would say that 1981 to 2021 it is still about the people. Can't remember who won always but for sure can't remember who finished second! That's why we keep score."
VD: In conclusion, can you tell us a couple of anecdotes that have particularly marked you since becoming an official in the West Series?
BM: "Racing is the only addiction I ever had. I am sure it saved my teen years from disaster. My family spans from Canada to every corner of the USA. That Pit Pass you buy is worth every penny. Best people in the world you will ever meet are at your local short track.
"I remember one thing that was very stressful. I was at Stockton in 2004. We had all the scorers along with chief scorer and myself on a flatbed truck. Pen and paper in hand. Lights go out and it was the silence one second before the chaos on the track! We advised everyone to stay still and not fall off the flatbed. What a night!
"As an Official we got to attend our championship banquets some on the West Coast some on the East Coast.
"This led to being offered an opportunity to work the Cup Series banquet in Las Vegas at The Wynn. What an amazing live TV event to be part of. World class athletes to Hollywood's superstars were presenters. Seeing Tony Stewart and Jeff Gordon on their retirement from the sport, very memorable
"Best advice I ever received was don't get too high and don't get too low. Stay in the middle.
God blessed me with a passion for motorsports that made for an amazing journey. Japan, Brazil and Jamaica are on my passport. Anything is possible when dream big but you must work hard."
Featured Photo Credit: Photo Courtesy of Steve Tapley via Vincent Delforge.