By Seth Eggert, Staff Writer
As she continues her ascent up the ladder in motorsports, Katie Hettinger will make her ARCA Menards Series West debut with Young's Motorsports at the Las Vegas Motor Speedway (LVMS) Bullring.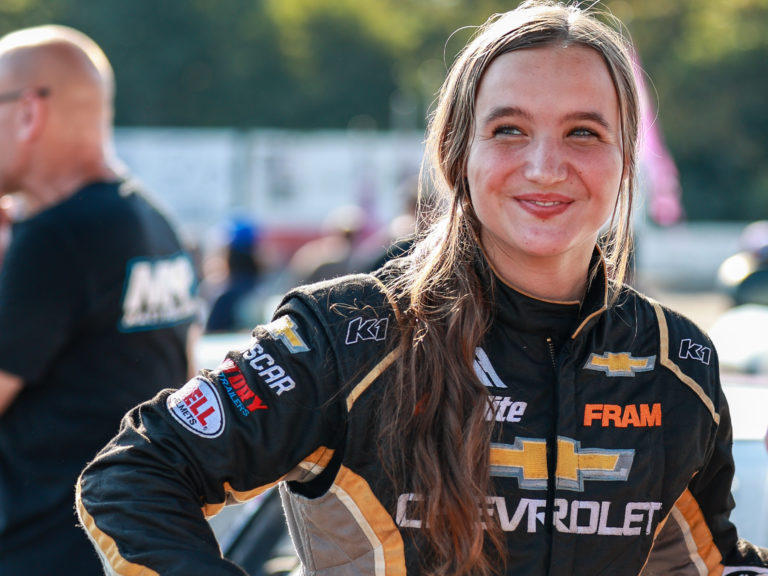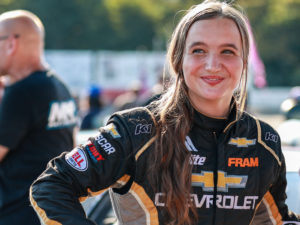 On Friday, October 14 at the LVMS Bulling Hettinger will drive the No. 02 Chevrolet. The 15-year-old will also compete in the ARCA West season finale at Phoenix International Raceway on Friday November 4. She is just the most recent female to compete in ARCA West, joining Bridget Burgess the only full-time female driver in the regional series. Full-time ARCA drivers Amber Balcaen and Toni Breidinger also competed in the combination race at Phoenix earlier this season.
Breidinger is also the most recent woman to make starts for Young's Motorsports, making five starts for Young's Motorsports in 2021. Her best finish was 12th, twice. The team also has three top-five and five top-10 finishes with Leland Honeyman Jr. in ARCA Menards Series East competition this year including a pole position and a runner-up finish at Five Flags Speedway.
"Anytime I get in a racecar, my goal is to win, but ARCA is a step up with strong teams and talented drivers, so the more realistic expectation is to finish Las Vegas among the top-five and, ideally, the top-three," admitted Hettinger. "Phoenix is a bigger track – the biggest one I'll have ever been on – so that will be a little more challenging. A top-10 at Phoenix would be great.
"I want to make sure I'm successful when I get to the Las Vegas Bullring and when we race at Phoenix, so we're testing with the ARCA car and I'm doing a lot of sim training before and after those tests."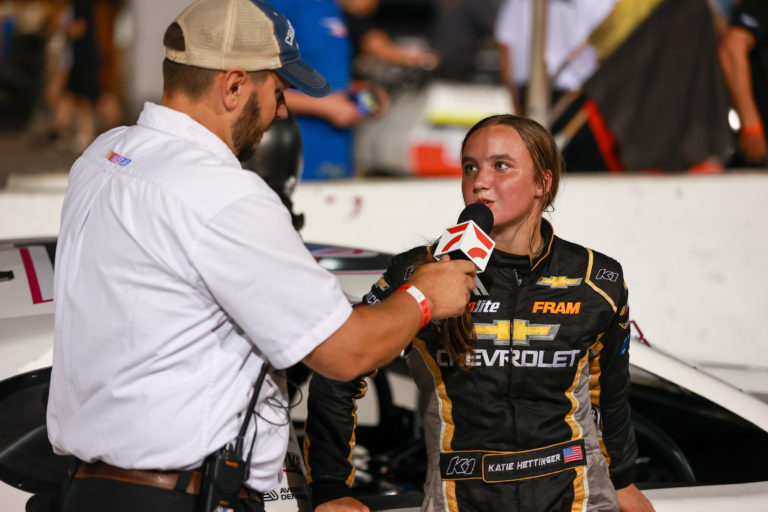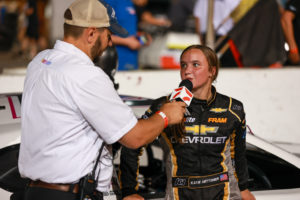 Hettinger may just now be closing in on the national stage for stock car racing, but she's already achieved a long list of accolades. Recently she became the winningest female driver in the history of Hickory Motor Speedway in the Limited Late Model feature during the Bobby Isaac Memorial event. Hettinger followed that up by becoming the youngest female to win a Late Model feature at 'The Birthplace of NASCAR Stars.'
"I'm proud of what we've been able to accomplish at Hickory, but I didn't go there to become the winningest female racer," explained Hettinger. "I went there to win races, just like all the other guys there. I'm the same as everybody else. I'm just there to win races."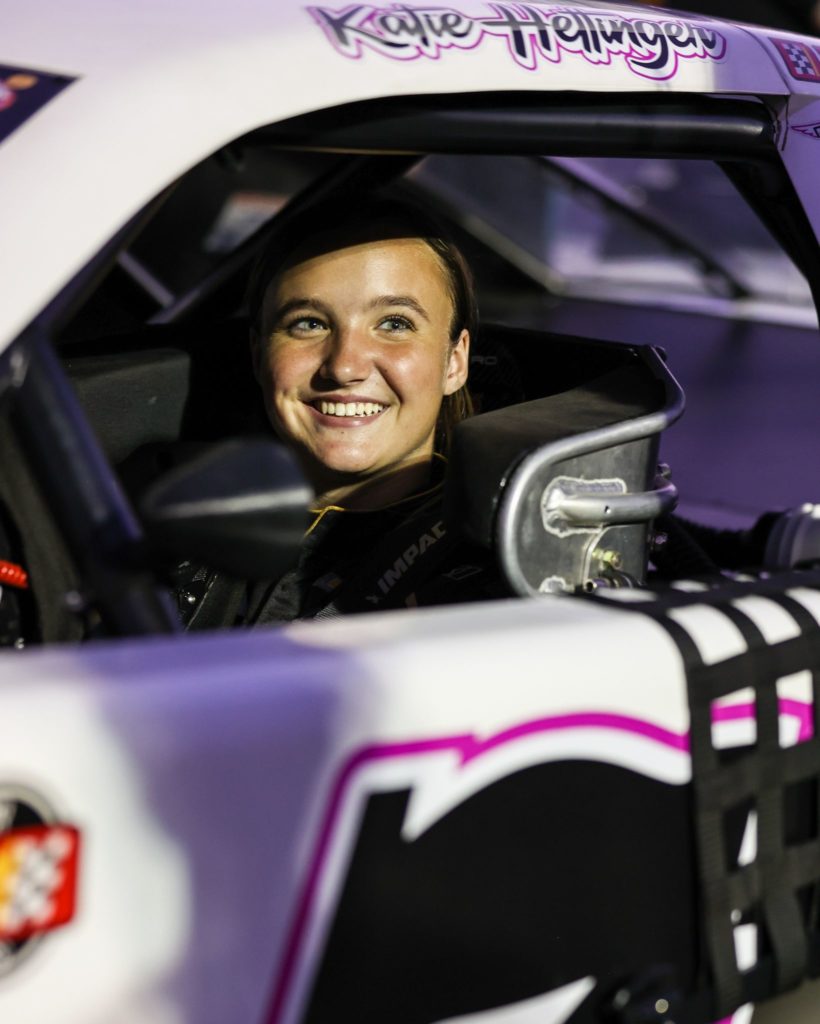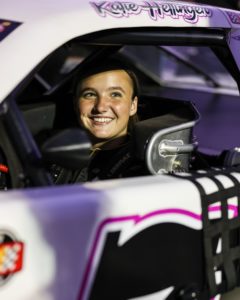 In eight starts, so far, at Hickory this year, Hettinger has four wins. She is quickly separating herself from the notion of being the winningest female in track history to being just another winning driver at the track.
Hickory Motor Speedway is not the only track that Hettinger has competed at. The Dryden, MI native won the Champion Racing Association (CRA) Junior Late Model Series championship in 2020. She was the first, and so far, only woman to win a championship in the 25-year history of the series.
Hettinger also has a win in the Paramount Kia Big 10 Challenge Series that competed at Hickory. Despite only running eight of the 11 races, she still finished sixth in the standings with one win, five top-fives, and eight top-10 finishes.
Despite all of her success to date in Late Model competition, Hettinger realizes that there is a big difference compared to the ARCA Menards Series West cars. The size of the LVMS Bullring, 0.375-miles, is similar to the short tracks that she is familiar with. However, the 1-mile Phoenix Raceway will likely be more comparable to a super speedway with Hettinger's current experience.
"Every time I get into a new car, I just drive it like I normally would," said Hettinger, who has made over a hundred starts in Late Model and Limited Late Model competition. "I don't usually struggle with switching classes or cars or anything like that.
"The main thing that I've found to be different with the ARCA car is you have to back up your entry into the corners. With the Late Model, you can drive it deep into the corner, which is what I like. With the ARCA car, you have to be a little more patient. You have to wait a little bit longer to get back to the gas."

Hettinger also has starts in the CRA JEGS All-Stars Tour, Carolina Pro Late Model Series, and the CARS Tour's Late Model Stock division. She made her Late Model Stock debut in the Race Track Revival event at North Wilkesboro Speedway last month.
Though she has made over 100 starts in Late Model competition, Hettinger is still a Freshman at Almont High School in her home state of Michigan. Like many other up-and-coming drivers, she has had to find a balance between school and sports. Some of her wins at Hickory have come during the most recent school year.
"I juggle everything I do with sports and school, and it can be hard sometimes, but a lot of people are very understanding and I'm able to stay on top of it," said Hettinger. "I still get mostly A's and some B's, and I play a lot of school sports, so sometimes I miss a volleyball game or a basketball game but, overall, I'm able to manage it."
Helping Hettinger manage the balance between school and sports is her family. She is a third-generation racer with her grandfather Jim Hettinger being a two-time Midget racing champion. Her father, Chris Hettinger is also a winner in open wheel competition.
"My mom and dad are very supportive and understanding, and my sister is a competitive dancer and plays volleyball," stated Hettinger. "My little brother loves racing, and he always wants to go see Katie's racecar. They're all in this dream as much as I am."
Both of the ARCA Menards Series West races that Hettinger will compete in will be streamed live on Flo Racing.