BRISTOL, Tenn. – When Jesse Little climbed from his Young's Motorsports truck following Thursday night's UNOH 200 presented by Ohio Logistics at Bristol Motor Speedway, the emotion of the moment visibly began to set in.
It marked the end of an era for the 25-year-old, second-generation driver, as well as the start of a new adventure.
The race at The Last Great Colosseum marked Little's final start behind the wheel after more than a decade of professional racing. He announced earlier in the week on social media that he would be ending his driving career to pursue a different avenue in motorsports.
While his final NASCAR appearance didn't end up front, competing for a potential victory, Little still found the energy to crack a smile as he began reflecting on a career that dates back to his quarter midget days in 2004 and his NASCAR K&N Pro Series East (now ARCA Menards Series East) debut in 2012.
"Even though tonight didn't go how we wanted it to, there's still a lot of joy in this moment," Little told Kickin' the Tires following a 25th-place finish in his 47th and final NASCAR Camping World Truck Series start. "Obviously, a lot of that comes from the good memories and times I've had at the race track through the years and the relationships I've built with so many good people throughout the garage area. We just battled a lot tonight, and didn't have the handle on the truck that we wanted to, but we never stopped fighting until the very end.
"It's time for a new chapter, now, and a new journey. I'm a big believer in that everything happens for a reason, and what's ahead of me is something I'm really looking forward to. I'm excited, in a way, to close the book on the driving side and move on to the next thing … but it is bittersweet, as well, because it's something I've done for most of my life up to this point," Little continued. "I'm super grateful and I've been super lucky to get to do the things that I have in this sport. It's been a great journey so far and I couldn't have done it without every single person in my support corner over the years. There's so many of them, too many to list out all at once.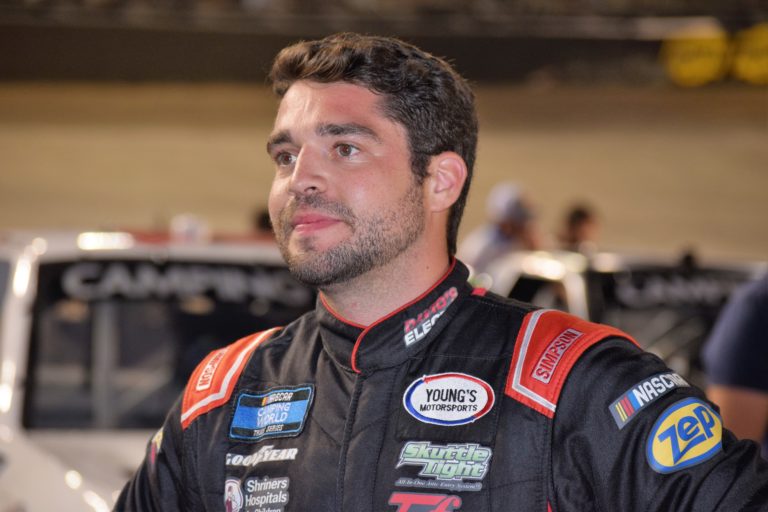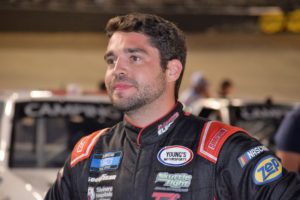 "I'll cherish the last 12 or 15 years since I started big-car racing for the rest of my life. It's been a lot of fun, but I'm ready to look forward now."
Little made a total of 158 NASCAR-sanctioned starts over the past 10 years, including races in all three of NASCAR's national series – the NASCAR Cup Series, NASCAR Xfinity Series and the Truck Series.
His NASCAR résumé includes two East Series victories, three East Series poles, eight top-10 finishes in the Truck Series and two top 10s in the Xfinity Series.
His career-best national series mark was sixth place twice, first at Iowa Speedway in the 2018 Truck race and matched earlier this year with Young's Motorsports in the season opener at Daytona (Fla.) Int'l Speedway in February.
The son of former Roush Fenway Racing driver and current NASCAR managing director for technical inspection and officiating Chad Little, Jesse won the 2010 USAC Eastern Focus Young Guns midget car championship before moving up to late models the following year.
When NASCAR loomed on the horizon for the 2012 season, Little began competing with his family-owned Team Little Racing squad, but eventually branched out to other teams as opportunities developed for him.
He's raced for Hattori Racing Enterprises, Rette Jones Racing, MB Motorsports, Diversified Motorsports Enterprises, JD Motorsports, B.J. McLeod Motorsports, Jesse Iwuji Motorsports and Young's Motorsports during his 10-year career inside the NASCAR garage.
Asked what prompted his move to a different side of the racing business, Little tipped that it all came down to situational awareness.
"Just a lot of good situational timing, I think. A lot of good things started happening and falling down (the pipeline) around summertime, and the age I'm getting to and my desires played a role as well," Little explained. I think the reality of where I'm at in my life and my career got me thinking about what I want to do next, and a lot of little things all added up to lead to the decision I made."
Little admitted that while he couldn't show his hand yet as to what he'll be doing next in the racing industry, he'll still be at the race track, and that his fans and friends haven't seen the last of him.
"Oh, I'll still be around," he assured. "I can't talk about it yet, but it'll be beneficial and good in a lot of ways. I'll still be involved in the industry and be present with my buddies and friends, and we'll keep the machine going and see where it leads for everyone."