By Vincent Delforge, special to KickinTheTires.net
Twenty-three cars on a 3/8-mile track, what's it like? A crazy and muscular race!
What a beautiful if not hectic race, from start to finish there was a fight for each position during the seventh race of the season, the Star Nursery 150 at the Las Vegas Motor Speedway Bullring. The 'matador' that came out victorious was Taylor Gray.
Practice – Qualifying session
One and only one hour and 15-minute session to adjust the car setup for the race and be the fastest to take pole. In this little 'cat and mouse' game, it was Jake Drew who was the most effective.
This is his third pole this season but the first on an oval. After the disappointment of losing the victory in Portland two weeks ago to a penalty for shorting the turn 2. Drew is hungry for revenge. He is ahead of the winner in Portland, Taylor Gray. The previous year's poleman, Jesse Love was third. Amber Slagle, 12th, is the best of the five female drivers. Christian Rose sets the 18th fastest time for his West Series debut.
Five female racers, an ARCA West record!
Since the inception of the West Series in 1954, there have always been female drivers. The pioneer was FiFi Scott-McGillicuddy on October 10, 1954, during the final in Sacramento. That season that had nine races like this year. She was 18th due to clutch problems.
In 68 ARCA West seasons of the 33 women who raced in the West Series, only 30 have been able to start a race at least once. Hailie Deegan (3 times) and Gracie Trotter (1 time) being the only two women to date that have won races in the series. What better way to pay homage to them than to mention their names. Here is the list in alphabetical order of the "33":
Amber Balcaen, Nicole Behar, Sharon Bishop, Mariah Boudrieau, Toni Breidinger, Jessica Brunelli, Kristin Bumbera, Bridget Burgess, Melissa Davis, Hailie Deegan, Sarah Fisher, Cassie Gannis, Janet Guthrie, Arlene Hiss, Holley Hollan, Crystal Kennedy, Julia Landauer, Marta Leonard, Toni Marie McCray, Candace Muzny, Hannah Newhouse, Marian Pagan, Hila Paulson, Mara Reyes, Shawna Robinson, Vanessa Robinson, Kristi Schmitt, Fifi Scott-McGillicuddy, Amber Slagle, Michelle Theriault, Gracie Trotter, Jolynn "JoJo" Wilkinson, and Brittney Zamora.
The five history making women in the Star Nursery 150 were Balcaen, Boudrieau, Burgess, Slagle, and Wilkinson.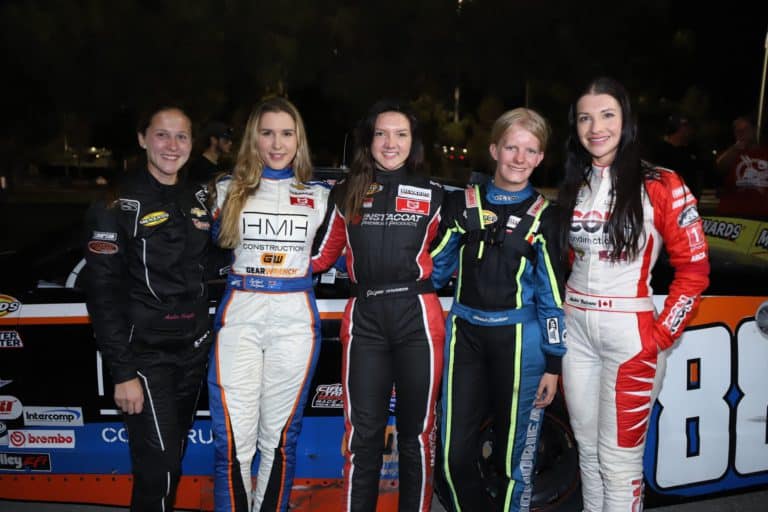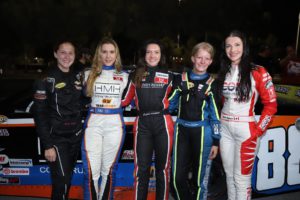 Green Flag
Might as well tell you right away, this race will not be successful for female racers. As soon as the green flag is waved, a misunderstanding between the two Amber's had far-reaching consequences. Balcaen pushed Slagle into the frontstretch wall. The yellow flag did not wave as Slagle continued on. The Canadian driver from Bill McAnally Racing went directly to the pit lane (located outside the oval here).
John Camilleri, Balcaen's crew chief, and her team attempted to repair her car but she was forced out about twenty laps later, the damage being too severe. The same goes for Slagle who crashed into the wall with the right front. She continued on her way but did not have the pace. On the 10th lap she was caught up by the leaders. The Cook-McGowan Racing team also attempted to repair, but the radiator damaged. Slagle had to retire after about fifty laps.
In front ,the leaders, who saw nothing of the accident, Jake Drew took advantage of his pole to take the lead ahead of Taylor Gray who followed him like his shadow. Jesse Love, Trevor Huddleston and P.J. Pedroncelli round out the top-five. On the third lap, Paul Pedroncelli proceeds to the "start and park" planned by the family team.
The positions keep changing in the top-10. Gray took advantage of the traffic of lapped cars to attack Drew and assumed the lead on lap 23. Three laps later the first yellow flag was waved after Eric Nascimento's spun on turn 2. Slagle's teammate Christian Rose got the free pass. He used that free pass to achieve a superb race afterwards.
At the restart, Gray does the job and contains Drew's assaults. But everything will have to be redone since two laps later. Burgess was spun by Wilkinson. Bobby Hillis also got spun trying to avoid the No. 88 Chevrolet. Balcaen, who had returned to the track 14 laps behind, put her No. 19 Toyota definitively behind the BMR Hauler.
Another restart on the 38th lap. While Gray managed to hold onto the first position, behind the entire top-10 will be changed in less than two laps. Love took second over Drew, Joey Iest, Dean Thompson and Cole Moore to take over Huddleston, P.J. Pedroncelli and Todd Souza respectively. Pitts Racing's local Kyle Keller, who qualified eighth and started the race in a minor fashion, climbed back into the top-10.
It was on lap 56 that the third yellow flag was waved following a mistake by Stafford Smith who sent Nascimento into the wall of tires on the exit of turn 2. All this under the nose of leader Gray who was going to take a lap from them.
"It was fun, but I was really loose on the way out and couldn't push," Smith explained. "I tangled with the 4 (Nascimento) car. Totally my fault and apologized after. On to Roseville."
The next restart was more complicated for Gray because Love put pressure on him to finally take the lead on the 66th lap. Huddleston is also in a good phase as he passes Iest and Thompson in quick succession and is now putting pressure on his Bruncati Racing teammate, Drew for the last step of the podium.
John Wood will cause the fourth caution of the night by stopping in the backstretch. And it is precisely this slowdown that will allow Gray to regain first place from Love. Wilkinson benefits from the free pass.
"I ran over debris, and it cut oil line and thus damaged engine. It was over," said Wood.
The restart is given when the halfway mark has just been reached. Gray retains his leadership position ahead of Love and Drew. Behind the fight is so intense in the pack that the drivers get in the way and lose ground on the leading trio. Pedroncelli overtakes forcefully on Iest who manages to control a slip of his Ford, demonstrating incredible car control! Souza is losing positions from being in the garage. Another blow for the veteran after the Portland disaster.
"A wire came off the alternator I believe," Souza explained post-race. "Had to change batteries. Pretty disappointing."
Jesse Love's 'Descent into Hell'
On lap 90 Jesse Love suddenly lost contact with Gray as he rolled in his rear bumper from the restart. Two laps later Drew passed him and then its Iest. In less than five laps Love moved from second to seventh and his ordeal was not over.
Love's crew chief Travis Sharpe will use the fifth yellow flag to call him back to the pit box to try to stop the bleeding. The caution was caused by an accident between Wilkinson and Hillis. While Hillis managed to pull away without too much damage, Wilkinson wasn't as lucky. Her No. 1 Toyota came to rest in the exit ramp off the track. Josh Fanopoulos receives the free pass.
Love lost two laps and is 12th on the restart. In front, Gray was a solidly the leader. Nothing goes for BMR anymore as Cole Moore, their last driver without a problem, was ejected from the top-five by Pedroncelli. Moore's tires appeared to be in trouble. All cars have red-hot brakes at this point and the short straights don't give enough time for them to cool down. Thompson cleaned up Bruncati Racing, mainly overtaking both Huddleston and Drew for third and second respectively.
A flat right tire for Jesse Love, who spins at the entry of Turn 3 at the 107th lap, caused another caution. Hillis was hit for the second time this evening from behind, this time by Boudrieau. Boudrieau, who admittedly rode far from the top-10, was the last of the five women drivers without an incident at the time. By being involved in this sixth caution, Love cannot benefit from the free pass.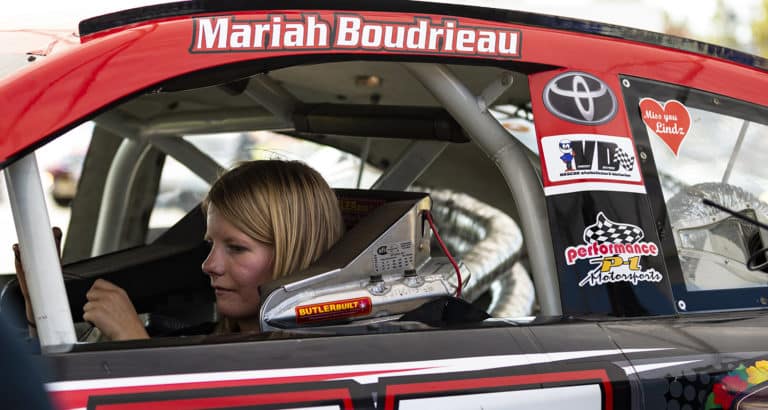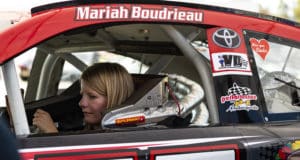 Royal way for Gray
Gray understood his goal and held off assaults from Huddleston and Thompson on the restart. Drew took fourth position from Pedroncelli. The Bruncati Racing driver continued his ascent by successively passing Thompson and Huddleston. He was the fastest on the track at the time. Drew had a new possibility of aiming for victory when the seventh and final caution waved. The trio were three-wide in the second corner. There was not room for everyone.
If Drew on the inside is doing well, the same is not true of Thompson. The No. 51 spun and hit the wall. His left rear tire exploded following contact with Pedroncelli. Behind Thompson panic ensued as Souza hits Rose and Boudrieau does the same to Fanopoulos! Nascimento receives the free pass when he is three laps behind the leader.
Love is now four laps away but has rebounded in a fast car. However it was a little too late unfortunately.
On the restart Gray controlled the lead ahead of the Fords of Bruncati Racing. Moore spun Pedroncelli, who managed to restart again quickly enough that the yellow flag is not waved. However, he fell back to ninth position. With less than 15 laps remaining, Drew and Huddleston fought for second place. That battle benefitted Gray who set sail! Gray began to put top-10 drivers a lap down. Fanopoulos, then Pedroncelli and finally Takuma Koga, seventh, who made a discreet but efficient race.
When the checkered flag waved Gray won, with 2.262 seconds to spare. Drew, Huddleston, Iest, and Kyle Keller competed in the top-five.
It was Gray's second win this season after Portland and the third in his career. This comes after he had to put his season on hiatus after an accident on a public road in North Carolina. Gray's return appears to be in Olympic form!
Drew's second place finish equals his best result of the season. Huddleston finally manages to land a top-five this year. While Drew ultimately prevailed over Huddlestone, laps ran out for him to put a final charge on Gray for the win. Both had a discussion post-race, but both were happy to walk away with their top-five finishes.
Iest confirms his good form with his fifth consecutive top-five. Keller gets his second top-five in as many races on the Bullring. Moore and Pedroncelli, sixth and seventh respectively, didn't benefit much from Love's woes in the championship but closed the gap anyway. Koga was eighth ahead of Fanopoulos who confirmed he is comfortable on the tiny, short tracks and Christian Rose gets his first top-10 in his series debut.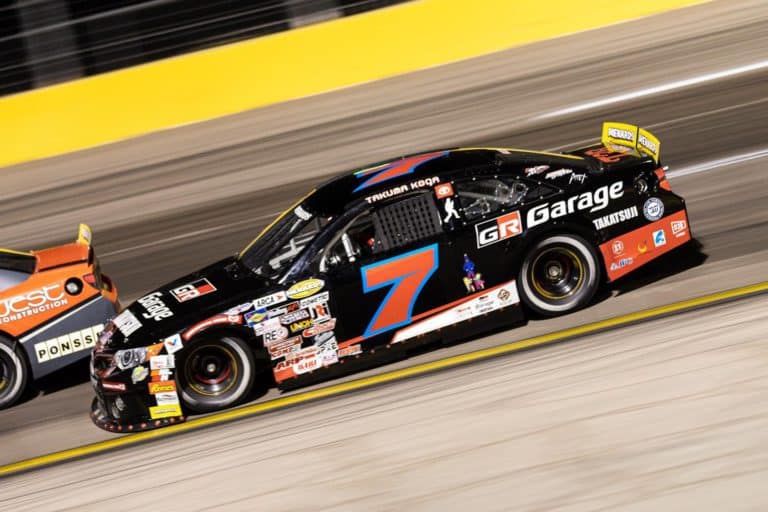 Finally, in 13th, Love is now just seven points ahead of rookie Jake Drew.
Post-Race Reactions:
Bobby Hillis, Jr: "Well it's not where we wanted to finish or even should've. Actually, went and disputed the finishing order because we were just behind or in front of the 21 all race. In fact, he spun himself out off my nose near the end. I had gotten inside of him again and he just came down and spun himself out.
"Anyway, he finished ninth and I finished 15th. Don't know how that's possible? Still have a brake issue with that car as well. Was experiencing brake fade most of the race and pretty much lost them completely with about 15 to go. Anyway, not a very good day but at least the car is still in one piece, and we finished."
P.J. Pedroncelli: "It was a hot one. We struggled a little bit on speed and qualified P7. Started the race and was running around trying to conserve tires and brakes. Worked my way up to third with 30 laps to go and got spun. It was a racing deal, all of us racing hard. I was able to keep it going and drive back up to finish P7. Tied for fourth in points, 15th points out from first. Going to be a tight last two races."
Jolynn Wilkinson: "Las Vegas was an interesting one. I love these cars and being out here on the west coast learning the different side of racing compared to the late models back at home. Going through a huge learning curve, and big adjustment in my life. I missed half of my senior homecoming week to come out here and race.
"I'm so thankful for this opportunity, just haven't been able to show what I can do yet. The car was fast, and good speed all day long. We just got caught up in the stuff we didn't need too! Finished P15 but had a top-10 car for sure, I can't thank Bill McAnally Racing enough for giving me a fast race car tonight."
Travis Sharpe (Jesse Love's crew chief): "As the old saying goes, I would rather be lucky than good, tonight we were very good, but not lucky, we took the lead around halfway and had a flat right front under green, lost four laps, one of the best cars I've ever had, oh well, dust ourselves off, go get the next one!"
Jesse Love: "That one stung! Started 3rd and got to the lead with 50 to go and had a RF tire go down. Hate it for our guys and BMR. We did what we needed to do, so we'll keep our head up!"
Kyle Keller: "What an amazing day! Qualified eighth and finished fifth! Thank you everyone that supported me this weekend! »
Christian Rose: "I'm proud to have represented my home state and Visit West Virginia Tourism in my ARCA Menards West debut! I'm grateful for my team and we can't wait to build on this Top 10 finish."
Amber Slagle: "Beyond frustrated. Tonight ended just as fast as it started. We got completely drove through coming to the green and got sent into the outside wall. A lot of impatience, I guess. Still Beyond blessed for the opportunity and we'll get her fixed and be back at Roseville in two weeks."
Next race on the All American Speedway at Roseville, CA on October 9 for the NAPA Auto Parts 150.
Complete results on Racing-Reference www.racing-reference.info/race-results/2021_Star_Nursery_150/AW/
Featured Photo Credit: Photo Courtesy of Diego Alvarado via Vincent Delforge.