By Sarah Handy, Staff Writer
Bayley Currey will make his first NASCAR Camping World Truck Series start of the season at Kansas Speedway on Saturday with Niece Motorsports.
Currey will pilot the No. 45 Sharky's Pub & Grub Chevrolet Silverado in Saturday evening's Wise Power 200. The Chevrolet's throwback scheme will pay tribute to Niece Motorsports first Truck Series win. That win came two years at Kansas Speedway with Ross Chastain behind the wheel of the No. 45.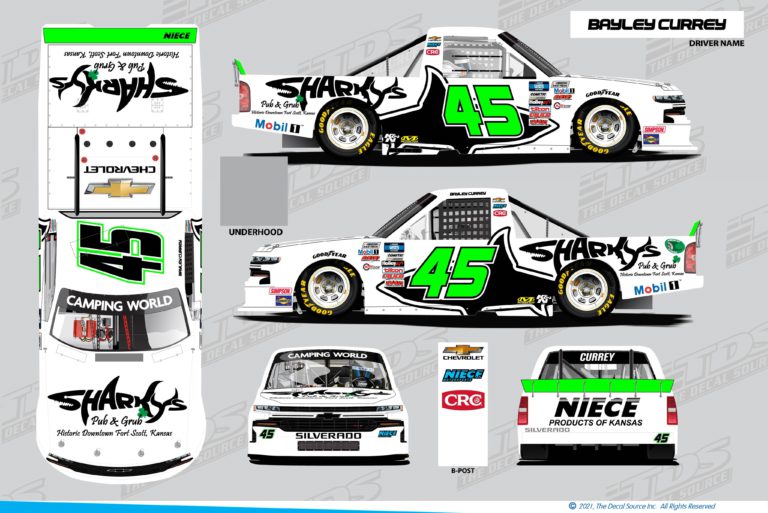 "I'm thankful to Mr. Niece and everyone at Niece Motorsports for the opportunity to come race their Chevy this weekend in Kansas," said Currey. "The truck looks phenomenal – it's a neat tribute to the organization's first win here two years ago. I'm looking forward to Saturday night's race in our Sharky's Chevrolet."
Currey is no stranger to the organization having made four Truck Series starts during the 2020 season for the team. In those four starts, Currey finished no worse than 18th. His best result, a 12th place finish came at Darlington Raceway last September.
The Driftwood, Texas native has two previous NASCAR Camping World Truck Series starts at Kansas; both saw finishes of 29th due to mechanical issues. However, in three NASCAR Xfinity Series starts at the 1.5-mile tri oval racetrack, Currey has a best finish of 18th last October. In addition, he also has one NASCAR Cup Series start at the track in 2019 finishing 33rd.
Saturday evening's Wise Power 200 from Kansas Speedway is scheduled for 7:30 PM Eastern on FS1 and MRN.
Feature Photo Credit: Nigel Kinrade Photography / NKP Photo