By Seth Eggert, Associate Editor
TRICON Garage's Toni Breidinger made history in more ways than one with a top-15 finish during a career night in Saturday's Heart of America 200 at Kansas Speedway.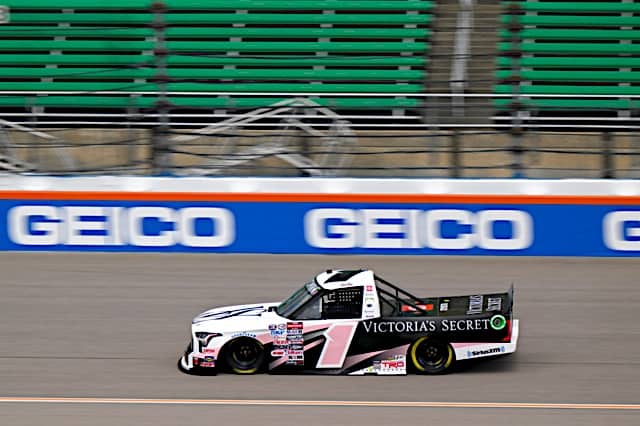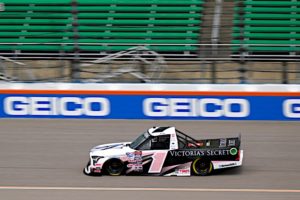 While making her NASCAR Craftsman Truck Series debut, she became the first woman to compete in the ARCA Menards Series and the Truck Series in the same day. Breidinger also became the first Arab American woman to compete in one of NASCAR's three National Touring Series.
In her Truck Series debut, the driver of the No. 1 Victoria's Secret Toyota Tundra TRD Pro learned more about dirty air, the aerodynamic effects of traffic, and more. With smaller fields in ARCA competition, the effects of the air are lessened.
"There was so much to take away," Breidinger admitted. "There was so much thrown on me that I haven't got to experience before – just the aero and being in dirty air. I feel like you experience that in ARCA, but in Trucks it's amplified a million times. That was a whole new experience.
"I feel like everyone is really good out here. I could feel everyone side-drafting me. Nobody gives an inch. There's a massive learning curve, but I finished a clean race, and it was pretty solid."
Breidinger slowly picked her way up the running order. The Toyota Racing driver avoided several accidents before having a spirited battle with former Truck Series champions Johnny Sauter and Ben Rhodes. The trio traded positions back and forth throughout the final 10 laps, until Breidinger's teammate, Tanner Gray, caught the trio.
Using advice that Tanner and her other teammates, Corey Heim and Dean Thompson, gave her throughout the weekend, Breidinger followed the No 15 Toyota through to the top-15. When the checkered flag waved, she was 15th, the best debut result for a woman in Truck Series history. The previous best was Hailie Deegan and Johanna Long's 17th-place finishes.
"Racing around Johnny, he's obviously very experienced, he was talking air off of my nose, which I have never had happen before, blocking me," Breidinger detailed. "It was hard to get around him. I was searching for a way around him and then Tanner caught back up and led the way for me to slide on through."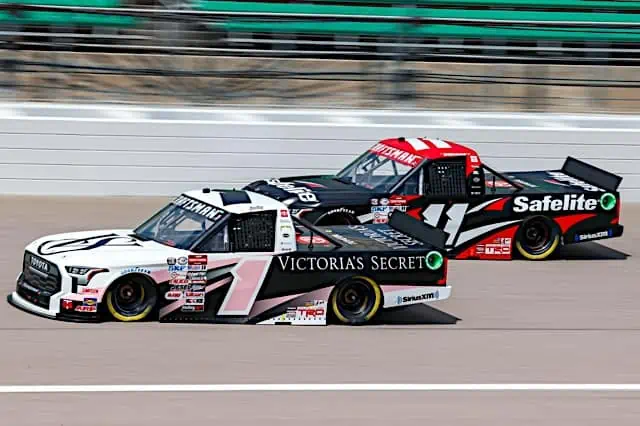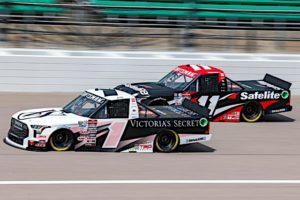 In ARCA, Breidinger is used to having a rotating cast of teammates between Jesse Love, Amber Balcaen, Gus Dean, Conner Jones and more. The Dawn 150 at Kansas saw her compete with two of her Truck Series teammates, Taylor Gray and Thompson. A late-race call to pit road ultimately left her 11th in the ARCA race.
"I bugged all of my teammates," Breidinger said. "I texted Tanner last night, I was bugging Corey this morning. I was talking to Dean all day today. I definitely asked them as many questions as possible. Everyone just says drive the heck out of it. The harder you drive, the better the truck will feel. I feel like I took that away from them.
"On restarts even if you cracked the throttle a little bit because of a sketchy situation that you were screwed, everyone just swarms you. I learned that you can't give an inch."
Performing double duty for the first time came with another set of challenges. Breidinger was one of four drivers competing in both races, her two teammates, Taylor Gray and Thompson, as well as Josh Reaume. Per the NASCAR on FOX broadcast, following the ARCA race, Breidinger went to the infield care center to receive an IV because of the heat during the day.
"I preferred it when the track got dark, in the ARCA race the track was really greasy, it was hot out, and I was hot in the car," Breidinger explained. "It was a little bit nicer in these conditions for sure."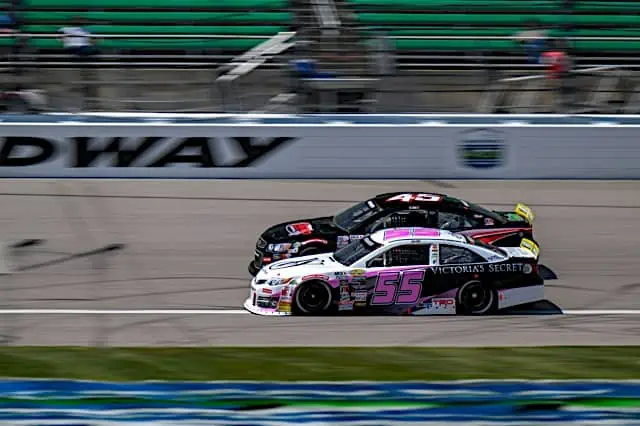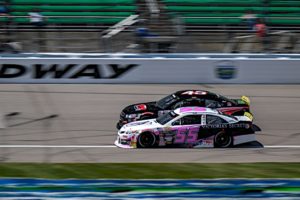 The career night for Breidinger with Victoria's Secret, a new company to NASCAR, on both her No. 55 Toyota Camry and No. 1 Toyota Tundra, is a turnaround in fortune. The 23-year-old appeared to be on the cusp of her first career top-five at Dover Motor Speedway one week prior until a mechanical issue under caution ended her race.
That history making finish almost didn't happen. Breidinger narrowly avoided Nick Leitz's spinning truck early in the 200-mile race.
"This gives me a confidence boost to where hopefully I can do more truck races and hopefully get better finishes," Breidinger said.
As to when the Hillsborough, Calif. native will be back behind the wheel in the Truck Series, only time will tell.