By Seth Eggert, Associate Editor
During Darlington Raceway's NASCAR Throwback Weekend Ryan Vargas will honor a NASCAR champion and former competitor Sean Woodside.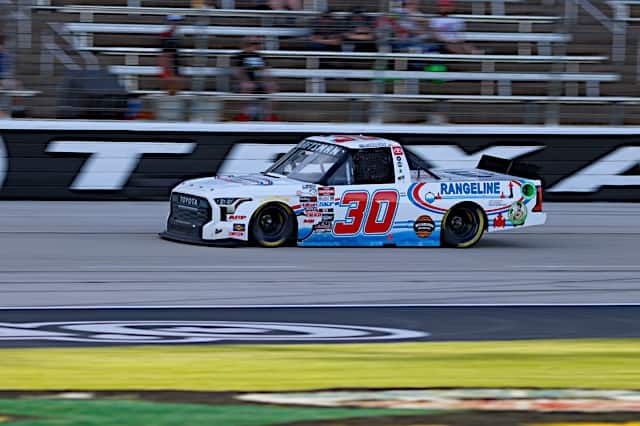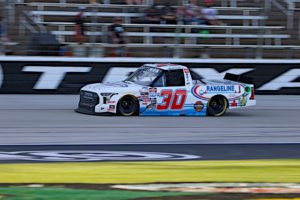 Vargas might be new to the NASCAR Craftsman Truck Series, but the Drive for Diversity alum is a student of the sport. The La Mirada, Calif. native grew up racing Late Models at Irwindale Speedway with a champion from the NASCAR Winston West Series (now known as ARCA Menards Series West), Sean Woodside.
The duo raced each other hard but with respect. Vargas used the opportunities he had to compete with Woodside to learn multiple skills that he carried into NASCAR's National Touring Series.
"Sean was a competitor for sure on the track, he always raced me hard, but he raced with respect, and I knew how long he had been in the sport," Vargas explained. "He's a Winston West champion, he has won dozens upon dozens of races of the Late Model ranks. He has seven West Series wins. To be a champion in the sport, especially in that era with as competitive as it was, that definitely is no easy feat."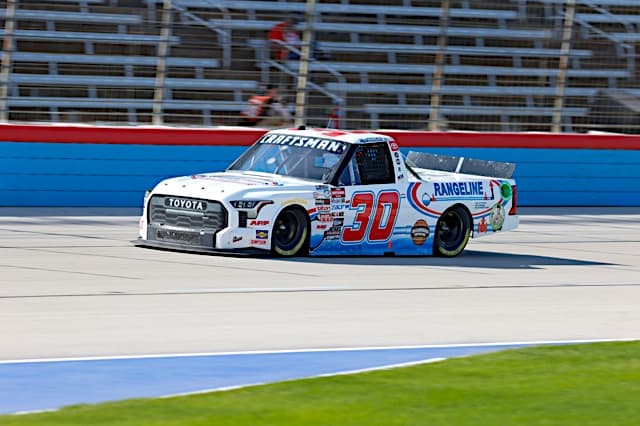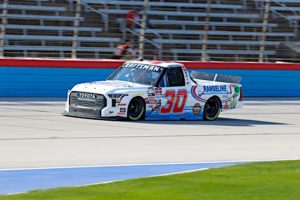 The camaraderie and mentorship that Woodside gave to Vargas and others stuck. The NASCAR Next alum used the advice to reach victory lane just one week after the champion had spoiled his birthday.
"I remember on my 17th birthday, I was racing at Irwindale, and I think it was like a 40-lap race," Vargas recalled. "We led pretty much all but two of the laps. Those other two were led by Sean. He beat me and so he spoiled my birthday on that day.
"But after the race, I went up to him and I just asked, 'dude, how do you do this?' We talked probably about10 minutes. But some of the tips and advice he gave me that race definitely paid dividends and we ended up going to the next race and won that one and then ended up winning the big end of the year race."
The truck that Vargas and his No. 30 TRS SESCO Toyota Tundra team is throwing back to is Woodside's No. 31 Ford F-150 from the 2000 Dodge California 250 at the now-defunct Mesa Marin Raceway. It was Woodside's second of two career Truck Series starts. A late-race crash left him 24th, out of the race.
With the 75-year history that NASCAR has had, many drivers and teams often choose to throwback to more iconic paint schemes. Vargas has even done that in the NASCAR Xfinity Series, throwing back to Jimmie Johnson, Mark Martin, and more recently Jeff Gordon.
Being a student of the sport, Vargas wanted to tell one of the lesser-known stories in NASCAR's 75th Anniversary season. That is what led him to Woodside's Truck. The fact that Vargas is throwing back to a friend and a mentor is just an added bonus.
"There's so many stories and legendary drivers who have kind of gone through the ranks, whether they made it to the cup series or truck or Xfinity series or not," Vargas stated. "To be able to tell that story in areally neat way like that put his biggest career highlights or his West wins but heck, I wanted to highlight his Truck starts.
"It made more sense to throwback to his truck too considering I'm driving a truck. It's neat to know the guy.It's cool to know him personally, and I actually got to show him the paint scheme and he was very thrilled to see it. It definitely got him excited and I'm just really excited to see what we can do."
‼️THROWBACK REVEAL‼️

It's a privilege to throwback to 1999 West Series Champion & West Coast racing legend Sean Woodside!

I ran against Sean MANY times in my early Late Model career so it was fitting to throwback to his Truck series starts!🚀#RangelineGroup | @OnPMotorsports pic.twitter.com/2Cw3qmxK3E

— Ryan Vargas (@RyanVargas_23) May 5, 2023
Onboard for Vargas' throwback to Woodside is another new partner. The 22-year-old welcomes TRS SESCO, an HVAC and plumbing solutions company into NASCAR. It is the latest company that Vargas has partnered with. In total, the National Motorsports Press Association First Quarter Pocono Spirit Award recipient is partnered with over 25 different brands.
KSDT and Rangeline Group will also be on Vargas' Toyota Tundra.
"I'm very excited to welcome a new partner board this upcoming Darlington weekend in TRS SESCO," Vargas said. TRS SESCO is the leading HVAC and plumbing solutions provider in the Southeastern United States and I'm so thrilled to welcome them aboard and showcase there excellent HVAC and Plumbing solutions along with their top-of-the-line customer service.
"Returning to the sponsorship fold for 2023 is Miami, Florida's KSDT CPA! KSDT CPA is one of the fastest growing and respected, full-service accounting and advisory firms in South Florida, and has been recognized by Forbes as Forbes as "America's Top Recommended Tax and Accounting Firm" for 2022.
"We also welcome back PVI Industries, Williamsburg Contracting and Advanced Masonry & Concrete!"
The journeyman driver is fresh off of his first career top-10 finish at Texas Motor Speedway. Vargas finished eighth, matching his finish in his first top-10 finish in the Xfinity Series
In total, Vargas has five starts at 'The Track Too Tough to Tame.' His best career finish at Darlington is 21st in last year's throwback race.
The Click It, Don't Risk It 200 is scheduled for Friday, May 12 at 7:30 p.m. ET on Fox Sports 1. The race will also be broadcast on the Motor Racing Network and SiriusXM NASCAR Radio, channel 90.