By Seth Eggert, Associate Editor
JR Motorsports driver Michael Conti might be on his 'It's Been Gr8 Tour,' but a win at Las Vegas Motor Speedway proves that the eNASCAR Coca-Cola iRacing Series driver is still at his peak.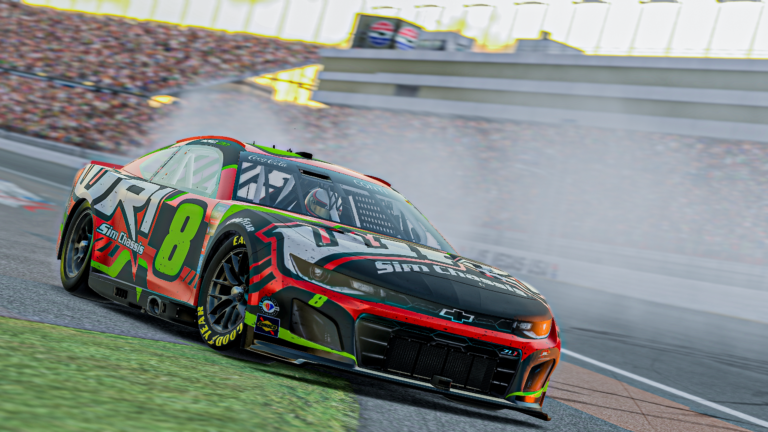 Conti took the lead following a quick caution early in the race. The driver of the virtual No 8 WR1 Sim Chassis Chevrolet Camaro ZL1 took the top spot from eNASCAR rookie Jordy Lopez, Jr. Another quick caution put the field on the edge of the fuel window with about 70 laps to go. All but Malik Ray opted to pit.
The Jim Beaver eSports driver waited another 10 laps, and two cautions, to hit pit road. While Ray restarted further down the running order, he had the freshest tires of those on track. The lead transferred back to Conti as a result.
With the Team Conti aligned drivers of Nick Ottinger and Jimmy Mullis in tow, the Charlotte, N.C. native launched to a sizeable lead on the restart. As just over the final 50 laps were run under green, Conti, ran the middle of the track, giving Ottinger, Lopez, and Mullis just enough dirty air to keep them in line and prevent a run.
Besides the Team Conti trio running first, second, and fourth, Altus esports had Lopez, Tucker Minter, and Michael Cosey, Jr. running third, fifth, and seventh. While the two backend teams battled, the namesake of the former ran away with the victory.
With just under half a gallon of fuel to spare, Conti took the checkered flag about a second ahead of Ottinger. Lopez, Mullis, and Minter completed the top-five.
"Saving off of pit road, those cautions in the middle of the race, got us to the end," Conti said. "When I had that lead over those guys, I was clutching just to make sure I had a bit of insurance in case something happened at the end. It was definitely close."
The victory for Conti, his second this season, was the 15th of his career, coming in his 200th start. There was a time where those milestones appeared to be a far-off fantasy. Following his 2014 championship, Conti went winless for three seasons.
"In that span of time the group of guys that I worked with the first three seasons of my eNASCAR career, they disbanded and went separate ways," Conti explained. "Some fell out of the series or had personal things. Finding a new group of people to work with definitely was a challenge, but it made me stronger as a driver.
"I learned to become more independent, got more accustomed to the garage, being self-sufficient so I didn't have to be dependent on the people around me. That being said, the team aspect of it is still huge and often times gets overshadowed by a lot of the stuff on the front end."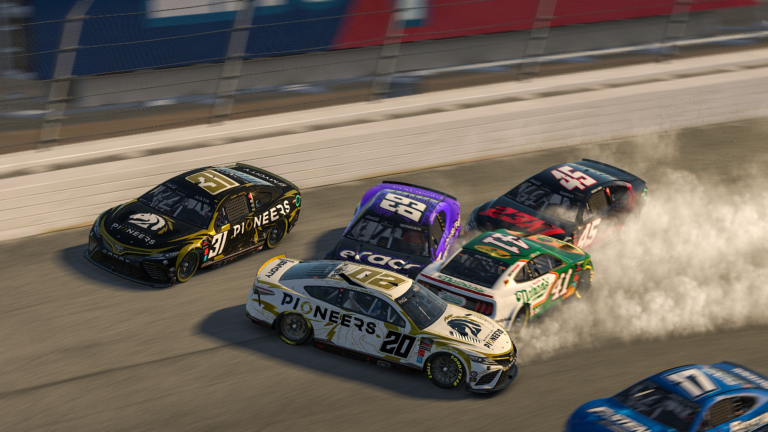 Garrett Manes, Cosey, Ray after storming back through the field in eighth, Garrett Lowe, and Graham Bowlin rounded out the top-10. Polesitter Keegan Leahy finished 12th. Joey Brown ran the fastest lap of the race on the fourth lap after starting from pit road.
In total, the 100-lap race was slowed four times by cautions. The pack-style of racing at Las Vegas only caused on big pack style wreck. Although the most impactful wreck of the night collected both Ryan Doucette and Bobby Zalenski. Contact off Turn 4 sent both drivers spinning head-on into the outside wall. The damage was too extensive for both drivers to continue.
The next eNASCAR Coca-Cola iRacing Series race is scheduled for Tuesday, May 16 at Darlington Raceway. The race will be streamed at 9:00 p.m. ET on enascar.com/live.
The results:
1. 8-Michael Conti [8], 2. 25-Nick Ottinger [4], 3. 3-Jordy Lopez, Jr. [2], 4. 46-Jimmy Mullis [10], 5. 33-Tucker Minter [21], 6. 12-Garrett Manes [34], 7. 38-Michael Cosey, Jr. [25], 8. 7-Malik Ray [33], 9. 15-Garrett Lowe [14], 10. 48-Graham Bowlin [31], 11. 88-Kevin King [29], 12. 23-Keegan Leahy [1], 13. 10-Steven Wilson [24], 14. 36-Brandon McKissic [36], 15. 40-Dylan Ault [3], 16. 14-Joey Brown [22], 17. 51-Donovan Strauss [6], 18. 6-Timmy Holmes [17], 19. 95-Casey Kirwan [26], 20. 34-Allen Boes [18], 21. 11-Parker White [11], 22. 17-Kaden Honeycutt [15], 23. 41-Dylan Duval [23], 24. 45-Michael Guest [27], 25. 42-Kollin Keister [37], 26. 1-Darik Bourdeau [32], 27. 75-Zack Novak [19], 28. 66-Tyler Garey [35], 29. 20-Wyatt Tinsley [13], 30. 54-Daniel Faulkingham [12], 31. 31-Derek Justis [16], 32. 97-Matt Bussa [28], 33. 4-Ryan Luza [9], 34. 2-Corey Vincent [20], 35. 27-Cody Byus [30], 36. 69-Collin Bowden [38], 37. 77-Ryan Doucette [5], 38. 18-Bobby Zalenski [7].
Lead Changes: Three among three drivers.
Lap Leader(s): Keegan Leahy POLE-0, Jordy Lopez, Jr. 1-23, Michael Conti 24-32, Malik Ray 33-40, Michael Conti 41-100.
Laps Led: Michael Conti 69, Jordy Lopez, Jr. 23, Malik Ray 8, Keegan Leahy 0.
Hard Charger(s): 12-Garrett Manes, FGR Accel eRacing (+28).
Rookie of the Race: 3-Jordy Lopez, Jr., Team Dillon eSports, Third.
Caution Flags: Four for 16 Laps.
Margin of Victory: 0.842 seconds.
Time of Race: One Hour, Six Minutes, 9.998 Seconds.
Average Speed: 136.020 MPH
Pole Winner: 23-Keegan Leahy, 23XI Racing, 29.544 seconds, 182.778 MPH.
Fastest Lap: 14-Joey Brown, FGR Accel eRacing, Lap 4, 29.991 seconds, 180.054 MPH.