By Sarah Handy, Staff Writer
CarParts.com will be back with Michael McDowell and his No. 34 Ford Mustang for Front Row Motorsports on November 1st at Martinsville Speedway.
The company will join Davico Manufacturing who will make their debut in NASCAR as a co-partner.
McDowell hasn't finished worse than 25th this season when CarParts.com has adorned his No. 34 as a primary sponsor. His best finish with the company on board occurred at Indianapolis Motor Speedway when he finished seventh.
The ecommerce giant made the decision to have the No. 34 Front Row Motorsports Ford Mustang and McDowell showcase their new logo at Martinsville. Martinsville will also serve as CarParts.com's last race of the year.
"We're thrilled to introduce our new look to NASCAR fans with Front Row Motorsports, Michael McDowell, and our partners at Davico Manufacturing," said Lev Peker, CEO of CarParts.com.
"We believe our fellow drivers belong on the road, which is why we're committed to helping them move forward and enjoy their journey. This is what our new logo helps represent. We couldn't think of a better debut than having McDowell carry our new branding at Martinsville Speedway in front of a national audience on NBC."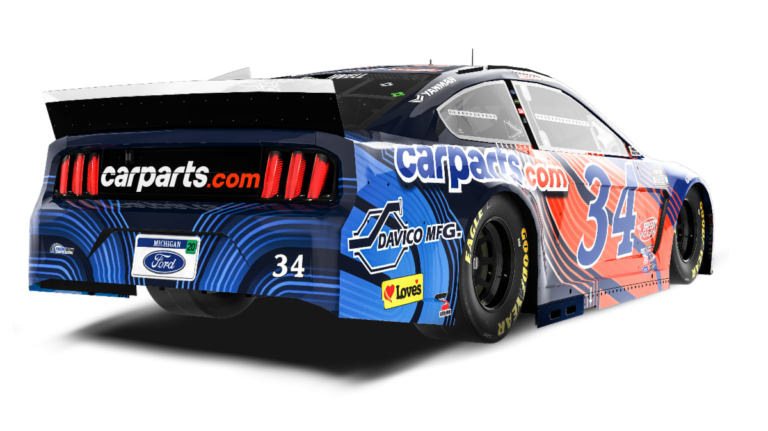 McDowell has been very involved with the CarParts.com this season. This includes a number of social media promotions, sweepstakes, and internal meetings. He is now looking forward to helping them with the introduction of not only their new look, but also bringing first-timer Davico Manufacturing to the race track.
Following the race at Martinsville one lucky fan will have the opportunity to win a Martinsville No. 34 replica hood signed by Michael McDowell himself. For updates on how to enter for a chance to win, fans can follow @CarPartscom on all major social media platforms.
Photo Credit: Front Row Motorsports