By Jerry Jordan, Editor
FORT WORTH, Texas – After leading 40 laps and looking like he had the SpeedyCash.com 220 locked up at Texas Motor Speedway, Christian Eckes was chased down and passed by Stewart Friesen, who was determined to pick up his first-ever NASCAR Truck Series win.
It was a frustrating finish for Eckes, who tried to rally back going into Turn 3 but said he didn't have enough momentum to retake the lead.
"We were a little bit tight and if it would have stayed green we would have been fine but we had to win the damn thing three times, caution came out 10 to go and five to go or 15 to go, I don't know," Eckes told members of the media minutes after he climbed out of the No. 98 ThorSport Racing Toyota. "We were just in the wrong position at the end. Going into one and two, he was going to hold it wide open and I was going to hold it wide open. Whoever won, won. So, they had a little bit more speed than us, man it is frustrating.
"It's good to finally run, you know, where I feel like we can. Overall, just really proud of my team, obviously I wish we were sitting in Victor Lane right now but it is what it is."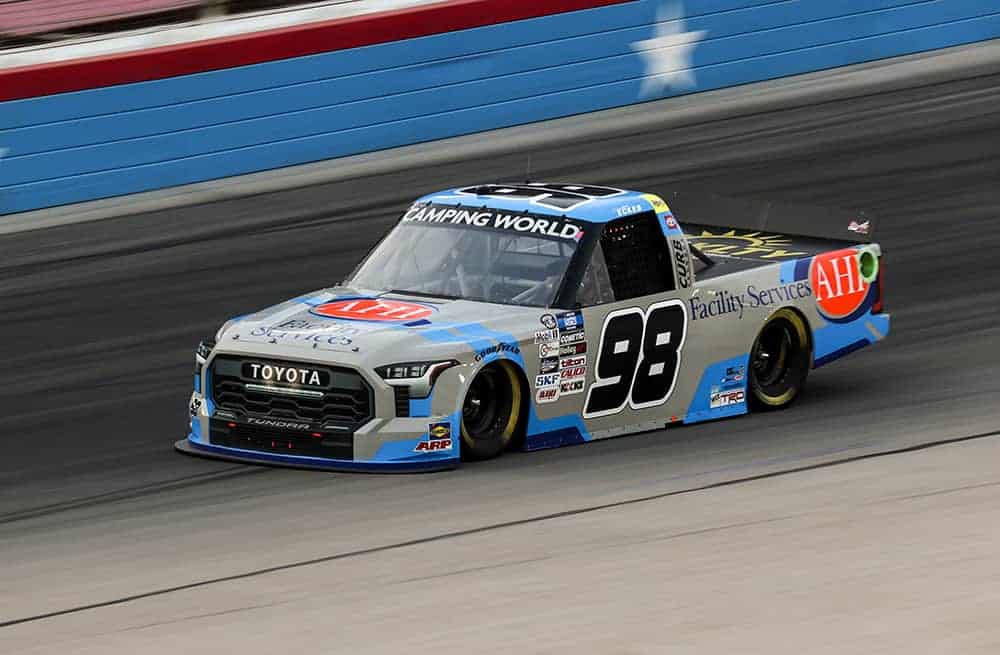 With Friesen clearing him in Turn 2, Eckes trailed down the backstretch and divebombed Turn 3 hoping to get a draft out of Turn 4. He said knew it was a futile attempt. The frustration was obviously weighing on him as he went over the races in 2022 that have slipped away.
"It's frustrating, man, it really is," Eckes said. "We've gotten close a couple of times this year. I feel like we should have won Dayton, we should have won (Las) Vegas and we should have won this race but I am very proud of everybody for working hard to get our stuff faster, we just needed a little bit more."
From Texas, Eckes and the Camping World Truck Series heads to Charlotte Motor Speedway and then to World Wide Technology Raceway the following week. He said he has a foundation to build on and despite the runner-up finish, he carries the momentum ahead with him. He added that his Kansas Speedway truck from last week will be what he runs at Charlotte and this week's truck will be used the following week. His finish marks the 48th consecutive race that a ThorSport truck has finished in the Top 10.
For his part, Friesen said he had to rally and recover from several mistakes to have a chance to even be around for the finish.
"I made all the mistakes I needed to make in the first two segments," Friesen said. "We had an awesome truck. You have no idea the work that has gone into this race team over the past three years to build this up," he continued. "It's an awesome group. And we're in the Playoffs."
RESULTS FOR THE SPEEDYCASH.COM 220
(3) Stewart Friesen, Toyota, 149.
(4) Christian Eckes, Toyota, 149.
(5) Ryan Preece, Ford, 149.
(20) Carson Hocevar, Chevrolet, 149.
(10) Ty Majeski, Toyota, 149.
(1) John Hunter Nemechek, Toyota, 149.
(2) Corey Heim #, Toyota, 149.
(7) Chandler Smith, Toyota, 149.
(21) Matt Crafton, Toyota, 149.
(34) Matt DiBenedetto, Chevrolet, 149.
(11) Grant Enfinger, Chevrolet, 149.
(14) Ross Chastain(i), Chevrolet, 149.
(24) Todd Bodine, Toyota, 149.
(27) Jordan Anderson, Chevrolet, 149.
(31) Bret Holmes, Chevrolet, 149.
(17) Jack Wood #, Chevrolet, 149.
(6) Hailie Deegan, Ford, 149.
(23) Austin Wayne Self, Chevrolet, 149.
(22) Jesse Little, Chevrolet, 149.
(32) Timmy Hill, Toyota, 149.
(19) Chase Purdy, Toyota, 149.
(29) Tate Fogleman, Toyota, 149.
(26) Brennan Poole(i), Toyota, 149.
(12) Tanner Gray, Ford, 149.
(30) Tyler Hill, Toyota, 149.
(25) Blaine Perkins #, Chevrolet, 149.
(8) Ben Rhodes, Toyota, 148.
(28) Spencer Boyd, Chevrolet, 147.
(13) Dean Thompson #, Chevrolet, 146.
(35) Lawless Alan #, Chevrolet, 145.
(36) Chris Hacker, Chevrolet, 143.
(15) Zane Smith, Ford, 143.
(18) Tyler Ankrum, Toyota, Overheating, 139.
(33) Colby Howard, Chevrolet, 139.
(16) Kris Wright, Chevrolet, Accident, 106.
(9) Derek Kraus, Chevrolet, Accident, 88.