By Summer Bedgood, Managing Editor
Looking at Ryan Preece's stats from Friday night's NASCAR Camping World Truck Series race at Texas Motor Speedway – winning the first two stages, leading 27 laps, finishing third – it looks like he had a really good night!
But it certainly didn't come easy.
Preece took the green flag in the fourth of seven races for David Gilliland Racing in 2022 from the fifth position, and quickly established himself as one of the fastest trucks of the evening, taking the lead from eventual race winner Stewart Friesen on lap 14.
Friesen briefly took the lead back for the next few laps before Preece went back around the No. 52 and continued to lead until the caution flag flew on lap 37 for the end of Stage 1.
Friesen took the lead back over on the ensuing restart, only for Preece to run him back down again with just a few laps to go in Stage 2. Preece was able to take advantage of Friesen needing to check up to avoid a lapped truck, regaining the lead and sweeping the first two stages of the race.
Two down, one to go. 🤞 pic.twitter.com/i6yOF7UGmv

— TRICON (@TRICONGarage) May 21, 2022
Once again, Preece and Friesen were racing side-by-side for the lead on the next restart, but several other drivers were eager to make a run at the front too.
When ThorSport Racing driver Christian Eckes attempted to make a pass underneath Preece's No. 17 truck, Preece threw a block and the two made contact, with Preece's left rear sustaining some damage.
As the run went on, the rear bumper became more and more of a problem. While Preece was able to remain in the top five even with the damage, the truck was definitely not handling as well and a piece of the bumper looked like it might fly off. There was concern that NASCAR might black flag the team and make them come in to fix it under green flag conditions.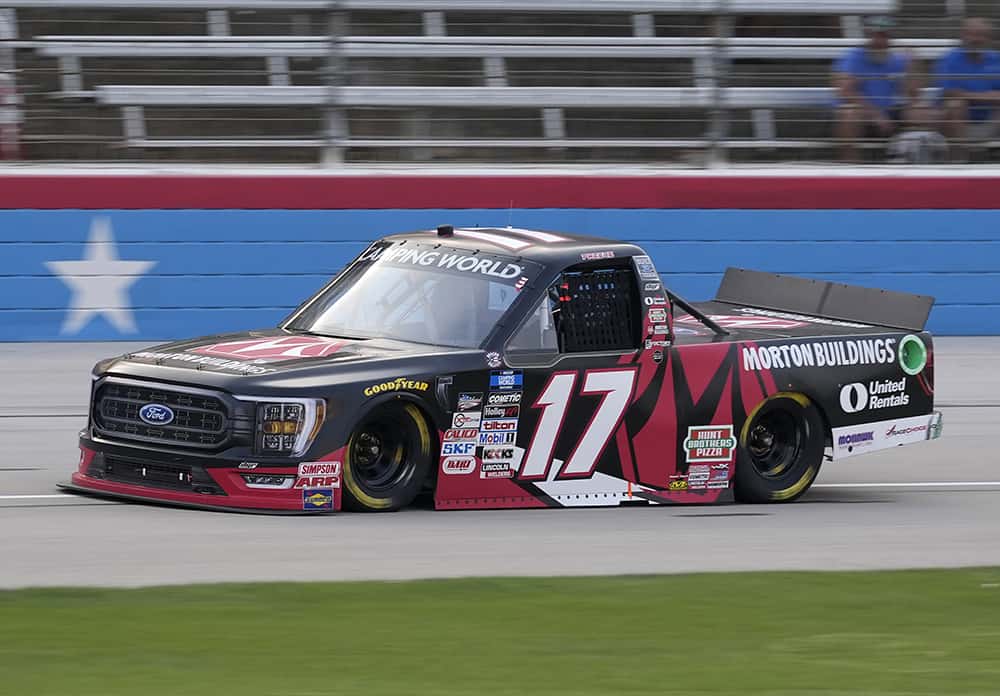 The team got a little bit of a break when the caution flag flew on lap 87 for an incident between Derek Kraus and Ty Majeski. Preece wound up having to pit from the fifth position to have his team repair the damage while most of the leaders stayed out. Though this resulted in the loss of valuable track position, the No. 17 team was able to stay on the lead lap, which they likely would not have been able to do had they needed to pit under green.
Preece was as low as 26th at one point, but methodically worked his way back up through the field, and was in the top 10 with 30 to go and back in the top five when the caution flag flew again with around 20 to go.
Once again showing his prowess on restarts, Preece was able to work his way up to third and even made a run at the leaders before Friesen and Eckes were eventually able to pull away.
With the third-place run, the 31-year-old driver earned his second top-five finish this season and has finished in the top 10 in all four races he has run in the Truck Series in 2022.
"The fact that we finished third was really good just with the damage we had and how much drag it was," Preece said post-race. "I was kinda holding on at that point. … It sucks when you don't win with a truck like we had."
That's not what the bumper of a 3rd place truck is supposed to look like.@RyanPreece_ scratched and clawed for this one. 🩹 pic.twitter.com/FuzYWEPtu9

— TRICON (@TRICONGarage) May 21, 2022
Preece has three more races scheduled in the Truck Series with DGR this year – June 24th at Nashville Superspeedway; July 23rd at Pocono Raceway; and September 9th at Kansas Speedway.
Photo Credit: Rachel Schuoler/Kickin' the Tires