By Jerry Jordan, Editor
HAMPTON, Ga. – With nothing more than a single practice on the newly repaved and increased banking at Atlanta Motor Speedway it is hard to gauge which NASCAR driver in the Folds of Honor QuikTrip 500 is most likely to find themselves in Victory Lane. Many would want to go with a proven Atlanta winner, like Kevin Harvick, but his lackluster performance in 2022 puts into doubt whether a win is in the cards.
Plus, AMS is more like a superspeedway now – especially since NASCAR mandated the use of a restrictor plate – and that is the great equalizer in racing, so odds and favorites, kind of, go out the window. I might be better off taking the three drivers that came up when I entered the car numbers into a random number generator.
So, who is the potential favorite? KFB! That's right Kyle 'Freakin' Busch.
He was second-fastest in practice and during his media obligations, he was somewhat expecting the race to devolve into chaos as the track has some pavement issues that could affect a driver's car control.
"The narrower racetrack lends itself to some hairy moves and things like that," Busch said. "Turning off into turn three when you are running the bottom and you start to load up into the corner and your front end gets tight and you wash up the track and somebody in the middle is holding you down, holding you tight, you make contact and start a crash – I feel like that's where we are going to see a wreck and you might also see some going down the frontstretch. It's kind of rough down there – it's really bumpy. Cars bounce a little bit – they don't always go straight, they move, so guys holding guys tight is going to be where we start to see some issues. As far as if everybody is going to like it, I guess we will see how many cars finish."
However, Busch was fast and he ran the sixth most laps (56) of any driver during the session. Although he hasn't done so in 2022, Busch has a way of getting to Victory Lane at almost every track on the circuit. Additionally, he has been directly involved in five wins, so far, this weekend. Both the Camping World Truck Series and the Xfinity Series winners have Busch touchpoints with Kyle Busch Motorsports' driver, Corey Heim, and Joe Gibbs Racing's Ty Gibbs taking the checkered flag. In the ARCA race down in Florida, the winner was driving a KBM car. And, his son, Brexton Busch, swept the weekend in his two Junior Sprints races in Du Quoin, Il.
With strong betting odds of 10 to 1 for a favorite like Busch – a guy who would love to get out front, dominate and hold point for the entire 200 laps – it would be a mistake not to bet him for the win.
For my usual value pick, I am going with a driver who has a storied history on restrictor-plate tracks – Ricky Stenhouse Jr. He was fastest in practice and over the 41 laps that he ran, his final one was the quickest. Looking at the odds, he is a mid-tier 25 to 1 bet. A $5 wager with the DraftKings Sportsbook will net you $125.
Will he win? Maybe.
Can he win? Absolutely.
With Stenhouse's penchant for bullying his way to the front at superspeedway tracks and the fact that his No. 47 car drafts really well, he is a solid pick that has great payback potential. Stenhouse just needs to stay out of trouble and keep the car in one piece until the end so he is around to make a move for the win.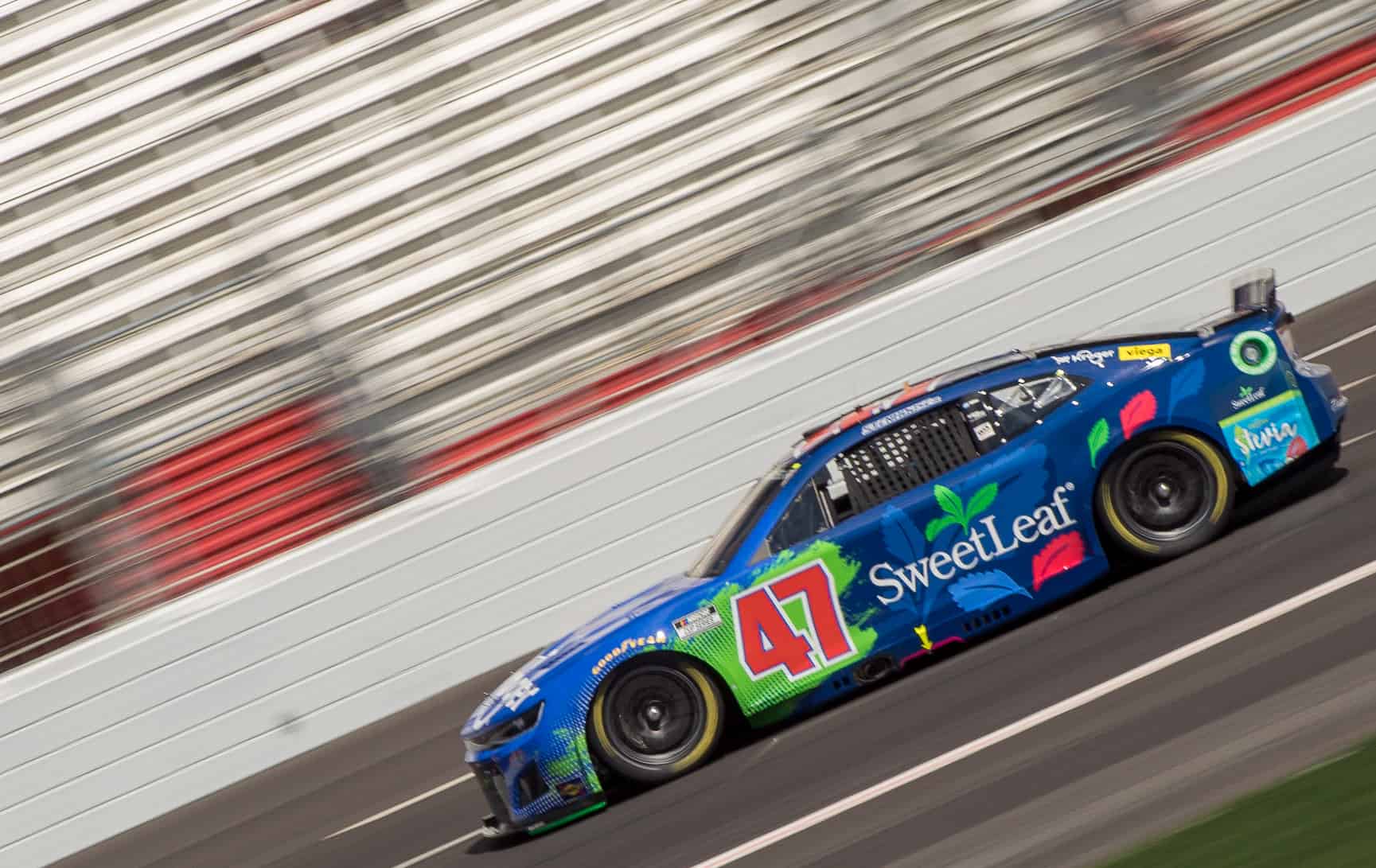 Asked about his thoughts on how the race would play out, Stenhouse said he felt like blocking and controlling the cars behind a driver would be the key to a win.
"It's going to be a battle," he said. "I think for us, I felt like our car was really fast and really good. When you get out front, you're going to be able to control the lanes a little bit easier than a Daytona or a Talladega. Daytona is easier to control a lane than Talladega because it's so much more narrow. You take it another step further here on how wide the racetrack is compared to Daytona. So, you'll be to maneuver and block those two lanes I think a little bit better, so I think track position is going to be important."
Finally, the longshot pick of the week is: Harrison Burton.
Burton, a rookie, was fourth-fastest in practice and ran 49 laps in his Wood Brothers No. 21 Ford. It's no secret this is an additional Penske car, so he always has some of the best equipment on the track. Looking back at his superspeedway finishes in the NASCAR Xfinity Series, Burton has performed well … except when he was crashed out of a race.
His NXS finishes at both Talladega Superspeedway and Daytona International Speedway – more often than not – are in the Top 10 when he completes all of the laps. In the season-opening Daytona 500, he was crashed out in Stage 1. However, in his Daytona Duel race, he finished third and was the fastest in final practice for the Daytona 500.
His odds stand at 80 to 1. My guess is the oddsmakers are factoring in his lack of Cup Series experience and the crash, which was not of his doing, as the reason for their less than favorable view of his chances. But that is a good thing for sports bettors. In NASCAR, especially at a superspeedway or a track impersonating one, the long odds are a good thing because anything can happen. Did anyone have Michael McDowell, a 200 to 1 longshot, picked to win the 2021 Daytona 500? I mentioned that I considered using a random number generator for my picks. Well, the driver who came up were Kurt Busch, Chase Elliott and Harrison Burton, who obviously, made the final cut.
Good luck to everyone who follows my picks. As I have said in every column, I may not win but I won't give you a pick that I am not invested in. If sports betting is legal in your state, try WynnBet, Fubo Sportsbook, Bet MGM Sportsbook or the Barstool Sportsbook to place your action. If you need a legitimate off-shore site, I use Sportsbook.ag and have never had an issue. I hope to see you all at the payout window.
| | |
| --- | --- |
| Folds of Honor QuikTrip 500 | |
| Atlanta Motor Speedway | |
| Driver | Odds |
| Ryan Blaney | 4.5 to 1 |
| Kyle Larson | 4.5 to 1 |
| Kyle Busch | 10 to 1 |
| Joey Logano | 12 to 1 |
| Denny Hamlin | 12 to 1 |
| Chase Elliott | 13 to 1 |
| Alex Bowman | 15 to 1 |
| William Byron | 15 to 1 |
| Kevin Harvick | 15 to 1 |
| Tyler Reddick | 16 to 1 |
| Martin Truex Jr. | 16 to 1 |
| Chase Briscoe | 18 to 1 |
| Bubba Wallace | 20 to 1 |
| Brad Keselowski | 20 to 1 |
| Austin Cindric | 20 to 1 |
| Kurt Busch | 20 to 1 |
| Ross Chastain | 25 to 1 |
| Ricky Stenhouse Jr. | 25 to 1 |
| Christopher Bell | 30 to 1 |
| Austin Dillon | 30 to 1 |
| Aric Almirola | 30 to 1 |
| Michael McDowell | 50 to 1 |
| Justin Haley | 50 to 1 |
| Erik Jones | 50 to 1 |
| Daniel Suarez | 50 to 1 |
| Chris Buescher | 60 to 1 |
| Harrison Burton | 80 to 1 |
| Cole Custer | 80 to 1 |
| Ty Dillon | 90 to 1 |
| Noah Gragson | 90 to 1 |
| Todd Gilliland | 100 to 1 |
| Corey Lajoie | 150 to 1 |
| Greg Biffle | 250 to 1 |
| David Ragan | 250 to 1 |
| Cody Ware | 500 to 1 |
| B.J. McLeod | 500 to 1 |
| Josh Bilicki | 500 to 1 |
NOTE: Odds this week are from DraftKings Sportsbook. Remember, gambling is not legal for anyone under 21 years of age. If you or someone you know has a gambling problem and wants help, call 1-800-GAMBLER.