By Jerry Jordan, Editor
Going into the race this weekend at Darlington Raceway, there are lots of questions about who might have the best shot at winning and who also has the best odds. Kyle Larson has the best overall average finish but he has only participated in eight Cup Series races here and his odds at 4.75 to 1 or +475 won't make for a big payday.
Many people think it's easy to pick NASCAR winners and there are some on social media falsely boasting about having a streak of winning picks. I can't find a single person, so far, that has jumped on a winning streak this season in NASCAR. There's been 11 races and nine winners but I doubt very many people had Chase Briscoe, William Byron and Ross Chastain down as winning picks for races four, five and six of the season.
Apparently, winning the pole at a track has a huge effect on oddsmakers. Our friends at the WynnBET Sportsbook cut Joey Logano's early odds to 7 to 1 or +700 after he went out and won the top starting spot for the race on Saturday. His early odds from Wednesday had him sitting at 14 to 1 or +1400. If you were picking Logano, I hope you locked down those odds before they were slashed in half.
Looking back over the season, I didn't "pick" Bowman at Las Vegas or Kyle Busch at Bristol but they did get a mention as a possible driver to consider because of their skill and odds. However, I was all over Denny Hamlin at Richmond Raceway when no one was picking him. Still, it's been a tough season to determine who will be celebrating in Victory Lane.
I mention Hamlin because he has won at Darlington more than any other driver, his odds this week are solid at 8 to 1 or +800, so a $5 bet gives a $40 return plus your initial investment back. For a favorite driver pick, who has four wins and an average finish of 7.1, Hamlin is a lock for me.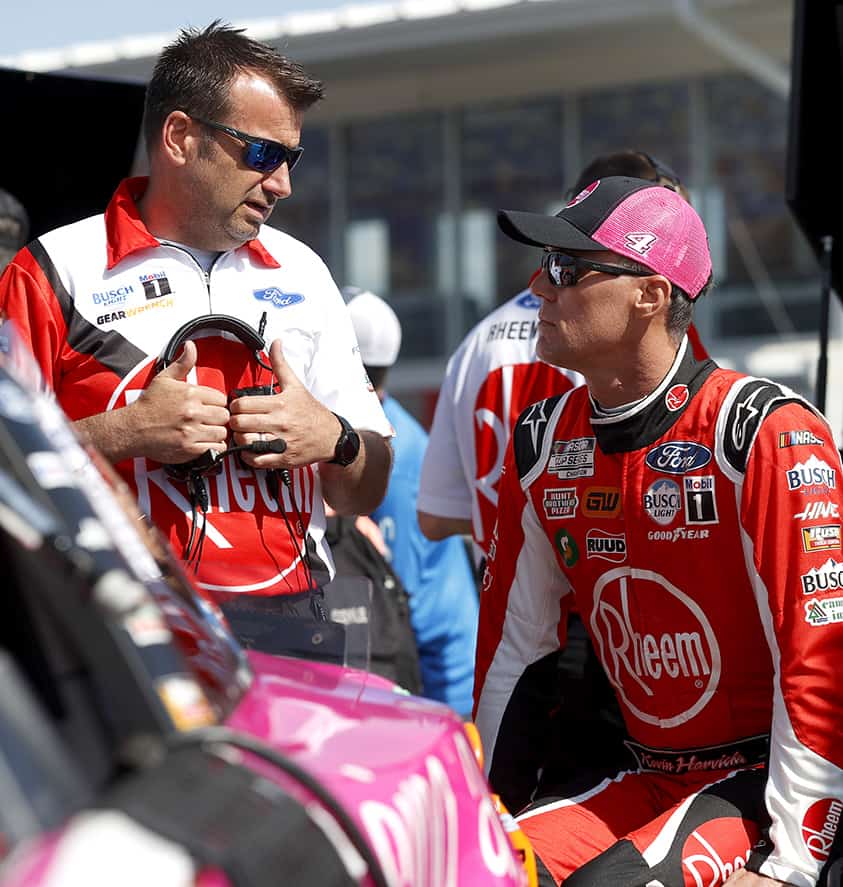 As for a mid-tier value pick this week, it's hard to go against a Chevrolet driver since the manufacturer has brought home the checkered flag seven times, so far, in 2022. The other four races have been split between Toyota and Ford and as I look at the odds versus experience and finishing positions, I am going with Kevin Harvick.
Why?
Well, for the past several years, it has been the Hamlin, Harvick Truex Jr. show. As I mentioned, Hamlin has four wins but Harvick has three. Truex Jr. comes in with two and his wins were separated by winning runs from Brad Keselowski and Erik Jones, who I will mention more about in my longshot picks.
Harvick's overall average finish at Darlington is 12.4 and his odds to win the race today stand at 22 to 1 or +2200. That's an increase in odds from the early line of 16 to 1 or +1600 and it moves him out of the "favorites" category into a value bet scenario based on how I pick drivers each week. Five bucks will bring a $110 payout plus your original wager.
I know Harvick didn't post a qualifying time, so he is starting at the back of the pack but with some pit strategy calls, he could be up near the front by the end of Stage 2. Before he blew a tire and damaged the diffuser, his practice speeds were decent – just under a half-second behind leader Austin Cindric, who had a speed of 167.271 mph for a 29.399-second lap. Harvick's fast lap was 29.861 seconds at a speed of 164.684 mph. The crew didn't get the car ready for qualifying.
My longshot pick this week is "That Jones Boy" because he knows how to find Victory Lane at Darlington. Trust me, it's not easy. If a driver survives the day and is able to leave their mark with a win instead of a Darlington Stripe along the wall, it's still difficult to find Victory Lane because it's at the beginning of pit road. At most tracks, it is in the middle.
All jokes aside, Jones has raced in eight Cup Series events at Darlington and his average finishing position is 10.1 with a win in 2019.
His early odds were 40 to 1 or +4000 but he goes into race day at 50 to 1 or +5000. That's pretty decent odds for a team that has shown some promise in 2022 and for a driver that has the third-best average finish of drivers in the field.
Just a couple of closing notes, I wouldn't bet on Kyle Busch since he is on "Baby Watch" and has Trevor Bayne on standby to jump in the car should he have to immediately go back to Charlotte. If you are looking for a couple of potential winners that didn't make the cut this week, it might be worth putting a few bucks on Austin Dillon at 40 to 1 or +4000, Tyler Reddick at 15 to 1 or +1500 and Kurt Busch at 21 to 1 or +2100.
Remember, my suggestions are based on what I see at the track and from past performances by drivers. It's called gambling for a reason and there is no guarantee the drivers I pick will end up in victory lane. If you can't afford to bet, then don't. And if you aren't 21 years of age, you cannot legally gamble, so don't even think about it. Should you have a problem with sports betting or other forms of gaming, you can get help at 1-800-GAMBLER.
| | | |
| --- | --- | --- |
| WynnBET Sportsbook Goodyear 400 | | |
| Darlington Raceway | Early Odds | Race Day Odds |
| Kyle Larson | +500 | +475 |
| Martin Truex Jr | +700 | +700 |
| Chase Elliott | +800 | +1000 |
| Denny Hamlin | +850 | +800 |
| Kyle Busch | +1000 | +750 |
| Ryan Blaney | +1200 | +1000 |
| William Byron | +1200 | +1100 |
| Ross Chastain | +1300 | +1200 |
| Alex Bowman | +1400 | +1800 |
| Joey Logano | +1400 | +700 |
| Kevin Harvick | +1600 | +2200 |
| Tyler Reddick | +1800 | +1500 |
| Chase Briscoe | +2800 | +3000 |
| Austin Dillon | +3000 | +4000 |
| Christopher Bell | +3300 | +1800 |
| Chris Buescher | +4000 | +7000 |
| Daniel Suarez | +4000 | +4000 |
| Erik Jones | +4000 | +5000 |
| Kurt Busch | +4000 | +2100 |
| Austin Cindric | +5000 | +4500 |
| Brad Keselowski | +5000 | +6000 |
| Aric Almirola | +8000 | +8000 |
| Ricky Stenhouse Jr | +8000 | +9000 |
| Daniel Hemric | +15000 | +35000 |
| Darrell Wallace Jr | +15000 | +15000 |
| Cole Custer | +20000 | +40000 |
| Justin Haley | +20000 | +35000 |
| Corey Lajoie | +50000 | +150000 |
| Harrison Burton | +50000 | +75000 |
| Michael McDowell | +50000 | +50000 |
| Todd Gilliland | +50000 | +100000 |
| Ty Dillon | +50000 | +50000 |
| BJ McLeod | +100000 | +150000 |
| Cody Ware | +100000 | +150000 |
| JJ Yeley | +100000 | +100000 |
| Josh Bilicki | +100000 | N/A |