By Jerry Jordan, Editor
DAYTONA BEACH, Fla. – Last week, I wasn't sure who to bet on but I went with the best payout between the two favorites. Kyle Larson (+600) had a slightly better return than Chase Elliott (500) and not only did he win, he moved Elliott to do it. Here at Daytona International Speedway for the Coke Zero Sugar 400, I am looking at who else would move someone to win and that brings me to a driver who is fully aware there is the chance that tonight's action will devolve into chaos – Joey Logano.
Logano knows a thing or two about winning but he's only done it once at Daytona back in 2015. He also knows a thing or two about moving other drivers around, including his own teammates, which is probably why he hasn't been to Victory Lane here more than once. Logano usually makes it to the end of the race – almost – and face it, superspeedway races are a crapshoot.
"There's a 100 percent chance they are going to crash at the end of this thing. I don't see how they don't," Logano said, on Friday, and he is often the cause of those crashes or involved in them. He is set on kill every race, which is what you really want because a driver has to be aggressive at places like Daytona and Talladega or they will get used up. At +1300 odds a small $5 wager will result in a $65 payback plus your bet; you just have to worry about whether he is the windshield or the bug.
With all the race day odds from the WynnBET Sportsbook being high because of it being a superspeedway event, a mid-tier value bet is going payout like a regular race's longshot would. It's not easy this week to pick the mid-tier bet because as we've seen, almost anyone can win at Daytona. However, since I went with someone known for chaos as my favorite, I am picking a safe driver in this slot.
At +3500, this driver has shown incredible promise this year as a team that is in complete rebuild mode. Fellow Texan Christopher Buescher is a solid mid-tier bet and would give an awesome payback. He picked up his first Top 5 at Daytona in the season-opening Daytona 500 and showed he can make it to the end. With no practice or qualifying this week, it is impossible to get a read on who really has the best car but Buescher is a smart racer and I look for him to be around at the end.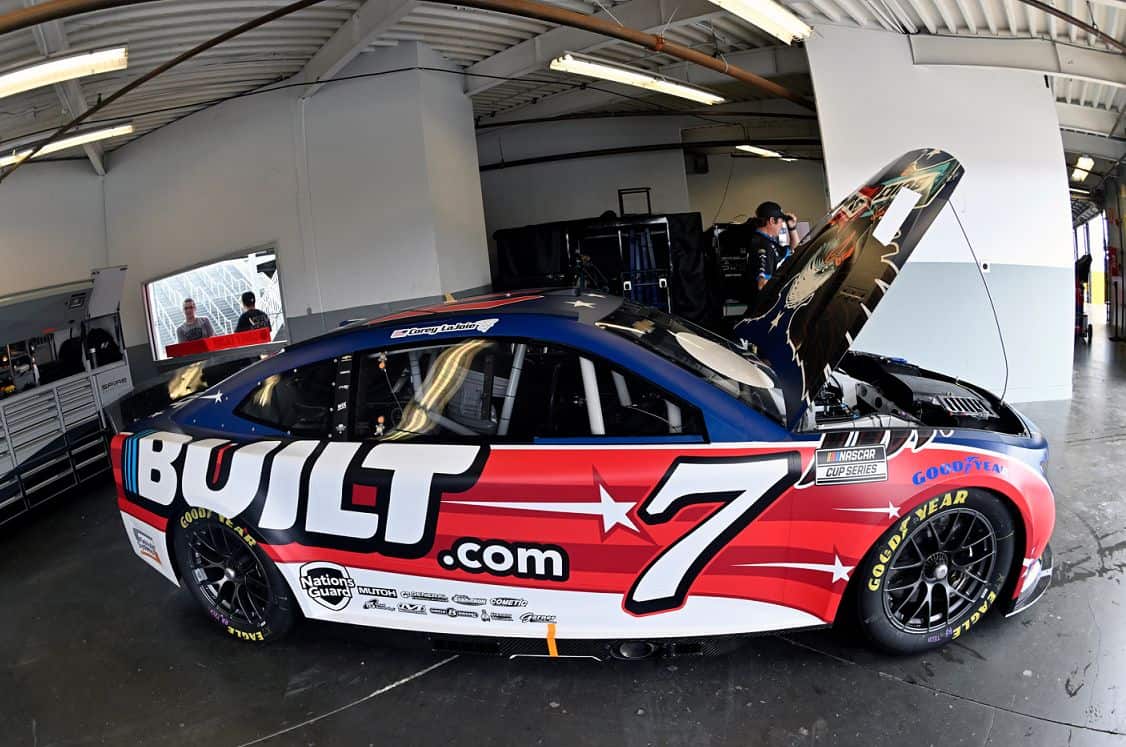 As for a longshot bet, just choose anyone below Buecher. Seriously, Daytona is probably the toughest track to bet and I am having a problem picking one driver for this particular spot. However, because the payouts are so massive that wagering a few extra bucks will pay huge dividends if one of them hits, I am going with two drivers as longshot picks.
The first has already won a Daytona 500 and knows what it is like to be in the NASCAR Playoffs. Remember, at the end of the night, any non-winning driver in the Top 30 takes the checkered flag, they advance to the Playoffs. Michael McDowell is an enticing pick with the WynnBET Sportsbook odds at +4000. So, put $5 (or whatever you are comfortable with) on McDowell and roll the dice. It could net you $200.
The other driver I am picking for my longshot bet is more about heart than anything else. This driver has a ton of talent but is underrated because he has only just begun to drive equipment capable of getting him to the end of the race. His odds to win this week are +9000 and he is a lock to give everything his can to try and make it to the checkered flag. If you are any kind of NASCAR fan – at all – then you have to love this guy and if you're a gambler, put $5 down on Corey LaJoie. He will make it to Victory Lane one day; and when he does, it will be epic. If he does it tonight, his payout will bring you $450 and I am all in.
Remember, my suggestions are based on what I see at the track and past drivers' performances. It's called gambling for a reason and there is no guarantee the drivers I pick will end up in victory lane. If you can't afford to bet, then don't. And if you aren't 21 years of age, you cannot legally gamble, so don't even think about it. Should you have a problem with sports betting or other forms of gaming, you can get help at 1-800-522-4700.
Coke Zero Sugar 400 At Daytona Odds
| | |
| --- | --- |
| Chase Elliott | +1000 |
| Denny Hamlin | +1200 |
| Ryan Blaney | +1200 |
| Joey Logano | +1300 |
| Kyle Larson | +1300 |
| Ross Chastain | +1400 |
| William Byron | +1400 |
| Bubba Wallace Jr | +1500 |
| Austin Cindric | +1600 |
| Kyle Busch | +1600 |
| Tyler Reddick | +1800 |
| Martin Truex Jr | +1900 |
| Daniel Suarez | +2100 |
| Alex Bowman | +2200 |
| Brad Keselowski | +2500 |
| Christopher Bell | +2500 |
| Kevin Harvick | +2500 |
| Ricky Stenhouse Jr | +2500 |
| Aric Almirola | +3000 |
| Austin Dillon | +3000 |
| Chase Briscoe | +3000 |
| Erik Jones | +3300 |
| Chris Buescher | +3500 |
| Ty Gibbs | +3500 |
| Michael McDowell | +4000 |
| Justin Haley | +5000 |
| Cole Custer | +7500 |
| Corey Lajoie | +9000 |
| Daniel Hemric | +10000 |
| Ty Dillon | +10000 |
| Harrison Burton | +15000 |
| Noah Gragson | +15000 |
| Todd Gilliland | +15000 |
| David Ragan | +20000 |
| Cody Ware | +40000 |
| BJ McLeod | +50000 |
| Landon Cassill | +50000 |
For Previous Bettin' Columns: Click Here