By Seth Eggert, Staff Writer
Ruins with several drivers left Ross Chastain remorseful following the Enjoy Illinois 300 at World Wide Technology Raceway at Gateway.
Chastain vs. Hamlin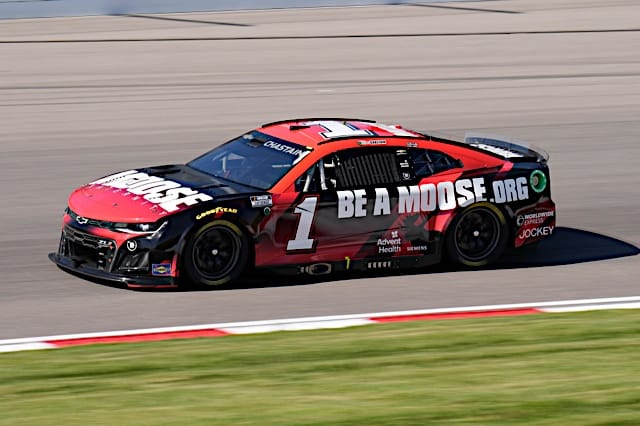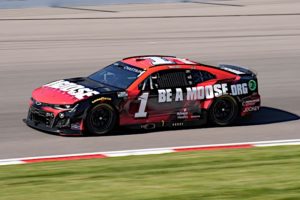 The first on track incident for the Trackhouse Racing driver came on lap 66. After a spirited multi-lap battle with Denny Hamlin, Chastain overdrove the entrance to Turn 1. As a result, the No. 1 Moose Fraternity Chevrolet Camaro ZL1 1LE hit Hamlin's car. The contact sent the No. 11 FedEx Toyota Camry sliding into the outside wall.
Hamlin took his frustrations out on Chastain. Twice over the next 30 laps the Joe Gibbs Racing driver waited on the Alva, FL native. First Hamlin forced the Chevy Racing driver to the apron on the backstretch. The second time, the Toyota Racing driver held up Chastain in Turns 1 and 2. Both times Hamlin cost Chastain time and track position on track.
Chastain vs. Elliott and Hamlin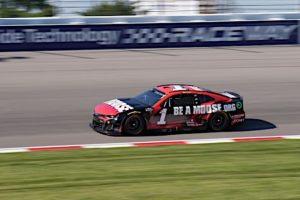 On lap 103, Chastain clipped Chase Elliott, sending the 2020 NASCAR Cup Series champion spinning. On the ensuing restart, Elliott sent the 29-year-old deep into the corner in Turn 1. That allowed Hamlin to take another swipe at Chastain. What followed was a two-lap chess match between the two drivers.
Chastain was on the Damaged Vehicle Policy (DVP) and had three laps to reach minimum speed. The first lap and a half, Hamlin blocked the No. 1 keeping it below minimum speed. Chastain finally snuck by at the end of the second lap, reaching the mandated minimum speed, clearing the DVP policy.
"It was just terrible driving," Chastain reflected. "It's one thing to do it once, but I just kept driving into guys. At this level, I'm supposed to be better than that. It's just a shame for Moose Fraternity, Advent Health, Jockey, Worldwide Express. I have all these people believing in me with Justin Marks and Pitbull putting me in this car. They deserve better.
"I owe half of the field an apology. Words aren't going to fix it, so I'll have to pay for it on the track. I almost did today, and I deserve everything that they do. I can't believe I continued to make those same mistakes; overdrive the corners and drive into guys. I had time under caution to get reset; and we'd go green, and I would drive into somebody."
More Run-Ins for the Trackhouse Driver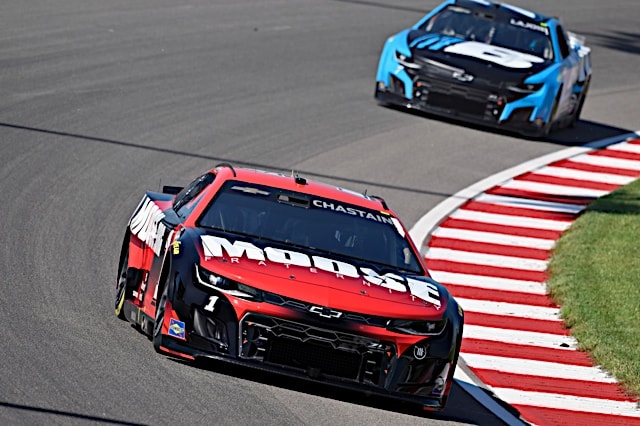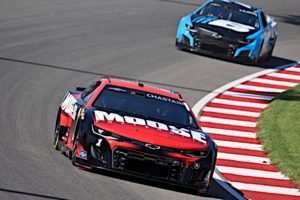 Elliott and Hamlin were not the only drivers that Chastain had a run-in with on the 1.25-mile track. Michael McDowell was also on the receiving end of contact with Trackhouse driver.
Though he's known for his aggressive driving style, Chastain is not typically known for his mistakes. The journeyman driver could ill afford mistakes driving for Al Niece, Johnny Davis, Jay Robinson, and others previously.
Post-race, Chastain was self-deprecating as he explained his on-track escapades.
"It's completely unacceptable that I did that," Chastain admitted. "For the No. 11, No. 9, No. 34, so many guys. I was just way off on my driving today. Running into people is not acceptable at this level. I cannot believe, standing here right now, that I just made so many mistakes back-to-back. It's one thing for one, but I just absolutely drove over my head today. It's unacceptable."
Stats
After finishing fifth in the first Stage, Chastain ran mid-pack for much of the second Stage. It wasn't until the final 50 laps that Chastain re-entered the top-10 after running strong early in the race. When the checkered flag waved, the two-time winner this season was eighth.
The eighth-place finish is Chastain's ninth top-10 this season. By virtue of his two wins, he is locked into the Cup Series playoffs.
Chastain is third in the regular season points standings, 17 behind leader Elliott.
Featured Photo Credit: Photo by NKP / NKP Photo.