By Seth Eggert, Staff Writer
Driving through the field three times, Rajah Caruth impressed many in his NASCAR Camping World Truck Series debut at World Wide Technology Raceway at Gateway.
Caruth's Early Spin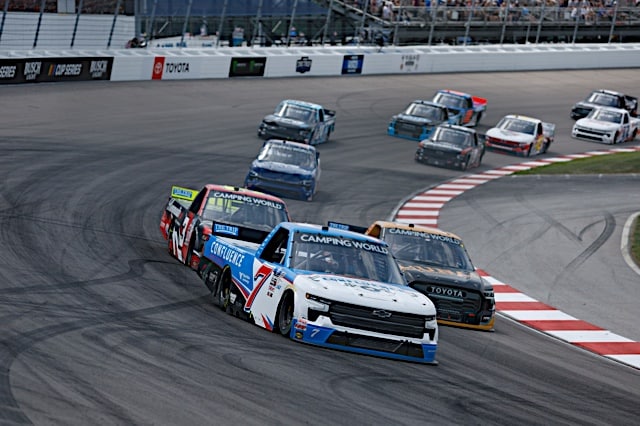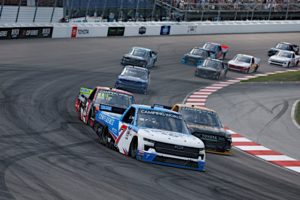 The Drive for Diversity competitor first drove through the field after spinning to avoid a wreck. Caruth's No. 7 Confluence Music Festival Chevrolet Silverado emerged unscathed from the spin in Turn 4 on lap 47. The spin left the Washington, D.C. native down a set of tires and in 30th. Caruth quickly climbed up the running order, ending the second Stage just outside the top-10.
"I went to lane two because I had tried it before," recalled Caruth. "We'd fire off a little free. Tried lane two to take advantage of it, and I not only overdrove the banking with how little rubber was up there, but there was a truck sitting up there. I just messed up. Luckily, I didn't hit nothing and the field behind me didn't hit me. It just worked out for the rest of the day."
Caruth Enters the Top-10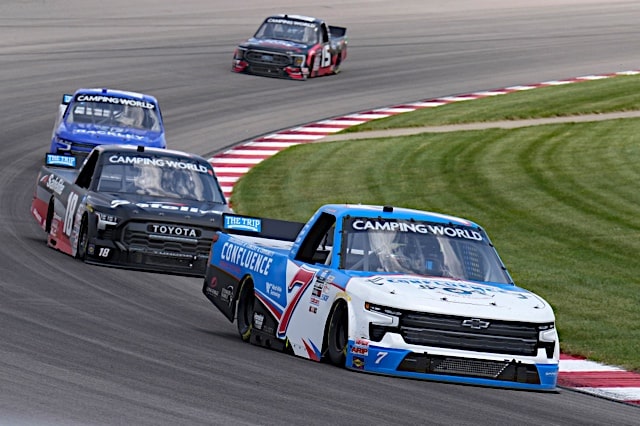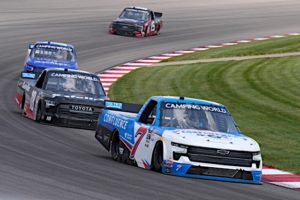 Using a different strategy from the leaders, the 19-year-old restarted just outside the top-five. Caruth maneuvered his way into fourth during the green flag run. During the next caution the Caribbean-American was penalized for speeding on pit road. Once again restarting 30th, Caruth had 60 laps to climb back through the field.
The Spire Motorsports driver moved back into the top-10 in 30 laps. Attempting to pass Stewart Friesen on the outside, Caruth slapped the outside wall exiting Turn 2. A timely caution for debris allowed him to pit for repairs and fresh tires. Once again in 30th, Caruth had 24 laps to climb back through the field.
Second Rebound
Over the ensuing 22-lap green flag run Caruth climbed up to 15th. A late caution forced the Toyota 200 into overtime. On the overtime restart Caruth moved into 11th before a race-ending caution prevented him from climbing further up the running order. The Spire Motorsports driver crossed the line in 10th, but was credited with an 11th-place finish after NASCAR officials reviewed the running order at the time of caution.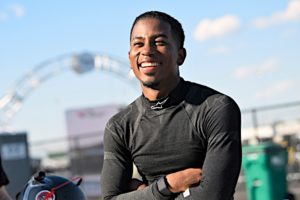 "It was my first laps in a truck, first time in traffic, and first time racing some of these (drivers)," explained Caruth. "I learned a lot, felt like there was a lot of upside to it, but to finish 10th is pretty good. I feel like I've got a lot of things that I need to work on but solid day for my first one.
"(The intensity) honestly is more comparable to Legends Cars at the Summer Shootout with the 'bumper cars,' and the blocking. Crazy racing. It'll take a little bit getting used to it. The Xfinity and ARCA stuff isn't like that. There's more give and take in those series. I've got three more (truck races), got to make them count."
Caruth started 19th in his Truck Series debut. Throughout the first Stage, he had quietly hovered just inside the top-20.
Caruth's Upcoming Starts
Though the three remaining Truck starts that Caruth mentioned are still to be officially announced, Spire will likely field a truck in other races for drivers from Hendrick Motorsports, as they have earlier this season. Caruth's next scheduled NASCAR start is the Xfinity Series race at Pocono Raceway with Alpha Prime Racing.
Next for Caruth is ARCA Menards Series Calypso Lemonade 200 at Iowa Speedway on Saturday, June 11. He leads the ARCA points standings by five over his Rev Racing teammate, Nick Sanchez.
The official results have Rajah Caruth 11th in his Truck Series debut. He explains what happened in that early spin and how much he learned through the day: pic.twitter.com/S3eN6a7WX1

— Bob Pockrass (@bobpockrass) June 4, 2022
Featured Photo Credit: Photo by NKP / NKP Photo.