By Jerry Jordan, Editor
It's hard not to find some potential longshot sleepers in this week's odds for a driver to win at The Monster Mile but don't be fooled by a big shift just because a driver did well in practice or happens to be starting the race at the top of the pylon.
Chris Buescher may be an enticing play this week because he scored his first pole but his practice runs put him in the middle of the pack. I am not discounting that the team could have clicked on something but maintaining that speed over the course of 400 miles at a track like Dover is going to be difficult. The Roush Fenway Keselowski Racing team is improving, there's no doubt, but I don't see them being a contender for the win today. I would point out that he qualifying run got the attention of the oddsmakers at the WynnBET Sportsbook because he went from being a 125 to 1 or +12500 longshot to a modest 28 to 1 or +2800 on the board. His odds on a Top 5 run sit at 3.5 to 1 or +350, which might be a decent play if you're not going for an outright winner.
For me, my favorite pick this week to win is a toss-up and they are both teammates. Both of these drivers have three wins at Dover – the most of any active driver. Both have enticing odds, as well, but going on payback, past performance and the need to win in order to make the playoffs, I am going with Martin Truex Jr. over Kyle Busch. The race day odds on Truex to win are sitting at 16 to 1 or +1600, which is usually a mid-tier value pick for me but this week all of the odds seem high going into the race. Kyle Busch's odds are 13 to 1 or +1300, so if you want to make a backup play there is definitely value there.
You can look at the chart below and see that Kyle Larson and Chase Elliott continue to be at the top of the board in single-digit odds but as I have explained before, I try to pick drivers that can win and give a nice return on investment. Given what I know about Dover, my picks aren't skewed by low odds and fast qualifying runs. There's a finesse to running well at Dover and one of the drivers getting no love from the oddsmakers this week is Kurt Busch, who dropped from 45 to 1 or +4500 to 60 to 1 or +6000. That's a good play for bettors because a $5 wager will now bring $300 versus $225 plus your original bet.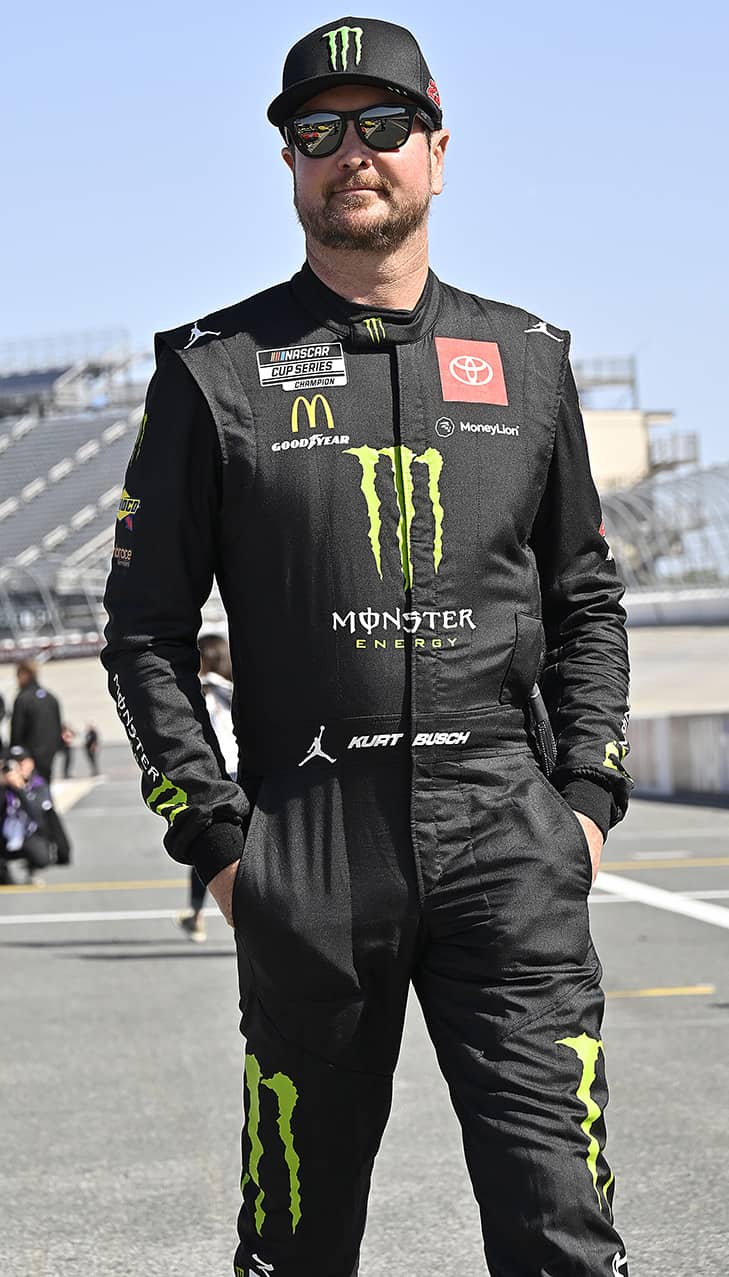 Despite having the fifth fastest car in practice, Kurt Busch is almost in the opposite situation of Buescher. Buescher's odds dropped significantly after winning the pole but remember his practice times were lackluster. Kurt Busch had great practice times and a lackluster qualifying run. However, of active drivers, Kurt Busch is tied with Truex for third with nine Top 5s at Dover. He is behind only his brother, Kyle, at 13 and Kevin Harvick at 10.
If you are looking to throw a few bucks down on a true longshot this week, there are plenty of drivers in that category. And this week, I am taking a "Go Big or Go Home" attitude. Bookies love bettors like that. LOL Still, at some point a driver stacks enough pennies to earn respect even if the oddsmakers barely take a second look at them.
We've seen this driver do more this year than ever before. That doesn't mean he will win but he COULD win and that could happen today given the right circumstances. Corey Lajoie is sitting at 1000 to 1 or +10000 odds this week and it would make me a very happy person to turn $5 in $5,000 with a longshot pick. Okay, maybe he doesn't win today but at the WynnBET Sportsbook, you can bet him to finish in the Top 5 at 66 to 1 or +6600 odds. For me, I am making both plays because the return is so big that it would be a shame to miss out on a strong run. By the way, he was mid-pack for qualifying and practice, so with a few improvements and some strategy, anything is possible.
Remember, my suggestions are based on what I see at the track and from past performances by drivers. It's called gambling for a reason and there is no guarantee the drivers I pick will end up in victory lane. If you can't afford to bet, then don't. And if you aren't 21 years of age, you cannot legally gamble, so don't even think about it. Should you have a problem with sports betting or other forms of gaming, you can get help at 1-800-GAMBLER.
| | | |
| --- | --- | --- |
| DuraMAX Drydene 400 | Early Odds | Race Day Odds |
| Dover Motor Speedway | | |
| Kyle Larson | 4.75 to 1 or +475 | 4.25 to 1 or +425 |
| Chase Elliott | 8 to 1 or +800 | 5.75 to 1 or +575 |
| William Byron | 8 to 1 or +800 | 17 to 1 or +1700 |
| Alex Bowman | 9 to 1 or +900 | 9 to 1 or +900 |
| Martin Truex Jr | 11 to 1 or +1100 | 16 to 1 or +1600 |
| Denny Hamlin | 12 to 1 or +1200 | 12 to 1 or +1000 |
| Joey Logano | 12 to 1 or +1200 | 15 to 1 or +1500 |
| Kyle Busch | 12 to 1 or +1200 | 13 to 1 or +1300 |
| Ryan Blaney | 12 to 1 or +1200 | 7.5 to 1 or +750 |
| Kevin Harvick | 14 to 1 or +1400 | 18 to 1 or +1800 |
| Ross Chastain | 15 to 1 or +1500 | 11 to 1 or +1100 |
| Tyler Reddick | 16 to 1 or +1600 | 22 to 1 or +2200 |
| Chase Briscoe | 20 to 1 or +2000 | 28 to 1 or +2800 |
| Christopher Bell | 25 to 1 or +2500 | 25 to 1 or +2500 |
| Daniel Suarez | 40 to 1 or +4000 | 20 to 1 or +2000 |
| Kurt Busch | 45 to 1 or +4500 | 60 to 1 or +6000 |
| Austin Dillon | 50 to 1 or +5000 | 55 to 1 or +5500 |
| Brad Keselowski | 50 to 1 or +5000 | 66 to 1 or +6600 |
| Austin Cindric | 60 to 1 or +6000 | 35 to 1 or +3500 |
| A J Allmendinger | 100 to 1 or +10000 | 100 to 1 or +10000 |
| Aric Almirola | 100 to 1 or +10000 | 100 to 1 or +10000 |
| Bubba Wallace | 100 to 1 or +10000 | 75 to 1 or +7500 |
| Cole Custer | 100 to 1 or +10000 | 125 to1 or +12500 |
| Erik Jones | 100 to 1 or +10000 | 200 to 1 or +20000 |
| Chris Buescher | 125 to 1 or +12500 | 28 to 1 or +2800 |
| Ricky Stenhouse Jr | 125 to 1 or +12500 | 75 to 1 or +7500 |
| Justin Haley | 200 to 1 or +20000 | 125 to 1 or +12500 |
| Harrison Burton | 250 to 1 or +25000 | 500 to 1 or +50000 |
| Ryan Preece | 350 to 1 or +35000 | 80 to 1 or +8000 |
| Ty Dillon | 350 to 1 or +35000 | 500 to 1 or +50000 |
| Todd Gilliland | 400 to 1 or +40000 | 600 to 1 or +60000 |
| Michael McDowell | 500 to 1 or +50000 | 600 to 1 or +60000 |
| Corey Lajoie | 1000 to 1 or +100000 | 1000 to 1 or +100000 |
| BJ Mcleod | 1500 to 1 or +150000 | 1500 to 1 or +150000 |
| Cody Ware | 1500 to 1 or +150000 | 1500 to 1 or +150000 |
| Josh Bilicki | 1500 to 1 or +150000 | 1500 to 1 or +150000 |