By Seth Eggert, Staff Writer
Despite getting swept up in a massive track-blocking accident, John Hunter Nemechek recovered to score a top-10 finish at Darlington Raceway.
Nemechek was leading coming to a restart with 30 laps to go in the LiftKits4Less.com 200. His Kyle Busch Motorsports teammate Corey Heim was on the inside of the No. 4 Pye-Parker Fire & Safety Toyota Tundra. Neither had pitted under the caution, and both NASCAR Camping World Truck Series drivers spun their tires on the restart.
Austin Hill and Stewart Friesen both pushed the two leaders, attempting to help them. The help, shifted to a hinderance, and then quickly to disaster. Corey Heim's No. 51 JBL Toyota Tundra was turned into Nemechek's. The field accordioned into the two leaders, blocking 'The Track Too Tough to Tame.'
Nemechek somehow snuck away from the accident with minor left front damage and a flat tire. He brought his truck to the attention of his Eric Phillips-led crew. The team planned out repairs during the red flag and completed their work before the damage vehicle policy ended.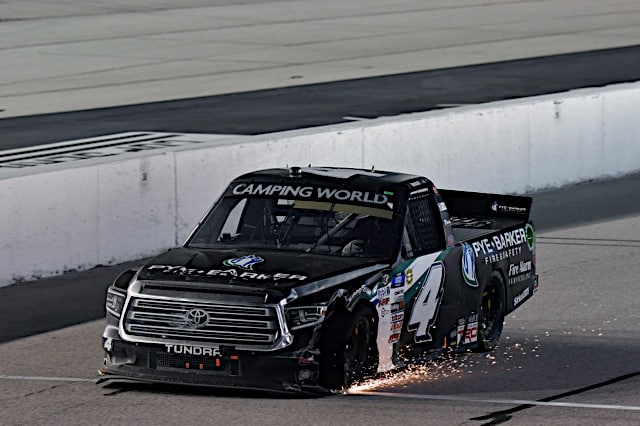 Post-race, Nemechek expressed his thoughts with just four words on Twitter.
"Gave it away," Nemechek wrote, "P8."
Gave it away. P8.

— John Hunter Nemechek (@JHNemechek) May 8, 2021
The extensive clean-up left Nemechek with just 20 laps to climb the running order. Several successive cautions only allowed the Mooresville, N.C. native to gain a few positions at a time. On the final restart, Nemechek lined up just outside the top-10. In the two-lap run to the finish, he moved up to eighth. However, another accident forced a caution on the final lap.
After starting on the pole due to NASCAR's metric qualifying formula, Nemechek led much of the first two Stages. The 23-year-old finished the first Stage in second after Todd Gilliland took the lead on a restart. Nemechek cruised to easily win Stage 2 after several trucks stayed out under caution.
The eighth-place finish is the seventh top-10 finish this season for Nemechek and the 57th of his NASCAR Camping World Truck Series career. It is also the 90th in his NASCAR career across the three National Series.
Nemechek is already in the Truck Series playoffs via his two victories earlier this season. Despite finishing behind Ben Rhodes, the Kyle Busch Motorsports driver's points lead increased. Nemechek holds onto the points lead with Rhodes 46 behind. He also leads in Playoff Points with 17 to Rhodes' 10.
Next for the Truck Series is the inaugural race at Circuit of the Americas. It also marks the second round of the Triple Truck Challenge.
Feature Photo Credit: Photo by NKP / NKP Photo