By Jacob Seelman, Featured Contributor
DAYTONA BEACH, Fla. – For all the pomp and circumstance that surrounded NASCAR's Busch Light Clash at the Coliseum in Los Angeles two weeks ago, the true emotion of the sport's 75th Anniversary Celebration will be felt when the green flag waves to begin Sunday's 65th annual Daytona 500.
Though the Great American Race has six-and-a-half decades of history to lean on, this year's edition boasts, perhaps, the most loaded lineup of storylines since its inception in 1959.
It's a journalist's dream, or at least a veritable buffet.
From Jimmie Johnson's return after a two-year sojourn in Indy car racing, to Conor Daly and Travis Pastrana's improbable Daytona 500 debuts, to Kyle Busch's pursuit of a long-awaited victory in the Super Bowl of stock car racing with a new team in Richard Childress Racing, the amount of material to talk about is nearly endless leading into the 2:30 p.m. broadcast on FOX, MRN and SiriusXM channel 90.
But when the conversation boils down to its core, the most important topic is the racing on track at the 2.5-mile cathedral of speed that is Daytona Int'l Speedway.
Much like in years past, the vibe after Saturday's final Daytona 500 practice session was that manufacturer alliances will play a heavy factor in the draft once the race begins Sunday afternoon.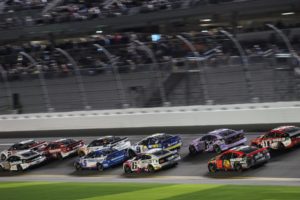 Both Brad Keselowski and A.J. Allmendinger – who worked with their Ford and Chevrolet teammates, respectively – alluded to that dynamic in their last media appearances prior to race day.
"The whole week has been about trying to get an understanding of how the runs formulate [with the Next Gen car] and what you have to do to put yourself in the right position [to win]," explained Allmendinger. "At the end of the day, it's great to watch all of that and put that in the notebook and in your mind, but you have to feel it. You have to be in that position. As we've seen many of times with this race, there's no one way or another to win it. But you want to have friends [in the draft]; we know that."
Added Keselowski, "I think the Fords have done an excellent job of bringing a lot of depth to the racetrack. You look at the depth that they have, and I don't think it's rivaled by any of the other manufacturers in the quality of cars and drivers that they have, and so when the Ford's get together, especially at a race like this, we can be pretty much unstoppable."
That being said, Keselowski also knows that having support in the draft isn't everything at Daytona.
"[Just because you have drafting help], it doesn't mean you can't lose the race," he noted. "There are a million ways to lose it even with having the fastest cars and the best drivers, but [the way Ford approaches superspeedway racing] has certainly put us in a position to control the races recently."
When it comes to Toyota's numbers in the draft, the Japan-based auto manufacturer has the smallest brigade in the NASCAR Cup Series field, but they added one car to the lineup Wednesday night during qualifying when action sports legend Travis Pastrana locked into the field on speed for 23XI Racing.
Pastrana's goal, as laid out to him by team consultant and 2017 Daytona 500 champion Kurt Busch, is "to figure out how to do the best that I can as a teammate in the race," he explained after Wednesday night's qualifying session.
That will be important for Toyota as the brand chases its fourth Daytona 500 triumph in the last eight years.
Of Toyota's seven drivers in the field, only three-time winner Denny Hamlin ('16, '19-'20) has topped the Great American Race in the past. The other half-dozen are all seeking their first win in the historic event.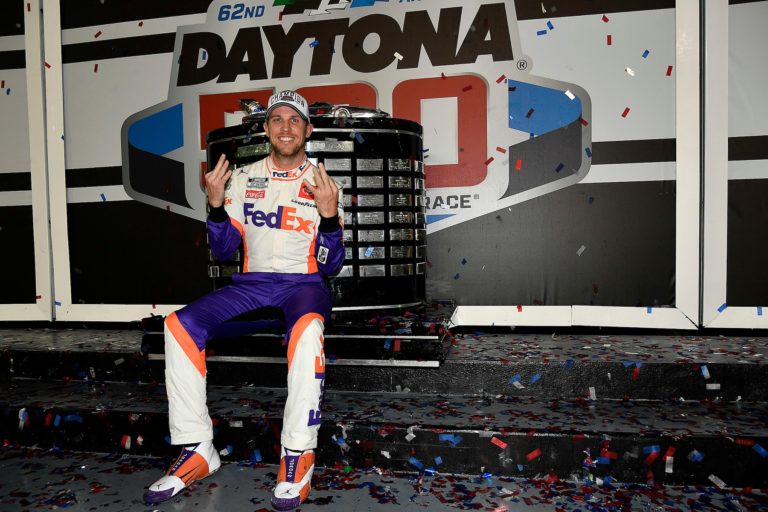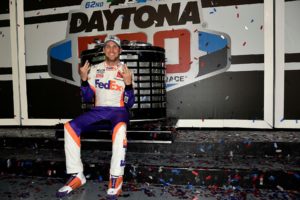 Hamlin will look to tie Cale Yarborough for second all-time with his fourth Daytona 500 victory Sunday, and NASCAR Hall of Famer Dale Jarrett told the media Sunday morning that he sees an important quality in Hamlin's driving that has allowed the Virginia native to become one of the best ever in the event.
"Decision making," said Jarrett. "Denny understands where he needs to position himself … and you don't see him put himself in too many bad spots throughout the race.
"I think today may be one of his bigger challenges, but I'm looking forward to seeing how he can try to utilize the draft to overcome some of the difficulties that he may face early on."
Meanwhile, future Hall of Famer Kyle Busch will chase his first Daytona 500 win with a new team – Richard Childress Racing – as Kevin Harvick embarks on his final Great American Race as a full-time driver and hopes to capture Daytona 500 glory for the second time in his career.
Austin Cindric will try to become the second back-to-back 500 champion in the past half-decade, while others like Cup Series rookie Ty Gibbs, reigning Craftsman Truck Series champion Zane Smith and fan favorite Indy car regular Conor Daly make their Daytona 500 debuts in this year's running.
What does the race mean? Harvick said it's something that is "difficult to put into words."
"The Daytona 500 is the biggest race you'll ever be a part of, and it's the biggest win you'll ever have," noted Harvick. "It's definitely the heart of NASCAR and what we do."
For those 41 drivers who have been privileged enough to win the Daytona 500, it's a memory they'll carry with them for the rest of their lives. For those who haven't, it's a dream they'll continue to chase as long as they compete in the NASCAR Cup Series.
Jarrett said it best as his media availability wrapped up a few hours before the race's scheduled start.
At this track, on this day, for every driver in the 65th Daytona 500, there's only one mission in mind now.
"I'm taking no chances if I'm in that field," he said. This is about [the Harley J. Earl] trophy and nothing else."