By Jerry Jordan, Editor
Yes, Kyle Thomas Busch – the two-time NASCAR Cup Series Champion – was the same Kyle Thomas "B" arrested and quickly convicted of possessing an unlicensed .380 cal. handgun at a private airport terminal in Cancun, Quintana Roo, Mexico. Now, that we have that out of the way, thanks to his own admission, the sport, the fans and especially Kyle should be especially thankful he isn't spending the next 3.5 years in a Mexican prison.
Before I get into the legal scenario, and what its impact could be on Busch's life in America, I want to point out that this incident does not directly affect fans in the NASCAR community, so stop the bitching and whining on social media about why NASCAR is letting him race.
Next, this is what Busch had to say about the situation.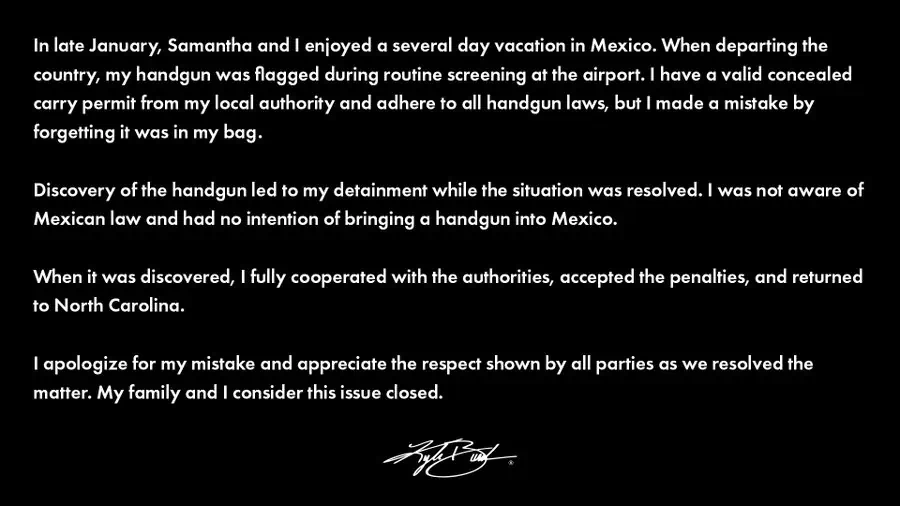 "In late January, Samantha and I enjoyed a several day vacation in Mexico. When departing the country, my handgun was flagged during routine screening at the airport. I have a valid concealed carry permit from my local authority and adhere to all handgun laws, but I made a mistake by forgetting it was in my bag.
"Discovery of the handgun led to my detainment while the situation was resolved. I was not aware of Mexican law and had no intention of bringing a handgun into Mexico.
"When it was discovered, I fully cooperated with the authorities, accepted the penalties, and returned to North Carolina.
"I apologize for my mistake and appreciate the respect shown by all parties as we resolved the matter. My family and I consider this issue closed."
That pretty much explains the who, what, when and where. The question now is how did Busch avoid prison? You see, gun possession crimes occur very frequently in Mexico, usually at a land border crossing and not at private air terminals. In this case, Busch probably didn't know that Mexican federal authorities screen baggage being loaded onto private jets. And you have to take his word that he didn't know the gun was in his bag and that he wasn't familiar with Mexican law.
Does anyone really think a multi-millionaire, professional racecar driver with celebrity status would risk going to prison for years over possessing a handgun? He made a mistake and it happens quite frequently.
If anyone thinks it can't happen to them, it can. At land border crossings people with firearms in their vehicles frequently drive into the wrong lane and end up in Mexico because they cannot turn around. It happens at airports, too. In 2022, the Transportation Security Administration confiscated 6,542 firearms at security checkpoints and 88 percent of those were loaded.
Now, let's break down what Mexican officials say happened. According to a report filed by The Public Ministry of the Attorney General of the Republic (FGR) in Quintana Roo, Busch was getting on a private plane with his wife when he was taken into custody by members of the Quintana Roo National Guard. This happened after information was, " derived from the direct signaling of private security personnel … assigned to guard the platform of the FBO (Fixed Base Operator) terminal for private flights."
"The detainee, who is originally from the State of Nevada, intended to travel to the United States of America, but when passing his luggage through the RX of the platform, a caliber pistol-type firearm was detected inside. 380 with magazine stocked with six useful hollow point cartridges."
That happened on January 27 and on January 29, "he was presented before a judge." That tells me it is likely that Busch was taken into custody and likely spent some period of time behind bars in Mexico. Mexico is known for its heavy enforcement and imprisonment of anyone bringing an unlicensed firearm into the country. In this case, Busch is licensed in America but that has no bearing on Mexico.
Based on treaties between the two countries, Americans arrested overseas are usually visited by representatives of the U.S. Consulate within 24 hours when they are notified by local authorities that an American citizen is in custody. The Consulate representatives will advise the American of his/her rights, ensure they are not being abused, give them a list of attorneys that can help them and notify family members.
So, in Busch's case, there are a few additional caveats. First, he is wealthy. Second, he already has an attorney in the United States, who can react quickly and reach out to colleagues abroad. Third, he was cooperative, which was even pointed out by Mexican authorities. Fourth, he took responsibility immediately.
For those who think gun ownership is illegal in Mexico, it is not. Carrying an unlicensed gun greater than a .380 cal. or ammunition by a non-Mexican citizen is illegal. Busch was carrying a Ruger .380. It's the same as one of the guns I personally own. It is small, black, lightweight and has a pocket clip to latch or secure it in a person's pocket. A photo of the gun Busch was said to be carrying was posted by the Riviera Maya News. The editor of the Riviera Maya News assisted Kickin' the Tires in obtaining information related to Bsuch's arrest and indicated which Mexican statutes were involved in the case.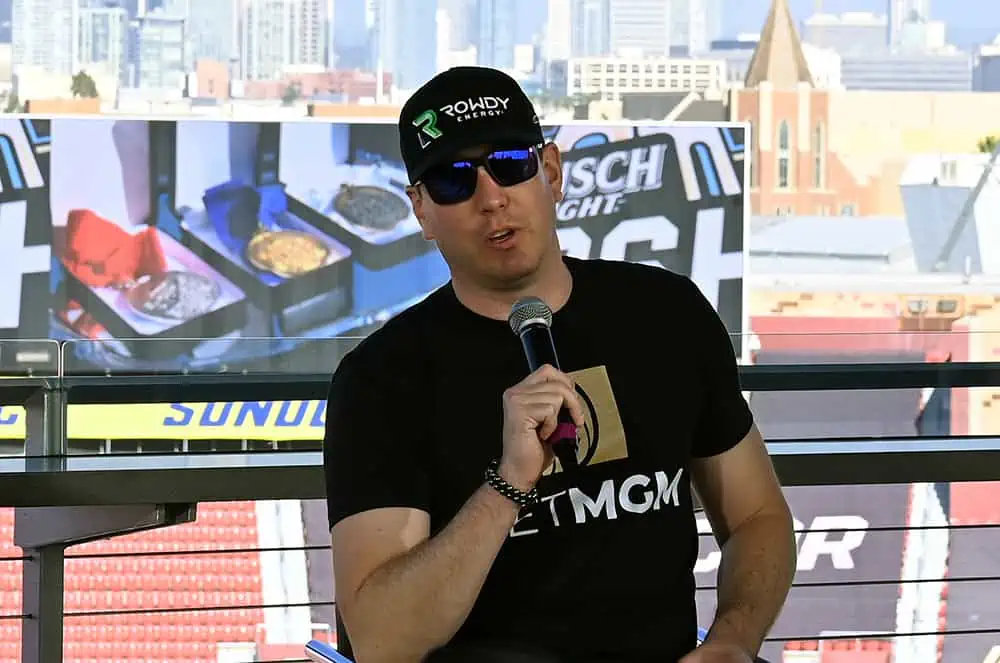 Busch's official sentence was issued on February 3, five days after his appearance before a judge in Cancun. As that was happening, Busch was actually in California at the Los Angeles Memorial Coliseum answering questions from the NASCAR media about the Busch Light Clash. It is likely the only people who knew what was going on at that time, were a select few NASCAR officials and those people close to Busch.
Yes, Busch alerted NASCAR in accordance with the procedures laid out in the NASCAR rulebook. A spokesperson for the sanctioning body provided a statement to Kickin' the Tires and Busch faces. "no forthcoming issues from NASCAR."
In 1998, a case involving Texas native, Thomas Bean, who was caught with shotgun shells in his truck, resulted in Bean spending more than five months behind bars before his transfer and release were negotiated by attorneys and American politicians who intervened on his behalf.
Once he returned to Texas, he lost his right to own firearms for a perioed of time and had a criminal conviction on his record in Mexico. He fought the gun ownership issue on constitutional grounds for two years and it wasn't until multiple cases involving American citizens losing their rights because of a conviction in a foreign country that the U.S. Supreme Court ruled his rights should be restored. Bean had already received a state pardon from then-Texas governor Rick Perry.
Based on that precedent, it's safe to say that while Busch may be clear of the situation in Mexico, he shouldn't return any time soon and he may need to seek a pardon from the governor of Nevada to clear his record. More than 50 percent of requested pardons are granted in Nevada, according to court records.
Nevada law defines a pardon as, "the forgiveness of a crime and the penalty associated with it."
So, how did Busch leave Mexico without facing the full 3.5 years in prison? In a sense, the stars aligned. From what I can tell after talking with people in Cancun and reading through federal documents and current Mexican law, aside from having his gun in Mexico Busch did everything else right.
Based on a change in Mexican law in 2015, a person over 18 years old, who takes responsibility for their non-violent crimes and is sentenced to less than four years in prison can pay a type of supplemental restitution or fine to avoid serving time behind bars. Mexican law uses the term "pecuniary healing" in explaining how this is possible.
Under Chapter V, Section 29 of the Mexican Federal Code, "The pecuniary penalty comprises the fine and repair of the damage.
"The fine consists in the payment of an amount of money to the State, which will be fixed for days fine, which will not exceed a thousand, except the cases that the law itself point. The fine day is equivalent to the daily net perception of the sentenced person at the time of the crime, taking into account all his income."
Pecuniary means, "relating to or consisting of money."
In layman's terms, it means that in addition to the $20,748 MX peso fine, Busch also likely paid a significant amount of money in pecuniary healing to ensure he didn't serve his sentence in a Mexican prison. If the max is $1,000 MX pesos a day times 728 days at the current conversion rate, the maximum could be as much as $68,000 USD. We are still working to find out the exact amount, if possible.
There is no doubt that next week, someone will ask Busch about the incident during media scrums ahead of the 2023 Daytona 500 and it likely won't be well-received. While there is a case that can be made to get the answers to questions currently left open, Busch clearly stated that he and his family have put the issue behind them.
I go back to what I wrote at the beginning of this article. Busch made a mistake, he owned up to it and he was punished. Whether the Busch haters can accept that, is irrelevant. As far as Mexico is concerned, the "Agent of the Federal Public Ministry presented it before the Control Judge, on January 29 of this year, who described the detention as legal, linked to the process and through an abbreviated procedure issued a sentence."
The matter appears closed.