By Seth Eggert, Staff Writer
A late, unexpected, substitution led to a day of learning for Ty Gibbs in the No. 45 McDonald's Toyota Camry.
The Finish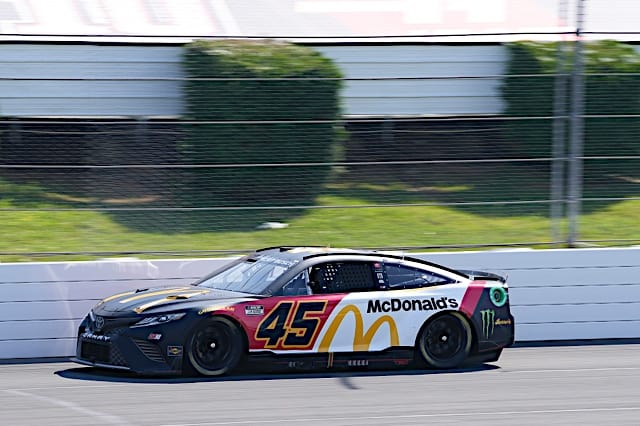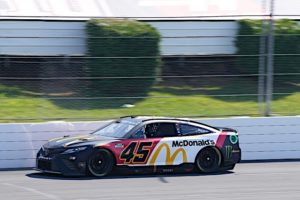 In the closing laps of the M&M's Fan Appreciation 400 at Pocono Raceway, Gibbs climbed into the top-15. He was filling in for 23XI Racing's Kurt Busch. The Charlotte, N.C. native narrowly avoided a late wreck between Ross Chastain and Kevin Harvick.
Gibbs maintained 15th until the final four laps. William Byron slipped by position with four laps to go. Gibbs briefly battled with Brad Keselowski and Chase Briscoe before falling behind the Ford Performance drivers. Gibbs took the checkered flag in 18th. Following the disqualifications of Kyle Busch and Denny Hamlin, he was credited with a 16th-place finish.
"[The biggest surprise in the Cup car was] the dirty air and how bad that affects you," explained Gibbs. "Just being able to make sure I was getting out far enough. I was a little bit tight all day, so just trying to get front turn and trying to get more center turn which would help me. It was a learning day. I felt like I learned a lot. I'm very thankful.
"It was close to almost a top 15. It was fun racing with Brad (Keselowski). Never thought I'd race with these guys. It was just cool being next to them on the track. So, to 10-year-old Ty that means a lot. I don't think I would ever expect that."
Filling In
After Kurt Busch crashed in NASCAR Cup Series qualifying, he was not medically cleared to compete in the Cup race. The 19-year-old flew back to North Carolina after competing in the Xfinity Series race to practice on the Toyota Racing simulator at 1:00 a.m. He then flew back to Long Pond, PA for the Cup race.
"First of all, I want to say thank you to God for giving me this opportunity, to Michael Jordan and Denny Hamlin, and everybody at 23XI," stated Gibbs. "The most important thing right now is about Kurt's health and hopefully he can get back in this seat. He drives way better than me, so he deserves this. He's been awesome. He's helped me out so much. I want to say thank you to him.
"We had a fast McDonald's Camry TRD. I had a great time so Michael (Jordan), if you're watching I want to say thank you. It's a big pleasure to wear this on my shoulder and on my shoes. I had a great time, and I learned a lot, so it was awesome. Thank you to Monster Energy."
Learning Experience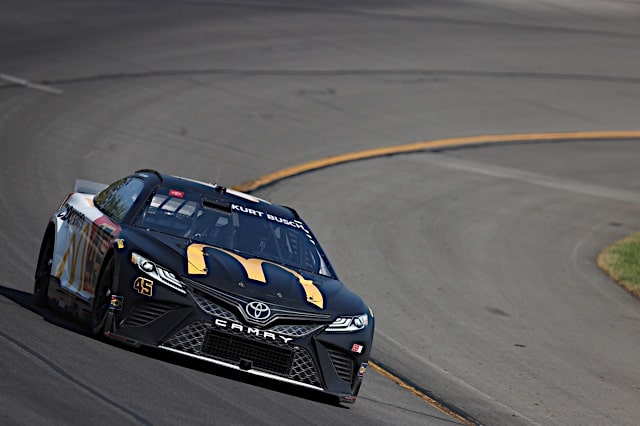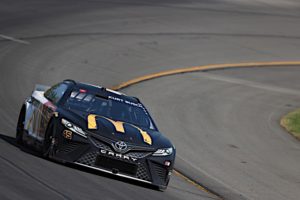 With his first laps in the Gen 7 (Next Gen) NASCAR Cup car being the opening laps of the 400-mile race at Pocono, Gibbs took his time learning. By the end of the first Stage, he had climbed from starting in the back to running inside the top-30. The improvement continued as Gibbs climbed inside the top-25 by the end of Stage 2.
The final Stage saw Gibbs move into the top-20. He also started running lap times that were comparable to his 23XI Racing teammate Bubba Wallace, as well as the rest of the field. Though his fastest lap came with 24 laps to go, Gibbs' best lap of the day was still about a second off of the times that drivers inside the top-10 were running.
Ultimately, the NASCAR Cup Series debut for Gibbs was not about the lap times or the finishing position. The debut was about a learning opportunity while Busch recovers from concussion-like symptoms.
The next race for Gibbs is the Pennzoil 150 at the Brickyard in the NASCAR Xfinity Series. He enters the Indianapolis Motor Speedway third in points. Any future races in the Cup Series this season is still to be determined.
Featured Photo Credit: Photo by Zach Catanzareti / Kickin' the Tires.