By Seth Eggert, Staff Writer
Bubba Wallace's win in the YellaWood 500 at Talladega Superspeedway will be immortalized as the newest exhibit at the NASCAR Hall of Fame.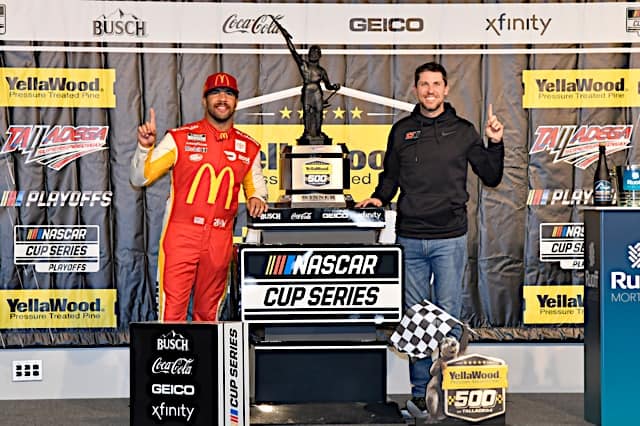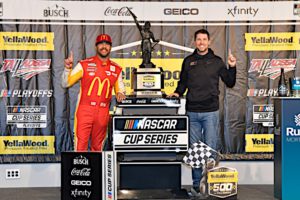 The No. 23 McDonald's Toyota Camry that Wallace drove that day is being featured in a new exhibit at the Hall. The victory was the 23XI Racing driver's first in the NASCAR Cup Series. It was Wallace's seventh across NASCAR's three National Touring Series.
Wallace became the first Black driver to win a Cup Series race since Wendell Scott at Jacksonville Speedway, on December 1, 1963. In total, 21,157 days passed between the wins by the NASCAR Hall of Famer and the Mobile, AL native. Both Bill Lester and Willy T Ribbs made starts in the Cup Series carried the torch for diversity between Scott and Wallace's wins.
"In keeping with our mission to honor the history and heritage of NASCAR, we are thrilled by the opportunity to highlight Bubba Wallace's historic win by displaying the No. 23 car," said NASCAR Hall of Fame Executive Director, Winston Kelley. "We're grateful for the generosity of our friends at 23XI Racing for loaning us this priceless artifact and allowing us to share its legacy with guests."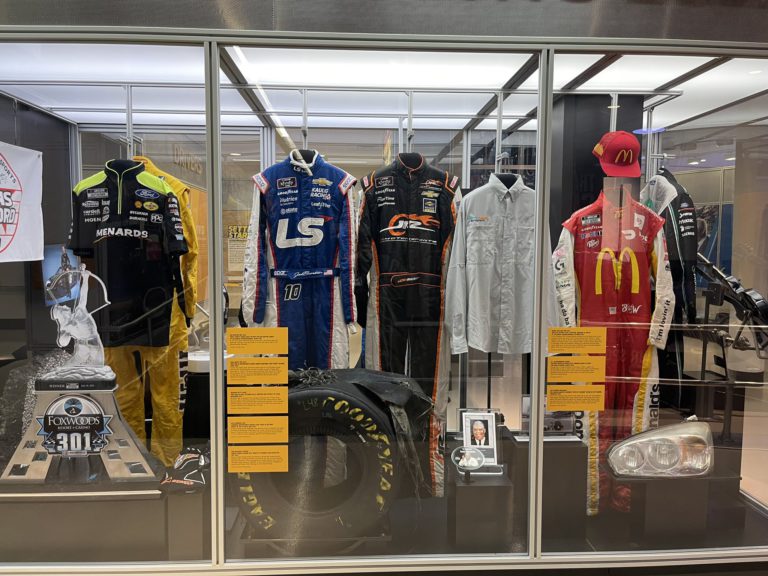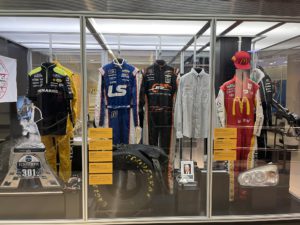 For Wallace, the addition of his race-winning car from Talladega to the NASCAR Hall of Fame is just another piece of his career that will reside in the hallowed halls. The fire suit from that day is on display at the Hall of Fame. Also at the Hall is the fire suit from his first career Camping World Truck Series win at Martinsville Speedway in 2013. To date, Wallace is the only Black driver to have won in the Truck Series. He has six wins in the series.
The win in the YellaWood 500 broke the losing streak nicknamed the McDonald's Curse. It was the first win for McDonald's as a primary sponsor in a NASCAR Cup Series points paying race since Jimmy Spencer. Spencer's win also at Talladega, in 1994. McDonald's did win a Gatorade Duel race with Bill Elliott at Daytona in 2000.
The NASCAR Hall of Fame will keep Wallace's race winning No. 23 McDonald's Toyota Camry on display until August 1, 2022. Other new exhibits at the Hall of Fame include displays from 2022 inductees Dale Earnhardt Jr., Red Farmer, and Mike Stefanik in the Hall of Honor. More information on the exhibit can be found here.
Featured Photo Credit: Photo Courtesy of the NASCAR Hall of Fame.