By Seth Eggert, Staff Writer
The eNASCAR Coca-Cola iRacing Series' visit to Las Vegas Motor Speedway brought out the best of Michael Conti. The JR Motorsports driver dominated the race, leading 75 of the 100 laps.
On the final restart of the race with under 20 laps to go, the driver of the virtual No. 8 WRI Sim Chassis Chevrolet Camaro ZL1 1LE jumped to a three-car length lead. Behind Conti was 2020 eNASCAR champion Nick Ottinger and 2017 champion Ryan Luza. Luza attempted to challenge both Conti and Ottinger for the lead and second respectively. However, the draft was too powerful, dropping the XSET driver back.
The battle between William Byron eSports' Ottinger and Luza slowly allowed Conti to pull away. With 10 laps to go, Conti was half a second ahead, the biggest margin between first and second to that point of the race. With Graham Bowlin and Casey Kirwan joining the battle for second, the gap only widened.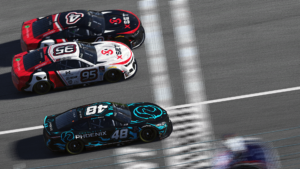 When the checkered flag waved, Conti was 0.775 seconds ahead of his back-end teammate Ottinger. Bowlin, Luza, and Kirwan crossed the line in a photo finish Bowlin's No. 48 Charlotte Phoenix machine just barely beat out the XSET teammates. Luza, in the No. 4 Chevrolet, took fourth with Kirwan fifth.
"I'm beyond ecstatic," admitted Conti. "Last year was crazy with Daytona and the way everything fell out. It was a really good situation for us where we got into a good position and kept it. Tonight, and the two weeks leading to this were completely different. The amount of preparation that were put into this car is like nothing I've ever done in a long time. Just thankful that I had the guys around me to help me get here and to have this kind of performance."
Ottinger and Conti qualified on the front row. Between them, the Team Conti (eNASCAR back-end alliance team) led 94 of the 100 laps. Other Team Conti drivers also ran up front throughout the race. The only exception was Logan Clampitt who was swept up in one of the seven incidents throughout the race.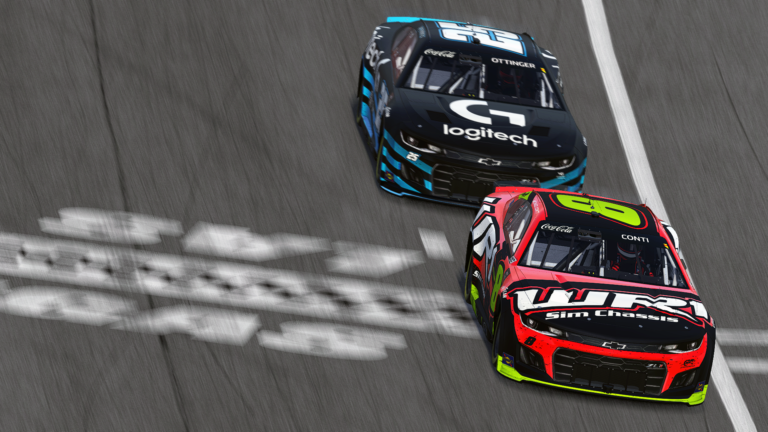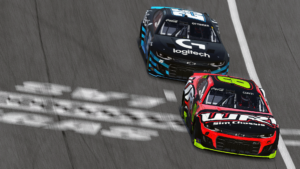 "Qualifying was definitely big, but we ran quite a few A Open races last night and earlier today, and we did not qualify for any of them, started in the back, drove from the back to the front at will," explained Conti. "The car was stupid good. I can't really sit here and take credit for this because I was just driving it. It made my life very easy to defend anything that came from out back.
"Obviously being up front was a help, but I think that being in the back if we didn't get caught up in the mess, which would have been tough, that we still would have had a shot to get (the win).
Corey Vincent, Garrett Manes, Michael Guest, Collin Bowden, and Daytona winner Femi Olatunbosun completed the top-10. Bowden's ninth-place run earned the eRacr driver the 'eRookie of the Race.'
The seven incidents that took place throughout the race collected many heavy hitters and pre-race favorites. Both RFK Racing drivers, Parker Retzlaff and Kaden Honeycutt were swept up in separate incidents, as were iRacing Motorsports drivers Malik Ray and Derek Justis.
Late-race contact sent 2021 'eRookie of the Year' Mitchell deJong head-on into the outside wall. The extensive damage ended his race. deJong's 23XI Racing teammate and defending eNASCAR champion Keegan Leahy also was collected in a late-race accident with Dylan Ault.
While accidents were aplenty, not all of them were race ending for the competitors. Briar LaPradd rebounded from a wreck to finish 16th, Leahy 17th, and Ray 19th.
Next up for the eNASCAR Coca-Cola iRacing Series is a trip to Atlanta Motor Speedway on March 15.
The results:
1. 8-Michael Conti [2], 2. 25-Nick Ottinger [1], 3. 48-Graham Bowlin [17], 4. 4-Ryan Luza [6], 5. 95-Casey Kirwan [20], 6. 3-Corey Vincent [25], 7. 31-Garrett Manes [14], 8. 9-Michael Guest [21], 9. 69-Collin Bowden [33], 10. 79-Femi Olatunbosun [27], 11. 15-Blake Reynolds [36], 12. 51-Ray Alfalla [10], 13. 46-Jimmy Mullis [29], 14. 18-Bobby Zalenski [7], 15. 21-Garrett Lowe [23], 16. 88-Briar LaPradd [26], 17. 45-Keegan Leahy [3], 18. 41-Dylan Duval [18], 19. 7-Malik Ray [32], 20. 75-Matt Bussa [8], 21. 16-Blade Whitt [39], 22. 10-Steven Wilson [11], 23. 43-Kollin Keister [22], 24. 6-Parker Retzlaff [34], 25. 19-Vicente Salas [16], 26. 5-Zack Novak [35], 27. 54-Kyle Peddle [12], 28. 17-Kaden Honeycutt [40], 29. 2-Liam Brotherton [24], 30. 36-Brian Mercurio [28], 31. 40-Dylan Ault [5], 32. 23-Mitchell deJong [9], 33. 12-Derek Justis [37], 34. 42-Darik Bourdeau [4], 35. 55-Allen Boes [30], 36. 97-Logan Clampitt [13], 37. 24-Cody Byus [15], 38. 20-Donovan Strauss [19], 39. 33-Taylor Hurst [31], 40. 14-Nickolas Shelton [38].
Lead Changes: Three among three drivers.
Lap Leader(s): Nick Ottinger 1-19, Michael Conti 20-46, Darik Bourdeau 47-52, Michael Conti 53-100.
Laps Led: Michael Conti 75, Nick Ottinger 19, Darik Bourdeau 6.
Hard Charger(s): 15-Blake Reynolds (+25).
Rookie of the Race: 69-Collin Bowden, eRacr, Ninth.
Caution Flags: Seven for 27 Laps.
Margin of Victory: 0.775 seconds.
Time of Race: One hour, 15 minutes, 11.4 seconds.
Average Speed: 119.697 MPH.
Pole Winner: 25-Nick Ottinger, 29.561 seconds (182.673 MPH).
Fastest Lap: 4-Ryan Luza, 29.610 seconds (182.371 MPH).
Featured Photo Credit: Photo by Justin Melillo.