Entering the Alsco Uniforms 300 at Las Vegas Motor Speedway, Brandon Brown looks for his first top-10 finish at the Nevada track.
The Woodbridge, VA native has six starts at the 1.5-mile high-banked track. Brown's best finish at Las Vegas is 11th, twice. He earned the finish in the 2020 and 2021 Spring races at the track.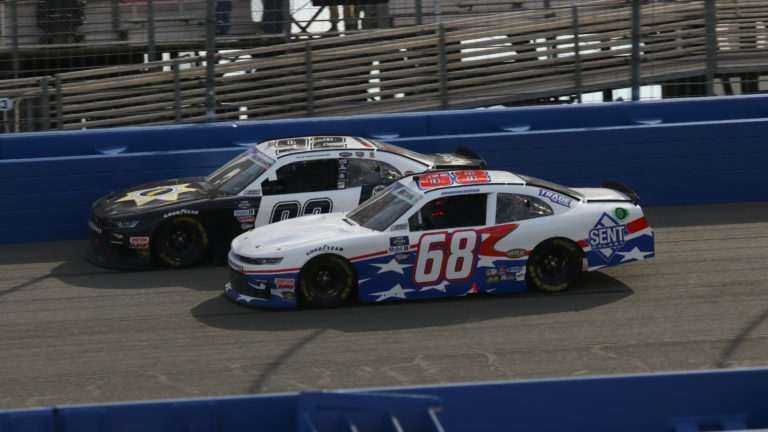 Aiding the 28-year-old in his 2022 NASCAR Xfinity Series efforts is the addition of veteran NASCAR spotter TJ Majors. As his eyes in the sky, Majors will guide Brown as he climbs through the field. The veteran spotter has a long history working with championship drivers such as Brad Keselowski and Joey Logano.
The preparation that Brandonbilt Motorsports has undertaken during the off-season has Brown poised for a career-best result at Las Vegas.
"Mile and a half tracks like Las Vegas are everything that we've prepared for over the offseason," explained Brown. "That's going to be that make-or-break point. We know that the 1.5-mile tracks can be viewed as equipment driven. With BMS stepping the game up in their equipment and having more starts under my belt, as well as adding TJ Majors for my eyes in the sky, I think that's my recipe to get to the top-10."
In addition to his goal of a top-10 finish, Brown hopes to gain knowledge for upcoming races. Las Vegas is the first of seven traditional 1.5-mile races this season. Later this year, it's also the opening race of the Round of Eight in the Playoffs. What Brown and his family-owned team can learn from this weekend can be beneficial in multiple upcoming races.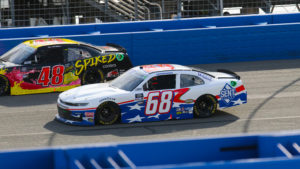 "We're hoping to find our definitive long-run speed this weekend because we want to find what's going to be successful at Vegas," admitted Brown. "It's a pivotal race when it comes to the playoffs later in the season. Our biggest goal is going to be to use this race to prepare for that one."
"A lot of it will translate because most of them drive fairly similarly, other than Atlanta. Atlanta is basically gone and you can't translate anything to it, especially now that it's been completely repaved. We're going to try a bunch of things to make us more competitive, specifically for when we hit that leg in the season where it's more mile and a halfs than anything."
For Las Vegas, Brown will have the same red, white, and blue Trade the Chain paint scheme on his No. 68 Chevrolet Camaro SS. NASCAR's new rule that has teams utilizing the same car throughout the West Coast swing is already having an impact. Some minor cosmetic repairs to Brown's Chevrolet from Auto Club Speedway will easily have his car back up to speed at Las Vegas.
The Alsco Uniforms 300 is Saturday, March 5 at 4:30 p.m. ET on Fox Sports 1.
Featured Photo Credit: Photo by Rachel Schuoler / Kickin' the Tires.