By Vincent Delforge, special to KickinTheTires.net
Since 2002 a native of Nagoya, Japan has been pacing the tracks of the West Series. Although the series has changed title sponsors several times in 20 years, one thing has not changed and that is the presence of Takuma Koga.
After exhibition races between 1988 and 1991 in Australia, NASCAR leadership decided to explore another territory where NASCAR had become very popular, Japan. It was NASCAR's brief presence between 1996 and 1999 on the Japanese archipelago that was at the origin of the passion of the young Takuma for stock car racing.
In 1996 and 1997, the Suzuka road course hosted the star drivers of the NASCAR Cup, Truck, and West Series. In 1998, it was the first race on the Motegi oval. But in 1999 the West Series was the only one to cross the Pacific to compete in the first race outside the American continent officially counting for a NASCAR championship. It was even the season finale.
There are renowned Japanese drivers who have participated in these different races like Hideo Fukuyama who will do several races in the Cup Series in the early 2000s.
Koga saw these races and he was able to make his first contact with the world of NASCAR. Having become a real enthusiast, he will have to be content for a few more years to watch the races avidly on TV. But he promises himself that one day he too will be a NASCAR driver. And the dream will quickly become a reality.
Heading into the 2022 ARCA Menards West season which kicks off March 11 at Phoenix Raceway, AZ, Koga has already done 90 races and scored two top-fives and 15 top-10s since starting his career. in 2002. But it is stronger than ever that he started this new season with one objective: to win his first race.
For the second year in a row, Koga will drive the No. 7 Toyota Camry for Jerry Pitts Racing, Jerry Pitts being himself the crew chief. The car will sport the colors of many sponsors throughout the season.
To know: RISE UP (highway security); GR GARAGE TAKATSUJI (Toyota official custom shop); YAMADA INFRA TECHNOLOGIES (Construction Company) ; LOOP CONNECT (highway security); LOBSTER TOOLS (Tool Company); KOSHI NO KANBAI (Sake brewing company) ; CRAZY KEN BAND (CKB) (A very famous Japanese rock'n'roll band).
JPR and Koga have just completed two days of testing at Bakersfield (February 25) and Irwindale (February 26) with two new cars.
We were able to ask Takuma Koga a few questions to reminisce with him about his 20 years in the West Series.
Vincent Delforge: This year, it's been 20 years since you started in the ARCA Menards West Series. In 2002 it was the NASCAR Winston West Series when you did your first race at Evergreen. Can you tell us about your memories of this first race? How did the opportunity arise and how did you prepare for this race?
Takuma Koga: "The Winston West Series actually came to Japan and held an event at Motegi Speedway. I immediately wanted to race but finding sponsors was extremely difficult. I contacted people affiliated with the race and eventually raised enough funds to race in America. My first memory of that race was the high level of racing in the US. It was a very humbling experience for me."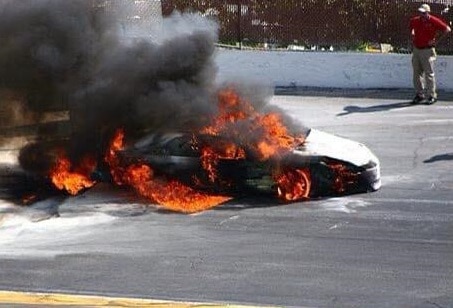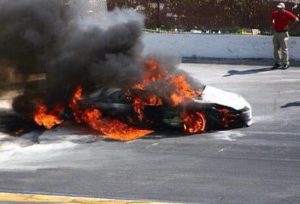 VD: Impossible to talk about your career in the West Series without mentioning the terrible accident you had during the practice at Stockton in 2005. The impact was violent, and the car caught fire. What happened? Was it the scariest moment of your life?
TK: "This was definitely the scariest moment in my life! A spring in the carburetor got stuck and I could not control the car. I was shocked how quickly the car became engulfed in flames. It was such as shame as it was a brand-new car. I'm just thankful I was able to get out of the car and that everyone was safe."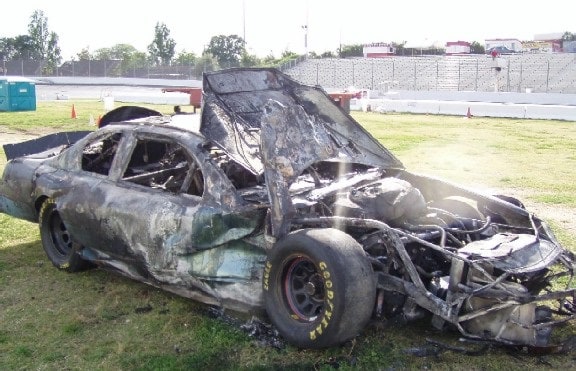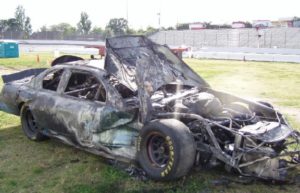 VD: A first 'career' from 2002 to 2006 with West Series legend Dick Midgley. Were these years difficult? You had to learn everything? During your last race in 2006 at Fontana, you did not start. Why?
TK: "I am so grateful to have a mentor like Dick Midgley. I am still thankful for Dick and his wife Judy to allow me to stay with them and this is where my journey began. This was a very difficult time for me getting used to English and trying to find sponsors. It was a daily grind contacting potential sponsors, making presentations and making my sales pitch. It was a very stressful time."
"Regarding the Fontana race, I suffered a flat right front tire which caused heavy damage to the car, and I also got a concussion in the process."
VD: Why did you no longer drive in NASCAR between 2007 and 2016?
TK: "During this time I decided to focus on building my company, IROC Co., Ltd. I also needed a break as the stress from trying to find sponsors was exhausting. I also became a father to my daughter, Rina in 2013 and my son, Eiki in 2015."
VD: In 2016 you return part-time with JKR, the team led by John Krebs. It is also the first year with your new sponsors like ASH and CKB who are still with you today. Without them, would you not have returned to NASCAR? Between the beginning of your career and today, motor racing has become much more expensive?.
TK: "ASH and CKB have played a key role in my return and their continued support definitely made things a bit easier and less stressful. Though racing has become more expensive it has not increased by a shocking amount."
VD: In 2017 you get your first top-five in Orange County. A crazy race with lots of cautions. One of the best memories of your career?
TK: "Yes, this was definitely a huge confidence builder. I felt like I was finally starting to figure things out. All the things John and the team were teaching me finally started to click."
VD: In 2019 you change teams to join PP1M, Joe Nava's team. In two seasons you will get 9 top10. A good progression with more consistency and more speed. Does having a good car change your life?
TK: "A good car is always important, but I am most grateful for the efforts of the team. They worked so hard every day to prepare the car. Plus, their years of knowledge made this a great learning experience for me."
VD: After Dick Midgley, John Krebs and Joe Nava, in 2021 you are going to the team of Jerry Pitts, another legend of the West Series. But this time you arrive in a team that has won many races in recent years. How did this opportunity arise?
TK: "It's a combination of several factors. Jerry Pitts was looking for a new full-time driver and I was also looking to improve over the past few seasons. There were also some other drivers that helped put this new partnership into motion."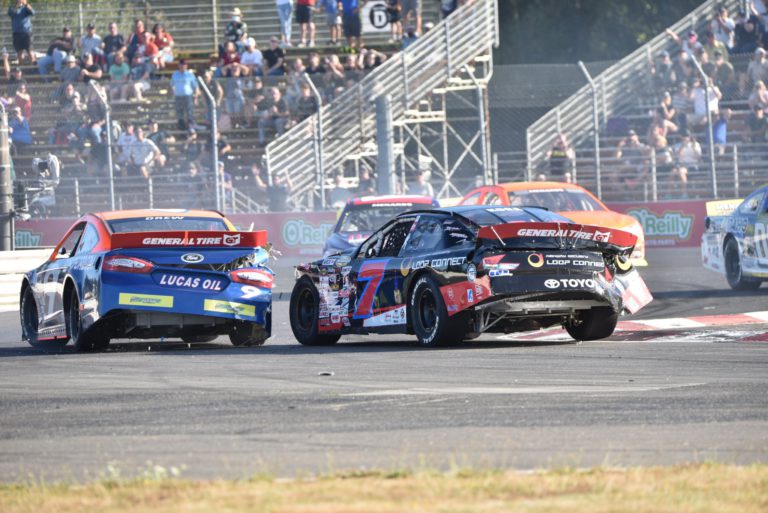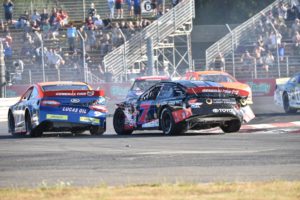 VD: The 2021 season was a year to learn. With ups and downs. But we will especially remember the Portland race. When we saw the accident you had and the condition of the bodywork of your car, your fifth position at the finish is incredible. Can you tell us a bit about how you experienced this race? I imagine that after the accident, you were far from thinking that you were going to come back to fifth position?
TK: "As you know, the 2021 season started with a lot of bad luck. I was running in the top10 for most of the races but fell short. During the Portland race with the accident, I suffered an issue with the alignment, but the team was able to keep me in the race and I got used to driving a broken car and got fifth. Races like this were definitely a confidence booster!"
VD: Now let's talk about the upcoming season. What are your goals? Be more often in the top-five? Win your first race? And in the championship, do better than your seventh position in 2020?
TK: "I feel like we have a great team that is committed to winning so my main goal this season is to win my first race."
VD: There are three road races on the schedule this year. Does that make you happy or do you prefer racing on ovals?
TK: "I prefer oval tracks but after Portland last season I'm looking forward to road courses and I am more comfortable and more confident than in seasons past."
VD: There is also the return to the schedule of the historic Evergreen track. Which type of oval do you prefer, quarter miles or bigger tracks like Phoenix?
TK: "I prefer the short track. That's what drew me to NASCAR. But at the same time, I don't dislike tracks like Phoenix. Each track is different and brings different challenges, so I just have to be prepared for each race."
VD: Full season in ARCA West, but do you plan to do any more races in the main ARCA series?
TK: "I do not have any plans to race in the main ARCA series but there is a possibility that you may see me in the NASCAR Xfinity Series this season."
VD: Can you tell us a bit about T3R Simulator and Drive-X. Projects in which you are very involved? Do you train a lot on the simulator before West's races?
TK: "The T3R and Drive-X simulators are actually my idea and designs. These brands fall under the umbrella of my company, IROC Co., Ltd. Yes, I use the simulators to practice before the West races. But I also do a lot of karting."
VD: You have already done 90 career races in the West Series. That means you'll be racing your 100th when the series visits the LVMS Bullring. Did you imagine having such a long career? Will you have a special paint scheme to celebrate this milestone?
TK: "I never expected to have a career that lasted this long. It's hard to believe that I will be competing in my 100th race later this season. I think a lot of it has to do with my great fortune to be paired with professionals like Dick Midgley, John Krebs, Joe Nava and now Jerry Pitts; not to mention all the crews that worked so hard and continued to help me develop. But another reason for the long career is the NASCAR family. From the fans to the officials to the other drivers and teams it's unlike anything I've experienced in my life. It is truly amazing."
"In regards to a special paint scheme for race No. 100 I haven't really thought about this but if you have any ideas please let me know!"
VD: You are passionate about big bikes and rock 'n' roll. Have you ever wanted to do motorcycle racing or music?
TK: "I love riding my bike and love rock 'n' roll but the thought of entering these fields has never crossed my mind. I'll stick to NASCAR and admire the motorcycle racing and concerts from the stands!"
VD: You share a lot of videos and photos where we see your son Eiki doing karting. Has he started racing? Is he drawn to racing on ovals? Will we see the second generation of Koga in the West Series in a few years?
TK: "Eiki has already stated that he wants to be a NASCAR driver. If it weren't for the pandemic, he likely would have started racing in the US. He started karting at age four and a lot can happen in the years to come but if he decides he wants to race I will support him as best I can."
The 2022 ARCA Menards Series West season has 11 races between March and November.
The 2022 ARCA Menards Series West season opener will take place in Phoenix Raceway in Avondale, AZ on March 11th. A combination race with the ARCA Menards national Series. And the first race of the 2022 Sioux Chief Showdown.
All Takuma Koga stats are available here: www.racing-reference.info/driver/Takuma_Koga/
Featured Photo Credit: Photo Courtesy of GR Garage Takatsuji via Vincent Delforge.