By Seth Eggert, Staff Writer
CONCORD, N.C. – Often on small NASCAR teams crew members will fill in on multiple roles both in the race shop and at the track week in and week out. Though, JD Motorsports' Gabriel (Gabe) Wood, no relation to the Wood Brothers, may have taken that to another level.
Humble Beginnings
Wood is currently the fueler (only at Portland for Gray Gaulding), tire specialist, and the underneath mechanic on Ryan Vargas' No. 6 Chevrolet Camaro SS.
Long before Wood worked for JD Motorsports, or even public relations for a sponsor, he worked construction, picked watermelons, just earning money. Those first jobs for the UNOH grad helped him raise enough money for a sim racing computer and a sim racing wheel.
"That's actually how I got my first sim racing computer was I was a farmhand and I saved up my money," Wood recalled. "My first wheel, from GameStop, was a Logitech Driving Force GT."
Taking Pride in One's Work
In addition to the at-track work Wood does for JD Motorsports, he also builds the rear-end of the No. 6 Chevrolet Camaro SS at the Gaffney, S.C. race shop.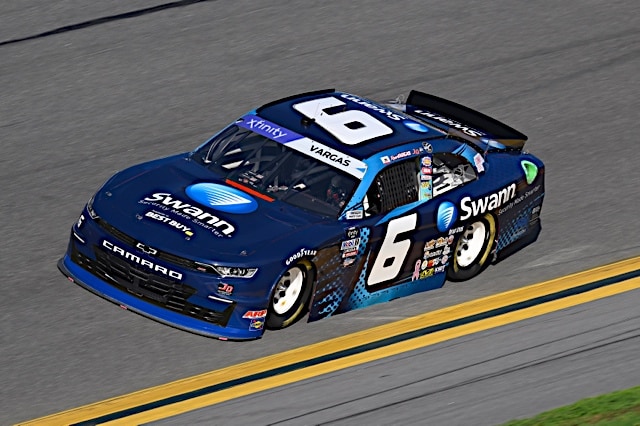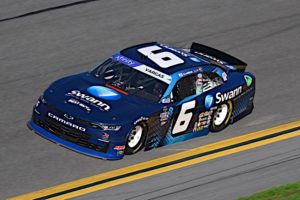 Though most weeks the underfunded team is fighting for a top-20 or top-25, several times a year their hard work is on full display. At both superspeedways this year, when there was qualifying, Vargas qualified the No. 6 in eighth, seventh, and 10th, beating many multi-million-dollar teams.
"It's the pride of seeing something that I put together go on the racetrack," Wood admitted. "Talladega is so great because friction is one of the biggest things. You're stuck with what you got horsepower, you're stuck with what you have gear–wise.
"It is good that the rear end that I put together, when I'm at the shop I put I put all of our rear gears together for the No. 6 car, that it is fast and it makes it through the race."
The 24-year-old was a spotter at Daytona International Speedway for Tim Richmond and at Watkins Glen International. He's even made the trip North of the border into Canada to spot for William Hale.
One Man, One Crew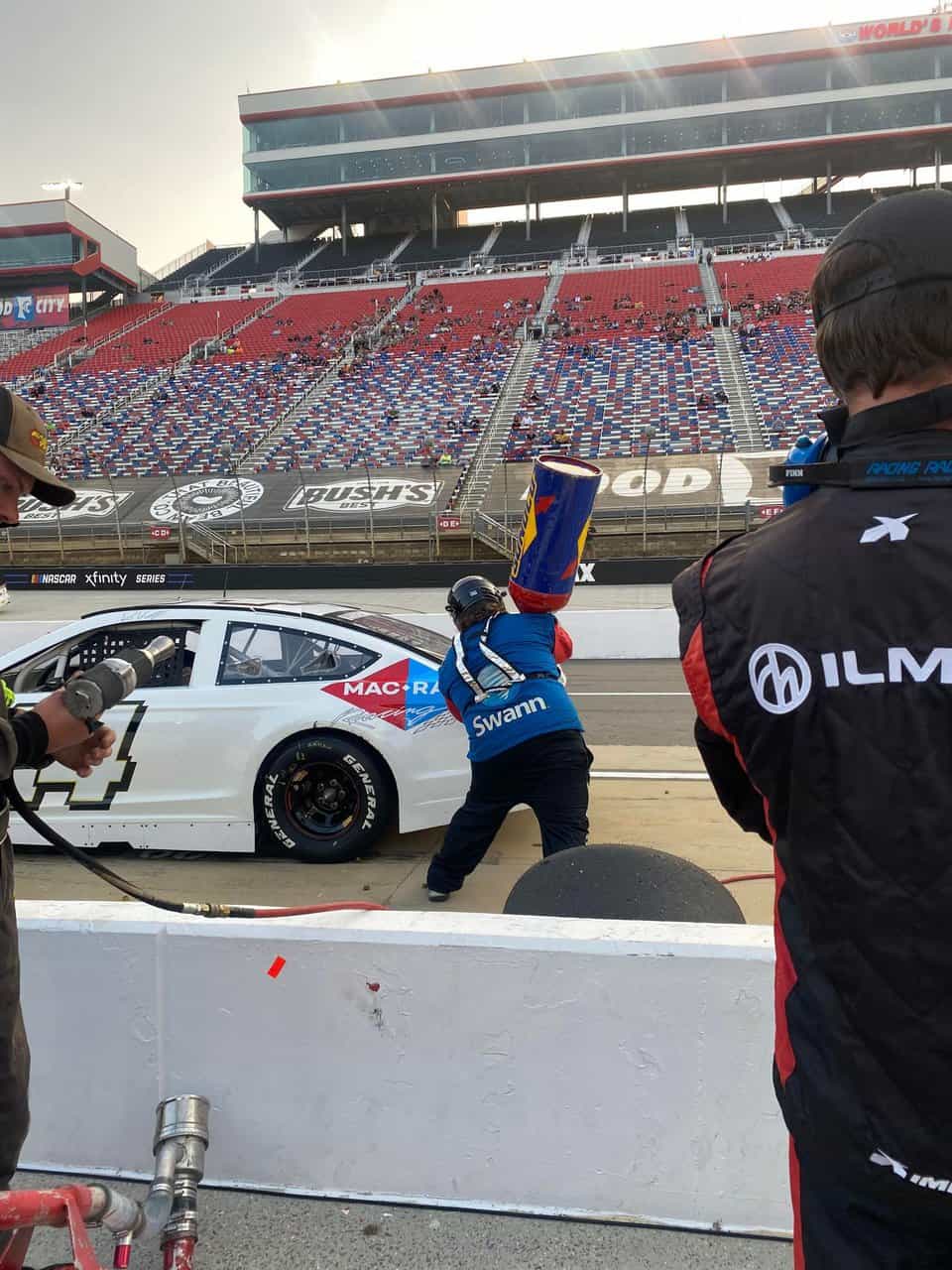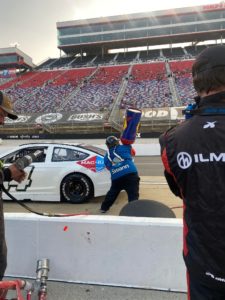 At Pocono Raceway, Wood was the fueler for Stephanie Moyer's No. 01 Toyota Camry. During the controlled pit stop, the jackman was nowhere to be found. So, Wood assumed the role, raising the car, hanging the tires, and fueling the car. He has also worked as the fueler on the No. 44 ARCA Menards Series car.
Controlled pit stops in ARCA provides teams with five minutes to get all work done. Teams typically do not lose positions or laps on pit road during controlled stops.
Despite Wood assuming multiple roles on that pit stop, Moyer did not lose positions on track.
The Valdosta, GA native has also served as a crew chief in four ARCA races on Andy Hillenburg-owned cars in 2017 and 2018.
Making Fans for Life
Wood is quick to make some fans 'fans for life' of him, and JD Motorsports. Following Brennan Poole's crash in the NASCAR Xfinity Series race at Texas Motor Speedway, he cut small sections of sheetmetal off the remains of the car for some kids. He was quick to make sure the pieces were small enough for their flight home.
"I noticed these kids hanging around and I'm like, 'you guys want anything?'" Wood remembered. "I cut the 'Goodyear' off the car, gave that to the first kid and his mom was like 'that'll be big enough.' I was just cutting it manually and I cut two smaller pieces and I thought the kids were going to be disappointed. But the mom said, 'oh, that's perfect they'll fit on the airplane.'
"The kid goes, 'well, I could put it in my backpack. Then I can bring it to show and tell.' The kids got all excited."
iRacing
Away from the real-life track, Wood has also made a name for himself. He competes regularly in CORE, Monday Night Racing, and the Untitled Friends League on iRacing.
Wood has won two races in Monday Night Racing, one in the 1987 NASCAR Cup cars at Michigan International Speedway and one in the Porsches at the Homestead-Miami Speedway Road Course. He also has two wins in the iRacing 24 Hours of Daytona, one of which he co-drove with Vargas, Colby Howard, and Leighton Sibille.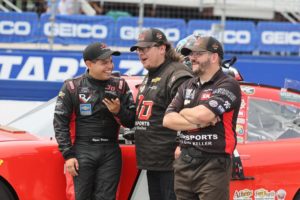 Well before Wood made a name for himself as a driver in various iRacing leagues he also worked as a commentator for LSRTV in 2014. He worked alongside Cisco Scaramuzza, who is now working for iRacing.
When thinking about the multiple jobs that Wood has had in the industry, he had to stop and count. Between both real-life and virtual racing, the Valdosta, GA native can account for at least fulfilling nine different job roles throughout his career.
"Tire specialist, fuel guy, tire carrier, jack man on one pit stop, amateur graphics designer, crew chief, spotter, iRacing spotter, iRacing crew chief," Wood joked.
A 'Budding iRacing Rivalry?'
Much like his driver, Vargas, Wood has found a home within the NASCAR industry at JD Motorsports. The duo, along with crew chief Kase Kallenbach, very much embody the 'little team that could' mantra while also finding ways to have fun at the same time.
"We all race on iRacing together," Wood explained after calling Vargas over. "I think it helps our relationship as a team. It's funny, when stuff happens on iRacing because I'm notorious for getting in the same setup and running almost as fast as Vargas. If I lay down a hot lap he gets really mad for like the next week," which Vargas laughed at.
"There's a budding rivalry between myself and Vargas over here in CORE," Wood continued. "He invited me into the league, which is for influencers. I'm not a part of that, I'm not an influencer. I ended up racing with all of those guys after Vargas invited me.
"Then the first race is at Martinsville, and we start banging doors for fifth, and he wrecks me after the line. Second race at Homestead, same thing. I beat him on the outside fair and square, he wrecks me after the checkered flag."
The friendly rivalry between Wood and Vargas has spilled into other leagues. Most notably, Monday Night Racing where the duo are often in the same Discord channel. Despite the rivalry, Wood still holds Vargas in high regard.
"I love him like a brother," Wood said.
Industry Mentors
Wood's place at JD Motorsports wasn't an assured deal. A 'cold call' in late 2019 to a friend, the outgoing Jay Lopez, landed the 'jack of all trades' a spot on the Xfinity Series team.
"I worked public relations (PR) for a sponsor," Wood recalled. "They kind of got a little overwhelmed. I ended up losing my job, they weren't paying me. It was a whole deal. I was honestly thinking I was out of the sport. I started trying to get some real jobs, which I was not happy about.
"Then Jay Lopez, he's over at Alpha Prime now. I actually messaged him, I said, 'hey, do you know anybody hiring? This is kind of my last shot for this year because it was getting towards New Year's.' He said, 'Oh yeah, I'll put your name in as my replacement. I'm actually getting ready to leave JD to go over to Martins Motorsports' at the time, now Alpha Prime. That's how I ended up there. I started January 4th, 2020, and it's been on from there.
"Jay helped me a lot. He was able to show me the ropes, show me what tools I needed to buy before I got up there. He helped me a lot."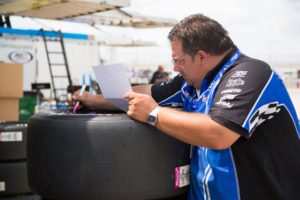 Lopez was not the only one to help Wood get settled into the sport. Kelly Punch, 'Punchy' taught him how to be a tire specialist when he entered ARCA.
Punchy's reputation precedes him. He was the tire guy for Dale Earnhardt Jr. in the NASCAR Busch Series (now Xfinity) in the late 1990s. The nephew of Dr. Jerry Punch, 'Punchy,' passed away last year.
"Without 'Punchy,' I wouldn't be where I am today," Wood said.
Having Fun
Though Wood is quick to say that working on a team in NASCAR is the best job that he's ever had, he's honest about it. Having given advice to others before, he wants others who've asked to know what they're in for.
"When people say it's just a fun job, it is, but it's also hard," Wood explained. "I don't recommend it for anybody that's not really into it and I tell people whenever they want to get a job in racing, you've got to know what you're in for. Don't be afraid to get yelled at because you're going to get yelled at."
Custom Side Projects
On top of everything else that he does, Wood also makes custom ARCA and NASCAR diecasts. The amateur paint scheme designer has recreated several paint schemes of those in the Monday Night Racing league including Justin Melillo and Michael Massie.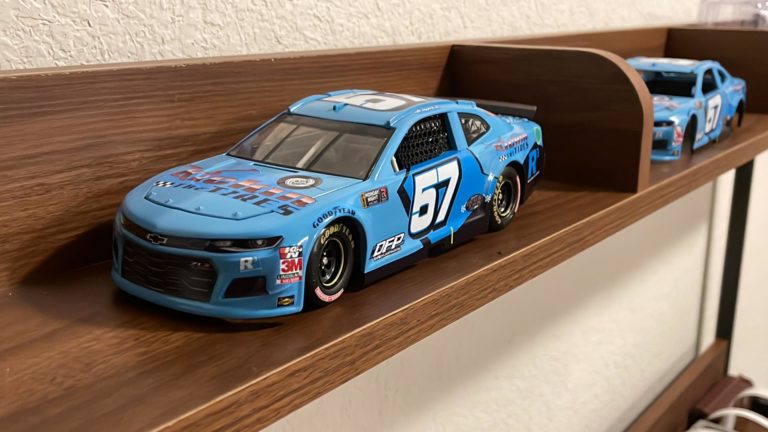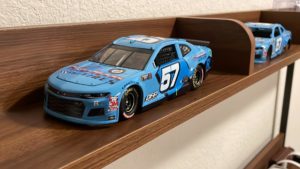 What sparked Wood's interest in custom diecast was another builder, Chesapeake Diecast. The crew member wanted replicas of the cars he worked on for his own collection.
Slowly, that evolved into a budding part-time side business for Wood.
"Eventually Rick Clifton, one of our drivers at Andy Hillenburg's team, wanted one," Wood reflected. "That was my first paid diecast that I ever made. Then Zach Ralston wanted one. He's run ARCA races sporadically since the 2010s. It kind of just went on from there. I want to say I've gotten better, I feel like I've gotten better. It's a fun thing to do in my off time, which unfortunately I don't have much off time. Sundays are what I dedicate to being at home."
Where It All Started
Today, Wood is still surprised that he is where he is. The small-town native never expected to be in NASCAR, let alone stay in the sport after his first opportunities faded away.
"I'll be honest, when I was in high school, I really didn't know what I wanted to do," Wood admitted. "Then, UNOH became an option to me. I asked my mom and dad and they're like, well, tuition's only $30,000 for the whole program. My mom was like yeah, if that's what you want to do. I didn't really think anything was going to happen immediately and within three days of being there, (UNOH) is talking about the ARCA Club, the race club, I'm like okay?
"They said, here's a number of this guy. Well, turns out it's ARCA champion Andy Hillenburg. I had no idea who the hell he was. I started researching the guy, turns out I researched the wrong guy. There's two Andy Hillenburgs. One from Oklahoma and one from Indianapolis. So that was kind of awkward at first.
"Once I got through ARCA and I started working at PR job and then I lost it, I thought I was done racing because unfortunately you stay out of the scene for a little while you kind of lose your contacts, but I ended up back in it. It's just it's kind of cool for people back home to message me or whenever I ended up going back home and they say, 'man, you've got like the best job.'
"I'm like, 'hey, you don't do my job, so it's not that great,' but to them it's cool and to me that makes it cool."
Staying Humble
Although Wood wears many different hats, so do crew members on many other underfunded teams. As with every person, his story is common, like many of his friends in the industry. Though like others, his story has some unique twists and turns.
"I'm not different than anyone else on any other underfunded team," Wood pointed out. "We all wear multiple hats and there are tons of people that can do it better than me. I just enjoy doing whatever I can."
From Andy Hillenburg to public relations and now JD Motorsports, Wood has just about done it all with more to come.
Next for Wood is the Alsco Uniforms 302 at Las Vegas Motor Speedway on Saturday, October 15 at 3:00 p.m. on NBC.
The race will also be broadcast on the Performance Racing Network and SiriusXM NASCAR Radio, channel 90.