By Jerry Jordan, Editor
NASCAR dropped the hammer Tuesday on the sport's most popular driver, Chase Elliott, letting him and the entire stockcar community know that hooking will not be tolerated – he will sit out this weekend's race at World Wide Technology Raceway.
The retaliatory action took place in the rain-delayed Coca-Cola 600 at Charlotte Motor Speedway on Monday, when Denny Hamlin put the squeeze on the No. 9 car coming out of Turn 4. Even though the cars never touched, Elliott appeared upset and turned down the track to hook Hamlin's right rear and send him head-on into the dogleg area of the outside retaining wall on the frontstretch. Hamlin's day was done and he took a ride to the infield care center, where he later admitted on his podcast – Actions Detrimental, that if he would have been in the same proximity as Elliott, they would have likely come to blows.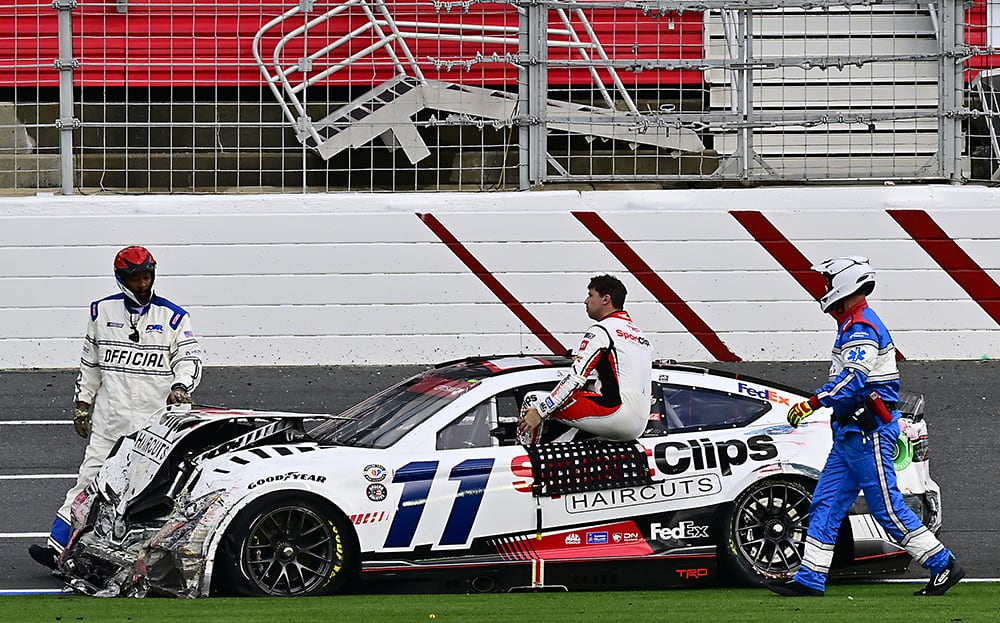 Hamlin said, Elliott "shouldn't be racing next week" because he was throwing a "tantrum" and took him out on purpose in one of the most dangerous areas of the racetrack. Prior to NASCAR's ruling, he went so far as to say on his podcast, that if Elliott was not held accountable, he would go over every single incident where NASCAR had taken action for retaliation in the past. He was complaining about his neck being sore from the impact throughout his podcast.
"Everyone hits the wall. But he threw a hissy fit and he just hung the left on us in the most dangerous part of the racetrack that you possibly could and it ended my day and his, and in my opinion, he shouldn't be racing next weekend," Hamlin said. "Because NASCAR set a precedent last year on this," referring to an incident between Bubba Wallace and Kyle Larson at Las Vegas, as well as, his own incident with Ross Chastain at Phoenix.
Elliott claimed his car was broken.
"The No. 11 (Hamlin) ran us up into the fence there," Elliott said, after being released from the infield care center. "Once you tear the right side off these things, it's kind of over. I hate it – I thought our No. 9 NAPA Chevy was getting better. It was nice to be making some gains there throughout the race. Our pit stops were really good. We had some pretty good fortune to get up towards the front there. It was just trying to get to mile 600 and have a shot, so, unfortunately, failed to do that again."
Asked point-blank about Hamlin's comments immediately following the crash if it was "retaliation," Elliott denied the accusation.
"No, like I said, once you hit the wall in these things, you can't drive them anymore. So no, just unfortunate circumstances," Elliott said.
NASCAR didn't buy it. The fans, even some diehard Elliott fans, didn't buy it and neither did the TV crew, members of the media and apparently even some representatives of Hendrick Motorsports had their doubts.
"We take this very seriously. After looking at all the available resources, in-car camera, data, SMT, which gives us steering, which gives us throttle, which gives us braking, it was an intentional act by Chase in our opinion, in our view after reviewing all of the available resources," said Elton Sawyer, NASCAR Sr. Vice President of Competition. "In the heat of the battle, things happen, but drivers need to understand you have to handle that in a completely different way than hooking someone in the right rear and putting them in harm's way."
For its part, Hendrick Motorsports released a statement that Corey LaJoie would be behind the wheel of the No. 9 NAPA Auto Parts Chevrolet this weekend and that the organization would not appeal the suspension.
"We understand NASCAR's need to maintain consistency in its officiating. The penalty will not be appealed, and we will submit a formal request for a playoff waiver. Corey LaJoie, 31, will drive the No. 9 Chevrolet Camaro ZL1 this weekend at World Wide Technology Raceway. We are grateful to Corey for stepping in and to the team at Spire Motorsports for making him available."