By Seth Eggert, Staff Writer
On his 18th birthday, Jake Garcia earned his first career top-10 finish in the NASCAR Craftsman Truck Series at Las Vegas Motor Speedway on Friday night.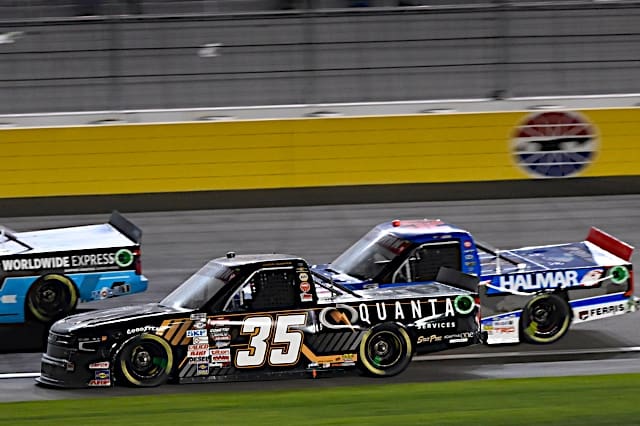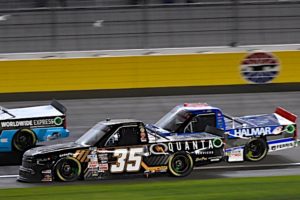 The Victoria's Voice Foundation 200 presented by Westgate marked Garcia's first race on a 1.5-mile track. The driver of the No. 35 Quanta Chevrolet Silverado RST was ineligible to compete at Daytona International Speedway. Garcia did receive a waiver to be playoff eligible.
Utilizing pit strategy, the McAnally-Hilgemann Racing driver climbed up the running order during the final green flag run of the race. Garcia brought his Chevrolet to the attention of his Mark Hillman-led team with about 30 laps to go. By being among the first to pit, he cycled up the running order.
By the time the green flag pit cycle had completed, Garcia was running inside the top-10. He took the checkered flag in 10th after holding off a late-race charge from multi-time champion Matt Crafton.
"I'm really pleased with that (finish)," Garcia said. "I learned a lot, personally, you know, and got better and better throughout the race. And learned about the aero and how to catch people, where to do it, and timing it, and it's all something I got to get used to a little bit more. I thought we did a good job.
"We had a good (truck) there and felt like in clean air we could run as good as anybody there. I thought we were really good there, just need a little bit out of me, but we had a fast Quanta Services Chevy Silverado RST."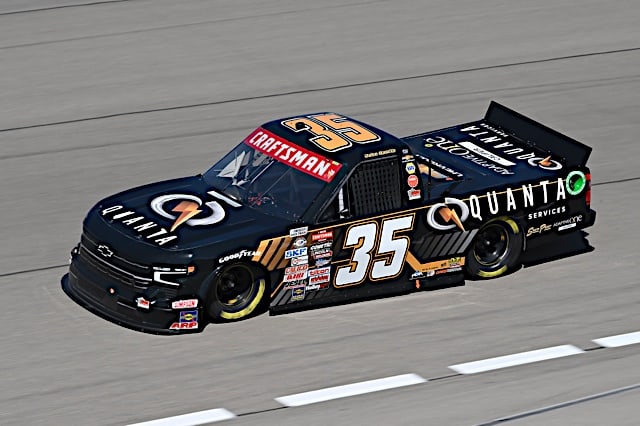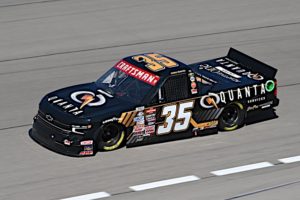 On his 18th birthday, Garcia became eligible to run on a 1.5-mile speedway. As part of the preparation, he was among six drivers that ran over 20 laps in practice. Garcia matched his in-race pace, putting up the 11th fastest lap in the 20-minute session.
The first two stages of the 200-mile race were a learning experience for Garcia. He finished Stage 1 in 16th and Stage 2 in 17th after starting the race in 14th.
The 10th-place finish marked Garcia's first career top-10 and first career top-15 finish in the Craftsman Truck Series.
Although he missed Daytona, Garcia sits 17th in the championship points standings after his top-10 finish. He is 38-points behind the cutline for the playoffs and 58 behind leader Zane Smith. The No. 35 Chevrolet is 14th in the owner point standings after Chase Elliott filled in at Daytona.
In the Rookie of the Year points standings, Garcia is four points behind leader Nick Sanchez. In fact, four of the five Truck Series rookies sit 16th, Sanchez, 17th, Garcia, 18th, Rajah Caruth, and 19th, Daniel Dye, in the full driver point standings. Bret Holmes sits 35th after he was swept up in early race crashes at Daytona and Las Vegas.
Next for Garcia is another first, his first trip to the mini-Superspeedway of Atlanta Motor Speedway for the Fr8 208 on Saturday, March 18 at 2:00 p.m. ET on Fox Sports 1. The race will also be broadcast on the Performance Racing Network and SiriusXM NASCAR Radio, channel 90.