By Jerry Jordan, Editor
HOMESTEAD, Fla. – At just 10 years old, Keelan Harvick will almost assuredly have a bright future in the racing world as he follows in his NASCAR Champion father Kevin Harvick's footsteps, but the younger Harvick could be helping to blaze a path for his dad's future.
Earlier this month, Keelan Harvick traveled to Le Mans, France to compete in the 2022 IAME World Finals. Not only did he get a win in one of the event's preliminary races; but he also finished the world championships in fifth place, overall.
"I had the honor of being the only American in the field. There were 91 drivers in the Mini class. In the heats I finished: P11, 7, 8, 3, 4 and won my prefinal! I started the final p2 but didn't have the pace from earlier in the day. Even though I didn't have the pace I would have liked, I still finished my first IWF in p5!" stated Keelan's Instagram page.
Prior to the race, the logos on Keelan's fire suit may have gone mostly unnoticed, except for the Hunt Brothers Pizza logo emblazoned across his chest. No doubt, that spills over from the relationship his dad has with the company through his NASCAR Cup Series ride with Stewart-Haas Racing. However, there were a couple of other logos on the uniform, as well. On the left side of Keelan's chest was the KHI Management insignia, representing his parents' sports and celebrity-marketing company. But on the other side was the logo of Trackhouse Racing – one of Keelan's other sponsors and a team that fields championship-contending cars in the NASCAR Cup Series.
When asked about the logo, Justin Marks, who co-owns Trackhouse Racing with Armando Christian Perez, better known as the hit rapper, Pitbull, confirmed he supports the young racer and has for some time. Although, there isn't a lockdown contract in place for his future, yet, Marks candidly explained that believes in Keelan's talent and wouldn't mind if he piloted one of the Trackhouse Racing cars in the future.
"I hope so, he's really, really good," Marks told Kickin' the Tires in an exclusive interview at Las Vegas Motor Speedway. "You know Trackhouse is in this spot now where we are growing in popularity, we are establishing our Cup team and we have to start looking at what the talent looks like in the future and grow the brand and play in different areas. So, we have a lot of drivers we support with Brent Crews (a North Carolina dirt racer and competitor in the Trans Am TA2 series) and a few others. But Kevin is a good friend of mine and I have watched Keelan come up at the GoPro Motorplex in North Carolina so it's really nice. He is in Europe right now racing and it's nice to support him. You know, he's a few years away from Cup but it is nice for Trackhouse to support some of the really young talents coming up."
Marks said there isn't a long-term plan for Keelan to drive for Trackhouse, unlike what Rick Hendrick did with Chase Elliott years ago. However, there's a strong possibility the relationship could grow.
"No, I don't have him locked down," Marks said. "I mean, at this point, it's really just sort of cultivating our group of people that we believe in that have the same sort of values and are excited about the same things that Trackhouse is, so we will just see how it goes and have fun with it."
But wait, there's more. Many in the garage might not realize just how strong the friendship between Marks and Kevin Harvick is. For one, both of their companies have worked together on several deals both in and out of racing. And once Kevin retires from driving at SHR, he could end up in a management role at Trackhouse Racing.
It's something Marks said would be a benefit to the Trackhouse organization.
"I think that is certainly a possibility," Marks said. "I've got a lot of respect for Kevin Harvick and he's got over two decades of experience, now, in this series, so he can bring a lot of perspective to the table that is really, really, valuable. I've learned a lot from him and continue to learn a lot from him.
"So, when his driving days are over if he can have a role at Trackhouse, that is something I would be really excited to talk to him about."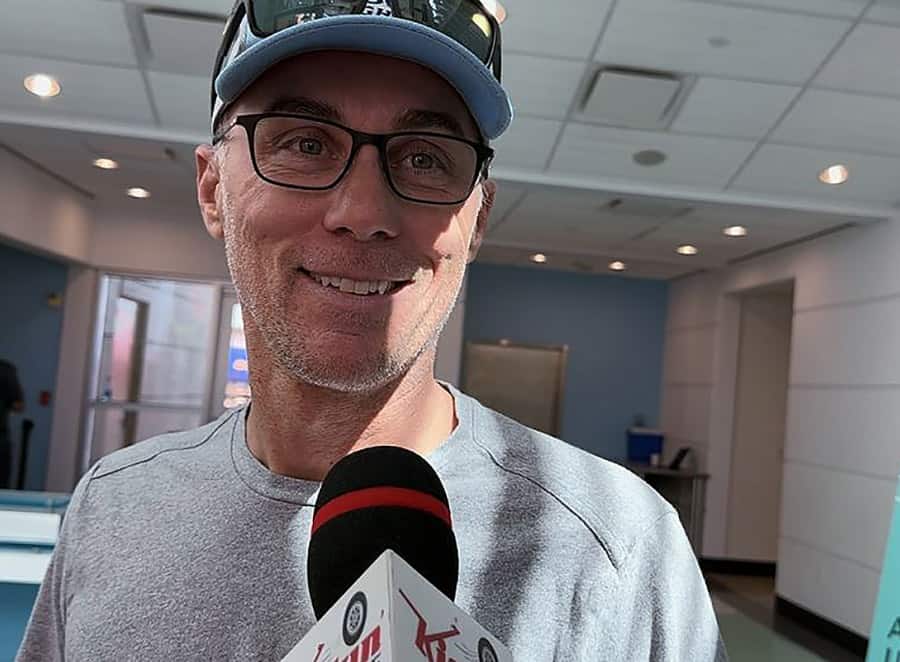 As for his part, Harvick said he was appreciative of the involvement that Trackhouse Racing has in Keelan's racing endeavors. He said Trackhouse has been very supportive of KHI Management's clients and that isn't just limited to Keelan, pointing to deals involving KHI Management clients, including Crews, UFC fighter Miesha Tate and PGA golfer James Hahn.
"Look, I am open for anything," Harvick said. "Look, I am exploring all of my options as we go through the year, so it would definitely, would definitely be something I'd be interested in, for sure."
Editor's Note: Kickin' the Tires Staff Writer, Seth Eggert, contibuted to this report