By Vincent Delforge, Special to Kickin' the Tires
It's time to get to know one of the young drivers who will be aiming for the 2023 championship in the ARCA Mernards West Series.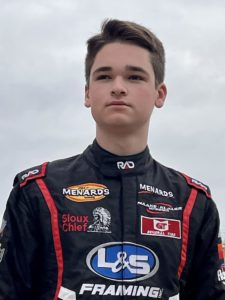 This time we will get to know Bradley Erickson, a young driver from Phoenix, Arizona. Born on June 22, 2006, he arrived, at the age of 15, during a part time basis in 2022 with Naake-Klauer Motorsports in the ARCA Menards West Series.
The passion for motor racing has been a family tradition for three generations at the Ericksons. As proof, Bradley's maternal and paternal grandfathers competed in their time. And it is not ready to stop since Jeffrey, Bradley's little brother, has also taken a passion for motorsport.
We're going to focus on Bradley, who is 16, already has an eleven-year motorsport background. Indeed, this year he will drive full time in the ARCA Menards West Series the No. 88 Ford entered by Mike Naake and Tom Klauer. NKM has a long history in the series and has fought for the championship for the past two years with Joey Iest.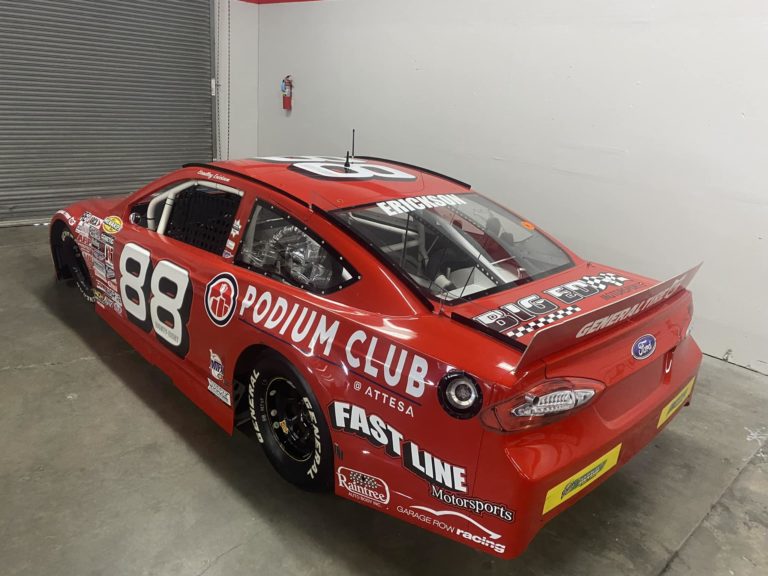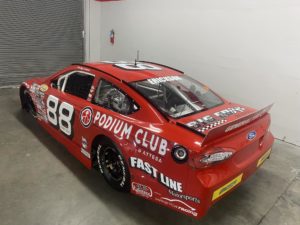 The objective of the young Erickson will obviously be to win the rookie championship but also victories. That's all? No, he has more ambitions and intends to fight to the end against other young drivers he has known for years to race against them in the lower categories and win the 2023 West Series championship.
During the Covid-19 pandemic, he drove a lot on iRacing but also had his first experience with an ARCA type car in January 2021 when he took part in the tests organized by the Bill McAnally Racing Driver Academy. Later at the end of September 2021 he took part in two races at the BMRDA's Kern County Raceway Park. Third in the first race, he won the second ahead of Cole Moore.
We were able to ask him a few questions.
Vincent Delforge: How did your passion for car racing come to you?
Bradley Erickson: "My grandpa (Phil Erickson) and my Dad (Shannon) used to race before I was born, my Dad raced a C6 Corvette Z06, and my Grandpa used to race in the American Indycar Series in the late 90s and early 2000s. I thought it was cool what they were doing and wanted to give it a shot and have enjoyed it ever since. Without forgetting my other grandpa (Roy Dossey) who raced a Formula Vee and dragsters in the 50's in California."
VD: At what age did you start racing? And can you summarize your career path until 2023 ?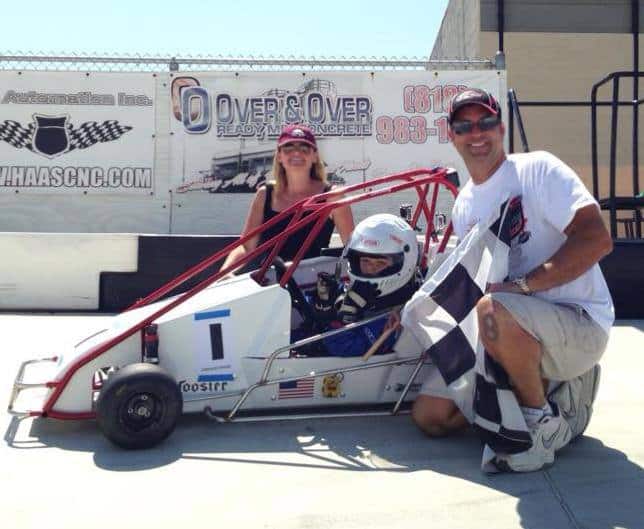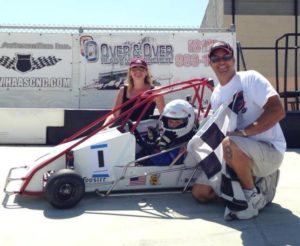 BE: "I started racing Quarter Midgets when I was five years old at my home track which was called South Mountain Speedway in 2011. In 2013, I began to race at other race tracks outside of Arizona including Orange Show, Madera, Baylands, and Albuquerque. In 2014, I became the QMA Western Grands Speed King Champion at eight years old out of 27 drivers that showed up to compete."
"In 2017, I decided it was best to travel around the country to compete against the best drivers in the nation. I racked up more wins, regional championships, won more national races, and gained a lot of experience.
"In 2019, I moved on to the next step in my racing career which was Legend Cars. Tucson Motorsports Inc. rewarded me with a ride in a Legend Car at 12 years old at Tucson Speedway. I would go on to win the championship that year winning five races.
"In 2020, I competed in the 51FIFTY Jr. Late Model Series in Madera Speedway for my first full year of racing full-sized stock cars. I was the 2020 champion of the series, winning five out of nine races, nine podiums, four poles, and two track records. Following the season finale I would go on to win in my Pro Late Model debut in the Triple Turkey Open race out of 30 late models!"
VD: And then you arrived at Naake-Klauer Motorsports?
BE: "In 2021, I ran full-time in the Pro Late Models and in 2022 I would travel to different tracks around the West coast including Kern County, Madera Speedway, the LVMS Bullring, Irwindale Speedway, Phoenix Raceway, and All American Speedway. I would also compete in a total of four ARCA MENARDS SERIES WEST races in 2022 with Naake-Klauer Motorsports."
VD: Is motor racing just a hobby for you or is considering a career as a professional driver a goal for you?
BE: "My ultimate goal is to become a professional driver, which is a lot of other young driver's aspirations as well."
VD: Your little brother Jeffrey is also an NKM driver in 2023. So competition is a family affair?
BE: "Jeffrey and I are very competitive brothers. We want to win in everything we compete in, but when one of us wins we are very happy that an Erickson brother won."
VD: How did the opportunity to start in the ARCA West Series at Irwindale last year with Naake-Klauer Motorsports come about? Was it planned for several weeks or did your results in the Pro Late Models races speed things up?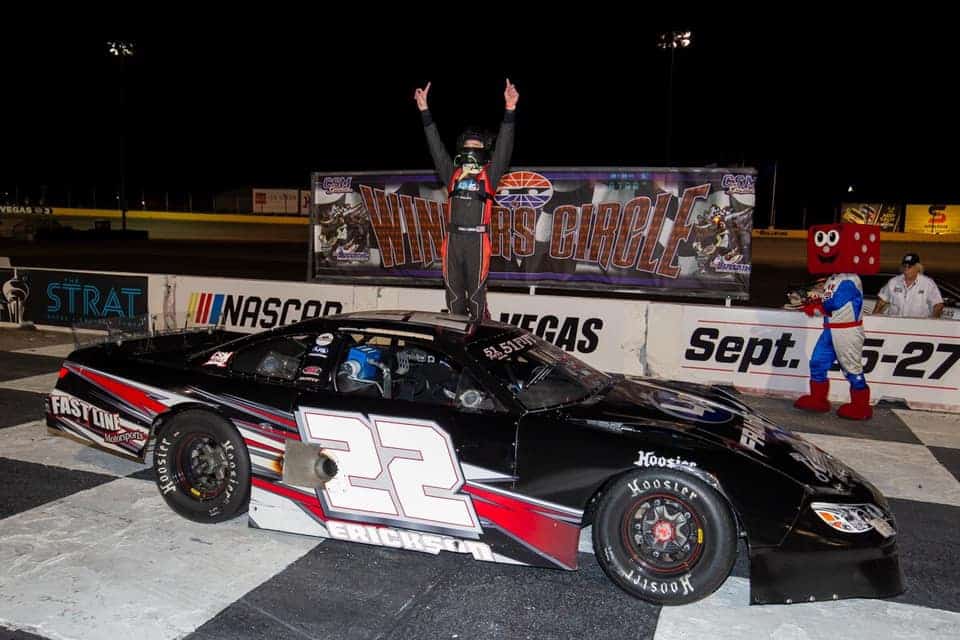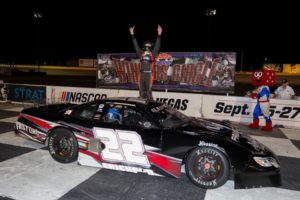 BE: "Irwindale Speedway is one of my favorite racetracks, and I felt that it would be best to have my ARCA West Series debut at a track that I am familiar with. At the beginning of 2022 we had planned to run some ARCA races with NKM, but coming off of a huge win* at Kern County Raceway just two weeks prior to my ARCA debut made me carry a lot of momentum going into that race."
* A race he won ahead of Tanner Reif, Sean Hingorani, Tyler Reif,… In short, all those with whom he will compete this year for the ARCA West Series championship.
VD: How was your debut at Irwindale? Learn a new car, powerful and heavy,.. What were your objectives for this first race? A shortened race following a mechanical problem despite the fact that you were riding in the top 10. This is the hard law of motorsport.
BE: "My debut at Irwindale did not end up the way that I had hoped. I started 11th out of 21 cars and drove up to sixth in 15 laps. I was about to pass the fifth place car on lap 20 until a mechanical problem ended my debut very early. The ARCA car is about 400-500 pounds heavier than a Pro Late Model and has about 300 more horsepower, so there was a little bit of learning how to drive the car at 100% but also maintaining my tires as well. The objective of this race was to obviously keep the car in one piece and finish inside the Top five."
VD: In terms of driving difficulty, where would you place the ARCA car compared to the other racing cars you've driven so far?
BE: "The ARCA Car is difficult to drive considering that it is a 3,300 pound racecar, it doesn't have as good of brakes as the Pro Late Model does. Maybe one car that I would consider being hard to drive would be the Legend car because of the very short wheelbase, not to mention that it has a 125 HP 3-Cylinder Yamaha FZ09 engine in it for a 1,200 pound racecar."
VD: A big advantage in your debuts Irwindale is that you knew the track perfectly. Many drivers use SIM racing to familiarize themselves with a new car or a new track. Are you also a fan of virtual races?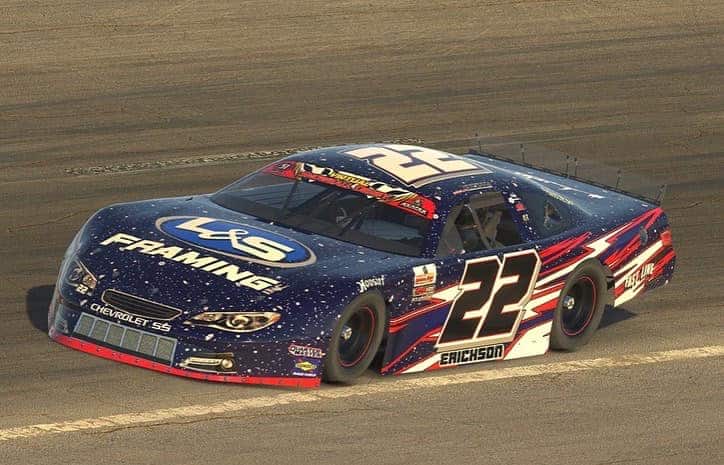 BE: "Having Irwindale on iRacing has helped me become a better driver at that track. Virtual races have always been something that I have enjoyed. In the beginning of 2020, all of the race tracks were shut down due to the (Covid-19) pandemic. None of us racers could race, so we tried iRacing.com which has improved my skill so much that it has helped improve my muscle memory of where to position the car on certain parts of the track."
"When I was about four years old, my Dad built me a simulator in the shape of a car for me to race on since I was not old enough to race in real life. By the time I was at the legal age to race a Quarter Midget at age five, I already had so much experience on the simulator which improved my skill on the real track compared to my other competitors who did not have iRacing at the time."
VD: Let's go back to your three other races in the West Series. First in Roseville where you see your first checkered flag. After being in the top-10 for a long time during the first 50 laps. I remember what Mike Naake said to me about your race: "Bradley had a night of learning." Between your first race in Irwindale and this one in Roseville, you must have learned a lot?
BE: "At Roseville I experienced everything that a racecar driver could encounter. Around lap 10 I was in sixth place, and my hood came up and blocked my windshield, so I had to pit under green to get my hood fixed but unfortunately went three laps down."
VD: Then comes the race on the LVMS Bullring. Good qualifying session and you get your first top-10 (7th position). And without the contact with Cole Moore, you would have gotten a top five. What memories do you have of this race? Disappointment to have missed the top5 or satisfaction to have been able to contain the future champion Jake Drew during the Overtime?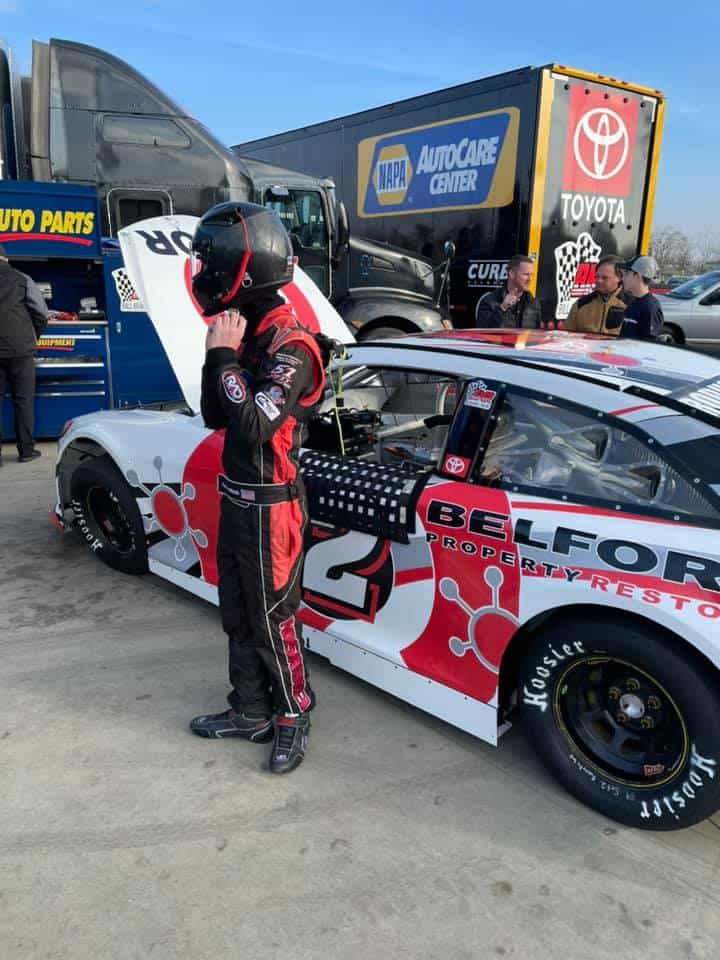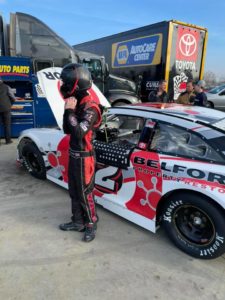 BE: "At Vegas we were solid. We started sixth out of 26 cars, fell back to 12th and made my way up to fourth with 10 to go until a late caution came out. At this track the bottom (line) is the preferred groove so me having to start on the outside automatically put me at a disadvantage. The last restart of that race made me fall from fourth to putting me outside of the top five. I was disappointed that I missed out on a top five finish, but I had learned a lot that night. My car handled very well on the long runs and that's where we would gain positions."
VD: Your last race in 2022 in West Series was during the final in Phoenix, a 1-mile track that you discovered. As far as I'm concerned, you impressed me with your mastery (speed, control and good management of restarts).
Is it this kind of race that gives confidence as a young driver? And what did you think of the additional opposition with the national series drivers who were present in addition to the regulars from the West?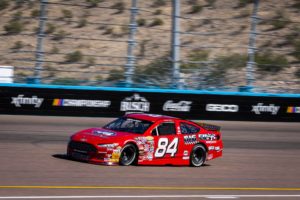 BE: "This race definitely boosted my confidence. Starting eigth of 32 cars, I drove up to fifth by lap 50 until I was penalized for cutting the dogleg before crossing the finish line on the restart. I was sent back to 20th but drove my way through the field to finish seventh. I was disappointed with myself getting the penalty, but I was also very proud of myself for not giving up and overcoming adversity.
"The national drivers competing against the regulars from the west including myself did not make it easy for me at all. Typically, the national series drivers take up the top 7-8 and are usually 2-7 tenths faster than the West Series drivers due to those teams having a much larger budget as well as having more accessible resources in North Carolina."
VD: Your 2023 schedule includes Pro Late races in SRL in addition to the ARCA West Championship. But precisely in ARCA West Series, what are your goals? Top-five? Victories? Any particular race you would like to win? And the road tracks, that will be new for you in West. How do you grasp them?
BE: "My goal for this year is to win the 2023 Championship and win at least 3-4 races. The races I could see myself winning are one of the two Irwindale races this year, a win at Kern County Raceway since that is my best track, possibly winning the Madera race later in the year since I have won numerous races there along with a Late Model championship in 2020."
"But the race I would love to win this year would be Sonoma because it seems like a very technical but fun racetrack, and I feel like if I can figure out how to drive that track I would have a great shot of winning there."
VD: Is having Tony Caputo, whom you know well and who knows you well as crew chief, an advantage? Because in NASCAR/ARCA, the relationship between driver/crew chief is essential to success. History has demonstrated this time and time again with magical duos winning so much.
BE: "Tony has helped me tremendously over these past couple of years. Since pairing up in late 2021, we have found success together, and Tony has taught me new skills related to driving the car that I had not known about. We work very well together, and I believe that we will find even more success in 2023."
VD: Where do you see yourself in a few years in motorsports?
In the ARCA Menards or the NASCAR Cup Series? Is that your ultimate goal?
BE: "In three years I would be 20 years old. I hope to be somewhere in the (NASCAR) Craftsman Truck Series or maybe even the(NASCAR) Xfinity Series. It is very tough to make it to that level, but I will do everything I can as a driver and a person to make sure I achieve my goals in racing."
VD: If you want to thank people or sponsors, now is the time.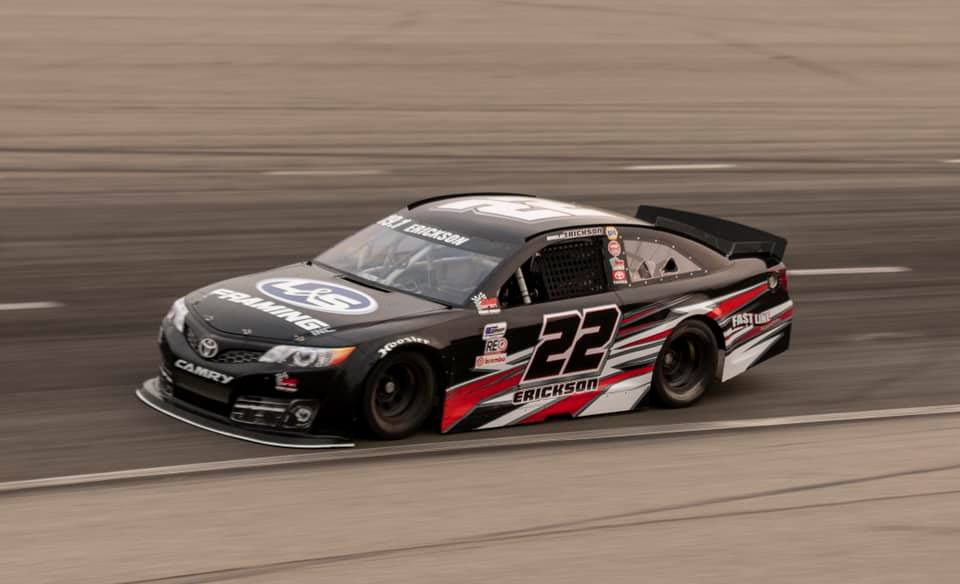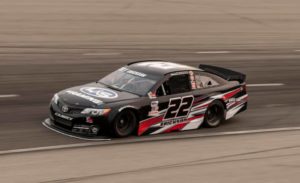 BE: "I would like to thank L&S Framing, Fastline Motorsports, Garage Row Racing, The Podium Club, Big Ed Motorsports, Naake-Klauer Motorsports, Mike Naake, Tony Caputo, Tom Klauer, and my family for supporting me since day 1."
And becoming a NASCAR Cup Series champion is his ultimate dream. This young man has the skills. A serious approach to motor racing, an innate ability to be fast, a thirst for learning. One thing is certain, Bradley Erickson will be one of the future stars of NASCAR. And if not, then it means there is a problem with the current system.
Bradley Erickson will be on track this Friday, March 10 for the first ARCA Menards West Series race of the season in Phoenix, AZ. It will be easy for you to track his car. She is all red with the No. 88.
I want to thank Bradley for answering my questions. I also thank his father Shannon for the help given.