By Seth Eggert, Staff Writer
The decision on when to pit in the closing laps of the California 550 benefitting Music City Drum Corps proved to be the difference between race winner Michael Frisch and Michael Cosey Jr.
Strategy
The marathon race at the virtual Auto Club Speedway didn't have green flag pit stops until the final half of the race. A green flag run of over 100 laps led to a variety of strategies throughout the 34-car field.
eNASCAR Coca-Cola iRacing Series driver Cosey opted to be among the first to pit. The driver of the Altus eSports No. 99 Chevrolet Monte Carlo hoped to build a gap in the early part of the final tire run. Frisch, on the other hand, flipped the script.
The driver of the virtual No. 58 Barr Visuals Buick LeSabre waited another 12 laps to pit. That decision was based on the tire wear the field was experiencing. Though Kevin McAdams and Brett Punkari waited for a caution that never waved, Frisch chased down Cosey for the net lead.
Taking the Win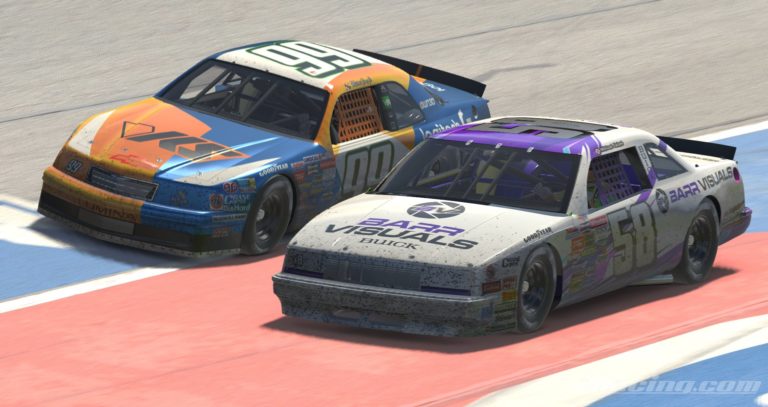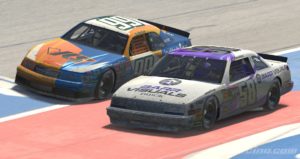 Punkari finally surrendered the lead with 14 laps to go. When the lead cycled back to Cosey, he had a little over one second on Frisch. With the difference in tire life that lead evaporated within a lap. The battle between the duo ultimately lasted one lap.
Frisch swung to the inside of Cosey on the frontstretch with 11 laps to go. The duo dove all the way onto the apron as the eNASCAR driver attempted to use the side-draft to slow the World 600 winner. The move by Cosey was in vain as Frisch pulled away in Turn 1.
'On autopilot,' Frisch cruised to a nearly two-second victory over Cosey when the checkered flag waved. Mc Adams, Punkari, and polesitter Alex Kolonics rounded out the top-five.
"This feels great, it was awesome," Frisch said. "I can't even think about those last 100 laps because it feels like they were tunnel vision. I was just zooming in my brain because everyone was doing different strategies. That was such a long race, there was so much going on in the first half and the second half.
"275 laps at Auto Club, you should have a couple of green flag pit stops. Fortunately, we got one tonight. When Cosey pit early, I knew it was coming. I just had that instinct that he was going to come down pit road and that I would have to switch up my strategy, do something different."
Notables
Dave Vincent, Aaron Smith II, Robby Lyons, Anthony Chrobak, and Justin Melillo completed the top-10. Lyons ran the fastest lap of the race after his final pit stop with about 35 laps to go. Melillo meanwhile overcame multiple accidents to score a hard-fought top-10 finish, beating out NASCAR 1987 ace David Brown.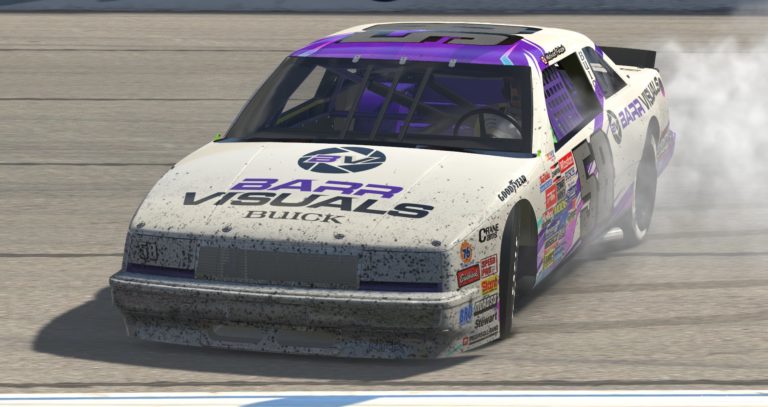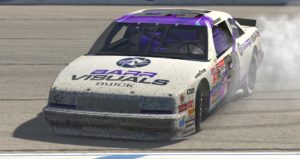 In total the 550-mile, 275-lap race was slowed 10 times by cautions for a total of 29 laps. While there were only 10 cautions, multiple single-car incidents took place that didn't warrant race control to throw the yellow flag.
NASCAR Camping World Truck Series driver Kaden Honeycutt was among those that encountered trouble early. After a handful of incidents, Honeycutt retired from the race.
Australian Jamie Ritchie-Price also faced difficulties in the Underdog Fantasy Racing championship. Th driver of the virtual No. 34 'Daytona USA' inspired car only had a handful of laps of practice before the race started. Ritchie-Price, who is known for his recap videos, spun into the inside wall early in the race.
Yesterday I raced in the FTF Las Vegas Ra-oh wait wrong race
Last week I was given the provisional sponsor spot for the FTF Auto Club Serpentine Font 400k Race and this is what happened pic.twitter.com/vgQKdGYozU

— Penske (@SBRAmbrose4) March 6, 2023
The next race for the Underdog Fantasy Racing championship is the second annual Rockingham 508.
The results:
1. 58-Michael Frisch [12], 2. 99-Michael Cosey Jr. [33], 3. 26-Kevin McAdams [6], 4. 35-Brett Punkari [24], 5. 22-Alex Kolonics [1], 6. 95-Dave Vincent [19], 7. 70-Aaron Smith II [2], 8. 2-Robby Lyons [34], 9. 18-Anthony Chrobak [15], 10. 53-Justin Melillo [21], 11. 83-David Brown [4], 12. 16-Alex Crumb [20], 13. 33-Owen Degroot [25], 14. 29-Matthew Breuer [32], 15. 5-Ricky Hardin [14], 16. 32-Shawn Butler [11], 17. 15-Cole Fralick [9], 18. 34-Jamie Ritchie-Price [22], 19. 23-Sam Oliver [18], 20. 49-Art Rymer [16], 21. 77-Thomas Martucci [30], 22. 30-Christopher Paff [31], 23. 17-Chase Pierce [10], 24. 19-Ricky Burbank Jr. [27], 25. 24-Hayden Swank [8], 26. 01-Chris Jahnke [3], 27. 109-Phillip Cecil McCandless [5], 28. 59-Russell Cox [29], 29. 94-Jimmil Hawkins [13], 30. 7-Bennett Allen [23], 31. 14-Billy Fisher [28], 32. 80-Steve Olliff [26], 33. 36-Kaden Honeycutt [7], 34. 61-Lane Tidwell [17].
Lead Changes: 33 among 10 drivers.
Lap Leader(s): Aaron Smith II 1-10, Alex Kolonics 11-18, Phillip Cecil McCandless 19-27, Aaron Smith II 28-30, Alex Kolonics 31-35, Aaron Smith II 36-40, Chris Jahnke 41-55, Anthony Chrobak 56-58, Aaron Smith II 59-64, Chris Jahnke 65-70, Aaron Smith II 71-72, Chris Jahnke 73-90, Phillip Cecil McCandless 91-96, Alex Kolonics 97-98, Michael Frisch 99-104, Alex Kolonics 105-126, Michael Frisch 127-145, Michael Cosey Jr. 146-147, Alex Kolonics 148, Michael Cosey Jr 149, Alex Kolonics 150-153, Michael Frisch 154-156, Brett Punkari 157-160, Alex Kolonics 161-162, Chase Pierce 163-165, Michael Cosey Jr 166-190, Michael Frisch 191-208, Brett Punkari 209-210, Michael Cosey Jr. 211-225, Michael Frisch 226-237, Kevin McAdams 238-242, Brett Punkari 243-262, Michael Cosey Jr. 263-264, Michael Frisch 265-275.
Laps Led: Michael Frisch 69, Michael Cosey Jr. 45, Alex Kolonics 44, Chris Jahnke 39, Brett Punkari 26, Aaron Smith II 26, Phillip Cecil McCandless 15, Kevin McAdams 5, Anthony Chrobak 3, Chase Pierce 3.
Hard Charger(s): 99-Michael Cosey Jr. (+31).
Tough Luck: 36-Kaden Honeycutt (-26).
Caution Flags: 10 for 29 Laps.
Margin of Victory: 1.941 seconds.
Time of Race: Three hours, 54 minutes, 55.995 seconds.
Average Speed: 140.465 MPH.
Fastest Lap: 2-Robby Lyons, Lap 241, 43.684 seconds, 164.820 MPH.