By Briar Starr, NHRA Staff Writer
For most race fans, having their name on a side of a racecar can be a dream come true for many, especially if you've been a fan of a single driver for many years.
The dream will come true for Evan Pitts this coming weekend at the annual Gator Nationals. Pitts, a current Snap-on Tools franchisee will have his name on the side of Cruz Pedregon's Snap-on machine. NHRA has been a special sport for Pitts, as his first introduction was through his dad at a very young age.
"For me, my dad's association with Snap-On when I was a boy, began my interest in the sport," Pitts said about becoming a fan.
Pedregon has been around for a long time in the NHRA Funny Car class. The California native made his debut back in 1992. For Pitts, Cruz was the only driver he had heard of back in the 2000s.
"Cruz was the first driver I ever heard of," Pitts added. "I started collecting his cars (diecast replica cars of Cruz's NHRA dragsters) in 2002."
While Pitts was a race fan early on in his career, he had a different path before becoming a Snap-on Tools franchisee. The Snap-on franchisee was originally a professional ballet dancer before he decided to start selling tools. Pitts explains why he decided to go a whole new route.
"I always knew that I would get into Snap-on once I retired from dancing," he said. "My dad worked for Snap-on for 20 years, so it is kind of the family business. My favorite part of owning a franchise is the relationships I have built with my customers. Being there for them and taking care of all their tool needs. I also, laugh all day talking and bantering with my guys."
Right around that time period, Pitts who was 8 years old, was able to meet Cruz at the same event that is taking place this weekend. The moment was a special moment for Pitts that has lasted a lifetime to this very day.
"It was a long time ago, but I remember him showing me his car and his trailer," Pitts said. "I know he gave me a hat, but I can not recall if I got any autographs at that time. I do have autographed cars, a piston, a connecting rod, hats, photographs… I have gotten quite a few things from Snap-on events over the past 20 years."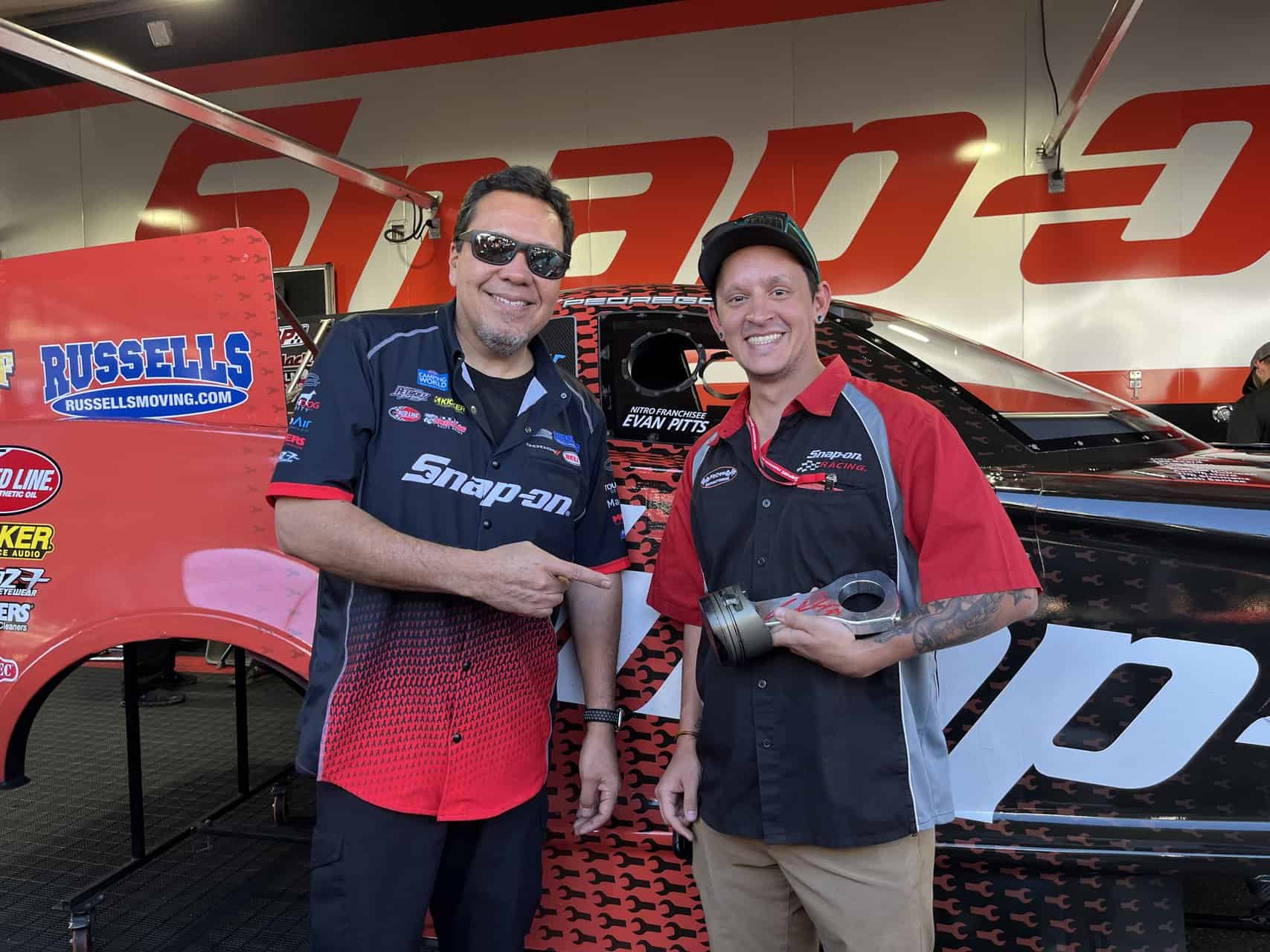 When the NHRA Nitro cars fire off this weekend, the same site Pitts met Cruz all those years ago, he says will be surreal to see his name on the side of the car and a special moment for him and his dad.
"Surreal is a great word for it," Pitts explained. "Cruz is the first, and only NHRA driver I have met, and all of those years ago I knew I would end up in Snap-on because of my dad. Fast forward 20 years, (and not only is) Cruz our driver, but this time I get to bring my dad to the race. And my name is going to be on the side of his car. How cool is that?"
Pitts will be a guest this weekend in the Snap-on Tools hospitality tent.
To catch all of the NHRA Camping World Drag Racing Series action, fans can tune in at 10:00 a.m. ET live on NHRA.TV and on FOX at 12:00 p.m. ET.