By Sarah Handy, Staff Writer
NASCAR Xfinity Series and Mike Harmon Racing driver Kyle Weatherman has sported a 'Back The Blue' scheme on a number of occasions this season, it's a scheme very important to the driver. Weatherman continues to have a career year and he recently spoke to Kickin' the Tires about Back The Blue and his season.
Back The Blue
It first made it's on track debut at Homestead Miami Speedway on June 13 in the Hooters 250. Kickin' the Tires asked Weatherman how the idea came about for that scheme
"It originated from a sponsor. Obviously, it is definitely something that I support and stand for right, or I wouldn't have pursued it," he said. "You know, Mike [Harmon] has always supported the men and women that stand and help keep us free. It was a really good fit with what the sponsor wanted and secondly, with me and the team as well."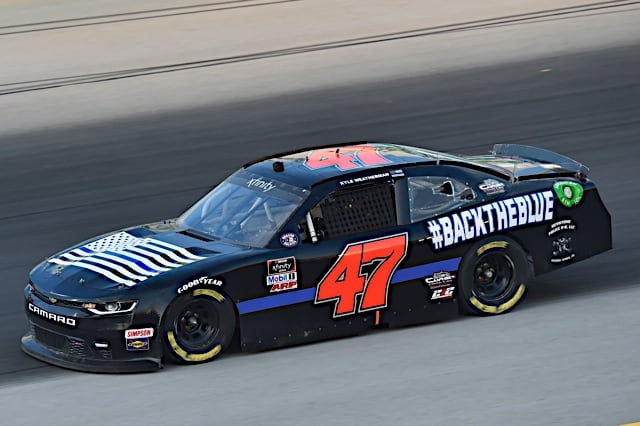 As noted, it's something that Weatherman does support personally, and says it's really easy to support considering all that the men and women do for us.
"It is, unfortunately they aren't getting [what they] deserve, especially with what all the men and women do that help, whether it's on the frontline or anything. They all don't sometimes get the credit and thankfulness that we should give, so it's really easy for me to do for everything they're doing for us."
RACEDAY here in Miami have something special on the car this weekend. A lot going on in the world right now and I wanted to express that most first responders are good people. My uncle is a firefighter and he would do anything to help save lives. 🙏🏻 please repost LOVE everyone🙏🏻 pic.twitter.com/ZWYdM8Dio1

— Kyle Weatherman (@KyleWeatherman) June 13, 2020
Diecast
As previously announced, Lionel will be releasing a Back The Blue diecast in both 1:24 and 1:64 scale. There will also be a second diecast of Weatherman's released which will be a replica of his throwback scheme from Darlington Raceway.
Both diecasts are still available for pre-order on the Lionel website (https://www.lionelracing.com/search?keywords=Kyle%20Weath
As of now, the estimated ship date for the 'Back The Blue' non-throwback version is set for the end of November. These are Weatherman's first diecast cars released by Lionel, therefore it's something he's excited about.
"I actually just got the first replica one of what they've made," said Weatherman. "There's the two this year so that's really cool, definitely really special to have the first diecast made and then have the second is really special as well."
Finally got our first look at the Die- Cast today here at @MhrRacing shop. really excited for everyone to receive there die-cast soon from @Lionel_Racing or @PlanBSales 🙏🏻 pic.twitter.com/cWEJEfIEk3

— Kyle Weatherman (@KyleWeatherman) September 15, 2020
2020 Xfinity Season
Weatherman in his second season competing in the NASCAR Xfinity Series is having a career year. Heading into Saturday's Alsco 300 at Las Vegas, the 23-year old has earned one top-10, three top-15 and five top-20 finishes over 18 races.
Weatherman's eighth place finish at Kentucky Speedway was not only his first career top-10 in Xfinity Series competition but also the first top-10 for Mike Harmon Racing in the series.
"It was [really] special. Another [cool] moment was we finished 15th, 15th and then eighth. We had three top-15 finishes in a row which was really cool for the team itself," said Weatherman. "But, you know, to get that eighth place was [absolutely] incredible for the team and myself."
8th BABY!!!!!! I can't thank Everyone who has helped me to this point in my career Hopefully this is just the beginning 🙏🏻🙏🏻🙏🏻. @NASCAR pic.twitter.com/RgR9QLDa1l

— Kyle Weatherman (@KyleWeatherman) July 10, 2020
While Weatherman and the team have had an incredible season, they've also been plagued with some bad luck too either with some part failures or the occasional wrong place, wrong time moment.
"We've had times where we've had a lot of speed but haven't finished the races with unfortunate part failures but that's part of racing," he said. "Mike is [really] trying to execute and make his team better. Unfortunately, it does take a lot of funding to get to the next level, we are definitely trying to bring each and every piece better each week.
"It's really cool to see where this team was, this is my second year with Mike, even the beginning of last year where they were at then to where we're at now is leaps and bounds ahead of where they were, so that's really cool to see as well."
Rich Mar Florist Helmet
Last weekend Weatherman debuted a new racing helmet donated by Rich Mar Florist with help from Off Axis Paint. Weatherman's helmet was stolen back in August. Following the series event at Daytona International Speedway, his trailer belonging to Mike Harmon Racing was stolen from the parking lot of a Cracker Barrel in Kingsland, Georgia. The trailer not only contained the No. 47 'We Stand For The National Anthem' Chevrolet, but the pit box, tool box, and all of the essential race gear for both driver and team including Weatherman's helmet.
When Jonathan Morrisey, Co-Owner of Rich Mar Florist heard the news, he wanted to do something to help out. Kickin' the Tires asked Weatherman about that very helmet.
"I'm thankful first of all, it's my first helmet painting, it's absolutely beautiful and secondly, the people that have reached out and came together and all for one," he said. "We're all [really] competitive, we all race together but at the end of the day if you have people like him or even just drivers who reached out. I thought I lost my HANS at first, I ended up finding it but I had a couple drivers reach out saying I could borrow whatever I needed, it was really cool to see everyone reach out."
🎨 #FreshPaintFriday 🎨#TeamOffAxis 👊 @KyleWeatherman
⛑ @BellRacingHQ pic.twitter.com/Cog0Ywonmo

— 🄾🄵🄵 🄰🅇🄸🅂 🄿🄰🄸🄽🅃 (@OffAxisPaint) September 18, 2020
"To get back to the helmet, it's an absolutely beautiful helmet, it's really cool to have Rich Mar on there with their floral company, Back The Blue on the back, the thin blue line. It's beautiful and to have that as my first helmet painting is really special."
Las Vegas Motor Speedway
Next up on the schedule for the NASCAR Xfinity Series is Saturday's Alsco 300 at Las Vegas, it's a track Weatherman has run at in both the NASCAR Cup Series and the Xfinity Series. His best finish among the three total starts there actually came there back in the 2018 NASCAR Cup Series South Point 400. That day Weatherman went on to finish 26th in the No. 99 Chevrolet for StarCom Racing.
Weatherman on Las Vegas, "Vegas is a [really] cool track. I ran the Xfinity and Cup car there, actually one of my better mile and a half's, I feel," said Weatherman. "There's a lot of them that are [pretty] close to the same but Vegas is a little bit different. Vegas, Kansas, I've been really good at for some reason. I'm excited to go there, I've had some success at the past in Vegas so hopefully we continue on and build off of the success I've had there and the success we've had as a team on previous mile and a half's. Excited to get there and see what we have."
Photo Credit: Nigel Kinrade Photography / NKP Photo