By Seth Eggert, Staff Writer
Fresh off a fifth-place finish in Round 8 of EuroNASCAR 2, Julia Landauer earned her first career podium in the first round of the season finale at Circuit Ricardo Tormo.
While several of her competitors found trouble on the opening laps, the driver of the No. 11 PK Carsport Chevrolet Camaro quietly avoided the incidents. Afterwards, Landauer found herself behind Vladimiros Tziortzis and Francesco Garisto.
The wounded No. 48 DF1 Racing Chevrolet Camaro held up both Landauer and Tziortzis. A drive-through penalty for avoidable contact brought Garisto down pit road with five laps to go.
With Garisto relinquishing his podium position, Landauer was left to battle Tziortzis for second. Race leader and eventual winner Tobias Dauenhauer was 11 seconds ahead. As Landauer was careful not to exceed track limits, Tziortzis slipped away. When the checkered flag waved, the New York, N.Y. native was in third, two seconds ahead of Simon Pilate.
"Started 10th and finally got that first overall podium," explained Landauer on Twitter. "So lucky to be part of PK Carsport."
P3 BABY! Started 10th and finally got that first overall podium 🎉🥂 so lucky to be part of PK Carsport, thank you everyone for all your help throughout this season🙌🏻 One more race tomorrow 🏁 pic.twitter.com/G5DHMfWCHO

— Julia Landauer (@julialandauer) December 5, 2020
The podium finish is Landauer's third top-five and sixth top-10 finish in the second division of the NASCAR Whelen Euro Series. She is the only American competing full-time in the series in 2020 due to the COVID-19 pandemic. Andre Castro, also a New York, N.Y. native had planned on competing full-time as well.
Landauer's podium finish is the first for a woman in EuroNASCAR since Carole Perrin in the Pro Division at Circuit de Spa-Francorchamps in 2012. In addition to earning a podium finish overall, Landauer won the Lady Trophy classification.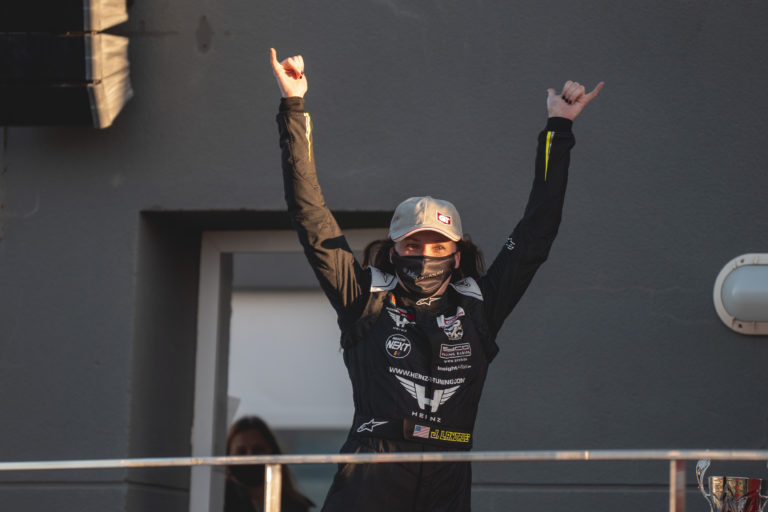 The 2020 EuroNASCAR season marks the first time since 2017 in the NASCAR K&N Pro Series West (now ARCA Menards Series West) that Landauer has competed full-time. In two full-time K&N Pro Series seasons, she earned eight top-five and 20 top-10 finishes. In 2018 and 2019, Landauer competed part-time in the NASCAR Pinty's Series where she scored one top-10.
The rookie competitor in EuroNASCAR competition has just one more race this season. The second half of the 2020 season finale weekend, also at the Valencia, Spain track is the morning of Sunday, December 6.
Photo by NASCAR Whelen Euro Series / Klemen Sofric